Killiney in 1911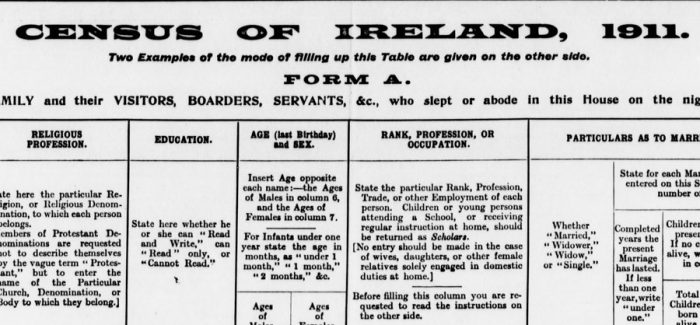 Last Modified: 24 Feb 2023 | author
Introduction
1911 was a good year in terms of the recording of people and events and in this article we present some of this source material which may be of interest to anyone researching their Killiney ancestors or those who have a general interest in the history of Killiney and its inhabitants.
Part 1 is the Killiney and Ballybrack entry from Porter's Post Office Guide and Directory for Kingstown, Blackrock, Cabinteely, Dalkey, Ballybrack, Killiney, Shankill and Neighbourhood of 1911. This scarce document is similar to the more widely known Thom's Directory and we were fortunate to have been given a photocopy of the original Killiney/Ballybrack section by Anna and Colin Scudds, of the Dun Laoghaire Borough Historical Society, which we transcribe here. We also include images of a selection of the adverts which were placed by local businesses and tradespeople in the directory. This guide and listing provides an insight into the lives and times of the more affluent members of Killiney society and is a snapshot in time of a changing environment which would be hastened by events which were unfolding both locally and farther afield.
Part 2 is our extract from the 1911 census records for the Killiney area which is currently the most recent census data available. The Irish Census of 1921 was cancelled due to the on-going War of Independence and it was not until 1926 that it was finally completed. This data will not be released until 2026 due to the 100 year rule. Thus the returns of 1911 represent a valuable source of information which covers all the inhabitants of Killiney. Quite a detailed level of information is provided on each individual including occupation/birthplace/religion/family size/age etc. The data allows for a close examination of the structure of society in the district and is both interesting and insightful on a personal as well as general level. We have created a searchable table which can be filtered by each category recorded. For example, there are 117 gardeners listed out of a total population of 1,794.
Part 3 covers the big society event of the year which was the Royal Visit of King George V. The well to do of Killiney were greatly involved with the welcoming party and the prominence of Killiney Hill played a big part in the celebrations. We also include a selection of newspaper cuttings of other less significant, but none the less interesting, events which took place that year.
---
Part 1. Porter's Post Office Guide and Directory
KILLINEY and BALLYBRACK.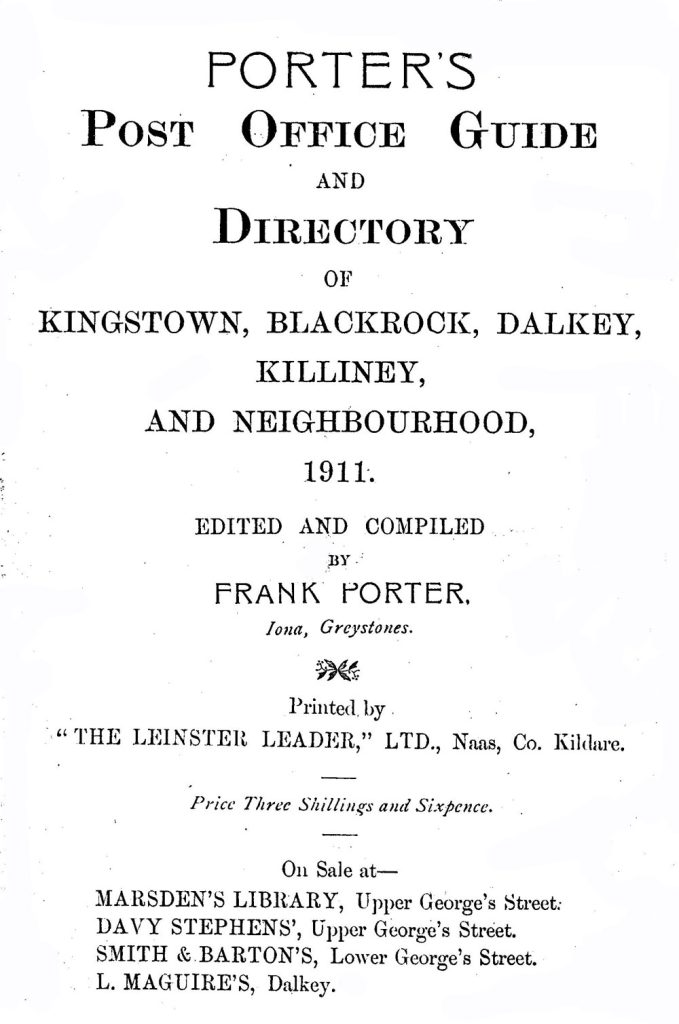 These two interesting Villages, with the hamlet of Loughlinstown, were formed into a township on the 18th of July, 1866. The present valuation is £12,910. The latest suburban rate is 4s. 6d. in the pound. The district is managed by an Urban District Council, consisting of the following members:—Chairman, Reginald T. Meagher; Vice-Chairman, Francis B. Ormsby; Councillors—Wm. Jennings Bramley, J.P. ; George Browne, D.L. ; James E. Day, Wm. Meagher, Hamilton Ormsby, A.H., D.L.; John R. O'Connell, LL.D.; Wm. J. Shannon, Joseph Ward, J.P.; Howard A. Waterhouse, E. B. Healy; Clerk, Robert Cunningham; Surveyor, J. M. Mitchell; Medical Officer of Health, W. M. Wright, M.D.; Sanitary Sub Officer and Water Inspector, John Montgomery; Local Government Auditor, J. A. Baker. The Council control the sanitary arrangements, water supply, and care of highways and footpaths. Area of the district, 1,010 acres. Population, 2,910. There are about 450 houses, of which only eight are unoccupied. The Hill Of Killiney—Cill-Ingen-Leinin (The Church of the Daughters of Leinin), is 9 miles from Dublin and 1 from Dalkey. It is charmingly situated, commanding magnificent sea and mountain views. Nearly all the residences have a southern aspect. There are many 'very fine mansions studded over the district, most of them detached, and convey an impression of neatness, dignity, and repose not to be found to the same extent in any other part of Ireland. The gardens, shrubberies, enclosures and roads are remarkably well: kept. It is a purely residential neighbourhood, chiefly occupied by the nobility, clergy, gentry, professional classes, and merchant princes of Dublin. There is a beautiful beach extending along the shore for nearly two miles. It is not generally regarded as a pleasure resort, nor is it the wish of the inhabitants that it should be so, although the temperature is very equable and the death rate very low. As a winter residence it gains considerably from the formation of the surrounding mountains, which break and intercept the rain clouds, and consequently lessen the rainfall.
The enterprising Council have recently constructed a number of excellent labourers' cottages, to which is attached gardens of sufficient size when properly cultivated to produce sufficient vegetables throughout the year. The average rental is about 2s. weekly. Private enterprise has also done a great deal in this direction. There is an excellent water supply, and a very efficient railway service from Killiney or Shankhill to Dublin. Elementary education is provided for by the National Schools, the Church of Ireland School, so ably conducted by Miss de Saix, being one of the best managed, neatest, and most successful National Schools in Ireland. The Catholic School is conducted by Miss Roche, with an average attendance of about 100 (mixed), and the result of recent examinations prove conclusively the efficiency and high standing of the school. Charabancs run during the season from Dalkey Railway Station at frequent intervals to the Victoria Hotel, where dinners, lunches, teas, and all kinds of refreshments are provided at moderate charges.
CATHOLIC CHURCH.
According to Dr. Petro, the first Catholic Church of Killiney was coeval with the ruins of Glendalough, and dated back to the late sixth or early seventh century. It is situated on the slopes of Killiney Hill, quickly although somewhat laboriously reached by the steep footpath leading up the Hill from the Railway Station. Fifty years ago it stood in the open fields, a picture in the landscape. It was approached from the main road by a rude boreen, on the left hand side of which stood a cairn station, or altar, and close by a thorn tree, which must have been centuries old. Both tree and cairn were considered by the people to have been very sacred, but cairn and tree have disappeared, and the earthen fence which surrounded the churchyard has given place to an ugly stone wall erected according to the then unsympathetic standards of the local Poor Law Guardians. The church originally consisted of nave and choir or chancel, though, the latter is a very rare feature in old Celtic churches. Nave and choir are connected by semi-circular arch, with inclined jambs, such as are to be seen in the original doorway in the west gable. At a period long subsequent to its foundation, but previous to the visit of our Norman friends, an addition was made on its northern side, which may be regarded as an aisle, connected with the primitive structure by openings broken in the north side of the wall. This old pile was either dedicated to or founded by the daughters of Leinin—five in number—Druigen, Loigen, Luicell, Macha. and Rionhtach, according to the Martyrology of Donegal, and supposed to have flourished in the sixth century. The original doorway in the west gable is a: splendid example of its class, and possesses a remarkable feature in having carved in relief on the underside of its lintel what is regarded by some as a Greek Cross. The entire length of the building is 35 feet; its breadth of nave 12 1/2 feet; in the chancel 9 feet 6 inches. Father Bat. Sheridan secured the site for the present church, and a splendid new church of considerable size and architectural design was constructed—no one seemed to know how, for there were no collections or meetings or bazaars. The neighbourhood was no longer the desert it had been since the Reformation; but was gradually being seized upon for building Plots, on which handsome and commodious mansions and villa residences were being run up rapidly, and in a trice Killiney and Ballybrack became the most fashionable suburb of Dublin. In 1856 the new church was solemnly opened and dedicated to St. Alphonsus and St. Columba. Father John: Harold then took charge, and was succeeded by Dr. Forest first, and in 1859 by the Rev. Joseph Flanagan. This arrangement continued until the death of Father Sheridan in 1862, when rumours of a dividing up of the parish became prevalent. When Glasthule, Dalkey, and Killiney were made a new parish in 1863, with Rev. John Harold as first' P P., with the administration of Cabinteely and Little Bray, during the period Father Harold was curate, he collected over £600 towards the erection of a parochial residence, and built a commodious presbytery, with coach-house and stables, at a total cost of £1,600. Finding the parish too large for him, he prayed to be relieved of Cabinteely and Little Bray, and these entered upon a new career. Little Bray was made into a separate parish, under the administration of the Rev. James Healy. known as the greatest wit of the nineteenth century. Father Joseph Flanagan was then in Ballybrack. In April, 1868, Father John Harold, who shortly before had been made canon. Father D. Heffernan was then in residence. Father George Harold followed, and remained until 1876. He was succeeded by the Rev. Robert Conlan, who amongst other improvements provided a fine toned bell, which had to remain in a wooden shelter until the present graceful spire was erected. The present Archdeacon of Glendalough, Very Rev. Timothy Gorman, followed. The Very Rev. George Harold took up residence in 1881 in the new Presbytery in Glasthule, and in 1882 Father Gorman and Father O'Hea, now the esteemed Canon Michael O'Hea, exchanged places, the latter being the present popular Parish Priest of Killiney, Ballybrack, Shankhill, and Loughlinstown. There is also a parish church (of Ireland) in Ballybrack.
HOLY TRINITY CHURCH, KILLINEY.
This church, situated on Killiney Hill and well-known to all visitors to that well- known resort, was erected in 1869 on a site given by Mr. Robert Warren. It cost £4,500, and is in the early English style, with transepts and apsidal chancel. The fittings comprise a fine organ, which has been lately rebuilt at a cost of £240: a pulpit, costing £154, erected by the Misses Waterhouse to the memory of the late Mr. S. Waterhouse; besides a lectern, font, prayer desk, and several stained glass windows and monuments, all either gifts or erected to the memory of deceased parishioners. The church can accommodate over 250 persons. The first Incumbent was the Rev. James Bell, who was succeeded by the Rev. Canon Staveley. The present Incumbent is the Rev. Canon Stoney, treasurer of Christ Church Cathedral, and one of the Lord Lieutenant's Chaplains There is an attractive rectory attached to the living, and a parochial school for the children of Holy Trinity and the adjoining parish.
---
VICTORIA Hill, known as Killiney Park, was acquired by the Queen's Jubilee Memoriai Association on the 21st of June, 1887, being the day appointed for the celebration of the 50th year of the reign of Her Majesty Queen Victoria. Opened as a public park by H.R. Highness Prince Albert Victor of Wales. Trustees—The Earl of Meath, Lord Ardilaun, Sir Edward Cecil Guinness, Bart.; Sir Richard Martin, Bart.; Hon. F. R. Falkiner, Q.C., Recorder of Dublin; Thomas Pim, jun., J.P.; James Talbot Power, DL.; Samuel S. Waterhouse, J.P.; John R. Wigham, J.P. Transferred under the Open Spaces to the Commissioners of Killiney and Ballybrack, July, 1891. Captain P. Stewart, chairman of the Commissioners; Robert Cunningham, Town Clerk; Andrew Murdagh, Park Keeper.
---
KILLINEY GOLF LINKS is beautifully situated on the western slopes of Killiney Hill. It covers 45 acres, and is under the very capable control of a committee of local gentlemen, of which Captain E. P. Stewart is the chairman. The views from all parts of the links are simply charming, even in the winter. Visitors are admitted at a fee of 1s. per day. Saturdays, Sundays and holidays, 2s. each, or £1 per month. Mr. James Davies is the manager and professional golfer. He holds the record of the United Kingdom.
---

BALLYBRACK POST OFFICE. Money orders, Savings Bank, Parcel Post, Telegrams, Insurance, Annuity, Express Delivery. Mrs. Anne Montgomery, postmistress.

KILLINEY POST OFFICE. Money Orders, Telegrams, and Savings Bank, etc. Mrs. Maxwell, postmistress.

ROYAL IRISH CONSTABULARY, Sergeant Wm. Brunt and 4 Constables.
---
Selection of adverts which appeared in Porter's Directory of 1911
---
Killiney Alphabetical List
of Nobility, Clergy, Gentry, Professional Classes, Private Residents and Traders
(Properties which are highlighted are featured in more detail on this website, click to view)
Abbott, Rev T. K., D.D., Killiney House £53
Allen, David, M.A. B.L., Meramar (Miramar) £62
Anglesey. vacant £100
Ashlin, George C., St. George's, and at 7 Dawson Street, Dublin £85
Ashlin, Stephen M., Carrigrenane £46
Barlow, Henry T.. Mountain View £27
Barrington, Miss Campanella.
Barrington, J. H., J.P., Campanella £70
Bibby, Eugene, Streamville.
Belair Cottage, vacant £18
Bennett, J.C. Undercliffe, and Upper Ormond Quay, Dublin £64
Bewley, The Misses, Percy Lodge £46
Blake, Major W. Cappagh.
Blunden, John A., barrister, South Hill £70
Bramley, W. J., Strathmore £140
Byrne, John, Wilmount £4
Carden, Richard George, J.P D.L., Montebello £110
Cashel (Cashin), Philip, Ivy Cottage.
Chandlee, Mrs. Otago.
Collis, William Stewart, M.A., Kilmore £120
Coyne, John M. J.P., Desmond, and at Ballina, Co. Mayo.
Davies, James, professional golfer; holds the record for Great Britain and Ireland, Killiney Golf Club.
Dawson, Col., Mentone
Deane, Lady, Dorset Lodge.
Deane, Louis H., M.I.C.E., Dorset Lodge,
Douglas, Maxwell, J.P.. D.L. Bellevue Park £75.
Dowd, Patrick, dairy proprietor, Killiney Hill Dairy.
Evans, Wm., Martin, electrical engineer, Murray Hill £33
Exham, Miss R. Kennah Hill £82
Exham, Allen J., Kenah Hill and 23, Anglesea Street.
Exham, Gerard A, F.T.C.D., Kenah Hill.
Fairbairn, Lady, Shanganagh Grove.
Falkiner, Mrs., Mount Malpas £60
Fanning, Wm., carpenter, Hill Cottages.
Fitzhugh, Edward J., Bay View
Fitzpatrick, Miss, The Peak £20
Fortal, vacant.
Gill, Mrs., Marino Lodge
Goff, Mrs., Marino House
Goodbody, A. E., solicitor Sunnybank and College Green, Dublin
Goodwin, Miss, Kildoon £55
Graham, Robert, painting decorator, Abbey Cottage
Grogan, Richard, stationmaster.
Hall, Mrs. Margaret, Uplands Dairy, Killiney.
Hamilton, A. H. Ormsby, M.A., D.L. Killiney Castle £172 10s.
Hamilton-Shaw, Mrs., Greenhill
Harris, F. W. Fitzgerald, L.L.D., T.C.D. Saintbury.
Harris, R., B.L., Saintbury.
Haughton, Richard, plumber and gas-fitter, sanitary engineer, Woodbine Cottage, Killiney
Healy, Mrs., Emerald Lodge.
Hone, Wm., Temple Hill £25
Horner, J. W., builder and contractor, The Cottage.
Holy Trinity Church of Ireland, Rev. Canon Robert B. Stoney, incumbent; Divine Service. 11.30 and 7 p.m.
Illerton, vacant £90
Jebb, R. H., 9, Shanganagh Terrace.
Jeffcort, Wm., Clonard, £100
Kelly, Miss Elizabeth, Scalp William Dairy, Killiney.
Kenny, Michael E. Comyn, B.A., M B , Glenalua Lodge.
Killiney Dispensary. W. M. A. Wright, M.D., medical officer.
Killiney Golf Club, James Davies, professional.
Killiney Golf Links, Captain E P. Stewart, president; hon. secretary, S.M. Ashlin; James Davies, professional.
Larmine, J. C., Hillside £60
Leary, Mrs. Martha, dressmaker, Killiney Hill Cottage
Lloyd, Clifford, Victoria Castle £95
Lloyd, Mrs., Stonehenge £70
Lynch, Terence, manager, McKeevor and Co., Killiney.
Maxwell, Mrs. M., Plasnewyd.
Maxwell, Mrs., family grocer, tea, wine and spirit merchant, Victoria Hotel, and the Post Office, Killiney.
Meagher, Reginald, B.A., U.D.C., Bona Vista.
McKeevor and Co., wine and spirit merchants, ale and porter bottlers, etc.; Terence Lynch, manager, Killiney.
Mooney, Miss, Carrickmoleen £70
Mooney, Dermot, J., Carrickmoleen.
Mooney, John Joseph, M.P., Carrickmoleen.
Moran, Mrs., Larkfield.
Munn, Mrs., Palermo £70
Murnane, Henry, car proprietor, Hill Cottage, Killiney.
Naismith, Thomas P., Mount Albert. £50
National Schools, Miss De Saix. principal.
National Telephone Co., Mrs. Fitzhugh £10
O'Brien, Murrough, Mount Eagle £72
O'Connell, John Robert, M.A. L.L.D., solicitor Ard Einin, and 34, Kildare Street, Dublin.
O'Connor, Mrs. The Bungalow £22
O'Farrell, Thomas, solicitor, Bellavista, and 106, Grafton Street.£50
Ormsby, Francis B., B.L., J P., St Anne's
Ormsby, Mrs., Lecarrow.
Orpen, John R., B.A., barrister, St. Leonard's £50
Palmer, Mrs., Irene £54
Pemberton, Henry and Sons, builders and contractors, works, Ballybrack; private residence. Shanganagh Terrace.
Percy, Mrs. Elizabeth. Merton Lodge £60
Perrott, St. George, Kileen £55
Phibbs, Wm. Talbot, Avonmore £73 15s.
Pidgeon, The Misses. Mafra.
Pim, Joshua. surgeon and physician, Secrora £35
Post Office, Mrs. Maxwell. sub-postmistress.
Powell, Robert, St. Mary's £30
Railway Station, R. Grogan, stationmaster.
Rambant (Rambaut), Mrs., Templeville £25
Rambant (Rambaut), F. G., Saintville £30
Redmond, P., Wilmount £5
Reeves, Wm., assistant Inspector-General R.I.C., Ardkill £60
Roberts, Major George B., R.E., Woodbank £45
Roberts, Lieut.-Col. W. E., Hendre £32
Robertson, E. S., Urney £45
Ruston, Col., St. Columba.
Scott, Mrs., Firgrove.
Seed, The Misses, St. Maurice £45
Shannon, W. J.. M.A., solicitor, Druid Hill, and 19, Upper Ormond Quay, Dublin.
Shaw-Hamilton, Mrs., Greenhill £85
Smyth, Captain R. A., J.P., Courtnafarraga £140
Stapleton, Geo., Wyvern £80
Stewart. Geo., F., J.P., D.L., Summerhill.
Stewart, Capt. Edwd. Packenham, J.P., Laragh.
Stoney, Rev. R. B., D.D., incumbent of Killiney; Canon of Christ Church Cathedral, The Rectory.
Symes, Geo., Druid Lodge £70
Symes, George B., stockbroker, Druid Lodge, and 37, Dame Street.
Talbot, Edward Lester Kay, Ballinaclea £165
Tarleton, John E., Millmount £12
Telegraph Hill, vacant.
Town Offices for Killiney and Ballybrack U.D. Council. R. Cunningham, clerk.
Turbett, R. J., Fortlands £70
Vacant, Hill View £18
Waldron, Laurence. ex-M.P, Marino £65
Ward, J., J.P., Ardmore £75
Waterhouse, Howard A., Claremount £50
Waterhouse, The Misses, Glenalua House £60
Waterhouse, Samuel, Claremount.
Weir, James, A., Mount Auburn £60
Weir, John H., Winterslow House £52
Westenra, Miss, Clonlost £55
Webber, Captain. Evergreen.
Weber, Charles R., Wilmount Cottage £20
Killiney Street List
HOLLYMOUNT.
Hall, Wm. £5
Holly, Mrs. W. £5
KILLINEY PARK.
Larminie, J. R., M.I.C.E., Hillside £55
Park House, vacant.
White, Edward, Ashton £66
ROSE COTTAGES.
1 Redmond, Miss M. £17 10s.
2 Bradshaw, Miss M. £16
3 Dowie, Miss Jacqueline.
SHANGANAGH TERRACE. (Between Ballybrack and Killiney).
Horner, Wm. W., Pine Cottage £12
1 Jackson, Mrs. £22
2 Doyle, Mrs. £21
3 Crosdale, Mrs. A. J. £20
4 Burke, Mrs. M. M. £22
5 Leary, John £15
6 Watts, Mrs £14
7 Pemberton, Henry, builder and contractor £36
8 Taylor, Surgeon £26
9 Jebb, R. H. £52
10 Wingfield, Miss E. £32
10a Gorman, Rev. J. P., C.C. £40
Fennelly, Rev. J. J., C.C.
11 Kennedy, Mrs. Olive.
12 Maher, Wm. £18
13 Williamson, Mrs. £24
14 Browne, G. J.P. £27
Browne, Llewellyn M.
15 Vacant.
WILMOUNT.
Byrne, John £4
Redmond, Patrick £4
---
Ballybrack Alphabetical List
Alcock, Mrs., Bellevue £35
Barrington, Colonel, Eyrefield.
Bartrum, Captain John A., and at Lower Castle Yard Dublin.
Biddulph. Captain M. L., Kennanmore.
Bookey, Mrs. Mary E., Albany £65
Bower, George, builder and contractor, Ballybrack.
Browne, S. L., manager at Edwards and Co., Ballybrack.
Byrne, Thomas car proprietor, Ballybrack.
Byrne, John, mechanic, Eden Villa £10
Carter, Thomas, dairyman, Ballybrack.
Carter, Thos., Norwood Lodge £26
Casey, Michael; bootmaker, Ballybrack.
Day, James, Violet Hall £55
Deane, Rev. Horace. M.A., St. John's College, Oxford, The Rectory, Ballybrack.
Domville, Miss, Shanganagh Cottage.
Domville, Mrs., Shanganagh Cottage.
Donnellan, John, carpenter, Church Road, Ballybrack.
Eden Cottage. vacant £10
Edwards and Co., family grocers, tea, wine and spirit merchants; and Italian warehousemen, Ballybrack; S. L. Browne, manager.
Ferguson, Lieut.-Col. Herbert C., St. Germain £35
Fernmore, vacant.
Ferrier, Alexander F., Ashurst £155
Gamble, Chas., solicitor. Lower Killiney Lodge £48
Gibbings, Mrs., Ballybrack House £70
Gibson. William. M.P.S.I., family dispensing and pharmaceutical chemist, The Medical Hall, Church Road.
Hall, Mrs. Margaret, Uplands Dairy, Killiney.
Hall, The Misses A. and W., general drapers, Church Road..
Hall, The Misses, drapers, Church Road.
Healy, Daniel, car proprietor, Ballybrack.
Healy, Enda B.. solicitor, and 31, South Frederick Street, Dublin.
Kane, John. car proprietor, Ballybrack.
Kavanagh, Miss M., The Nurseries, Ballybrack.
Kavanagh, Thos., slater and plasterer, Killiney.
Keegan, Edward, family butcher, Church Road; Telephone, 195
Keegan, Edward, victualler 13
Kelly, Alexander Hawthorn Cottage £12
Kern, Richard B., Fernside, Killiney.
Killiney Church of Ireland, Rev. H. Deane. M.A., incumbent, Rural Dean of Monkstown; Divine Service, 11.30 and 7 p.m.
Manders, R. D., C.B., K.C., Stonehurst £95
Matthews, Captain Durham, Invernisk £132
Maunsell, Misses, The Red House. £70

Montgomery, S. E., ironmonger, hardware and general merchant, Church Road.
Moore, F. C. H., Moorefield £60
Moss, Richard J., F.I.C., F.C.S., St. Aubyns.
Mulligan, James, dairyman, Church Road. Ballybrack.
Neville, Mrs., Rockfield ..£60
Oliver, Chas. Deane, M.I.C.E., engineer to the Department of Agriculture £60
Orr. A. W., Seacroft, Seafield Road £80
Oswald, Mrs. J. G., Haldane Grange £110
O'Hea, The Very Rev. Canon, P.P., The Presbytery.
Owens. Wm., car proprietor, Ballybrack.
Peart, Miss, The Cottage £36
Perrott, Geo., Kileen £46
Phibbs, W. J., Avonmore £75
Public Telephone Call Office, Mrs. Keegan in charge, Ballybrack.
Purcell, Professor, Gayfield.
Reburn, Thos. Robert, general draper, millinery and fancy warehouse, newsagent, stationer and agent for Prescot's Dye Works, Church Road.
Rigley, Wm., Charleville £17
Reilly, Mrs. M., family grocer, tea, wine and spirit merchant, Ballybrack.
Rice, Ignatius, Roselawn £32
Roman Catholic Church, Very Rev. Canon O'Hea, P.P.
Rorke., Mrs. Elizabeth, coal and corn merchant and forage contractor, Church Road, Ballybrack.
Rutherford, Miss M. J., Harrow House, £40
Simpson, Joseph, Martello Lodge £50
Stanley and Co., grocers, wine and spirit merchants, Ballybrack.
St. George, Mrs. Salermo £75.
Stronge, The Misses, Eyremona
Sub-Post Office, Money Order Savings Bank, telegrams; Mrs. T. Montgomery, post-mistress
Synes, Mrs. G. G., Mount Druid.
Tottenham, The Misses. Nevay £70
Tyrrell Bros., victuallers, Church Road.
Tyrrell, John £70
Vernon, Miss, Ballybrack House.
Waller, Major-General John, "Aughmacloy" £115
Waterlow. Geo. S., The Furze.
Welland, Mrs., Tudor Lodge £60
Woods, Dr., Rathleigh £30
Wrench, The Right Hon. Frederick, Estates Commissioner, Killacoona
Ballybrack Street List
MARINE TERRACE, BALLYBRACK.
1 Orr, Mrs., Roseneath £50
2 Turbett, Langlois B. and at 123 Upper Abbey Street, Dublin £50
STRAND.
Tunney, Miss, Carrignamare £45
Masterson. Mrs., Supermare £40
Fottrell, Geo. D., Dunmara.
Mooney, Gerald, Vartry Lodge £50
WYATTVILLE ROAD.
(Ballybrack to Loughlinstown).
Kavanagh, Miss, The Nurseries.
Byrne, James, cab and car proprietor, Wyattville £28
Fairbairn, Lady, Shanganagh Grove £120
Reilly, M., farmer £2 15s.
Royal Irish Constabulary; Sergeant Wm. Brunt, and 5 Constables.
---
Part 2. Census of 1911
Introduction
The National Archives of Ireland website has made available on-line the census returns for the 32 counties for 1901 and 1911. We have extracted and combined the records from the townlands and districts which we believe best represent the Killiney area. A total of 1,794 individual records are available to search here. We have also included Ballybrack in this listing as there is much overlap between the two districts. Killiney-Ballybrack Township was established on 18 July 1866 and was designated as an Urban District Council in 1898. The combined areas were generally treated as one entity up until 1930 when they were amalgamated with the Urban District Councils of Blackrock, Dalkey, and Dun Laoghaire to create Dun Laoghaire Corporation.
Tips for searching
You will notice a filter box on the last row of the table. Here you can enter the name of the individual or family you are looking for. Alternatively you can search a particular townland or street by entering the location selecting from the townland/street list below. It is also possible to search by birthplace, occupation, religion or any combination of the filters available.
Our search engine uses predictive text to help narrow down a search but be aware that there are many transcription and spelling errors which have not been corrected. For example, if you are looking for the family name 'McDonald' it is possible that it was transcribed as 'Mc Donald' or 'Mac Donald' you can enter the characters 'donald' (or any other sequence of characters) and all surnames containing that sequence of letters will be presented (8 entries for McDonald in various guises turn up here). This advice applies to all aspects of the returns including occupation and birthplace so you may have to get creative in order to find that elusive record!
By default the results are presented in multiples of 10 per page and you must click the 'Next' button (bottom right of the table) to display the following results. You can also adjust the number of results to be displayed per page by setting the figure in the 'show entries' box (top left corner of the table). Use the slider below the table to scroll to the right to see entire document.
Click on the house number to see the original census return for that house.
List of townlands and streets included in this census extract
| | |
| --- | --- |
| Name of townland or street | Population in 1911 |
| Ballinclea Road, Part of | 3 |
| Ballinclea, Part of | 17 |
| Ballybrack | 569 |
| Claremont Road | 13 |
| Glenalua Road | 116 |
| Killiney | 678 |
| Killiney Hill Cottages | 97 |
| Killiney Hill Road, Part of | 35 |
| Killiney Road, Part of | 57 |
| Killiney Village | 70 |
| Rocheshill | 8 |
| Strathmore Road, Part of | 7 |
| Talbot Road | 89 |
| Vico Road, Part of | 12 |
| Victoria Road | 23 |
---
The townlands of Killiney
---
Search the 1911 Census here
House
Surname
Forename
Townland or Street
Age
Gender
Birthplace
Occupation
Religion
Literacy
Irish Language
Relation to Head
Marital Status
Specified Illnesses
Years Married
Children Born
Children Living
1
Irwin
Samuel
Ballinclea Road, Part of
56
Male
Co Armagh
Gardener
Irish Church
Read and write
English
Head of Family
Married
-
23
-
-
1
Irwin
Annie
Ballinclea Road, Part of
65
Female
Co Louth
-
Irish Church
Read and write
English
Wife
Married
-
23
-
-
2
Short
Patrick
Ballinclea Road, Part of
30
Male
Co Wicklow
Shepherd
Roman Catholic
Read and write
-
Head of Family
Single
-
-
-
-
1
Talbott
Edward Lister Kay
Ballinclea, Part of
52
Male
County Dublin
J P Farmer Landowner and C
Church of Ireland
Read and write
-
Head of Family
Single
-
-
-
-
1
Talbott
Mary Anne Eliza
Ballinclea, Part of
62
Female
County Dublin
-
Church of Ireland
Read and write
-
Sister
Single
-
-
-
-
1
Markgraf
Otto
Ballinclea, Part of
32
Male
Germany
Butler Domestic Servant
Lutheran
Read and write
-
Servant
Married
-
6
2
2
1
Brown
Susan
Ballinclea, Part of
38
Female
Scotland
Cook Domestic Servant
Presbyterian
Read and write
-
Servant
Single
-
-
-
-
1
Campbell
Elizabett
Ballinclea, Part of
33
Female
Co Monaghan
Housemaid Domestic Servant
Church of Ireland
Read and write
-
Servant
Single
-
-
-
-
1
Lenehan
Charlotte
Ballinclea, Part of
23
Female
Co Kildare
Housemaid Domestic Servant
Church of Ireland
Read and write
-
Servant
Single
-
-
-
-
1
Finlay
Maud
Ballinclea, Part of
21
Female
Queens County
Kitchenmaid Domestic Servant
Church of Ireland
Read and write
-
Servant
Single
-
-
-
-
1
Simpson
Anna
Ballinclea, Part of
69
Female
Norfolk
-
Brethren
Read and write
-
Visitor
Single
-
-
-
-
2
Gilpin
William
Ballinclea, Part of
41
Male
County Dublin
Coachman
Church of Ireland
Read and write
English
Head of Family
Married
-
4
-
2
2
Gilpin
Adilade
Ballinclea, Part of
39
Female
England
-
Church of England
Read and write
English
Wife
Married
-
4
2
2
2
Gilpin
Kenneth
Ballinclea, Part of
3
Male
Co Dublin
-
Church of Ireland
-
English
Son
-
-
-
-
-
2
Gilpin
Ethel
Ballinclea, Part of
Female
Co Dublin
-
Church of Ireland
-
English
Daughter
-
-
-
-
-
3
Murphy
Mathew
Ballinclea, Part of
53
Male
Co Dublin
Carpenter
Roman Catholic
Read and write
-
Head of Family
Married
-
-
-
-
3
Murphy
Annie
Ballinclea, Part of
51
Female
Co Dublin
-
Roman Catholic
Read and write
-
Wife
Married
-
28
7
6
3
Murphy
Mathew
Ballinclea, Part of
26
Male
Co Dublin
Gardner Dom
Roman Catholic
Read and write
-
Son
Single
-
-
-
-
3
Murphy
Michael
Ballinclea, Part of
15
Male
Co Dublin
Scholar
Roman Catholic
Read and write
-
Son
Single
-
-
-
-
3
Murphy
Lizzie
Ballinclea, Part of
17
Female
Co Dublin
Scholar
Roman Catholic
Read and write
-
Daughter
Single
-
-
-
-
1
Bolton
William
Ballybrack
36
Male
Co Dublin
Labourer General
Roman Catholic
Read and write
-
Head of Family
Married
-
-
-
-
1
Bolton
Catherine
Ballybrack
35
Female
Co Dublin
-
Roman Catholic
Read and write
-
Wife
Married
-
10
4
4
1
Bolton
Myles
Ballybrack
9
Male
Co Dublin
Scholar
Roman Catholic
Read and write
-
Son
Single
-
-
-
-
1
Bolton
Patrick
Ballybrack
7
Male
-
Scholar
Roman Catholic
Read and write
-
Son
Single
-
-
-
-
1
Bolton
John
Ballybrack
4
Male
-
-
Roman Catholic
-
-
Son
-
-
-
-
-
1
Bolton
Ellen
Ballybrack
1
Female
-
-
Roman Catholic
-
-
Daughter
-
-
-
-
-
1
Healy
Myles
Ballybrack
3
Male
-
-
Roman Catholic
-
-
Relative
-
-
-
-
-
2
Cullen
Edward
Ballybrack
60
Male
Co Dublin
Gardener Dom Serv
Irish Church
Read and write
-
Head of Family
Married
-
-
10
8
2
Cullen
Elizabeth M
Ballybrack
54
Female
Co Dublin
Nurse
Irish Church
Read and write
-
Wife
Married
-
36
10
8
2
Cullen
Wm
Ballybrack
23
Male
Co Dublin
General Labourer
Irish Church
Read and write
-
Son
Single
-
-
-
-
2
Cullen
Katleen
Ballybrack
17
Female
Co Dublin
-
Irish Church
Read and write
-
Daughter
Single
-
-
-
-
3
Delaney
James
Ballybrack
27
Male
Dublin
Gardener General Man
Roman Catholic
Read and write
-
Head of Family
Single
-
-
-
-
3
Delaney
John
Ballybrack
25
Male
Dublin
Gardener
Roman Catholic
Read and write
-
Brother
Single
-
-
-
-
3
Delaney
Stephen
Ballybrack
23
Male
Dublin
Gardener
Roman Catholic
Read and write
-
Brother
Single
-
-
-
-
4
Kavanagh
Michael
Ballybrack
45
Male
Co Wexford
Ploughman
Roman Catholic
Read and write
-
Head of Family
Single
-
-
-
-
5
Lynch
Fannie
Ballybrack
42
Female
Co Dublin
Housekeeper
Catholic Church
Read and write
English
Head of Family
Not Married
-
-
-
-
5
Lynch
Patrick
Ballybrack
38
Male
Co Dublin
Plasterer
Catholic Church
Read and write
English
Brother
Single
-
-
-
-
5
Lynch
Lena
Ballybrack
24
Female
Co Dublin
-
Catholic Church
Read and write
English
Sister
Single
-
-
-
-
5
Keenan
Willie
Ballybrack
4
Male
Belfast
Scholar
Catholic Church
Read and write
English
Nephew
Single
-
-
-
-
5
Keenan
Ellen
Ballybrack
3
Female
Belfast
-
Catholic Church
-
English
Niece
Single
-
-
-
-
5
Magee
Willie I
Ballybrack
9
Male
Dublin
Scholar
Catholic Church
Read and write
English
Nurse Child
Single
-
-
-
-
5
Magee
Robert
Ballybrack
8
Male
Dublin
Scholar
Catholic Church
Read and write
English
Nurse Child
Single
-
-
-
-
5
Magee
Mary Olive
Ballybrack
6
Female
Dublin
-
Catholic Church
-
English
Nurse Child
-
-
-
-
-
6
Rylands
Edward
Ballybrack
36
Male
Co Dublin
Labourer
R Catholic
Cannot read
-
Head of Family
Married
-
-
-
-
6
Rylands
Margret
Ballybrack
33
Female
Co Dublin
House Keeper
R Catholic
Read and write
-
Wife
Married
-
12
5
3
6
Rylands
Jane
Ballybrack
12
Female
Co Dublin
Scholar
R Catholic
Read and write
-
Daughter
Single
-
-
-
-
6
Rylands
Mary
Ballybrack
5
Female
Co Dublin
-
R Catholic
-
-
Daughter
Single
-
-
-
-
6
Rylands
Edward
Ballybrack
4
Male
Co Dublin
-
R Catholic
-
-
Son
-
-
-
-
-
7
Flemming
Patrick
Ballybrack
37
Male
Ballybrack, Co Dublin
Van Driver
Roman Catholic
Read and write
-
Head of Family
Single
-
-
-
-
7
Flemming
Thomas
Ballybrack
21
Male
Ballybrack
Gardener
Roman Catholic
Read and write
-
Brother
Single
-
-
-
-
7
Flemming
Julia
Ballybrack
24
Female
Ballybrack
Domestic Servant
Roman Catholic
Read and write
-
Sister
Single
-
-
-
-
7
Flemming
Bridie
Ballybrack
20
Female
Ballybrack
House Keeper
Roman Catholic
Read and write
-
Sister
Single
-
-
-
-
8
Dowling
John
Ballybrack
50
Male
Co Kildare
Sawer
Roman Catholic
Read and write
-
Head of Family
Married
-
-
-
-
8
Dowling
Ellen
Ballybrack
47
Female
Co Dublin
-
Roman Catholic
Read and write
-
Wife
Married
-
28
13
5
8
Dowling
Michael
Ballybrack
21
Male
Co Dublin
General Labourer
Roman Catholic
Read and write
-
Son
Single
-
-
-
-
9
Murphy
Bridget
Ballybrack
72
Female
-
-
-
-
-
-
-
-
-
-
-
10
Cobbe
Henry
Ballybrack
41
Male
Co Tyrone
Gardener Domestic Servant
Church of Ireland
Read and write
-
Head of Family
Single
-
-
-
-
11
Bradshaw
Catherine
Ballybrack
49
Female
Co Carlow
-
Roman Catholic
Read and write
English
Head of Family
Widow
-
30
7
5
11
Bradshaw
Thomas Patrick
Ballybrack
24
Male
Co Dublin
Domestic Servant
Roman Catholic
Read write
Irish English
Son
Single
-
-
-
-
11
Bradshaw
Edward Joseph
Ballybrack
22
Male
Co Dublin
Domestic Servant
Roman Catholic
Read write
Irish English
Son
Single
-
-
-
-
11
Bradshaw
Sarah Anne
Ballybrack
18
Female
Co Dublin
-
Roman Catholic
Read write
Irish English
Daughter
Single
-
-
-
-
12
Casey
Patrick
Ballybrack
67
Male
Co Wicklow
Gardener and General Man
Roman Catholic
Read and write
-
Head of Family
Married
-
-
-
-
12
Casey
Allice
Ballybrack
66
Female
Co Dublin
Gardener and General Man
Roman Catholic
Read and write
-
Head of Family
Married
-
38
9
6
13
Farrell
John
Ballybrack
41
Male
Co Wicklow
Foreman Platelayer
R Catolic
Read and write
-
Head of Family
Married
-
12
5
4
13
Farrell
Dora
Ballybrack
34
Female
Co Dublin
House Keeper
Catolic
Read and write
-
Wife
Married
-
12
5
4
13
Farrell
Carmela Mary
Ballybrack
11
Female
City Dublin
Scholar
Catolic
Read and write
-
Daughter
Single
-
-
-
-
13
Farrell
Josephine
Ballybrack
8
Female
Co Dublin
Scholar
Catolic
Read and write
-
Daughter
-
-
-
-
-
13
Farrell
Richard
Ballybrack
4
Male
Co Dublin
-
Catolic
Cannot read or write
-
Son
-
-
-
-
-
13
Farrell
Jane
Ballybrack
1
Female
Co Dublin
-
Catolic
Cannot read or write
-
Daughter
-
-
-
-
-
14
Cullen
Edward
Ballybrack
36
Male
Co Dublin
Coachman Domestic Servant
Church of Ireland
Read and write
-
Head of Family
Widower
-
-
3
1
14
Cullen
Lily
Ballybrack
3
Female
Co Dublin
-
Church of Ireland
Cannot read
-
Daughter
-
-
-
-
-
16
Hughes
John
Ballybrack
56
Male
Tamworth, England
Labourer
C of England
Yes
-
Head of Family
Married
-
22
7
5
16
Hughes
Elizabeth
Ballybrack
40
Female
Dublin
-
R Catholic
Yes
-
Wife
Married
-
22
7
5
16
Hughes
William
Ballybrack
22
Male
Tamworth
Labourer
R Catholic
Yes
-
Son
Not Married
-
-
-
-
16
Hughes
James
Ballybrack
16
Male
Dublin
-
R Catholic
Yes
-
Son
Not Married
-
-
-
-
16
Hughes
Thomas
Ballybrack
13
Male
Dublin
School
R Catholic
Yes
-
Son
Not Married
-
-
-
-
17
Neill
Henry
Ballybrack
50
Male
Co Wicklow
Gardener
Roman Catholic
Read and write
-
Head of Family
Married
-
-
-
-
17
Neill
Kate
Ballybrack
50
Female
Co Wicklow
-
Roman Catholic
Read and write
-
Wife
Married
-
30
8
7
17
Neill
Patrick
Ballybrack
29
Male
England
Gardener
Roman Catholic
Read and write
-
Son
Single
-
-
-
-
17
Neill
Janie
Ballybrack
20
Female
Co Dublin
-
Roman Catholic
Read and write
-
Daughter
Single
-
-
-
-
17
Neill
Thomas
Ballybrack
19
Male
Co Dublin
Gardener
Roman Catholic
Read and write
-
Son
Single
-
-
-
-
17
Neill
Willie
Ballybrack
17
Male
Co Dublin
Garden Boy
Roman Catholic
Read and write
-
Son
Single
-
-
-
-
17
Robinson
Catherine
Ballybrack
8
Female
Scotland
Scholar
Roman Catholic
Read and write
-
Relative
Single
-
-
-
-
18
Henry
Mary
Ballybrack
45
Female
Kildare
-
Catholic
Read and write
English
Head of Family
Widow
-
26
11
9
18
Henry
Christopher
Ballybrack
24
Male
Co Dublin
Messenger
Catholic
Read and write
English
Son
Single
-
-
-
-
18
Henry
Patrick
Ballybrack
22
Male
Co Dublin
Labourer
Catholic
Read and write
English
Son
Single
-
-
-
-
18
Henry
William
Ballybrack
20
Male
Co Dublin
Labourer
Catholic
Read and write
English
Son
Married
-
-
-
18
Henry
James
Ballybrack
18
Male
Co Dublin
Gardener
Catholic
Read and write
English
Son
Single
-
-
-
-
18
Henry
John
Ballybrack
16
Male
Co Dublin
Gardener
Catholic
Read and write
English
Son
Single
-
-
-
-
18
Henry
Martin
Ballybrack
14
Male
Co Dublin
Messenger
Catholic
Read and write
English
Son
Single
-
-
-
-
18
Henry
Margaret
Ballybrack
18
Female
Co Dublin
-
Catholic
Read and write
English
Daughter in Law
Married
-
-
-
18
Henry
Mary
Ballybrack
10
Female
Co Dublin
Scholar
Catholic
Read and write
English
Daughter
Single
-
-
-
-
18
Henry
Margaret
Ballybrack
7
Female
Co Dublin
Scholar
Catholic
Cannot read or write
English
Daughter
Single
-
-
-
-
18
Henry
Michael
Ballybrack
5
Male
Co Dublin
Scholar
Catholic
Cannot read or write
English
Son
Single
-
-
-
-
19
Allen
Kate
Ballybrack
48
Female
Co Dublin
-
Roman Catholic Church
Read not write
English
Head of Family
Widow
-
-
14
9
19
Allen
Bennie
Ballybrack
20
Male
Co Dublin
Labourer
Roman Catholic Church
Read and can write
-
Son
Single
-
-
-
-
19
Allen
Lanc?
Ballybrack
17
Male
Co Dublin
Gardener
Roman Catholic Church
Read and write
-
Son
Single
-
-
-
-
19
Allen
James
Ballybrack
15
Male
Co Dublin
Messenger
Roman Catholic Church
Read and write
-
Son
-
-
-
-
-
20
Allen
Robert
Ballybrack
34
Male
Co Dublin
Milesman
Roman Catholic
Read and write
English
Head of Family
Married
-
7
-
-
20
Allen
Kate
Ballybrack
33
Female
Co Wicklow
Housekeeper
Roman Catholic
Read and write
English
Wife
Married
-
7
4
4
20
Allen
Michael
Ballybrack
6
Male
Dublin
Scholar
Roman Catholic
Read
English
Son
Single
-
-
-
-
20
Allen
Archibald
Ballybrack
4
Male
Co Dublin
Scholar
Roman Catholic
Cannot read
English
Son
Single
-
-
-
-
20
Allen
Kate
Ballybrack
2
Female
Co Dublin
-
Roman Catholic
Cannot read
English
Daughter
Single
-
-
-
-
20
Allen
Robert
Ballybrack
1
Male
Co Dublin
-
Roman Catholic
Cannot read
-
Son
Single
-
-
-
-
21
Whelan
Thomas
Ballybrack
52
Male
Co Wicklow
Brick Layer Idle
R Catholic
Read and write
-
Head of Family
Married
-
-
-
-
21
Whelan
Mary
Ballybrack
54
Female
Co Dublin
-
R Catholic
Read and write
-
Wife
Married
-
26
11
8
21
Whelan
Michael
Ballybrack
22
Male
Co Dublin
Brick Layer Idle
R Catholic
Read and write
-
Son
Single
-
-
-
-
21
Whelan
Julia
Ballybrack
16
Female
Co Dublin
-
R Catholic
Read and write
-
Daughter
Single
-
-
-
-
21
Whelan
Catherine
Ballybrack
14
Female
Co Dublin
Scholar
R Catholic
Read and write
-
Daughter
Single
-
-
-
-
21
Whelan
Easter
Ballybrack
11
Female
Co Dublin
Scholar
R Catholic
Read and write
-
Daughter
Single
-
-
-
-
21
Whelan
George
Ballybrack
8
Male
Co Dublin
Scholar
R Catholic
Read and write
-
Son
Single
-
-
-
-
23
Donnelly
Michael
Ballybrack
47
Male
Co Dublin
Labourer
Roman Catholic
Cannot read
-
Head of Family
Married
-
18
4
4
23
Donnelly
Elizabeth
Ballybrack
39
Female
Co Dublin
-
Roman Catholic
Read and write
-
Wife
Married
-
-
-
-
23
Donnelly
John Philip
Ballybrack
17
Male
Co Dublin
Groom
Roman Catholic
Read and write
Irish and English
Son
Single
-
-
-
-
23
Donnelly
Mary J
Ballybrack
14
Female
Co Dublin
-
Roman Catholic
Read and write
-
Daughter
Single
-
-
-
-
23
Donnelly
Michael
Ballybrack
13
Male
Co Dublin
Scholar
Roman Catholic
Read and write
Irish and English
Son
Single
-
-
-
-
23
Donnelly
Elizabeth Maud
Ballybrack
10
Female
Co Dublin
Scholar
Roman Catholic
Read and write
-
Daughter
Single
-
-
-
-
23
Casey
John
Ballybrack
71
Male
Co Wexford
Shoemaker
Roman Catholic
Read and write
-
Father in Law
Widower
-
-
-
-
24
Byrne
Ann
Ballybrack
60
Female
Co Wicklow
-
Roman Catholic
Read and write
-
Head of Family
Widow
-
-
6
4
24
Byrne
James
Ballybrack
29
Male
Co Dublin
Gardner Domestic Servant
Roman Catholic
Read and write
-
Son
Single
-
-
-
-
24
Byrne
Mary
Ballybrack
27
Female
Co Dublin
-
Roman Catholic
Read and write
-
Daughter
Single
-
-
-
-
24
Byrne
John
Ballybrack
25
Male
Co Dublin
Boot Maker
Roman Catholic
Read and write
-
Son
Single
-
-
-
-
25
Broderick
William
Ballybrack
50
Male
Co Wicklow
Labourer Coalvan Driver
Catholic
Cannot read or write
-
Head of Family
Married
-
-
-
-
25
Broderick
Rachel
Ballybrack
40
Female
Co Wicklow
-
Catholic
Cannot read or write
-
Wife
Married
-
22
10
10
25
Broderick
James
Ballybrack
19
Male
Co Wicklow
Dairy Boy
Catholic
Can read and write
-
Son
Single
-
-
-
-
25
Broderick
Peter
Ballybrack
17
Male
Co Wicklow
Unemployed
Catholic
Can read and write
-
Son
Single
-
-
-
-
25
Broderick
Lizzie
Ballybrack
15
Female
Co Wicklow
-
Catholic
Can read and write
-
Daughter
Single
-
-
-
-
25
Broderick
Edward
Ballybrack
13
Male
Co Dublin
Scholars
Catholic
Can read and write
-
Son
Single
-
-
-
-
25
Broderick
Annie
Ballybrack
4
Female
Co Dublin
Scholars
Catholic
Can read and write
-
Daughter
Single
-
-
-
-
25
Broderick
William
Ballybrack
6
Male
Co Dublin
Scholars
Catholic
Cannot read or write
-
Son
Single
-
-
-
-
25
Broderick
Andy
Ballybrack
3
Male
Co Dublin
Scholars
Catholic
Cannot read or write
-
Son
Single
-
-
-
-
25
Broderick
John
Ballybrack
1
Male
Co Dublin
Baby
Catholic
Cannot read or write
-
Son
Single
-
-
-
-
26
Goodman
Charles
Ballybrack
36
Male
Buckingham Shire
Gardener
Catholic Church
Read and write
English
Head of Family
Married
-
-
-
-
26
Goodman
Anne
Ballybrack
38
Female
Co Limerick
-
Catholic Church
Read and write
English
Wife
Married
-
12
2
1
26
Goodman
Sarah
Ballybrack
9
Female
Co Dublin
Scholar
Catholic Church
Read and write
English
Daughter
Single
-
-
-
-
27
Healy
Wm
Ballybrack
70
Male
Co Wicklow
Cab and Car Owner
Catholic
Read and write
-
Head of Family
Widower
-
-
-
-
27
Healy
Dan
Ballybrack
39
Male
Co Dublin
Cab and Car Owner
Catholic
Read and write
-
Son
Single
-
-
-
-
27
Healy
Wm
Ballybrack
30
Male
Co Dublin
Coachman
Catholic
Read and write
-
Son
Single
-
-
-
-
27
Mc Namara
Katie
Ballybrack
15
Female
Co Dublin
Scholar
Catholic
Read and write
-
Relative
Single
-
-
-
-
27
Mc Namara
Mary
Ballybrack
13
Female
Co Dublin
Scholar
Catholic
Read and write
-
Relative
Single
-
-
-
-
28
Moore
Lawrence
Ballybrack
45
Male
Co Dublin
Gardener
R Catholic
Read and write
-
Head of Family
Married
-
-
-
-
28
Moore
Mary
Ballybrack
36
Female
Kildare
Cook
R Catholic
Read and write
-
Wife
Married
-
11
3
1
28
Moore
Thomas
Ballybrack
10
Male
Co Dublin
Scholar
R Catholic
Read and write
-
Son
Single
-
-
-
-
29
Lambert
Mary
Ballybrack
70
Female
Co Wexford
Income from Property
Roman Catholic
Read and write
English
Head of Family
Widow
-
-
5
3
29
Wheeler
Elizabeth
Ballybrack
66
Female
Co Meath
Seamstress
Church of England
Read and write
English
Visitor
Widow
-
-
5
3
30
Byrne
Thomas
Ballybrack
42
Male
Co Dublin
Builders Labourers
Roman Catholic
Read and write
English
Head of Family
Married
-
-
-
-
30
Byrne
Margaret
Ballybrack
40
Female
Co Dublin
-
Roman Catholic
Read and write
English
Wife
Married
-
23
4
4
30
Byrne
William
Ballybrack
22
Male
Co Dublin
Hackney Car Driver
Roman Catholic
Read and write
English
Son
Single
-
-
-
-
30
Byrne
Thomas
Ballybrack
20
Male
Co Dublin
Van Driver
Roman Catholic
Read and write
English
Son
Single
-
-
-
-
30
Byrne
Patrick
Ballybrack
18
Male
Co Dublin
Hackney Car Driver
Roman Catholic
Read and write
English
Son
Single
-
-
-
-
30
Byrne
John
Ballybrack
15
Male
Co Dublin
Telegraph Messenger
Roman Catholic
Read and write
English
Son
Single
-
-
-
-
31
Higgins
Timothy
Ballybrack
59
Male
Co Dublin
Working Gardner
Roman Catholic
Read and write
English
Head of Family
Widower
-
-
-
-
31
Higgins
Timothy
Ballybrack
32
Male
Co Dublin
Gardner
Roman Catholic
Read and write
English
Son
Widower
-
-
-
-
32
Flanagan
James
Ballybrack
46
Male
Co Roscommon
General Servant
Roman Catholic
Read and w
-
Head of Family
Married
-
-
-
-
32
Flanagan
Ellen
Ballybrack
36
Female
Co Tipperary
-
Roman Catholic
Read and w
-
Wife
Married
-
11
6
6
32
Flanagan
James
Ballybrack
10
Male
Co Dublin
Scholar
Roman Catholic
Read and w
-
Son
-
-
-
-
-
32
Flanagan
Mary
Ballybrack
9
Female
Co Dublin
Scholar
Roman Catholic
Read and w
-
Daughter
-
-
-
-
-
32
Flanagan
Bridget
Ballybrack
8
Female
Co Dublin
Scholar
Roman Catholic
Read and w
-
Daughter
-
-
-
-
-
32
Flanagan
John
Ballybrack
6
Male
Co Dublin
Scholar
Roman Catholic
Read and w
-
Son
-
-
-
-
-
32
Flanagan
Katherine
Ballybrack
6
Female
Co Dublin
Scholar
Roman Catholic
Read and w
-
Daughter
-
-
-
-
-
32
Flanagan
Edward
Ballybrack
2
Male
Co Dublin
-
-
-
-
Son
-
-
-
-
-
33
O'Brien
Edward
Ballybrack
58
Male
Co Carlow
Gardener
Roman Catholic
Read and write
-
Head of Family
Married
-
-
-
-
33
O'Brien
Ellen Frances
Ballybrack
30
Female
Berkshire
-
Roman Catholic
Read and write
-
Wife
-
-
7
4
4
33
O'Brien
Thomas W
Ballybrack
5
Male
Co Dublin
Scholar
Roman Catholic
Read and write
-
Son
-
-
-
-
-
33
O'Brien
Edward F
Ballybrack
4
Male
Co Dublin
Scholar
Roman Catholic
-
-
Son
-
-
-
-
-
33
O'Brien
James F
Ballybrack
2
Male
Co Dublin
-
Roman Catholic
-
-
Son
-
-
-
-
-
33
O'Brien
Susan Mary
Ballybrack
Female
Co Dublin
-
Roman Catholic
-
-
Daughter
-
-
-
-
-
33
O'Brien
Edward
Ballybrack
73
Male
Co Carlow
-
Roman Catholic
Read and write
-
Uncle
Widower
-
-
-
-
34
Morrow
Thomas
Ballybrack
34
Male
Co Donegal
General Servant
Church of Ireland
Read and write
-
Head of Family
Married
-
-
-
-
34
Morrow
Rebecca
Ballybrack
32
Female
Co Donegal
-
Church of Ireland
Read and write
-
Wife
-
-
7
3
2
34
Morrow
Samuel
Ballybrack
6
Male
Co Dublin
Scholar
Church of Ireland
Read and write
-
Son
-
-
-
-
-
34
Morrow
Alick
Ballybrack
3
Male
Co Dublin
-
Church of Ireland
Read and write
-
Son
-
-
-
-
-
35
Connor
Mary
Ballybrack
49
Female
Co Dublin
Laundress
Roman Catholic
Read and write
-
Head of Family
Widow
-
-
1
1
35
Connor
Margaret Mary
Ballybrack
13
Female
-
-
Roman Catholic
Read and write
-
Daughter
Single
-
-
-
-
36
Byrne
Richard
Ballybrack
55
Male
Co Dublin
Shoemaker
R Catholic
Read and write
-
Head of Family
Married
-
30
8
8
36
Byrne
Mary A
Ballybrack
54
Female
Co Dublin
-
R Catholic
Read and write
-
Wife
Married
-
30
8
8
36
Byrne
Michael
Ballybrack
26
Male
Co Dublin
Gardener
R Catholic
Read and write
-
Son
Single
-
-
-
-
36
Byrne
George
Ballybrack
25
Male
Co Dublin
Gardener
R Catholic
Read and write
-
Son
Single
-
-
-
-
36
Byrne
Winnie
Ballybrack
19
Female
Co Dublin
-
R Catholic
Read and write
-
Daughter
Single
-
-
-
-
36
Byrne
Willie
Ballybrack
18
Male
Co Dublin
Van Driver
R Catholic
Read and write
-
Son
Single
-
-
-
-
37
Byrne
William
Ballybrack
30
Male
Co Dublin
Cab Driver
Roman Catholic
Read and write
-
Head of Family
Married
-
-
-
-
37
Byrne
Agnes
Ballybrack
27
Female
Co Dublin
-
Roman Catholic
Read and write
-
Wife
Married
-
9
4
4
37
Byrne
Emily Mary
Ballybrack
6
Female
Co Dublin
Scholar
Roman Catholic
Read and write
-
Daughter
-
-
-
-
-
37
Byrne
Kathleen M
Ballybrack
4
Female
Co Dublin
Scholar
Roman Catholic
-
-
Daughter
-
-
-
-
-
37
Byrne
Una
Ballybrack
2
Female
Co Dublin
-
Roman Catholic
-
-
Daughter
-
-
-
-
-
38
Connor
Mary
Ballybrack
50
Female
Co Dublin
-
Roman Catholic
Read and write
-
Head of Family
Single
-
-
-
-
38
Connor
Julia
Ballybrack
49
Female
Co Dublin
Servant
Roman Catholic
Read and write
-
Sister
Single
-
-
-
-
38
Connor
John
Ballybrack
34
Male
Co Dublin
Gardener
Roman Catholic
Read and write
-
Brother
Single
-
-
-
-
38
Connor
Patrick
Ballybrack
32
Male
Co Dublin
Plate Layer
Roman Catholic
Read and write
-
Brother
Single
-
-
-
-
38
Connor
Edward
Ballybrack
29
Male
Co Dublin
Labourer
Roman Catholic
Read and write
-
Brother
Single
-
-
-
-
38
Connor
Thomas
Ballybrack
27
Male
Co Dublin
Gardener
Roman Catholic
Read and write
-
Brother
Single
-
-
-
-
38
Connor
Elizabeth
Ballybrack
23
Female
Co Dublin
Dressmaker
Roman Catholic
Read and write
-
Sister
Single
-
-
-
-
39
Flemming
Julia
Ballybrack
74
Female
Co Wexford
Old Age Pensioner
Roman Catholic
Read and write
-
Head of Family
Widow
-
-
11
8
40
Reburn
Thomas Robert
Ballybrack
43
Male
Co Cavan
Draper
Methodist
Read and write
-
Head of Family
Married
-
19
-
-
40
Reburn
Louisa
Ballybrack
46
Female
Co Louth
-
Methodist
Read and write
-
Wife
Married
-
19
-
-
40
Sparrow
Maria Louisa
Ballybrack
84
Female
Co Dublin
-
Church of Ireland
Read and write
-
Mother in Law
Married
-
60
8
3
40
Sparrow
Laura E
Ballybrack
18
Female
Co Louth
-
Church of Ireland
Read and write
-
Niece
Single
-
-
-
-
41
Montgomery
John
Ballybrack
48
Male
Co Dublin
Plumber for U D C
Roman Catholic
Read and write
-
Head of Family
Married
-
22
7
3
41
Montgomery
Sarah Ellen
Ballybrack
43
Female
Co Wicklow
-
Roman Catholic
Read and write
-
Wife
Married
-
22
7
3
41
Montgomery
Evelyn Sarah
Ballybrack
19
Female
Co Dublin
-
Roman Catholic
Read and write
Irish and English
Daughter
Single
-
-
-
-
41
Montgomery
Anthony Leo Patrick
Ballybrack
10
Male
Co Dublin
Scholar
Roman Catholic
Read and write
-
Son
Single
-
-
-
-
41
Montgomery
Vincent Gerald
Ballybrack
8
Male
Co Dublin
Scholar
Roman Catholic
Read and write
-
Son
Single
-
-
-
-
42
Gibson
William
Ballybrack
42
Male
Co Cavan
Pharmaceutical Chemist
Presbyterian
Read and write
-
Head of Family
Married
-
-
-
-
42
Gibson
Mary
Ballybrack
37
Female
Co Down
-
Presbyterian
Read and write
-
Wife
Married
-
7
2
2
42
Gibson
Cyril William
Ballybrack
6
Male
Co Cavan
Scholar
Presbyterian
Read and write
-
Son
Single
-
-
-
-
42
Gibson
Rhona Margaret
Ballybrack
4
Female
Co Cavan
-
Presbyterian
Cannot read
-
Daughter
Single
-
-
-
-
42
Gilmore
Mary Jane
Ballybrack
44
Female
Co Cavan
Nurse
Church of Ireland
Read and write
-
Visitor
Widow
-
-
-
-
42
Hennessy
Margaret
Ballybrack
71
Female
Co Down
-
Church of Ireland
Read and write
-
Visitor
Widow
-
-
-
-
42
Keogh
Elizabeth
Ballybrack
30
Female
Co Kildare
Domestic Servant
Roman Catholic
Read and write
-
Servant
Single
-
-
-
-
42
Sargent
Mervyn
Ballybrack
19
Male
Co Kildare
Pharmaceutical Chemist Apprentice
Church of Ireland
Read and write
-
Apprentice
Single
-
-
-
-
43
Tyrrell
John
Ballybrack
38
Male
Co Wicklow
Farmer and Butcher
Roman Catholic
Read and write
-
Head of Family
Single
-
-
-
-
43
Tyrrell
Thomas
Ballybrack
35
Male
Co Wicklow
Butcher
Roman Catholic
Read and write
-
Brother
Single
-
-
-
-
43
Tyrrell
Elizabeth
Ballybrack
30
Female
Co Wicklow
-
Roman Catholic
Read and write
-
Sister
Single
-
-
-
-
43
Tyrrell
Margaret
Ballybrack
27
Female
Co Wicklow
-
Roman Catholic
Read and write
-
Sister
Single
-
-
-
-
44
Doyle
Elizabeth
Ballybrack
57
Female
Co Dublin
Dressmaker
R Catholic
Read and write
English
Head of Family
Married
-
29
6
4
44
Doyle
Mary A
Ballybrack
27
Female
Co Dublin
-
R Catholic
Read and write
English
Daughter
Single
-
-
-
-
44
Doyle
Bridie
Ballybrack
25
Female
Co Dublin
Dressmaker
R Catholic
Read and write
English
Daughter
Single
-
-
-
-
44
Doyle
Patrick
Ballybrack
24
Male
Co Dublin
Labourer
R Catholic
Read and write
English
Son
Single
-
-
-
-
44
Fleming
Bridget
Ballybrack
59
Female
Co Dublin
-
R Catholic
Read and write
English
Relative
Single
-
-
-
-
45
Rourke
Elizabeth
Ballybrack
58
Female
Co Wicklow
Coal and Corn Merchant
Roman Catholic
Can read and write
-
Head of Family
Widow
-
-
-
-
45
Mc Carthy
Johanna
Ballybrack
68
Female
Co Tipperary
Domestic Servant
Roman Catholic
Can read and write
-
Servant
Widow
-
-
-
-
46
Mason
Robert Falkner
Ballybrack
51
Male
-
-
-
-
-
-
-
-
-
-
-
46
Mason
Gertrude Falkner
Ballybrack
21
Female
-
-
-
-
-
-
-
-
-
-
-
46
Mason
George Neily
Ballybrack
18
Male
-
-
-
-
-
-
-
-
-
-
-
46
Mason
Robert James
Ballybrack
15
Male
-
-
-
-
-
-
-
-
-
-
-
47
Doyle
Malacky
Ballybrack
46
Male
Co Wicklow
Joiner
Catholic
Read and write
-
Head of Family
Married
-
10
2
2
47
Doyle
Julia
Ballybrack
32
Female
Co Kilkenny
-
Catholic
Read and write
-
Wife
Married
-
10
2
2
47
Doyle
James
Ballybrack
9
Male
Co Dublin
Scholar
Catholic
Read and write
-
Son
-
-
-
-
-
47
Doyle
Malacky
Ballybrack
5
Male
Co Dublin
Scholar
Catholic
Read and write
-
Son
-
-
-
-
-
48
Donnellan
John
Ballybrack
46
Male
Co Longford
Carpenter
Roman Catholic
Read and write
-
Head of Family
Married
-
-
-
-
48
Donnellan
Bridget
Ballybrack
40
Female
Co Dublin
-
Roman Catholic
Read and write
-
Wife
Married
-
17
8
7
48
Donnellan
May
Ballybrack
15
Female
Co Dublin
Scholar
Roman Catholic
Read and write
-
Daughter
Single
-
-
-
-
48
Donnellan
Rosanna
Ballybrack
10
Female
Co Dublin
Scholar
Roman Catholic
Read and write
-
Daughter
Single
-
-
-
-
48
Donnellan
Michael
Ballybrack
7
Male
Co Dublin
Scholar
Roman Catholic
Read and write
-
Son
Single
-
-
-
-
48
Donnellan
Martha
Ballybrack
5
Female
Co Dublin
Scholar
Roman Catholic
Cannot read
-
Daughter
Single
-
-
-
-
48
Donnellan
Kathleen
Ballybrack
3
Female
Co Dublin
-
Roman Catholic
Cannot read
-
Daughter
Single
-
-
-
-
48
Donnellan
John
Ballybrack
2
Male
Co Dublin
-
Roman Catholic
Cannot read
-
Son
Single
-
-
-
-
48
Donnellan
James
Ballybrack
2
Male
Co Dublin
-
Roman Catholic
Cannot read
-
Son
Single
-
-
-
-
49
Mulligan
James
Ballybrack
77
Male
Co Meath
Dairyman
Roman Catholic
Read
-
Head of Family
Widower
-
-
-
-
49
Geraghty
Martha
Ballybrack
50
Female
Co Dublin
-
Roman Catholic
Read and write
-
Daughter
Widow
-
-
-
-
49
Kavanagh
Garret
Ballybrack
60
Male
Co Wicklow
Farm Servant
Roman Catholic
Read
-
Servant
Single
-
-
-
-
50
Peart
Emily Anne
Ballybrack
64
Female
India
Private Means
Roman Catholic
Read and write
-
Head of Family
Single
-
-
-
-
50
Peart
Annie H
Ballybrack
62
Female
India
-
Roman Catholic
Read and write
-
Sister
Single
-
-
-
-
50
Peart
Mary Lubé
Ballybrack
58
Female
Co Dublin
-
Roman Catholic
Read and write
-
Sister
Single
-
-
-
-
50
Byrne
Eliza
Ballybrack
31
Female
Co Wicklow
Cook Dom Servant
Roman Catholic
Read and write
-
Cook Domestic Servant
Single
-
-
-
-
50
Connor
Josephine
Ballybrack
20
Female
Co Wicklow
Parlour Maid Dom Servt
Roman Catholic
Read and write
-
Parlour Maid Domestic Servant
Single
-
-
-
-
51
Wall
John
Ballybrack
34
Male
Co Dublin
Gardener - Domestic Servant
Roman Catholic
Read and write
-
Head of Family
Married
-
6
3
2
51
Wall
Mary
Ballybrack
36
Female
Co Wicklow
-
-
Read and write
-
Wife
Married
-
6
3
2
51
Wall
Georgina
Ballybrack
5
Female
Limerick City
Scholar
-
Cannot read
-
Daughter
Single
-
-
-
-
51
Wall
Caroline
Ballybrack
3
Female
Limerick City
-
-
Cannot read
-
Daughter
Single
-
-
-
-
52
Kavanagh
Mary
Ballybrack
80
Female
Dublin
House Property
R Catholic
Read and write
-
Head of Family
Single
-
-
-
-
52
Kavanagh
Margaret
Ballybrack
34
Female
Dublin
Florist
R Catholic
Read and write
-
Niece
Single
-
-
-
-
52
Kavanagh
Elizabeth
Ballybrack
33
Female
Dublin
-
R Catholic
Read and write
-
Niece
Single
-
-
-
-
53
Stanley
Mary
Ballybrack
46
Female
County Dublin
Caretaker
Roman Catholic
Read and write
English
Head of Family
Single
-
-
-
-
53
Stanley
Edward
Ballybrack
16
Male
County Dublin
Carpenter
Roman Catholic
Read and write
English and Irish
Nephew
Single
-
-
-
-
54
Byrne
Mary
Ballybrack
50
Female
Ballybrack, Co Dublin
Domestic House Keeper
Roman Catholic
Read and write
English
Wife
Married
-
30
5
4
54
Byrne
John
Ballybrack
52
Male
Ballybrack, Co Dublin
Brick - Layer
Roman Catholic
Read and write
English
Head of Family Husband
Married
-
-
-
-
54
Byrne
Michael
Ballybrack
24
Male
Ballybrack, Co Dublin
Gardener
Roman Catholic
Read and write
English
Son
Single
-
-
-
-
54
Byrne
Thomas
Ballybrack
26
Male
Ballybrack, Co Dublin
Bricklayer
Roman Catholic
Read and write
English
Son
Single
-
-
-
-
55
Byrne
Mary
Ballybrack
41
Female
County Dublin
-
Roman Catholic
Can read
English
Head of Family
Single
-
-
-
-
55
Byrne
Emily
Ballybrack
27
Female
County Dublin
-
Roman Catholic
Read and write
English
Niece
Single
-
-
-
-
55
Byrne
James
Ballybrack
54
Male
County Dublin
-
Roman Catholic
Read and write
English
Brother
Single
Mental Disease
-
-
-
55
Byrne
Joseph
Ballybrack
38
Male
County Dublin
Cab Owner
Roman Catholic
Read and write
English
Brother
Single
-
-
-
-
55
Byrne
Thomas
Ballybrack
8
Male
County Dublin
Scholar
Roman Catholic
Read and write
English
Nephew
Single
-
-
-
-
55
Byrne
Maggie
Ballybrack
19
Female
County Dublin
-
Roman Catholic
Read and write
Irish and English
Niece
Single
-
-
-
-
56
Murphy
John
Ballybrack
69
Male
Co Dublin
Brick and Stonelayer Unemployed
Roman Catholic
Read and write
-
Head of Family
Married
-
43
-
-
56
Murphy
Bridget
Ballybrack
68
Female
Co Dublin
-
Roman Catholic
Read and write
-
Wife
Married
-
43
8
6
56
Murphy
William
Ballybrack
37
Male
Co Dublin
Brick and Stonelayer Unemployed
Roman Catholic
Read and write
-
Son
Single
-
-
-
-
56
Murphy
Kate
Ballybrack
30
Female
Co Dublin
National School Teacher
Roman Catholic
Read and write
-
Daughter
Single
-
-
-
-
56
Murphy
Mary
Ballybrack
26
Female
Co Dublin
-
Roman Catholic
Read and write
-
Daughter
Single
-
-
-
-
57
Goodwin
Michael
Ballybrack
50
Male
-
Gardener
Church of Ireland
Read and write
-
Head of Family
Married
-
18
-
-
57
Goodwin
Sarah
Ballybrack
37
Female
-
-
Church of Ireland
Read and write
-
Wife
Married
-
18
4
4
57
Goodwin
Michael
Ballybrack
17
Male
Co Dublin
Coachman
Church of Ireland
Read and write
-
Son
Single
-
-
-
-
57
Goodwin
David
Ballybrack
14
Male
Co Dublin
Scholar
Church of Ireland
Read and write
-
Son
-
-
-
-
-
57
Goodwin
May
Ballybrack
10
Female
Co Dublin
Scholar
Church of Ireland
Read and write
-
Daughter
-
-
-
-
-
57
Goodwin
Ada
Ballybrack
8
Female
Co Dublin
Scholar
Church of Ireland
Read and write
-
Daughter
-
-
-
-
-
58
Kenny
Annie
Ballybrack
34
Female
Co Dublin Killiney
Bookeeper
Catholic
Read and write
-
Head of Family
Single
-
-
-
-
58
Kenny
Patrick
Ballybrack
27
Male
Ballybrack
Clerk
Catholic
Read and write
-
Brother
Single
-
-
-
-
58
Kenny
Elizabeth
Ballybrack
23
Female
Ballybrack
-
Catholic
Read and write
-
Sister
Single
-
-
-
-
59
Bell
Catherine
Ballybrack
34
Female
Louth
-
Roman Catholic
Read and write
-
Head of Family
Married
-
18
4
4
59
Bell
Maria
Ballybrack
17
Female
Louth
Book Keeper
Roman Catholic
Read and write
-
Daughter
Single
-
-
-
-
59
Bell
Henry
Ballybrack
15
Male
Louth
Shop Assistant
Roman Catholic
Read and write
-
Son
-
-
-
-
-
59
Bell
Chas
Ballybrack
13
Male
Dublin
Scholar
Roman Catholic
Read and write
-
Son
-
-
-
-
-
59
Bell
Gertrude
Ballybrack
11
Female
Dublin
Scholar
Roman Catholic
Read and write
-
Daughter
-
-
-
-
-
60
Poynton
Richard
Ballybrack
37
Male
Co Dublin
Steward
Roman Catholic
Read and write
-
Head of Family
Married
-
15
8
8
60
Poynton
Mary
Ballybrack
38
Female
Co Dublin
-
Roman Catholic
Read and write
-
Wife
Married
-
15
8
8
60
Poynton
William
Ballybrack
15
Male
Co Dublin
Scholar
Roman Catholic
Read and write
-
Son
Single
-
-
-
-
60
Poynton
Robert
Ballybrack
12
Male
Co Dublin
Scholar
Roman Catholic
Read and write
-
Son
Single
-
-
-
-
60
Poynton
Richard
Ballybrack
11
Male
Co Dublin
Scholar
Roman Catholic
Read and write
-
Son
Single
-
-
-
-
60
Poynton
Alice
Ballybrack
9
Female
Co Dublin
Scholar
Roman Catholic
Read and write
-
Daughter
Single
-
-
-
-
60
Poynton
James
Ballybrack
7
Male
Co Wicklow
Scholar
Roman Catholic
Read and write
-
Son
Single
-
-
-
-
60
Poynton
Edward
Ballybrack
6
Male
Co Wicklow
Scholar
Roman Catholic
Read only
-
Son
Single
-
-
-
-
60
Poynton
Eva
Ballybrack
5
Female
Dublin
Scholar
Roman Catholic
Cannot read or write
-
Daughter
Single
-
-
-
-
60
Poynton
Christopher
Ballybrack
1
Male
Dublin
Scholar
Roman Catholic
Cannot read or write
-
Son
Single
-
-
-
-
60
Lawless
James
Ballybrack
25
Male
Co Dublin
Groom
Roman Catholic
Read and write
-
Relative
Single
-
-
-
-
62
Oliver
Charles D
Ballybrack
50
Male
Dublin City
Civil Engineer
Church of Ireland
Read and write
-
Head of Family
Married
-
22
4
4
62
Oliver
Maria (Mina)
Ballybrack
49
Female
Dublin City
-
Church of Ireland
Read and write
-
Wife
Married
-
22
4
4
62
Oliver
Elizabeth
Ballybrack
15
Female
Co Dublin
Scholar
Church of Ireland
Read and write
-
Daughter
Single
-
-
-
-
62
Oliver
Kathleen
Ballybrack
14
Female
Co Dublin
Scholar
Church of Ireland
Read and write
-
Daughter
Single
-
-
-
-
62
Oliver
Silver
Ballybrack
11
Female
Dublin City
Scholar
Church of Ireland
Read and write
-
Daughter
Single
-
-
-
-
62
Jamieson
Edith
Ballybrack
53
Female
Co Cavan
Governess (General)
Church of Ireland
Read and write
-
Governess
Single
-
-
-
-
62
Lannin
Eliza
Ballybrack
44
Female
Co Cork
Parlour Maid
Church of Ireland
Read and write
-
Servant
Single
-
-
-
-
62
Dowling
Mary
Ballybrack
50
Female
Co Carlow
Cook
R C
Read and write
-
Servant
Single
-
-
-
-
62
Hackett
Kate
Ballybrack
27
Female
Co Cork
Housemaid
R C
Read and write
-
Servant
Single
-
-
-
-
62
Rigley
Israel
Ballybrack
25
Male
Co Wexford
Gardener
Church of Ireland
Read and write
-
Servant
Single
-
-
-
-
63
Stanley
Thomas
Ballybrack
60
Male
Ballybrack
Manager Grocery Stores
Roman Catholic
Read and write
-
Head of Family
Single
-
-
-
-
63
Stanley
Thomas
Ballybrack
27
Male
Dublin
Grocers Assistant
Roman Catholic
Read and write
Irish and English
Grocers Assistant
Single
-
-
-
-
63
Mc Loughlin
William
Ballybrack
54
Male
Co Westmeath
Grocers Assistant
Roman Catholic
Read and write
-
Grocers Assistant
Single
-
-
-
-
63
Kean
John
Ballybrack
25
Male
Co Galway
Grocers Assistant
Roman Catholic
Read and write
-
Grocers Assistant
Single
-
-
-
-
63
Sheridan
Phil
Ballybrack
18
Male
Co Cavan
Grocers Assistant
Roman Catholic
Read and write
-
Grocers Assistant
Single
-
-
-
-
64
Kavanagh
Mary A
Ballybrack
60
Female
Co Dublin
Charwoman
R Catholic
Read and write
-
Head of Family
Single
-
-
-
-
65
Healy
Mary
Ballybrack
59
Female
Co Dublin
Dressmaker
R Catholic
Read and write
English
Head of Family
Widow
-
39
-
-
66
Kavanagh
Agnes
Ballybrack
24
Female
Ballybrack Co Dublin
Green Grocers Shop Manageress
Roman Catholic
Read and write
Irish and English
Head of Family
Single
-
-
-
-
66
Mulligan
Kathleen
Ballybrack
25
Female
Virgenia Co Cavan
Assistant
Roman Catholic
Read and write
Irish and English
Assistant
Single
-
-
-
-
68
Moore
James
Ballybrack
49
Male
Co Dublin
Gardener
Roman Catholic
Read and write
-
Head of Family
Married
-
-
-
-
68
Moore
Mary
Ballybrack
46
Female
Co Dublin
-
Roman Catholic
Read and write
-
Wife
Married
-
22
-
-
69
Keegan
Edward J
Ballybrack
40
Male
Co Dublin
Butcher
Church of Ireland
Read and write
-
Head of Family
Married
-
-
4
4
69
Keegan
Elizabeth A
Ballybrack
40
Female
Co Wicklow
-
Church of Ireland
Read and write
-
Wife
Married
-
6
4
4
69
Keegan
Edward W
Ballybrack
9
Male
Co Dublin
-
Church of Ireland
Read and write
-
Daughter
Single
-
-
-
-
69
Keegan
Susan E
Ballybrack
11
Female
Co Dublin
-
Church of Ireland
Read and write
-
Son
Single
-
-
-
-
69
Keegan
Annette
Ballybrack
7
Female
Co Dublin
-
Church of Ireland
Cannot read
-
Daughter
Single
-
-
-
-
69
Keegan
John L
Ballybrack
4
Male
Co Dublin
-
Church of Ireland
Cannot read
-
Son
Single
-
-
-
-
69
Dunne
Maria
Ballybrack
20
Female
Co Wicklow
Domestic Servant
Church of Rome
Read and write
-
Servant
Single
-
-
-
-
70
Montgomery
Anne
Ballybrack
63
Female
Co Dublin
Postmistress
R Catholic
Read and write
English
Head of Family
Widow
-
-
10
6
70
Montgomery
Mary Agnes
Ballybrack
35
Female
Co Dublin
Clerk
R C
Read and write
English
Daughter
Single
-
-
-
-
70
Montgomery
Elizabeth Annie
Ballybrack
28
Female
Co Dublin
Clerk
R C
Read and write
English
Daughter
Single
-
-
-
-
70
Montgomery
Thomas Hillarian
Ballybrack
23
Male
Co Dublin
Batcholar Apprentice
R C
Read and write
English
Son
Single
-
-
-
-
71
Rigley
William
Ballybrack
36
Male
Co Wexford
Gardener Domestic Servant
Church of Ireland
Read and write
-
Head of Family
Married
-
-
-
-
71
Rigley
Elizabeth
Ballybrack
38
Female
Co Wexford
Gardener Domestic Servant
Church of Ireland
Read and write
-
Wife
Married
-
13
-
-
72
Kelly
Alexander
Ballybrack
87
Male
Co Antrim
Ex R I C Sergeant
Church of Ireland
Read and write
-
Head of Family
Widower
-
-
-
-
72
Kelly
Herbert
Ballybrack
17
Male
Co Dublin
Scholar
Church of Ireland
Read and write
-
Son
Single
-
-
-
-
73
Mc Donald
Mary Anne
Ballybrack
76
Female
Co Meath
-
Roman Catholic
Cannot read
-
Head of Family
Widow
-
-
8
5
73
Mc Donald
Thomas
Ballybrack
49
Male
Co Dublin
Labourer
Roman Catholic
Read and write
-
Son
Single
-
-
-
-
74
Lambert
Michael
Ballybrack
38
Male
Cork
Constable R I C
Church of Ireland
Read and write
-
Head of Family
Married
-
-
-
-
74
Lambert
Annie B
Ballybrack
30
Female
Queens Co
-
Church of Ireland
Read and write
-
Wife
Married
-
4
3
2
74
Lambert
William J
Ballybrack
2
Male
Co Dublin
-
Church of Ireland
-
-
Son
-
-
-
-
-
74
Lambert
Eileen
Ballybrack
Female
Co Dublin
-
Church of Ireland
-
-
Daughter
-
-
-
-
-
75
McClutchie
James
Ballybrack
36
Male
Co Dublin
Coachman
Irish Church
Read and write
-
Head of Family
Married
-
-
-
-
75
McClutchie
Susan
Ballybrack
40
Female
Wicklow
-
Irish Church
Read and write
-
Wife
Married
-
-
2
2
75
McClutchie
William George
Ballybrack
6
Male
Co Dublin
Scholar
Irish Church
-
-
Son
-
-
-
-
-
75
McClutchie
James Charles
Ballybrack
3
Male
Co Dublin
-
Irish Church
-
-
Son
-
-
-
-
-
76
Teeling
Luke Alexander
Ballybrack
55
Male
Co Cork
Civil Servant Accountant General Superm Court
Roman Catholic
Read and write
-
Head of Family
Married
-
-
-
-
76
Teeling
Margaret Mary
Ballybrack
49
Female
Co Galway
-
Roman Catholic
Read and write
-
Wife
Married
-
12
1
1
76
Teeling
Luke William Burke
Ballybrack
8
Male
City of Dublin
Scholar
Roman Catholic
Read and write
-
Son
Single
-
-
-
-
76
Reynolds
Anne
Ballybrack
29
Female
Co Westmeath
Cook Domestic Servant
Roman Catholic
Read and write
-
Servant
Single
-
-
-
-
76
Harrison
Julia
Ballybrack
24
Female
Co Kildare
Parlourmaid Domestic Servant
Roman Catholic
Read and write
-
Servant
Single
-
-
-
-
76
Kerrigan
Mary
Ballybrack
21
Female
Co Dublin
Housemaid Domestic Servant
Roman Catholic
Read and write
-
Servant
Single
-
-
-
-
76
Dilger
Marie
Ballybrack
33
Female
Galway Bavaria
Nursery Governess Domestic Servant
Roman Catholic
Read and write
-
Servant
Single
-
-
-
-
76
Heavey
John
Ballybrack
28
Male
Kings County
General Servant Domestic
Roman Catholic
Read and write
-
Servant
Single
-
-
-
-
77
Murray
William
Ballybrack
53
Male
Co Dublin
Gardener
Roman Catholic
Read and write
-
Head of Family
Married
-
24
-
-
77
Murray
Anne
Ballybrack
53
Female
Co Meath
-
Roman Catholic
Read and write
-
Wife
Married
-
24
-
-
78
Stronge
Elinor Margaret
Ballybrack
59
Female
Co Dublin
Lady of Ind Means
Church of Ireland
Read and write
-
Head of Family
Single
-
-
-
-
78
Stronge
Frances Anne
Ballybrack
57
Female
Co Dublin
-
Church of Ireland
Read and write
-
Sister
Single
-
-
-
-
78
Stronge
Alice Isabella
Ballybrack
55
Female
Co Dublin
-
Church of Ireland
Read and write
-
Sister
Single
-
-
-
-
78
Murphy
Alice Mary Catherine
Ballybrack
45
Female
Co Armagh
Domestic Servant Cook
Roman Catholic
Read and write
-
Servant
Single
-
-
-
-
78
Bray
Eva
Ballybrack
31
Female
King's County
Domestic Servant Parlourmaid
Church of Ireland
Read and write
-
Servant
Single
-
-
-
-
78
Bryan
Anne
Ballybrack
40
Female
Co Tipperary
Domestic Servant Housemaid
Roman Catholic
Read and write
-
Servant
Single
-
-
-
-
78
Sands
Edward
Ballybrack
16
Male
City of Dublin
Domestic Servant Under Gardner
Roman Catholic
Read and write
-
Servant
Single
-
-
-
-
78
Quillinan
Margaret Josephine
Ballybrack
55
Female
Co Mayo
Sicknurse
Roman Catholic
Read and write
-
Sister's Sick Nurse
Widow
-
-
-
-
79
Pidgeon
Helen R
Ballybrack
47
Female
Co Dublin
Private Income from Shares Etc
Church of Ireland
Read and write
-
-
Single
-
-
-
-
79
Pidgeon
Charlotte
Ballybrack
43
Female
Co Dublin
-
Church of Ireland
Read and write
-
Sister
Single
-
-
-
-
79
Eustace
Jane G
Ballybrack
28
Female
Co Dublin
-
Church of Ireland
Read and write
-
Visitor
Single
-
-
-
-
79
Higgins
Mary J
Ballybrack
37
Female
Co Fermanagh
Domestic Servant Cook
Church of Ireland
Read and write
-
Domestic Servant Cook
Single
-
-
-
-
80
Farnan
Patrick
Ballybrack
50
Male
Co Dublin
Labourer General
Roman Catholic
Read and write
-
Head of Family
Married
-
-
-
-
80
Farnan
Bridget
Ballybrack
54
Female
Co Meath
-
Roman Catholic
Read and write
-
Wife
Married
-
16
-
-
81
Moore
Francis Charles Henry
Ballybrack
60
Male
Co Meath
Income Derived from Dividends
Church of Ireland
Read and write
-
Head of Family
Single
-
-
-
-
81
Moore
Mary Mildred
Ballybrack
57
Female
Co Meath
-
Church of Ireland
Read and write
-
Sister
Single
-
-
-
-
81
Macred
Mary
Ballybrack
27
Female
Co Tyrone
Cook Domestic Servant
Church of Ireland
Read and write
-
Servant
Single
-
-
-
-
81
Finnerty
Mary
Ballybrack
30
Female
Co Kildare
Housemaid Domestic Servant
Roman Catholic
Read and write
-
Servant
Single
-
-
-
-
82
Neville
Emma
Ballybrack
68
Female
Kent
Lady Independant Means
Church of Ireland
Read and write
-
Head of Family
Widow
-
-
4
4
82
Pryce
Athelstane R
Ballybrack
61
Male
Shropshire
D I Late 13 th Hussers
Church of England
Read and write
-
Son in Law
Married
-
-
-
-
82
Pryce
Maud
Ballybrack
42
Female
Dublin
-
Church of England
Read and write
-
Daughter
Married
-
-
-
-
82
Neville
Emma C
Ballybrack
46
Female
Co Cork
-
Church of Ireland
Read and write
-
Daughter
Single
-
-
-
-
82
Summers
Thurra
Ballybrack
23
Female
Somerset
Ladys Maid
Church of Ireland
Read and write
-
Lady's Maid
Single
-
-
-
-
82
Grand
Mark
Ballybrack
39
Male
Norfolk
Butler
Church of Ireland
Read and write
-
Butler
Single
-
-
-
-
82
Nolan
Mary
Ballybrack
29
Female
Dublin
Cook Domestic Servant
Roman Catholic
Read and write
-
Cook
Single
-
-
-
-
82
Eardley
Anastatia
Ballybrack
23
Female
Kildare
Servant
Roman Catholic
Read and write
-
Servant
Single
-
-
-
-
82
Redding
Jane
Ballybrack
15
Female
Dublin
Servant
Church of Ireland
Read and write
-
Servant
Single
-
-
-
-
83
Byrne
Morgan
Ballybrack
62
Male
Co Dublin
Caretaker
Catholic
Read and write
English
Head of Family
Married
-
-
-
-
83
Byrne
Mary
Ballybrack
54
Female
Co Kildare
Laundress
Catholic
Read and write
English
Wife
Married
-
13
-
-
84
Fergusson
Herbert
Ballybrack
45
Male
Dublin
St Colonel 3/A and S Hos
Episcoplian Ch of Scotland
Read and write
-
Head of Family
Married
-
-
-
-
84
Mc Donnell
Margaret
Ballybrack
28
Female
Co Meath Scotland
Domestic Servant
Roman Catholic
Read and write
-
Servant
Single
-
-
-
-
84
Doherty
Mary
Ballybrack
27
Female
Co Donegal England
Domestic Servant
Roman Catholic
Read and write
-
Servant
Single
-
-
-
-
84
Donegan
Della
Ballybrack
40
Female
London
Dressmaker
Roman Catholic
Read and write
-
Dressmaker
Single
-
-
-
-
84
Fergusson
Maud
Ballybrack
38
Female
Beaumaris I of M Jersy
-
Episcoplian Church of Scotland
Read and write
-
Wife
Married
-
17
1
1
84
Kasten
Lina
Ballybrack
50
Female
Berlin
Governess
Lutheran Church
Read and write
-
Visitor
Single
-
-
-
-
85
Montgommery
Annie
Ballybrack
50
Female
Co Dublin
Lodging House Keeper
Roman Catholic
Read and write
-
Head of Family
Widow
-
-
2
2
85
Montgommery
Mary Jane
Ballybrack
22
Female
Co Dublin
Dressmaker
Roman Catholic
Read and write
-
Daughter
Single
-
-
-
-
85
Montgommery
John
Ballybrack
20
Male
Co Dublin
Van Driver
Roman Catholic
Read and write
-
Son
Single
-
-
-
-
85
Bierns
John
Ballybrack
30
Male
Kildare
Labourer
Roman Catholic
Read and write
-
Lodger
Single
-
-
-
-
86
Kane
Mary
Ballybrack
48
Female
Co Wexford
Cab Owner
Roman Catholic
Read and write
-
Head of Family
Widow
-
-
6
4
86
Kane
Patrick
Ballybrack
16
Male
Co Dublin
Cab Driver
Roman Catholic
Read and write
-
Son
Single
-
-
-
-
86
Kane
Edward
Ballybrack
14
Male
Co Dublin
Scholar
Roman Catholic
Read and write
-
Son
Single
-
-
-
-
86
Kane
Christopher
Ballybrack
12
Male
Co Dublin
Scholar
Roman Catholic
Read and write
-
Son
Single
-
-
-
-
86
Kane
Elizabeth
Ballybrack
8
Female
Co Dublin
Scholar
Roman Catholic
Read and write
-
Daughter
Single
-
-
-
-
86
Kane
John
Ballybrack
38
Male
Co Dublin
Cab Driver
Roman Catholic
Read and write
-
Relative
Single
-
-
-
-
87
White
Angus
Ballybrack
55
Male
Dublin
Coachman (Dom Serv)
Church of Ireland
Can read and write
-
Head of Family
Married
-
26
-
-
87
White
Eliza Jane
Ballybrack
30
Female
Cavan
-
Church of Ireland
Can read and write
-
Wife
Married
-
-
7
5
87
White
Kathleen Anna
Ballybrack
25
Female
Dublin
Teacher (Nat Board)
Church of Ireland
Can read and write
-
Daughter
Single
-
-
-
-
87
White
Isabella
Ballybrack
22
Female
Kildare
Seamstress
Church of Ireland
Can read and write
-
Daughter
Single
-
-
-
-
87
White
Margaret
Ballybrack
20
Female
Kildare
Seamstress
Church of Ireland
Can read and write
-
Daughter
Single
-
-
-
-
87
Hobson
William
Ballybrack
26
Male
Cavan
Farm Servant
Church of Ireland
Read and write
-
Nephew
Single
-
-
-
-
88
Casey
Bridget
Ballybrack
60
Female
Co Wexford
Lodging House Keeper
Roman Catholic
Read and write
-
Head of Family
Single
-
-
-
-
88
Casey
Patrick
Ballybrack
57
Male
Co Dublin
Shoemaker
Roman Catholic
Read and write
-
Brother
Single
-
-
-
-
88
Carroll
Michael
Ballybrack
24
Male
Co Tipperary
Motorman
Roman Catholic
Read and write
-
Boarder
Single
-
-
-
-
89
Lynch
William
Ballybrack
47
Male
Co Dublin
Plaster
Roman Catholic
Read and write
-
Head of Family
Married
-
-
-
-
89
Lynch
Marcella
Ballybrack
42
Female
Co Dublin
-
Roman Catholic
Read and write
-
Wife
Married
-
17
7
7
89
Lynch
Bernard
Ballybrack
16
Male
Co Dublin
Messenger Boy
Roman Catholic
Read and write
-
Son
-
-
-
-
-
89
Lynch
Patrick
Ballybrack
14
Male
Co Dublin
Scholar
Roman Catholic
Read and write
-
Son
-
-
-
-
-
89
Lynch
John
Ballybrack
12
Male
Co Dublin
Scholar
Roman Catholic
Read and write
-
Son
-
-
-
-
-
89
Lynch
Willie
Ballybrack
10
Male
Co Dublin
Scholar
Roman Catholic
Read and write
-
Son
-
-
-
-
-
89
Lynch
Ellen
Ballybrack
8
Female
Co Dublin
Scholar
Roman Catholic
Read and write
-
Daughter
-
-
-
-
-
89
Lynch
Mary
Ballybrack
7
Female
Co Dublin
Scholar
Roman Catholic
-
-
Daughter
-
-
-
-
-
89
Lynch
George
Ballybrack
1
Male
Co Dublin
-
Roman Catholic
-
-
Son
-
-
-
-
-
90
Kane
Mary
Ballybrack
50
Female
Co Dublin
Dressmaker
R Catholic
Read and write
English
Head of Family
Widow
-
25
4
2
90
Kane
Thomas
Ballybrack
14
Male
Co Dublin
Scholar
R Catholic
Read and write
Irish and English
Son
Single
-
-
-
-
91
Wall
Elizabeth
Ballybrack
69
Female
Co Dublin
Wash Woman
Roman Catholic
Read and write
-
Head of Family
Widow
-
-
13
6
91
Peart
Belgum
Ballybrack
38
Male
-
Ex Soldier Persr
Roman Catholic
Read and write
-
Son in Law
Married
-
-
-
-
91
Peart
Mary
Ballybrack
35
Female
Co Dublin
-
Roman Catholic
Read and write
-
Wife
Married
-
8
-
-
91
Wall
Thomas
Ballybrack
7
Male
England
Scholar
Roman Catholic
Read and write
-
Grand Son
-
-
-
-
-
91
Wall
William
Ballybrack
5
Male
England
Scholar
Roman Catholic
Read and write
-
Grand Son
-
-
-
-
-
91
Wall
Samuel
Ballybrack
3
Male
England
-
Roman Catholic
Read and write
-
Grand Son
-
-
-
-
-
92
Savage
Emily
Ballybrack
75
Female
Co Meath
Laundress
Church of Ireland
Read and write
-
Head of Family
Widow
-
-
14
9
92
Savage
Emily
Ballybrack
40
Female
Co Louth
Laundress
Church of Ireland
Read and write
-
Daughter
Single
-
-
-
-
92
Savage
Mary A
Ballybrack
30
Female
Co Dublin
Laundress
Church of Ireland
Read and write
-
Daughter
Single
-
-
-
-
92
Savage
Rose
Ballybrack
38
Female
Co Dublin
Laundress
Church of Ireland
Read and write
-
Daughter
Single
-
-
-
-
92
Gibson
Elizabeth Louise
Ballybrack
32
Female
Co Dublin
-
Church of Ireland
Read and write
-
Daughter
Married
-
-
-
92
Gibson
John
Ballybrack
28
Male
Scotland
Postman
Church of Ireland
Read and write
-
Son in Law
Married
-
-
-
-
92
Cambell
Louie
Ballybrack
26
Female
Co Dublin
Domestic Servant
Church of Ireland
Read and write
-
Servant
Single
-
-
-
-
93
Hurley
Christopher
Ballybrack
47
Male
Co Dublin
Gardener
Roman Catholic
Read and write
-
Head of Family
Married
-
24
5
5
93
Hurley
Kathleen
Ballybrack
19
Female
Co Dublin
-
Roman Catholic
Read and write
-
Daughter
Single
-
-
-
-
93
Hurley
Joseph
Ballybrack
16
Male
Co Dublin
Garden Boy
Roman Catholic
Read and write
-
Son
Single
-
-
-
-
93
Hurley
Elizabeth
Ballybrack
11
Female
Co Dublin
Scholar
Roman Catholic
Read and write
-
Daughter
Single
-
-
-
-
94
Connor
Kate
Ballybrack
46
Female
County Dublin
-
R Catholic
Read and write
English
Wife
Widow
-
-
5
5
94
Connor
Joseph
Ballybrack
22
Male
County Dublin
Carpenter
R Catholic
Read and write
English
Son
Single
-
-
-
-
94
Connor
James
Ballybrack
20
Male
County Dublin
Garden
R Catholic
Read and write
English
Son
Single
-
-
-
-
94
Connor
Robert
Ballybrack
17
Male
County Dublin
Garden
R Catholic
Read and write
English
Son
Single
-
-
-
-
96
Mc Namee
Thomas
Ballybrack
73
Male
Co Meath
Gardener
Roman Catholic
Cannot read or write
-
Head of Family
Married
-
-
-
-
96
Mc Namee
Elizabetha
Ballybrack
50
Female
Co Meath
Laundress
Roman Catholic
Read and write
-
Wife
Married
-
41
7
7
96
Mc Namee
Josephine
Ballybrack
25
Female
Co Dublin
Laundress
Roman Catholic
Read and write
-
Daughter
Single
-
-
-
-
96
Leonard
Thomas
Ballybrack
23
Male
Co Dublin
Gardener
Roman Catholic
Read and write
-
Son in Law
Married
-
1
1
1
96
Leonard
Teresa
Ballybrack
23
Female
Co Dublin
Laundress
Roman Catholic
Read and write
-
Daughter
Married
-
-
-
-
97
Byrne
Rose
Ballybrack
48
Female
Co Dublin
-
Catholic
Read
-
Head of Family
Widow
-
-
9
7
97
Byrne
Tom
Ballybrack
24
Male
Co Dublin
Van Man
Catholic
Write and read
-
Son
-
-
-
-
-
97
Byrne
William
Ballybrack
18
Male
Co Dublin
Van Man
Catholic
Write and read
-
Son
-
-
-
-
-
97
Byrne
Daniel
Ballybrack
16
Male
Co Dublin
Van Man
Catholic
Write and read
Irish and English
Son
-
-
-
-
-
97
Byrne
Elizbeth
Ballybrack
15
Female
Co Dublin
Scholar
Catholic
Write and read
Irish and English
Daughter
-
-
-
-
-
98
Hurley
George
Ballybrack
67
Male
Co Dublin
Gardener
Catholic
Read and write
English
Head of Family
Married
-
-
-
-
98
Hurley
Mary
Ballybrack
57
Female
Co Wicklow
-
Catholic
Read and write
English
Wife
Married
-
30
2
-
99
Kane
William
Ballybrack
32
Male
Co Dublin
Cab Driver
R Catholic
Read and write
-
Head of Family
Married
-
-
-
-
99
Kane
Margret
Ballybrack
32
Female
Co Dublin
-
R Catholic
Read and write
-
Wife
Married
-
9
5
4
99
Kane
Elizabeth M
Ballybrack
7
Female
Co Dublin
-
R Catholic
Read and write
-
Daughter
-
-
-
-
-
99
Kane
Bridget
Ballybrack
5
Female
Co Dublin
-
R Catholic
-
-
Daughter
-
-
-
-
-
99
Kane
Margret
Ballybrack
4
Female
Co Dublin
-
R Catholic
-
-
Daughter
-
-
-
-
-
99
Kane
Josephene
Ballybrack
Female
Co Dublin
-
R Catholic
-
-
Daughter
-
-
-
-
-
100
Casey
James
Ballybrack
24
Male
Co Dublin
Shoemaker
Roman Catholic
Read and write
-
Head of Family
Single
-
-
-
-
100
Rutledge
Richard
Ballybrack
24
Male
Co Wicklow
General Labourer
Roman Catholic
Read and write
-
Lodger
Single
-
-
-
-
101
Toole
Martin
Ballybrack
58
Male
Co Dublin
Coal Carrier
Roman Catholic
Read and write
-
Head of Family
Married
-
-
-
-
101
Toole
Julia
Ballybrack
54
Female
Co Wicklow
-
Roman Catholic
Read and write
-
Wife
Married
-
5
1
1
101
Byrne
Sarah
Ballybrack
10
Female
Co Wicklow
-
Roman Catholic
Read and write
-
Relative
-
-
-
-
-
102
Reilly
Margaret
Ballybrack
62
Female
Co Dublin
Grocer and C
Roman Catholic
Read and write
-
Head of Family
Widow
-
-
4
4
102
Reilly
John
Ballybrack
29
Male
Ballybrack
-
Roman Catholic
Read and write
-
Son
Single
-
-
-
-
102
Reilly
Sara
Ballybrack
27
Female
Ballybrack
-
Roman Catholic
Read and write
-
Daughter
Single
-
-
-
-
102
Reilly
Lizzie
Ballybrack
24
Female
Ballybrack
-
Roman Catholic
Read and write
-
Daughter
Single
-
-
-
-
102
Reilly
Ben
Ballybrack
22
Male
Ballybrack
-
Roman Catholic
Read and write
-
Son
Single
-
-
-
-
102
Reilly
James
Ballybrack
57
Male
Ballybrack
Assistant in Shop
Roman Catholic
Read and write
-
Brother in Law
Single
-
-
-
-
104
Collins
Sylvester
Ballybrack
20
Male
Tipperary
Grocer
Roman Catholic
Read and write
-
Grocers Manager
Single
-
-
-
-
104
Burlugh
William
Ballybrack
17
Male
Co Dublin
Grocer
Church of Ireland
Read and write
-
Assistant
Single
-
-
-
-
104
Graydon
George
Ballybrack
24
Male
Co Dublin
Surveyor
Roman Catholic
Read and write
-
Assistant
Single
-
-
-
-
104
Jones
Mary
Ballybrack
36
Female
Co Wicklow
Cook
Roman Catholic
Read and write
-
Servant
Single
-
-
-
-
105
Macken
Edward
Ballybrack
18
Male
Co Dublin
Pupil Engineer
Roman Catholic
Read and write
-
Son
Single
-
-
-
-
105
Macken
Rosanna
Ballybrack
36
Female
Co Dublin
Private Means
Roman Catholic
Read and write
-
Head of Family
Married
-
18
2
2
105
Macken
Patrick
Ballybrack
17
Male
Co Dublin
Scholar
Roman Catholic
Read and write
-
Son
Single
-
-
-
-
105
Byrne
John
Ballybrack
40
Male
Co Dublin
Lamp Lighter
Roman Catholic
Read and write
-
Brother
Single
-
-
-
-
106
Lee
Ellen
Ballybrack
53
Female
Co Waterford
Cook Dom Ser
Roman Catholic
Read and write
Irish and English
Cook
Single
-
-
-
-
106
Darcy
Agnes
Ballybrack
28
Female
Co Wicklow
Servant P Maid
Church of Ireland
Read and write
-
Servant
Single
-
-
-
-
107
Ignatius J
Rice
Ballybrack
41
Male
Dublin
Solicitor
Roman Catholic
Read and write
Irish and English
Head of Family
Married
-
-
-
-
107
Mary Frances
Rice
Ballybrack
38
Female
Co Limerick
-
Roman Catholic
Read and write
-
Wife
Married
-
14
-
-
107
Sarah
Doran
Ballybrack
32
Female
Dublin
Domestic Servant
Roman Catholic
Read and write
-
Servant
Single
-
-
-
-
108
Webber
Oswald T O K
Ballybrack
40
Male
India
Capt Royal Engineers Retired Assistant Superintending Engineer Engineering Department G P O
C of England
Read and write
-
Head of Family
Married
-
7
2
2
108
Webber
Teresa
Ballybrack
36
Female
England
-
C of England
Read and write
-
Wife
Married
-
7
2
2
108
Webber
Evelyn
Ballybrack
6
Male
England
-
C of England
Read and write
-
Son
Single
-
-
-
-
108
Webber
William
Ballybrack
3
Male
England
-
C of England
Cannot read
-
Son
Single
-
-
-
-
108
Welsford
Ellen
Ballybrack
40
Female
England
Nurse - Domestic Servant
C of England
Read and write
-
Servant
Single
-
-
-
-
108
Brady
Ann
Ballybrack
60
Female
Wicklow
Cook - Domestic Servant
R Catholic
Read and write
English
Servant
Single
-
-
-
-
108
Gilmore
Julia
Ballybrack
25
Female
Galway
Parlour Maid Domestic Servant
R Catholic
Read and write
English
Servant
Single
-
-
-
-
108
O' Keeffe
Mary
Ballybrack
21
Female
Queens
House Maid Domestic Servant
R Catholic
Read and write
-
Servant
Single
-
-
-
-
109
Horner
William
Ballybrack
42
Male
Dublin
Contractor
Church of Ireland
Read and write
-
Head of Family
Married
-
17
5
5
109
Horner
Josephine
Ballybrack
46
Female
Dublin
-
Church of Ireland
Read and write
-
Wife
Married
-
17
5
5
109
Horner
James Percy
Ballybrack
14
Male
Dublin
Apprentice Carpenter
Church of Ireland
Read and write
-
Son
-
-
-
-
-
109
Horner
William Albert
Ballybrack
13
Male
Dublin
Scholar
Church of Ireland
Read and write
-
Son
-
-
-
-
-
109
Horner
Olive May
Ballybrack
11
Female
Dublin
Scholar
Church of Ireland
Read and write
-
Daughter
-
-
-
-
-
109
Horner
Elizabeth Lydia
Ballybrack
8
Female
Dublin
Scholar
Church of Ireland
-
-
Daughter
-
-
-
-
-
109
Horner
Alexander Jackson
Ballybrack
5
Male
Dublin
Scholar
Church of Ireland
-
-
Son
-
-
-
-
-
110
Mc Nally
Thomas
Ballybrack
28
Male
Kings Co
Gardener - Domestic Servant
Roman Catholic
Read and write
-
Head of Family
Married
-
-
-
-
110
Mc Nally
Helena
Ballybrack
28
Female
Kildare
-
Roman Catholic
Read and write
-
Wife
Married
-
3
1
1
110
Mc Nally
Annie
Ballybrack
Female
City Dublin
-
Roman Catholic
-
-
Daughter
-
-
-
-
-
111
Gibbings
Helen Rose
Ballybrack
50
Female
Co Dublin
Lady of Private Means
Church of Ireland
Both read and write
-
Head of Family
Widow
-
-
-
-
111
Vernon
Anna Lilian
Ballybrack
52
Female
Co Dublin
-
Church of Ireland
Both read and write
-
Sister
Single
-
-
-
-
111
Lennon
Elisabeth
Ballybrack
29
Female
Co Kildare
Cook (Domestic Servant)
R Catholic
Both read and write
-
Servant
Single
-
-
-
-
111
Moore
Annie
Ballybrack
22
Female
Co Kilkenny
Parlourmaid (Domestic Servant)
R Catholic
Both read and write
-
Domestic Servant
Single
-
-
-
-
111
Carn
Margaret
Ballybrack
24
Female
Co Westmeath
House Maid Domestic Servant
R Catholic
Both read and write
-
Servant
Single
-
-
-
-
112
Scott
Sarah Anna
Ballybrack
65
Female
Queen's Co
House Property
Church of Ireland
Read and write
-
Head of Family
Widow
-
-
4
4
112
Scott
Rossetta Marion
Ballybrack
35
Female
China
-
Church of Ireland
Read and write
-
Daughter
Single
-
-
-
-
112
Scott
James Douglas
Ballybrack
27
Male
Co Dublin
Retired Clerk
Church of Ireland
Read and write
-
Son
Single
-
-
-
-
112
Burnett
Edward
Ballybrack
76
Male
Co Dublin
Deriving Income House and Land
Church of Ireland
Read and write
-
Brother
Single
-
-
-
-
112
Molony
Mary Frances
Ballybrack
51
Female
Co Tyrone
-
Church of Ireland
Read and write
-
Visitor
Single
-
-
-
-
112
McNamara
Catharine
Ballybrack
34
Female
Co Dublin
Domestic Servant
Irish Catholic
Read and write
-
Servant
Widow
-
-
-
-
113
Hunter
Harriette
Ballybrack
65
Female
Dublin Co
Lady with Private Means
Presbyterian
Read and write
-
Head of Family
Widow
-
-
10
8
113
Hunter
Mary Frances
Ballybrack
38
Female
Dublin Co
-
Presbyterian
Read and write
-
Daughter
Single
-
-
-
-
113
Hunter
Andrew Hugh
Ballybrack
37
Male
Dublin Co
Member of Dublin Stock Exchange
Presbyterian
Read and write
-
Son
Single
-
-
-
-
113
Brophy
Sarah
Ballybrack
21
Female
Queens County
Servant
Roman Catholic
Read and write
-
Servant
Single
-
-
-
-
113
Harty
Julia
Ballybrack
37
Female
Dublin City
Servant
Roman Catholic
Read and write
-
Servant
Single
-
-
-
-
114
Moss
Richard J
Ballybrack
64
Male
City of Dublin
Registar and Chemical Analyst Royal Dublin Society
Church of Ireland
Read and write
-
Head of Family
Married
-
-
-
-
114
Moss
Eveline A
Ballybrack
45
Female
Bray, Co Wicklow
-
Church of Ireland
Read and write
-
Wife
Married
-
12
3
3
114
Moss
Gladys E
Ballybrack
10
Female
Co Dublin
Scholar
Church of Ireland
Read and write
-
Daughter
-
-
-
-
-
114
Moss
Phyllis H
Ballybrack
8
Female
Co Dublin
Scholar
Church of Ireland
Read and write
-
Daughter
-
-
-
-
-
114
Moss
Graham B
Ballybrack
5
Male
Co Dublin
Scholar
Church of Ireland
Read and write
-
Son
-
-
-
-
-
114
Waters
Bridget
Ballybrack
24
Female
City of Dublin
Domestic Servant
Roman Catholic
Read and write
-
Servant
Single
-
-
-
-
114
Lees
May
Ballybrack
17
Female
England
Domestic Servant
Church of Ireland
Read and write
-
Servant
Single
-
-
-
-
115
Roche
Michael
Ballybrack
72
Male
Co Wicklow
Gardener
Roman Catholic
Read and write
-
Head of Family
Married
-
-
-
-
115
Roche
Catherine
Ballybrack
64
Female
Co Cavan
-
Roman Catholic
Read and write
-
Wife
Married
-
42
-
-
116
Healy
Catherine
Ballybrack
60
Female
Kildare
Income from Shares
Catholic
Read and write
-
Head of Family
Widow
-
-
12
8
116
Healy
Kathleen
Ballybrack
37
Female
Dublin
-
Catholic
Read and write
-
Daughter
Single
-
-
-
-
116
Healy
Nora
Ballybrack
36
Female
Dublin
-
Catholic
Read and write
-
Daughter
Single
-
-
-
-
116
Healy
Rick
Ballybrack
35
Male
Dublin
Master Tailor
Catholic
Read and write
-
Son
Single
-
-
-
-
116
Healy
Eily
Ballybrack
34
Female
Dublin
-
Catholic
Read and write
-
Daughter
Single
-
-
-
-
116
Healy
Annie
Ballybrack
26
Female
Dublin
-
Catholic
Read and write
-
Daughter
Single
-
-
-
-
116
Healy
Enda B
Ballybrack
29
Male
Ballymack, Co Dublin
Solicitor
Catholic
Read and write
-
Son
Single
-
-
-
-
116
Mac Donald
Sheila
Ballybrack
3
Female
Kildare St Dublin
-
Catholic
Infant
-
Grand Daughter
Single
-
-
-
-
116
Byrne
Elizabeth
Ballybrack
18
Female
Co Tipperary
General Domestic Servant
Catholic
Read and write
Irish and English
Domestic Servant
Single
-
-
-
-
118
Bower
George
Ballybrack
58
Male
Co Kildare
Builder
Protestant Church of Ireland
Read and write
-
Head of Family
Married
-
-
-
-
118
Bower
Ellen
Ballybrack
60
Female
Co Limerick
-
Protestant Church of Ireland
Read and write
-
Wife
Married
-
29
3
2
118
Bower
Thomas
Ballybrack
26
Male
Co Dublin
Builder
Protestant Church of Ireland
Read and write
-
Son
Single
-
-
-
-
118
Bower
Jane
Ballybrack
27
Female
Co Dublin
-
Protestant Church of Ireland
Read and write
-
Daughter
Single
-
-
-
-
119
Phibbs
Susan
Ballybrack
65
Female
Kerry
Income from Shares etc
Protestant Irish Church
Read and write
-
Head of Family
Married
-
-
7
5
119
Phibbs
Catherine
Ballybrack
37
Female
Switzerland
-
Nonconformist
Read and write
-
Daughter
Single
-
-
-
-
119
Gawley
Emily
Ballybrack
32
Female
Sligo
Hospital Nurse
Protestant Ch of Ire
Read and write
-
Hospital Nurse
Single
-
-
-
-
119
Meagher
Catherine
Ballybrack
57
Female
Co Wicklow
General Servant
Roman Catholic
Read and write
-
Servant
Single
-
-
-
-
120
Carter
Thomas
Ballybrack
74
Male
Co Dublin
Dairyman
Irish Church
Read and write
-
Head of Family
Married
-
-
-
-
120
Carter
Jane
Ballybrack
73
Female
-
-
Irish Church
Read and write
-
Wife
Married
-
50
9
6
120
Carter
William
Ballybrack
48
Male
Co Dublin
Dairy Occupation
Irish Church
Read and write
-
Son
Single
-
-
-
-
120
Carter
Sarah
Ballybrack
45
Female
Co Dublin
Dairy Occupation
Irish Church
Read and write
-
Daughter
Single
-
-
-
-
120
Carter
John
Ballybrack
42
Male
Co Dublin
Dairy Occupation
Irish Church
Read and write
-
Son
Single
-
-
-
-
120
Carter
Alexander
Ballybrack
38
Male
Co Dublin
Dairy Occupation
Irish Church
Read and write
-
Son
Single
-
-
-
-
120
Carter
Lizzie
Ballybrack
31
Female
Co Dublin
Dairy Occupation
Irish Church
Read and write
-
Daughter
Single
-
-
-
-
120
Carter
James
Ballybrack
29
Male
Co Dublin
Dairy Occupation
Irish Church
Read and write
-
Son
Single
-
-
-
-
121
Flood
Ellen
Ballybrack
32
Female
Co Dublin
-
Roman Catholic
Read and write
Irish and English
Head of Family
Single
-
-
-
-
121
Flood
Joseph
Ballybrack
30
Male
Co Dublin
Gardener
Roman Catholic
Read and write
Irish and English
Brother
Single
-
-
-
-
121
Flood
Christopher
Ballybrack
27
Male
Co Dublin
Gardener
Roman Catholic
Read and write
Irish and English
Brother
Single
-
-
-
-
122
Worrall
Frederic St John
Ballybrack
54
Male
Dublin
Corn Bracker
Church of Ireland
Both
-
Head of Family
Married
-
27
-
-
122
Worrall
H J A
Ballybrack
52
Female
Dublin
-
Church of Ireland
Both
-
Wife
Married
-
27
-
-
122
Morton
A M Y
Ballybrack
49
Female
Dublin
Servant
Church of Ireland
Both
-
Sister in Law
Single
-
-
-
-
122
Carroll
Kate
Ballybrack
43
Female
Dublin
Servant Cook
Roman Catholic
Both
-
Servant
Single
-
-
-
-
123
Gibson
William
Ballybrack
75
Male
Dublin
J P and D Co Tipperary and C
Church of Ireland
Read and write
-
Head of Family
Married
-
1
-
-
123
Gibson
Sophia C
Ballybrack
50
Female
Queens Co
-
Church of Ireland
Read and write
-
Wife
-
-
-
-
-
123
Freeman
Hannah
Ballybrack
40
Female
Portarlington
-
Roman Catholic
Read and write
-
Servant
Single
-
-
-
-
123
Freeman
Annie
Ballybrack
24
Female
Portarlington
-
Roman Catholic
Read and write
-
Servant
Single
-
-
-
-
124
Bibby
Hugh G
Ballybrack
43
Male
England
Dividends
Roman Catholic
Read and write
-
Head of Family
Married
-
12
-
-
124
Bibby
Marie C
Ballybrack
33
Female
England
-
Roman Catholic
Read and write
-
Wife
Married
-
12
-
-
124
Magan
Margaret
Ballybrack
45
Female
Co Kildare
General Servant Domestic
Roman Catholic
Read and write
-
Servant
Single
-
-
-
-
125
Domvile
Harriett
Ballybrack
58
Female
England
Lady Indp Means
Church of Ireland
Read and write
-
Head of Family
Widow
-
-
-
-
125
Domvile
Rose
Ballybrack
28
Female
England
-
Church of Ireland
Read and write
-
Step Daughter
Single
-
-
-
-
125
Domvile
Eileen
Ballybrack
33
Female
England
-
Church of England
Read and write
-
Visitor
Single
-
-
-
-
125
Moore
Agnes
Ballybrack
34
Female
Cork City
Ladies Maid Domestic Servant
Roman Catholic
Read and write
-
Servant
Single
-
-
-
-
125
Mc Grath
Kate
Ballybrack
25
Female
Co Wicklow
Parlour Maid Domestic Servant
Roman Catholic
Read and write
-
Servant
Single
-
-
-
-
125
Whelan
Margaret
Ballybrack
24
Female
Co Dublin
Cook Domestic Servant
Roman Catholic
Read and write
Irish and English
Servant
Single
-
-
-
-
126
Broughan
Peter
Ballybrack
42
Male
Dublin
Ploughman
Roman Catholic
Read and write
-
Head of Family
Married
-
-
-
-
126
Broughan
Bridget
Ballybrack
38
Female
Co Kildare
-
Roman Catholic
Read and write
-
Wife
Married
-
15
6
5
126
Broughan
Patrick
Ballybrack
14
Male
Dublin
Scholar
Roman Catholic
Read and write
-
Son
-
-
-
-
-
126
Broughan
Anne
Ballybrack
11
Female
Dublin
Scholar
Roman Catholic
Read and write
-
Daughter
-
-
-
-
-
126
Broughan
Bridget
Ballybrack
9
Female
Dublin
Scholar
Roman Catholic
Read and write
-
Daughter
-
-
-
-
-
126
Broughan
Mary
Ballybrack
7
Female
Dublin
Scholar
Roman Catholic
Read and write
-
Daughter
-
-
-
-
-
126
Broughan
Peter
Ballybrack
Male
Dublin
-
Roman Catholic
-
-
Son
-
-
-
-
-
127
Byrne
Patrick
Ballybrack
28
Male
Ballymack
Labourer
Catholic
Read write
Irish
Husband
Married
-
3
-
-
127
Byrne
Esther
Ballybrack
27
Female
Kingstown
House Keeper
Catholic
Read write
English
Wife
Married
-
3
-
-
127
Byrne
Peter
Ballybrack
Male
Dalkey
-
Catholic
-
-
Son
Single
-
-
2
2
127
Byrne
Esther
Ballybrack
1
Female
Dalkey, Co Dublin
-
Catholic
-
-
Daughter
Single
-
-
-
-
128.1
Brunt
William
Ballybrack
52
-
Co Tyrone
Farmers Son
Church of Ireland
Read and write
English
-
Married
-
-
-
-
128.1
Gilmartin
Patrick
Ballybrack
49
-
Co Sligo
Farmers Son
Roman Catholic
Read and write
English
-
Single
-
-
-
-
128.1
Creagh
John
Ballybrack
43
-
Co Cork
Farmers Son
Roman Catholic
Read and write
English
-
Single
-
-
-
-
128.1
Greely
John
Ballybrack
22
-
Co Roscommon
Grocers Assist
Roman Catholic
Read and write
Irish and English
-
Single
-
-
-
-
128.2
Brunt
Mary Anne Wyatt
Ballybrack
38
Female
England
-
Church of Ireland
Read and write
English
Head of Family
Married
-
19
7
6
128.2
Brunt
Wm Herbert
Ballybrack
17
Male
Co Dublin
Scholar
Church of Ireland
Read and write
English
Son
Single
-
-
-
-
128.2
Brunt
Richard Joseph
Ballybrack
15
Male
Co Dublin
Clerk
Church of Ireland
Read and write
English
Son
Single
-
-
-
-
128.2
Brunt
Alford James
Ballybrack
11
Male
Co Dublin
Scholar
Church of Ireland
Read and write
English
Son
Single
-
-
-
-
128.2
Brunt
Reginald J W
Ballybrack
9
Male
Co Dublin
Scholar
Church of Ireland
Read and write
English
Son
Single
-
-
-
-
128.2
Brunt
Hugh Dix
Ballybrack
1
Male
Co Dublin
-
Church of Ireland
Cannot read or write
-
Son
-
-
-
-
-
128.2
Brunt
Robert George
Ballybrack
Male
Co Dublin
-
Church of Ireland
Cannot read or write
-
Son
-
-
-
-
-
1
Mc Keever
Eleanor Rosalie
Claremont Road
25
Female
Co Dublin
Private Income
Roman Catholic
Read and write
-
Head of Family
Single
-
-
-
-
1
Mc Keever
Elizabeth M
Claremont Road
23
Female
Co Dublin
-
Roman Catholic
Read and write
-
Sister
Single
-
-
-
-
1
Mc Keever
Josephine Anne
Claremont Road
22
Female
Co Dublin
-
Roman Catholic
Read and write
-
Sister
Single
-
-
-
-
1
May
Kathleen Teresa
Claremont Road
19
Female
Co Mayo
Sub Post Office Clerk Killerney
Roman Catholic
Read and write
-
Boarder
Single
-
-
-
-
1
Kennedy
Thomas
Claremont Road
55
Male
Co Mayo
General Labourer Domestic
Roman Catholic
Read and write
-
Servant
Single
-
-
-
-
2
Waterhouse
Howard A
Claremont Road
58
Male
Co Dublin
Retired Jeweller
Church of Ireland
Read and write
-
Head of Family
Married
-
-
-
-
2
Waterhouse
Elizabeth
Claremont Road
60
Female
England
-
Church of Ireland
Read and write
-
Wife
Married
-
35
5
5
2
Waterhouse
Samuel H
Claremont Road
34
Male
Co Dublin
Jeweller
Church of Ireland
Read and write
-
Son
Single
-
-
-
-
2
Waterhouse
Kathleen A
Claremont Road
32
Female
Co Dublin
-
Church of Ireland
Read and write
-
Daughter
Single
-
-
-
-
2
Waterhouse
John H C
Claremont Road
31
Male
Co Dublin
Not Practising M B B C H B A O
Church of Ireland
Read and write
-
Son
Single
-
-
-
-
2
Waterhouse
William F
Claremont Road
29
Male
Co Dublin
Estate Agent
Church of Ireland
Read and write
-
Son
Single
-
-
-
-
2
Ryan
Annie
Claremont Road
30
Female
Co Sligo
Domestic Servant Housemaid
Roman Catholic
Read and write
-
Servant
Single
-
-
-
-
2
Donnelly
Margaret
Claremont Road
26
Female
Co Dublin
Cook Domestic Servant
Roman Catholic
Read and write
-
Servant
Single
-
-
-
-
1
Sheridan
Thomas
Glenalua Road
55
Male
Co Wicklow
Gardener
Roman Catholic
Read and write
English
Head of Family
Married
-
-
-
-
1
Sheridan
Mary
Glenalua Road
48
Female
Co Wicklow
-
Roman Catholic
Read and write
English
Wife
Married
-
26
5
5
1
Sheridan
Alice
Glenalua Road
24
Female
Co Dublin
Domestic Servant Governess
Roman Catholic
Read and write
English
Daughter
Single
-
-
-
-
1
Sheridan
Maggie
Glenalua Road
22
Female
Co Dublin
Dress Maker
Roman Catholic
Read and write
English
Daughter
Single
-
-
-
-
1
Sheridan
Esther
Glenalua Road
13
Female
Co Dublin
Scholar
Roman Catholic
Read and write
Irish and English
Daughter
Single
-
-
-
-
1
Sheridan
John
Glenalua Road
10
Male
Co Dublin
Scholar
Roman Catholic
Read and write
English
Son
Single
-
-
-
-
2
Stack
Francis
Glenalua Road
40
Male
Co Dublin
Gardener
Roman Catholic
Read and write
English
Head of Family
Single
-
-
-
-
2
Stack
Mary
Glenalua Road
86
Female
Co Dublin
-
Roman Catholic
Read and write
English
Sister
Single
-
-
-
-
2
Stack
John
Glenalua Road
33
Male
Co Dublin
Gardener
Roman Catholic
Read and write
Irish and English
Brother
Single
-
-
-
-
3
Hall
James
Glenalua Road
83
Male
Co Wicklow
Car Owner
Roman Catholic
Read and write
English
Head of Family
Married
-
-
-
-
3
Hall
Margaret
Glenalua Road
73
Female
Co Wicklow
Old Age Pensioner
Roman Catholic
Cannot read
English
Wife
Married
-
50
10
6
3
Hall
James
Glenalua Road
18
Male
Co Dublin
-
Roman Catholic
Read and write
English
Grand Son
Single
-
-
-
-
3
Hall
Lizzie
Glenalua Road
11
Female
Co Dublin
Scholar
Roman Catholic
Read and write
English
Grand Daughter
Single
-
-
-
-
3
Hurley
Henery
Glenalua Road
20
Male
Dublin City
General Servant Domestic
Roman Catholic
Read and write
English
Servant
Single
-
-
-
-
4
Harmon
Christopher
Glenalua Road
32
Male
Co Louth
Tramway Conductor Dublin United
Roman Catholic
Read and write
Irish and English
Head of Family
Married
-
-
-
-
4
Harmon
Jane
Glenalua Road
32
Female
Co Dublin
-
Roman Catholic
Read and write
Irish and English
Wife
Married
-
2
2
2
4
Harmon
Mary Lilian
Glenalua Road
1
Female
Co Dublin
-
Roman Catholic
Cannot read
-
Daughter
Single
-
-
-
-
4
Harmon
Margaret Georgina
Glenalua Road
Female
Co Dublin
-
Roman Catholic
Cannot read
-
Daughter
Single
-
-
-
-
5
Dowd
Peter
Glenalua Road
45
Male
Co Dublin
Labourer General
Roman Catholic
Read and write
-
Head of Family
Married
-
-
-
-
5
Dowd
Sarah
Glenalua Road
44
Female
Co Dublin
-
Roman Catholic
Read and write
-
Wife
Married
-
21
3
3
5
Dowd
James
Glenalua Road
18
Male
Co Dublin
Baker's Vanman
Roman Catholic
Read and write
-
Son
Single
-
-
-
-
5
Dowd
Winifred
Glenalua Road
14
Female
Co Dublin
Scholar
Roman Catholic
Read and write
Irish and English
Daughter
Single
-
-
-
-
6
Jordan
Christopher
Glenalua Road
48
Male
Co Dublin
Coachman
Roman Catholic
Read and write
-
Head of Family
Married
-
-
-
-
6
Jordan
Mary
Glenalua Road
35
Female
Co Dublin
-
Roman Catholic
Read and write
-
Wife
Married
-
11
3
2
6
Jordan
May
Glenalua Road
10
Female
Co Dublin
Scholar
Roman Catholic
Read and write
-
Daughter
Single
-
-
-
-
6
Jordan
Thomas
Glenalua Road
4
Male
Co Dublin
-
Roman Catholic
Cannot read
-
Son
Single
-
-
-
-
7
Haughton
Arthur M
Glenalua Road
30
Male
County Dublin
Slater and Plasterer
Protestant Church of Ireland
Read and write
-
Head of Family
Married
-
-
-
-
7
Haughton
Bridget
Glenalua Road
29
Female
Co Dublin
-
Roman Catholic
Read and write
-
Wife
Married
-
8
2
2
7
Haughton
Arthur M
Glenalua Road
7
Male
County Waterford
Scholar
Church of Ireland
Read and write
-
Son
Single
-
-
-
-
7
Haughton
Margaret E
Glenalua Road
5
Female
Co Dublin
-
Roman Catholic
Cannot read
-
Daughter
Single
-
-
-
-
8
Leary
Laurence
Glenalua Road
50
Male
Co Dublin
Gardener
Roman Catholic
Read and write
-
Head of Family
Married
-
-
-
-
8
Leary
Lucy
Glenalua Road
53
Female
Malta
-
Roman Catholic
Read and write
-
Wife
Married
-
24
4
3
8
Leary
Thomas
Glenalua Road
22
Male
Co Dublin
Gardener
Roman Catholic
Read and write
-
Son
Single
-
-
-
-
8
Leary
Lucy
Glenalua Road
14
Female
Co Dublin
-
Roman Catholic
Read and write
-
Daughter
Single
-
-
-
-
8
Chester
Charles Edward
Glenalua Road
29
Male
England
Musician
Protestant Church of England
Read and write
-
Son in Law
Married
-
-
-
-
8
Chester
Mary J
Glenalua Road
21
Female
Co Dublin
-
Roman Catholic
Read and write
-
Daughter
Married
-
2
1
1
8
Chester
Lucy C
Glenalua Road
1
Female
City of Dublin
-
Church of England
Cannot read
-
Grand Daughter
Single
-
-
-
-
9
Haughton
Thomas
Glenalua Road
65
Male
Co Wicklow
Tailor
Protestant Church of Ireland
Read and write
-
Head of Family
Married
-
-
-
-
9
Haughton
Catherine
Glenalua Road
60
Female
Co Dublin
-
Protestant Church of Ireland
Read and write
-
Wife
Married
-
36
7
5
9
Haughton
Richard
Glenalua Road
25
Male
Co Dublin
Master Plumber
Protestant Church of Ireland
Read and write
-
Son
Single
-
-
-
-
9
Haughton
Margaret
Glenalua Road
19
Female
Co Dublin
Scholar
Protestant Church of Ireland
Read and write
-
Daughter
Single
-
-
-
-
10
Dowd
Catherine
Glenalua Road
54
Female
Co Wicklow
House Keeper
Roman Catholic
Read and write
-
Head of Family
Single
-
-
-
-
10
Dowd
Mary
Glenalua Road
46
Female
Co Dublin
-
Roman Catholic
Read and write
-
Sister
Single
-
-
-
-
10
Dowd
Patrick
Glenalua Road
34
Male
Co Dublin
Dairy Owner
Roman Catholic
Read and write
-
Brother
Single
-
-
-
-
10
Dowd
Peter
Glenalua Road
20
Male
Co Dublin
Dairy - Assistant
Roman Catholic
Read and write
-
Nephew
Single
-
-
-
-
11.1
Murdock
Mary
Glenalua Road
95
Female
Co Dublin
Old Age Pensioner
Roman Catholic
Cannot read
-
Head of Family
Widow
-
-
-
-
11.1
Murdock
John
Glenalua Road
56
Male
Co Dublin
General Labourer
Roman Catholic
Cannot read
-
Son
Single
-
-
-
-
11.2
Barnett
William
Glenalua Road
27
Male
Co Dublin
Builders Labourer
Roman Catholic
Read and write
-
Head of Family
Married
-
-
-
-
11.2
Barnett
Mary
Glenalua Road
30
Female
Co Kilkenny
-
Roman Catholic
Read and write
-
Wife
Married
-
8
2
2
11.2
Barnett
Mary Elizabeth
Glenalua Road
7
Female
Dublin City
Scholar
Roman Catholic
Read and write
-
Daughter
Single
-
-
-
-
11.2
Barnett
Christopher
Glenalua Road
6
Male
Co Dublin
Scholar
Roman Catholic
Read
-
Son
Single
-
-
-
-
12
Murdock
Ellen
Glenalua Road
63
Female
Co Dublin
House Keeper
Roman Catholic
Read and write
-
Head of Family
Widow
-
-
-
-
12
Murdock
Andrew
Glenalua Road
35
Male
Co Dublin
Park Ranger Killiney Hill
Roman Catholic
Read and write
-
Son
Single
-
-
-
-
12
Murdock
Ellen
Glenalua Road
30
Female
Co Dublin
-
Roman Catholic
Read and write
-
Daughter
Single
-
-
-
-
13
Kavanagh
Thomas
Glenalua Road
45
Male
Co Dublin
Slater
Roman Catholic
Read and write
-
Head of Family
Married
-
-
-
-
13
Kavanagh
Harrietta
Glenalua Road
42
Female
Co Dublin
-
Roman Catholic
Read and write
-
Wife
Married
-
22
7
6
13
Kavanagh
Ellen E
Glenalua Road
17
Female
Co Dublin
Domestic
Roman Catholic
Read and write
-
Daughter
Single
-
-
-
-
13
Kavanagh
Ann Helena
Glenalua Road
15
Female
Co Dublin
Scholar
Roman Catholic
Read and write
English and Irish
Daughter
Single
-
-
-
-
13
Kavanagh
Thomas J
Glenalua Road
13
Male
Co Dublin
Scholar
Roman Catholic
Read and write
English and Irish
Son
Single
-
-
-
-
13
Kavanagh
Harriet Frances
Glenalua Road
10
Female
Co Dublin
Scholar
Roman Catholic
Read and write
-
Daughter
Single
-
-
-
-
13
Kavanagh
Mary Josephine
Glenalua Road
4
Female
Co Dublin
-
Roman Catholic
Cannot read
-
Daughter
Single
-
-
-
-
14
Murdock
Patrick
Glenalua Road
44
Male
Co Dublin
Gardener
Roman Catholic
Cannot read
-
Head of Family
Married
-
-
-
-
14
Murdock
Margaret
Glenalua Road
40
Female
Co Carlow
-
Roman Catholic
Read and write
-
Wife
Married
-
20
10
8
14
Murdock
William
Glenalua Road
14
Male
Co Dublin
Scholar
Roman Catholic
Read and write
-
Son
Single
-
-
-
-
14
Murdock
Margaret
Glenalua Road
12
Female
Co Dublin
Scholar
Roman Catholic
Read and write
Irish and English
Daughter
Single
-
-
-
-
14
Murdock
Evelyn
Glenalua Road
10
Female
Co Dublin
Scholar
Roman Catholic
Read and write
-
Daughter
Single
-
-
-
-
14
Murdock
Patrick
Glenalua Road
7
Male
Co Dublin
Scholar
Roman Catholic
Read and write
-
Son
Single
-
-
-
-
14
Murdock
Elizibeth
Glenalua Road
4
Female
Co Dublin
-
Roman Catholic
Cannot read
-
Daughter
Single
-
-
-
-
14
Murdock
Mary
Glenalua Road
Female
Co Dublin
-
Roman Catholic
Cannot read
-
Daughter
Single
-
-
-
-
15
Redmond
Patrick
Glenalua Road
45
Male
Co Wicklow
Groom
Roman Catholic
Read and write
English
Head of Family
Married
-
-
-
-
15
Redmond
Mary
Glenalua Road
45
Female
Co Dublin
-
Roman Catholic
Read and write
English
Wife
Married
-
21
4
4
15
Redmond
Richard
Glenalua Road
20
Male
Co Dublin
Unemployed Groom
Roman Catholic
Read and write
English
Son
Single
-
-
-
-
15
Redmond
Mary
Glenalua Road
17
Female
Co Dublin
Dressmaker
Roman Catholic
Read and write
English
Daughter
Single
-
-
-
-
15
Redmond
Kathleen
Glenalua Road
14
Female
Co Dublin
Scholar
Roman Catholic
Read and write
English
Daughter
Single
-
-
-
-
15
Redmond
Patrick
Glenalua Road
11
Male
Co Dublin
Scholar
Roman Catholic
Read and write
English
Son
Single
-
-
-
-
16
Byrne
John
Glenalua Road
53
Male
Co Dublin
Brick Layer
Roman Catholic
Read and write
English
Head of Family
Married
-
-
-
-
16
Byrne
M Anna
Glenalua Road
53
Female
Co Dublin
-
Roman Catholic
Read and write
English
Wife
Married
-
30
7
5
16
Byrne
Jos Francis
Glenalua Road
22
Male
Co Dublin
Brick Layer
Roman Catholic
Read and write
English
Son
Single
-
-
-
-
16
Byrne
Austinias
Glenalua Road
19
Male
Co Dublin
Apprentice Bricklayer
Roman Catholic
Read and write
English
Son
Single
-
-
-
-
16
Byrne
Hugh C
Glenalua Road
18
Male
Co Dublin
Scholar
Roman Catholic
Read and write
English and Irish
Son
Single
-
-
-
-
17
Hall
William
Glenalua Road
45
Male
Co Wicklow
Cab and Car Proporitor
Roman Catholic
Read and write
English
Head of Family
Widower
-
-
-
-
17
Hall
Rosie
Glenalua Road
14
Female
Co Dublin
-
Roman Catholic
Read and write
English
Daughter
Single
-
-
-
-
18
Holley
Kate
Glenalua Road
48
Female
Co Wicklow
House Keeper
Roman Catholic
Read and write
-
Head of Family
Widow
-
-
-
-
18
Holley
Sarah
Glenalua Road
19
Female
Co Dublin
Dressmaker
Roman Catholic
Read and write
-
Daughter
Single
-
-
-
-
18
Holley
William
Glenalua Road
17
Male
Co Dublin
Golf Professional
Roman Catholic
Read and write
Irish and English
Son
Single
-
-
-
-
18
Holley
Mary
Glenalua Road
15
Female
Co Dublin
Scholar
Roman Catholic
Read and write
Irish and English
Daughter
Single
-
-
-
-
18
Holley
Annie
Glenalua Road
13
Female
Co Dublin
Scholar
Roman Catholic
Read and write
-
Daughter
Single
-
-
-
-
18
Holley
Christina
Glenalua Road
11
Female
Co Dublin
Scholar
Roman Catholic
Read and write
-
Daughter
Single
-
-
-
-
19
Cashion
Katherine
Glenalua Road
75
Female
Bellworthey
Old Age Pensioner
Roman Catholic
Read and write
-
Head of Family
Widow
-
-
-
-
19
Murdock
Alice
Glenalua Road
17
Female
Co Dublin
Dressmaker Apprentice
Roman Catholic
Read and write
Irish and English
Grand Daughter
Single
-
-
-
-
20
Noctor
Peter
Glenalua Road
50
Male
Co Wexford
Carpenter
Roman Catholic
Read and write
-
Head of Family
Married
-
-
-
-
20
Noctor
Ellen
Glenalua Road
50
Female
Co Dublin
-
Roman Catholic
Read and write
-
Wife
Married
-
5
-
-
20
Noctor
Thomas
Glenalua Road
14
Male
Co Wicklow
Scholar
Roman Catholic
Read and write
-
Son
Single
-
-
-
-
20
Noctor
Kathleen
Glenalua Road
12
Female
Co Wicklow
Scholar
Roman Catholic
Read and write
-
Daughter
Single
-
-
-
-
21
Tynan
Jane
Glenalua Road
50
Female
Co Carlow
House Keeper
Roman Catholic
Read and write
-
Head of Family
Widow
-
-
-
-
21
Tynan
Kiernan
Glenalua Road
24
Male
Co Dublin
Gardener Unemployed
Roman Catholic
Read and write
-
Son
Single
-
-
-
-
21
Tynan
Joseph
Glenalua Road
21
Male
Co Dublin
Van Driver
Roman Catholic
Read and write
-
Son
Single
-
-
-
-
21
Tynan
Thomas
Glenalua Road
18
Male
Co Dublin
Messenger
Roman Catholic
Read and write
-
Son
Single
-
-
-
-
21
Tynan
Bridget
Glenalua Road
15
Female
Co Galway
-
Roman Catholic
Read and write
Irish and English
Daughter
Single
-
-
-
-
22
Comyn Kenny
Michael E
Glenalua Road
50
Male
Co Galway
BA BS MB BCA 8th Ust Practising
Roman Catholic
Read and write
-
Head of Family
Married
-
9
-
-
22
Comyn Kenny
Anna
Glenalua Road
30
Female
Dublin City
Houe
Protestant Irish Church
Read and write
-
Wife
Married
-
9
-
-
22
Walsh
Rose
Glenalua Road
20
Female
Co Kildare
Cook Domestic Servt
Roman Catholic
Read and write
-
Cook
Single
-
-
-
-
22
Walsh
Mary
Glenalua Road
19
Female
Co Kildare
H and P Maid Domestic Servant
Roman Catholic
Read and write
-
H and P Maid
Single
-
-
-
-
23
Prenderille
Mary
Glenalua Road
64
Female
England
Laundress
Roman Catholic
Read and write
-
Head of Family
Widow
-
-
-
-
23
Malone
James
Glenalua Road
29
Male
Co Galway
Butler Unemployed
Roman Catholic
Read and write
-
Boarder
Single
-
-
-
-
24
FitzPatrick
Louisa
Glenalua Road
38
Female
City Dublin
Hospital Nurse
Society of Friends
Read and write
-
Head of Family
Single
-
-
-
-
24
Smith
Charlotte
Glenalua Road
40
Female
Co Wicklow
Nurse Domestic Servant
Irish Church
Read and write
-
Nurse
Single
-
-
-
-
24
Rolly
Kate
Glenalua Road
21
Female
Co Wicklow
General Domestic Servant
Roman Catholic
Read and write
-
Cook Servant
Single
-
-
-
-
24
Fallon
Helena
Glenalua Road
72
Female
Co Tipperary
Income Hs Property
Roman Catholic
Read and write
-
Boarder
Widow
-
-
3
3
24
Mc Munn
Jane
Glenalua Road
30
Female
Co Sligo
Hospital Nurse
Irish Church
Read and write
-
Boarder
Single
-
-
-
-
24
Mc Munn
Eva
Glenalua Road
26
Female
Co Sligo
Hospital Nurse
Irish Church
Read and write
-
Boarder
Single
-
-
-
-
24
Parker
Eleanor
Glenalua Road
24
Female
Belfast City
Hospital Nurse
Presbyterian
Read and write
-
Boarder
Single
-
-
-
-
25
Roberts
William
Glenalua Road
69
Male
Co Meath
Colonel Infantry Army Retd Pay
Church of Ireland
Read and write
-
Head of Family
Single
-
-
-
-
25
Gould
James
Glenalua Road
37
Male
Queens Co
Groom Domestic Servant
Church of Ireland
Read and write
-
Servant
Single
-
-
-
-
25
Taylor
Elisabeth
Glenalua Road
22
Female
Co Kilkenny
Cook Domestic Servant
Church of Ireland
Read and write
-
Servant
Single
-
-
-
-
25
Connolly
Sarah
Glenalua Road
21
Female
Co Dublin
House Maid Domestic Ser
Church of Ireland
Read and write
-
Servant
Single
-
-
-
-
1
Jackson
Maryanne
Killiney
54
Female
Cork
House Keeper
Church of Ireland
Read and write
-
Head of Family
Single
-
-
-
-
1
Jackson
Lydia
Killiney
52
Female
Kildare
House Keeper
Church of Ireland
Read and write
-
Sister
Single
-
-
-
-
1
Jackson
William John
Killiney
49
Male
Dublin
Gardener
Church of Ireland
Read and write
-
Brother
Single
-
-
-
-
1
Smythe
Annie
Killiney
17
Female
Dublin
Hospital Nurse
Church of Ireland
Read and write
-
Niece
-
-
-
-
-
1
Mc Kenya
Elizabeth
Killiney
42
Female
Scotland
Maid General Servant
Presbyterian
Read and write
-
Boarder
Single
-
-
-
-
2
Doyle
Mary A
Killiney
72
Female
Co Dublin
Lodge Keeper
Roman Catholic
Read and write
-
Head of Family
Widow
-
-
-
-
3
Croasdaile
Anna
Killiney
74
Female
Co Cork
Income from Shares
Church of Ireland
Both read and write
-
Head of Family
Widow
-
-
2
2
3
Boylan
Ellen
Killiney
63
Female
Co Meath
Cook Domestic Servant
R C
Read and write
-
Servant
Widow
-
-
-
-
4
Burke
Maude M
Killiney
50
Female
Co Galway
House Property etc
Church of Ireland
Read and write
-
Head of Family
Widow
-
-
2
2
4
Eager
W McG
Killiney
26
Male
Cornwall, England
Private Tutor B A Oscar
Church of England
Read and write
-
Boarder
Single
-
-
-
-
4
Moore
Catherine
Killiney
65
Female
Manchester
Domestic Servant Gen
Roman Catholic
Read and write
-
Servant
Single
-
-
-
-
5
Leary
John
Killiney
64
Male
Co Louth
Gardener
Irish Church
Read and write
-
Head of Family
Married
-
39
-
-
5
Leary
Catherin
Killiney
64
Female
Sligo
-
Irish Church
Read and write
-
Wife
Married
-
39
9
5
5
Leary
Frances
Killiney
34
Female
Dublin
-
Irish Church
Read and write
-
Daughter
Single
-
-
-
-
5
Finegan
Susan
Killiney
50
Female
Co Louth
Domestic Cook
Irish Church
Read and write
-
Visitor
Single
-
-
-
-
5
Moore
Margeret
Killiney
57
Female
Queens County
-
Church of Ireland
Read and write
-
Boarder
Single
-
-
-
-
6
Watts
Elizabeth
Killiney
74
Female
Co Wicklow
Sextoness
Irish Church
Read and write
-
Head of Family
Widow
-
-
-
-
6
Dodwell
Jane
Killiney
40
Female
Co Dublin
Nurse (Hospital Nurse)
Irish Church
Read and write
-
Boarder
Single
-
-
-
-
7
Dempsey
Margeret
Killiney
30
Female
-
-
-
-
-
-
-
-
-
-
-
7
Pemberton
Henry
Killiney
60
Male
Dublin
-
Church of Ireland
Read and write
-
Head of Family
Widower
-
-
-
-
7
Pemberton
Alice
Killiney
30
Female
Dublin
-
Church of Ireland
Read and write
-
Daughter
Single
-
-
-
-
7
Pemberton
Etta
Killiney
28
Female
Dublin
-
Church of Ireland
Read and write
-
Son
Single
-
-
-
-
7
Pemberton
Victor
Killiney
27
Male
Dublin
Builder
Church of Ireland
Read and write
-
Son
Single
-
-
-
-
7
Pemberton
Robert
Killiney
26
Male
Dublin
Builder
Church of Ireland
Read and write
-
Son
Single
-
-
-
-
9
Jebb
Robert
Killiney
61
Male
County Dublin
Private Means from Stocks
Church of England
-
-
Head of Family
Married
-
5
-
-
9
Jebb
Marion
Killiney
43
Female
Newzealand
Private Means from Stocks
Church of England
-
-
Wife
Married
-
5
-
-
9
Hickey
Elizabeth
Killiney
22
Female
Tipperary
House Maid Domestic Servant
Roman Catholic
Read and write
-
Servant
Single
-
-
-
-
9
Smyth
Kathleen
Killiney
16
Female
Dublin Co
Cook Domestic Servant
Roman Catholic
Read and write
Irish and English
Servant
Single
-
-
-
-
10
Wingfield
Emily Caroline
Killiney
64
Female
Queens Co
Private Income
Church of Ireland
Read and write
-
Head of Family
Single
-
-
-
-
10
Wingfield
Frances Catherine
Killiney
63
Female
Queens Co
-
Church of Ireland
Read and write
-
Sister
Single
-
-
-
-
10
Pogue
Lena
Killiney
26
Female
Cavan
House Parlour Maid
Church of Ireland
Read and write
-
Domestic Servant
Single
-
-
-
-
10
Fox
Julia
Killiney
61
Female
Straffan, Co Kildare
Cook Domestic Servant
Roman Catholic
Read and write
-
Domestic Servant
Single
-
-
-
-
10
Donaldson
Jessie Mary
Killiney
59
Female
Newmarket, Co Cork
-
Church of England
Read and write
-
Visitor
Single
-
-
-
-
11
Fennelly
John
Killiney
51
Male
Co Tipperary
Roman Catholic Curate
Roman Catholic
Read and write
-
-
Single
-
-
-
-
11
Killeen
Joseph John
Killiney
35
Male
Co Wexford
Roman Catholic Curate
Roman Catholic
Read and write
-
-
Single
-
-
-
-
11
Mernagh
Margeret
Killiney
32
Female
Co Wexford
House Keeper (Dom)
Roman Catholic
Read and write
-
Servant
Single
-
-
-
-
11
Byrne
Anne
Killiney
23
Female
Co Wexford
House Keeper (Servant)
Roman Catholic
Read and write
-
Servant
Single
-
-
-
-
12
Kennedy
Olive
Killiney
68
Female
Fermanagh
Private Means
Church of Ireland
Can read and write
English
-
Widow
-
-
-
-
12
Mc Cormick
Sarah
Killiney
28
Female
Sligo
Servant General
Church of Ireland
Can read and write
English
-
Single
-
-
-
-
13
Maher
William
Killiney
49
Male
Co Dublin
Clerk
Roman Catholic
Read and write
-
Head of Family
Married
-
-
-
-
13
Maher
Catherine
Killiney
55
Female
Co Kildare
-
Roman Catholic
Read and write
-
Wife
Married
-
24
3
2
13
Maher
Anne
Killiney
17
Female
Co Dublin
-
Roman Catholic
Read and write
Irish and English
Daughter
Single
-
-
-
-
14
Williamson
Jane
Killiney
72
Female
Co Dublin
House Property
Presbyterian
Read and write
-
Head of Family
Widow
-
-
-
-
14
Bullock
Isabella
Killiney
55
Female
Co Dublin
-
Presbyterian
Read and write
-
Niece
Single
-
-
-
-
14
Nowlan
Maude
Killiney
42
Female
Newzealand
-
Roman Catholic
Read and write
-
Visitor
Single
-
-
-
-
14
Browne
Ellen Mary
Killiney
21
Female
Co Tipperary
Domestic Servant
Roman Catholic
Read and write
Irish and English
Servant
Single
-
-
-
-
15
Browne
George
Killiney
73
Male
Wexford
Deputy Lieutenant Justice of the Peace
Roman Catholic
Read and write
-
Head of Family
Married
-
28
-
-
15
Browne
Honoria
Killiney
60
Female
Co Meath
-
Roman Catholic
Read and write
-
Wife
Married
-
28
-
-
15
Mathers
Maryant
Killiney
56
Female
Co Louth
General Servant
Roman Catholic
Read and write
-
Servant
Single
-
-
-
-
17
O'Shea
Michael
Killiney
66
Male
Co Cork
Parish Priest
Roman Catholic
Read and write
-
-
Single
-
-
-
-
17
Carty
Timothy Joseph
Killiney
67
Male
Co Cork
Brewer
Roman Catholic
Read and write
-
Visitor
Married
-
27
-
-
17
Muldoon
Mary Ellen
Killiney
48
Female
Co Mayo
General Servant
Roman Catholic
Read and write
-
Servant
Single
-
-
-
-
18
Nicholas
Murphy
Killiney
58
Male
Co Wexford
Gardener Dom Ser
R C
Read and write
-
Head of Family
Married
-
-
-
-
18
James
Murphy
Killiney
21
Male
Co Wexford
Apprentice Plumber
R C
Read and write
-
Son
Single
-
-
-
-
18
Mary
Murphy
Killiney
60
Female
Co Wexford
-
R C
Read and write
-
Wife
Married
-
22
1
1
19
Ruston
Reginald S
Killiney
44
Male
England
St Colonel Army Pay Dept Active Dis
Church of England
Read and write
-
Head of Family
Married
-
-
-
-
19
Ruston
Philip A S
Killiney
20
Male
England
Solicitor Articled Clerk
Church of England
Read and write
-
Nephew
Single
-
-
-
-
19
Willian
Gertrude
Killiney
28
Female
England
Parlour Maid - Domestic Servant
Church of England
Read and write
-
Servant
Single
-
-
-
-
19
Andrews
Fanny
Killiney
25
Female
England
House Maid - Domestic Servant
Church of England
Read and write
-
Servant
Single
-
-
-
-
19
Powell
Margaret
Killiney
29
Female
Co Waterford
Cook - Domestic Servant
Roman Catholic
Read and write
-
Servant
Single
-
-
-
-
19
Cunningham
Catherine
Killiney
23
Female
Co Dublin
Kitchen Maid - Domestic Servant
Roman Catholic
Read and write
Irish and English
Servant
Single
-
-
-
-
20
Duncan
William
Killiney
30
Male
Fermanagh
Gardener Domestic Ser
Irish Church
Read and write
-
Head of Family
Married
-
-
-
-
20
Duncan
Mary Ann
Killiney
29
Female
-
-
Irish Church
Read and write
-
Wife
Married
-
10
4
4
20
Duncan
Mary
Killiney
7
Female
Co Roscommon
Scholar
Irish Church
Read and write
-
Daughter
-
-
-
-
-
20
Duncan
Eveline
Killiney
4
Female
Co Westmeath
Scholar
Irish Church
-
-
Daughter
-
-
-
-
-
20
Duncan
Alfred
Killiney
3
Male
Co Wicklow
-
Irish Church
-
-
Son
-
-
-
-
-
20
Duncan
Emily
Killiney
1
Female
Co Wicklow
-
Irish Church
-
-
Daughter
-
-
-
-
-
21
Carden
Richard George
Killiney
44
Male
Dublin
Landed Proprietor D L J P
Church of Ireland
Read and write
-
Head of Family
Married
-
13
2
2
21
Carden
Isabel Francis
Killiney
37
Female
Dublin
-
Church of Ireland
Read and write
-
Wife
Married
-
13
2
2
21
Carden
Isabel Hester
Killiney
11
Female
Dublin
Scholar
Church of Ireland
Read and write
-
Daughter
Single
-
-
-
-
21
Kittson Forrest
Charlotte Elsie
Killiney
43
Female
Lancashire
Governess
Church of Ireland
Read and write
-
Visitor
Single
-
-
-
-
21
Maguire
Bridget
Killiney
25
Female
Co Dublin
Domestic Servant Cook
Roman Catholic
Read and write
-
Servant
Single
-
-
-
-
21
McHugh
Rose
Killiney
26
Female
Queens County
Domestic Servant Parlour Maid
Roman Catholic
Read and write
-
Servant
Single
-
-
-
-
21
Kyle
Annie
Killiney
21
Female
Dublin
Domestic Servant House Maid
Church of Ireland
Read and write
-
Servant
Single
-
-
-
-
23
Blake
Valentine
Killiney
41
Male
Co Dublin
Herry Man Retired
Church of Ireland
Read and write
-
Head of Family
Married
-
8
-
-
23
Blake
Alison
Killiney
38
Female
England
-
Church of Ireland
Read and write
-
Wife
-
-
8
-
-
23
Doggett
Kate
Killiney
22
Female
Co Meath
Cook Domestic Servant
Roman Catholic
Read and write
-
Cook Domestic Servant
Single
-
-
-
-
23
Furlong
Kate
Killiney
26
Female
Co Wexford
House and Parlour Maid Domestic Servant
Roman Catholic
Read and write
-
House and Parlour Maid Domestic Servant
Single
-
-
-
-
24
Redmond
Mary
Killiney
68
Female
Co Dublin
House Keeper
Roman Catholic Church
Read and write
-
Head of Family
Single
-
-
-
-
24
Redmond
Kate
Killiney
74
Female
Co Dublin
-
R Catholic Church
Read and write
-
Sister
Single
-
-
-
-
24
Nugent
Rose
Killiney
24
Female
Co Meath
Bar Maid
R Catholic Church
Read and write
-
Visitor
Single
-
-
-
-
25
Keatings
Anne
Killiney
44
Female
Co Carlow, Kelbride
Domestic Servant General
Roman Catholic
Read and write
English only
Servant
Single
-
-
-
-
25
Bradshaw
Myrib
Killiney
-
-
-
-
-
-
-
-
-
-
-
-
-
26
Devine
Edward C
Killiney
41
Male
Co Wicklow
Gardener Domestic Servant
Roman Catholic
Read and write
-
Head of Family
Married
-
16
1
1
27
Franklin
Agnes
Killiney
36
Female
Co Wexford
Cook Dom Serv
Roman Catholic
Read and write
-
Servant
Single
-
-
-
-
27
Colbert
Katie
Killiney
21
Female
Co Waterford
Domestic Servant
Roman Catholic
Read and write
-
Servant
Single
-
-
-
-
28
Goff
Theodosia
Killiney
64
Female
Dublin
Independent Man
Irish Church
Read and write
-
Head of Family
Widow
-
26
4
4
28
Goff
Grace Nina
Killiney
26
Female
Killiney, Co Dublin
-
I C
Read and write
-
Daughter
Single
-
-
-
-
28
Goff
Chalres Edward
Killiney
22
Female
Killiney, Co Dublin
Lieutenant Kery's Regt
I C
Read and write
-
Son
Single
-
-
-
-
28
Rooney
Ellen
Killiney
26
Female
Dublin
Parlour Maid Domestic Servant
R C
Read and write
-
Parlour Maid Domestic Servant
Single
-
-
-
-
28
Shortt
Bridi
Killiney
25
Female
Co Wicklow
House Maid Domestic Servant
R C
Read and write
-
House maid Domestic Servant
Single
-
-
-
-
28
Moran
Ethel
Killiney
22
Female
England
Cook Domestic Servant
R C
Read and write
-
Cook Domestic Servant
Single
-
-
-
-
29
Ward
Joseph
Killiney
64
Male
City of Dublin
Magistrate Retired Merchant and Income from Shares Etc
Roman Catholic
Read and write
-
Head of Family
Married
-
28
-
-
29
Ward
Margaret
Killiney
47
Female
City of Dublin
-
Roman Catholic
Read and write
-
Wife
Married
-
28
1
1
29
Dwyer
Mary Josephine
Killiney
38
Female
Co of Meath
-
Roman Catholic
Read and write
-
Visitor
Single
-
-
-
-
29
Brady
Margaret
Killiney
78
Female
City of Dublin
Cook Dom Servant
Roman Catholic
Read and write
-
Servant
Single
-
-
-
-
29
Connors
Margaret
Killiney
38
Female
Co of Wexford
Cook Dom Servant
Roman Catholic
Read and write
-
Servant
Single
-
-
-
-
29
McMullen
Sarah
Killiney
32
Female
Lancashire
House Maid Dom Servant
Roman Catholic
Read and write
-
Servant
Single
-
-
-
-
30
Graham
Robert
Killiney
35
Male
Dublin
Master Painter
Church of Ireland
Read and write
-
Head of Family
Married
-
14
4
4
30
Graham
Mary Jane
Killiney
36
Female
Dublin
-
Church of Ireland
Read and write
-
Wife
Married
-
14
4
4
30
Graham
Frederick
Killiney
13
Male
Dublin
Scholar
Church of Ireland
Read and write
-
Son
Single
-
-
-
-
30
Graham
Robert Lindley
Killiney
9
Male
Dublin
Scholar
Church of Ireland
Read and write
-
Son
Single
-
-
-
-
30
Graham
Ruby
Killiney
4
Female
Dublin
Scholar
Church of Ireland
Cannot read
-
Daughter
Single
-
-
-
-
30
Graham
Vera
Killiney
2
Female
Dublin
-
Church of Ireland
Cannot read
-
Daughter
Single
-
-
-
-
30
Fisher
Mary Louisa
Killiney
26
Female
Wales
-
Church of Ireland
Read and write
-
Visitor
Single
-
-
-
-
31
Noblett
Thomas
Killiney
32
Male
Co Meath
Gardener Domestic Ser
Church of Ireland
Read and write
-
Head of Family
Married
-
6
-
-
31
Noblett
Florence
Killiney
31
Female
Kerry
-
Church of Ireland
Read and write
-
-
Married
-
6
-
-
32
Wills
Charles
Killiney
51
Male
Co Dublin
Gardener
Roman Catholic
Read and write
-
Head of Family
Married
-
23
2
2
32
Wills
Elizabeth
Killiney
54
Female
Co Wicklow
-
Roman Catholic
Read and write
-
Wife
Married
-
23
2
2
32
Wills
John Thomas
Killiney
21
Male
Co Dublin
Clerk in Service of the Irish Galway City Cleane House
Roman Catholic
Read and write
Irish and English
Son
Single
-
-
-
-
32
Wills
Kathleen Mary
Killiney
19
Female
Co Dublin
Scholar
Roman Catholic
Read and write
Irish and English
Daughter
Single
-
-
-
-
33
Stewart
George Francis
Killiney
59
Male
Co Dublin
Land Agent Magistrate D L
Church of Ireland
Read and write
-
Head of Family
Married
-
29
4
3
33
Stewart
Georgina Lavinia
Killiney
51
Female
England
-
Church of Ireland
Read and write
-
Wife
Married
-
29
-
-
33
Stewart
Ethel Georgina
Killiney
20
Female
Co Dublin
-
Church of Ireland
Read and write
-
Daughter
Single
-
-
-
-
33
Mc Guinness
Marion
Killiney
27
Female
Co Dublin
Parlour Maid Dom Ser
Church of Ireland
Read and write
-
Servant
Single
-
-
-
-
33
Knight
Maud
Killiney
26
Female
Co Dublin
House Maid Dom Ser
Roman Catholic
Read and write
-
Servant
Single
-
-
-
-
33
Mulaly
Annie
Killiney
35
Female
Co Meath
Kitchen Maid Cook Dom Ser
Roman Catholic
Read and write
-
Servant
Single
-
-
-
-
33
Parson
Arthur Allen
Killiney
38
Male
England
Motor Man Dom Ser
Church of Ireland
Read and write
-
Servant
Single
-
-
-
-
34
Barrington
John Henry
Killiney
56
Male
Dublin City
Director of Industrial J P for City of Dublin
Society of Friends Community Called Quakers
Read and write
-
Head of Family
Single
-
-
-
-
34
Barrington
Sarah
Killiney
53
Female
Dublin City
-
Society of Friends Community Called Quakers
Read and write
-
Sister
Single
-
-
-
-
34
Doyle
Dora
Killiney
34
Female
Noragh, Co Wicklow
House and Parlour Maid
Roman Catholic
Read and write
-
Servant
Single
-
-
-
-
34
Mc Loughlin
Mary
Killiney
40
Female
Stradbally, Queens Co
Cook
Roman Catholic
Read and write
-
Servant
Single
-
-
-
-
35
O'Connell
John Robert
Killiney
43
Male
-
-
Roman Catholic
-
-
Head of family
-
-
-
-
-
35
O'Connell
Mary
Killiney
40
Female
-
-
Roman Catholic
-
-
Wife
-
-
-
-
-
35
Scally
Ethel
Killiney
36
Female
-
-
Roman Catholic
-
-
Sister in law
-
-
-
-
-
35
Mc Carthy
Norah
Killiney
45
Female
-
-
Roman Catholic
-
-
Servant
-
-
-
-
-
35
Spratt
Bridget
Killiney
25
Female
-
-
Roman Catholic
-
-
Servant
-
-
-
-
-
35
Nolan
Mary Frances
Killiney
24
Female
-
-
Roman Catholic
-
-
Servant
-
-
-
-
-
36
Smythe
Frances
Killiney
60
Female
Co Louth
Private Means
Church of Ireland
Read and write
-
Wife
Married
-
41
9
8
36
Smythe
Richard
Killiney
72
Male
England
-
Church of Ireland
Read and write
-
Husband
Married
-
41
9
8
36
Smythe
Olive
Killiney
33
Female
Co Dublin
-
Church of Ireland
Read and write
-
Daughter
Single
-
-
-
-
36
Burnside
Francis
Killiney
40
Female
Co Dublin
-
Church of Ireland
Read and write
-
Visitor
Married
-
5
1
1
36
Cross
Mina
Killiney
30
Female
Co Tyrone
Domestic Servant
Church of Ireland
Read and write
-
Parlour Maid
Single
-
-
-
-
36
Barnett
Margaret
Killiney
26
Female
Co Donegal
House Maid Dom Servant
Presbyterian
Read and write
-
Domestic Servant
Single
-
-
-
-
36
Murphy
Elizabeth
Killiney
22
Female
Co Wicklow
House Maid
Church of Rome
Read and write
-
Domestic Servant
Single
-
-
-
-
36
Waring
Mary
Killiney
30
Female
Co Down
Cook Domestic Servant
Presbyterian
Read and write
-
Cook
Single
-
-
-
-
36
Byrne
James
Killiney
30
Male
Co Wicklow
Groom Domestic Servant
Church of Rome
Read and write
-
Groom
Single
-
-
-
-
37
Eades
Thomas
Killiney
31
Male
-
-
-
-
-
-
-
-
-
-
-
38
Allen
David
Killiney
56
Male
Belfast City
Company Director Barrister in Land (Not in Printerss) Kings Inns Dublin Master of Arts and Bachelor of Inns
Presbyterian
Read and write
-
Head of Family
Married
-
27
3
-
38
Allen
Ada Lilian
Killiney
50
Female
Tasmania
-
Presbyterian
Read and write
-
Wife
Married
-
27
3
3
38
Allen
Agnes Amy Leonora
Killiney
22
Female
Co Down
-
Presbyterian
Read and write
-
Daughter
Single
-
-
-
-
38
Allen
David Trevor
Killiney
19
Male
Co Down
Apprentice Clerk in Bilspisting in Office
Presbyterian
Read and write
-
Son
Single
-
-
-
-
38
Mc Clean
Mary
Killiney
50
Female
Co Tyrone
Cook Domestic Servant
Methodist
Read and write
-
Servant
Single
-
-
-
-
38
Griffith
Frances
Killiney
23
Female
Co Meath
House Maid Domestic Servant
Church of Ireland
Read and write
-
Servant
Single
-
-
-
-
39
Chandler
Mary
Killiney
72
Female
Co Kildare
Private Income
Irish Church
Read and write
-
Head of Family
Widow
-
5
-
-
39
Stanley
Maria
Killiney
43
Female
Co Galway
Servant
Roman Catholic
Read and write
-
Servant
Widow
-
6
2
2
39
Stanley
Mary Elizabeth
Killiney
13
Female
Co Dublin
Attending School
Roman Catholic
Read and write
Irish and English
Visitor
Single
-
-
-
-
40
O' Connor
Maria J
Killiney
50
Female
Dublin
Private Income
Cased to Belong to Way
Read and write
-
Head of Family
Widow
-
-
-
-
40
Ashew
Annie
Killiney
26
Female
Dublin
General Domestic Servant
Roman Catholic
Read and write
-
Servant
Single
-
-
-
-
41
Goodwin
Hannah S
Killiney
64
Female
Co Dublin
Private Income
Irish Church
Read and write
English
Head of Family Daughter
Single
-
-
-
-
41
O Kelly
Mary
Killiney
34
Female
Co Dublin
Cook (Domestic Servant)
Irish Church
Read and write
English
Domestic
Single
-
-
-
-
41
Groe
Mary
Killiney
17
Female
Co Dublin
P Maid Domestic Se
Irish Church
Read and write
English
Domestic
Single
-
-
-
-
43
Orr
Ella
Killiney
56
Female
County Dublin
Income from Sharerer
Church of Ireland
Read and write
-
Head of Family
Widow
-
-
-
-
43
Brien
Margaret
Killiney
44
Female
Dublin
Cook Domestic Servant
Roman Catholic
Read and write
-
Servant
Single
-
-
-
-
43
Miller
Edith
Killiney
23
Female
Windsor, England
H Parlour Maid Domestic Servant
Church of Ireland
Read and write
-
Servant
Single
-
-
-
-
44
Simpson
Joseph
Killiney
52
Male
Co Tyrone
Comptroller of stamps & taxes. Inland Revenue
Protestant Free Church
Read and write
-
Head of Family
Married
-
-
-
-
44
Simpson
Jane
Killiney
48
Female
London
-
Protestant Free Church
Read and write
-
Wife
Married
-
22
1
1
44
Simpson
Oswald Givan Ewart
Killiney
21
Male
London
Medical Student - Under Graduate Trinity College
Protestant Free Church
Read and write
-
Son
Single
-
-
-
-
44
Lynch
Jane Annie
Killiney
25
Female
Co Kildare
Domestic Servant - Cook General
Roman Catholic
Read and write
-
Servant
Single
-
-
-
-
45
Cooper
Patrick
Killiney
64
Male
Co Kerry
Gardener Domestic Servant
Roman Catholic
Read and write
Irish and English
Head of Family
Married
-
-
-
-
45
Cooper
Elizabeth
Killiney
62
Female
Co Dublin
-
Roman Catholic
Read and write
-
Wife
Married
-
29
9
4
45
Cooper
Michael
Killiney
25
Male
Co Dublin
Laboratory Assistant
Roman Catholic
Read and write
Irish and English
Son
Single
-
-
-
-
45
Cooper
James
Killiney
20
Male
Co Dublin
Clerk (Commercial)
Roman Catholic
Read and write
Irish and English
Son
Single
-
-
-
-
45
Cooper
Denis
Killiney
17
Male
Co Dublin
Scholar
Roman Catholic
Read and write
Irish and English
Son
Single
-
-
-
-
45
Cooper
Sheila
Killiney
13
Female
Co Dublin
Scholar
Roman Catholic
Read and write
Irish and English
Daughter
Single
-
-
-
-
45
Moran
Annie
Killiney
26
Female
Co Dublin
Lady's Maid Domestic Servant
Roman Catholic
Read and write
-
Visitor
Single
-
-
-
-
46
Fitzsimens
James
Killiney
44
Male
England
Gardener Dom
I C Church
Read and write
English
Head of Family
Widower
-
-
2
2
46
Fitzsimens
James H
Killiney
17
Male
Dublin
Gardener Boy
I C Church
Read and write
English
Son
Single
-
-
-
-
46
Fitzsimens
Alice
Killiney
15
Female
Dublin
-
I C Church
Read and write
English
Daughter
Single
-
-
-
-
47
Blair
Harry
Killiney
40
Male
Co Dublin
Garden Worker Domestic Servt
Irish Church
Read and write
-
Head of Family
Married
-
7
2
2
47
Blair
Bella
Killiney
36
Female
-
-
Irish Church
Read and write
-
Wife
Married
-
7
2
2
47
Blair
Robert
Killiney
6
Male
-
Schoolar
Irish Church
Cannot read
-
Son
-
-
-
-
-
47
Blair
Anie
Killiney
3
Female
-
-
Irish Church
Cannot read
-
Daughter
-
-
-
-
-
48
Byrne
John
Killiney
29
Male
Co Dublin
Chaffeur
Catholic
Read and write
-
Head of Family
Married
-
-
-
-
48
Byrne
Kathleen
Killiney
25
Female
Co Carlow
-
Catholic
Read and write
-
Wife
Married
-
1
1
1
48
Byrne
Jackie
Killiney
Male
-
-
Catholic
-
-
Son
-
-
-
-
-
49
Casey
John
Killiney
27
Male
-
-
-
-
-
-
-
-
-
-
-
49
Casey
Ellin
Killiney
27
Female
-
-
-
-
-
-
-
-
-
-
-
49
Galvin
Jane
Killiney
22
Female
-
-
-
-
-
-
-
-
-
-
-
49
Casey
Patrick
Killiney
Male
-
-
-
-
-
-
-
-
-
-
-
50
Casey
Thomas
Killiney
32
Male
Co Dublin
Gardener Domestic Servant
R C
Read and write
-
Head of Family
Married
-
10
-
-
50
Casey
Lizzie
Killiney
34
Female
City of Dublin
-
R C
Read and write
-
Wife
Married
-
10
3
3
50
Casey
Gerald
Killiney
7
Male
Co Dublin
Scholar
R C
-
-
Son
-
-
-
-
-
50
Casey
Elizabeth
Killiney
9
Female
City of Dublin
Scholar
R C
-
-
Daughter
-
-
-
-
-
50
Casey
Emily
Killiney
5
Female
City of Dublin
Scholar
R C
-
-
Daughter
-
-
-
-
-
51
Wheatley
Mary
Killiney
63
Female
Tipperary
-
Irish Church
Read and write
-
Head of Family
Widow
-
-
2
1
51
Wheatley
George
Killiney
32
Male
Co Dublin
Gardener Dom Ser
Irish Church
Read and write
-
Son
Single
-
-
-
-
52
Homan
Frederick
Killiney
22
Male
Co Dublin
Carpenter
Church of Ireland
Read and write
-
Head of Family
Married
-
-
-
52
Homan
Margaret
Killiney
21
Female
Co Dublin
-
Church of Ireland
Read and write
-
Wife
Married
-
-
-
53
Shannon
Michael
Killiney
37
Male
Co Wicklow
Gardener Domestic Servant
Roman Catholic
Read and write
-
Head of Family
Married
-
-
-
-
53
Shannon
Mary
Killiney
34
Female
Co Wicklow
-
Roman Catholic
Read and write
-
Wife
Married
-
6
2
2
53
Shannon
Maisie
Killiney
4
Female
Co Dublin
-
Roman Catholic
Cannot read
-
Daughter
Single
-
-
-
-
53
Shannon
Jane Ellen
Killiney
2
Female
Co Dublin
-
Roman Catholic
Cannot read
-
Daughter
Single
-
-
-
-
53
Shannon
John
Killiney
31
Male
Co Wicklow
General Labourer
Roman Catholic
Read and write
-
Visitor
Single
-
-
-
-
53
Lacy
Bridget
Killiney
24
Female
Co Dublin
House Maid Domestic Servant
Roman Catholic
Read and write
-
Visitor
Single
-
-
-
-
54
Quinsey
Thomas
Killiney
64
Male
Wicklow
Gardener Domestic Servant
Church of Ireland
Read and write
-
Head of Family
Single
-
-
-
-
55
Fleming
Elizabeth
Killiney
69
Female
County Dublin
-
Roman Catholic
Read and write
-
Mother
Widow
-
-
3
2
55
Fleming
Elizabeth
Killiney
26
Female
County Dublin
Dress Maker
Roman Catholic
Read and write
-
Daughter
Single
-
-
-
-
56
Clements
Edwin
Killiney
69
Male
Kent
Domestic (Gardener)
Irish Church
Read and write
-
Head of Family
Married
-
12
-
-
56
Clements
Margret
Killiney
57
Female
Queens Co
-
Irish Church
Read and write
-
Wife
Married
-
-
-
-
57
Byrne
Patrick
Killiney
42
Male
Co Wicklow
Domestic Servant
Roman Catholic
Cannot read
-
Head of Family
Married
-
17
6
5
57
Byrne
Mary
Killiney
38
Female
Co Wicklow
-
Roman Catholic
Read and write
-
Wife
Married
-
17
6
5
57
Byrne
Mary C
Killiney
16
Female
Co Dublin
Domestic Servant
Roman Catholic
Read and write
-
Daughter
Single
-
-
-
-
57
Byrne
Domenick
Killiney
13
Male
Co Dublin
Scholar
Roman Catholic
Read and write
-
Son
-
-
-
-
-
57
Byrne
Christina
Killiney
10
Female
Co Dublin
Scholar
Roman Catholic
Read and write
-
Daughter
-
-
-
-
-
57
Byrne
Micheal
Killiney
8
Male
Co Dublin
Scholar
Roman Catholic
Read and write
-
Son
-
-
-
-
-
57
Byrne
Annie
Killiney
4
Female
Co Dublin
Scholar
Roman Catholic
-
-
Daughter
-
-
-
-
-
59
Jackson
John
Killiney
50
Male
Co Monaghan
Butler Domestic Ser
Church of Ireland
Read and write
-
Servant
Single
-
-
-
-
59
Carton
Margaret
Killiney
27
Female
Co Wexford
Cook Domestic Ser
Roman Catholic
Read and write
-
Servant
Single
-
-
-
-
60
Manders
Richard
Killiney
56
Male
City of Dublin
Register of Nitty and Register of Ords C B K C
Church of Ireland
Read and write
-
Head of Family
Married
-
-
-
-
60
Manders
Alice Dorothea
Killiney
36
Female
England
-
Church of Ireland
Read and write
-
Wife
Married
-
17
5
4
60
Manders
Dorothy Caroline
Killiney
12
Female
England
-
Church of Ireland
Read and write
-
Daughter
Single
-
-
-
-
60
Manders
Evline Kate
Killiney
10
Female
England
-
Church of Ireland
Read and write
-
Daughter
Single
-
-
-
-
60
Manders
Richard Henry David
Killiney
7
Male
England
-
Church of Ireland
Read and write
-
Son
Single
-
-
-
-
60
Manders
Alice Emma Olive
Killiney
1
Female
Co Dublin
-
Church of Ireland
Cannot read or write
-
Daughter
Single
-
-
-
-
60
Christian
Marguerite Germain Alice
Killiney
20
Female
Sweden
Governess
Eylin Reformed Protestant
Read and write
-
Governess
Single
-
-
-
-
60
Hartejonn
Anne
Killiney
39
Female
Co Meath
Cook Domestic Servant
Roman Catholic
Read and write
-
Servant
Married
-
9
4
3
60
Woodward
Martha
Killiney
25
Female
England
Nurse Domestic Servant
Wesleyan
Read and write
-
Servant
Single
-
-
-
-
60
Murphy
Catherine
Killiney
21
Female
Co Kildare
General Servant Domestic
Roman Catholic
Read and write
-
Servant
Single
-
-
-
-
60
Leech
Samuel
Killiney
25
Male
Co Carlow
Groom Domestic Servant
Church of Ireland
Read and write
-
Servant
Married
-
-
-
-
61
Barrington
Joseph Thomas
Killiney
76
Male
County Dublin
Colonel late Royal Artillery and Army Ordnance - retired
Church of Ireland
Read and write
-
Head of Family
Married
-
-
-
-
61
Barrington
Emma
Killiney
68
Female
England
-
Church of England
Read and write
-
Wife
Married
-
49
6
4
61
O Reilly
Rose
Killiney
45
Female
Co Cavan
Cook Domestic Servant
Roman Catholic
Read and write
English
Servant
Single
-
-
-
-
61
Ceasor
Ellen
Killiney
22
Female
Co Kilkenny
House Parlour Maid Domestic Servant
Roman Catholic
Read and write
English
Servant
Single
-
-
-
-
62
Purcell
Pierce Francis
Killiney
29
Male
Kilkenny City
University Professor of Civil Engineering
Roman Catholic
Read and write
-
Head of Family
Married
-
-
-
62
Purcell
Amy Austral
Killiney
25
Female
Sydney N S W
-
Church of England
Read and write
-
Wife
Married
-
-
-
62
Reynolds
Mary Anne
Killiney
27
Female
Nenagh
General Servant Domestic
Roman Catholic
Read and write
-
Servant
Single
-
-
-
-
63
Phibbs
William Talbot
Killiney
41
Male
Switzerland
Solicitor
Protestant Undernominationed
Read and write
-
Head of Family
Married
-
-
-
-
63
Phibbs
Phyllis Mary
Killiney
33
Female
India
-
Church of England
Read and write
-
Wife
Married
-
5
2
2
63
Phibbs
Elizabeth Claudina
Killiney
3
Female
Dublin
-
Church of Ireland
-
-
Daughter
-
-
-
-
-
63
Phibbs
James Or
Killiney
2
Male
Co Dublin
-
Church of Ireland
-
-
Son
-
-
-
-
-
63
Curran
Elizabeth
Killiney
42
Female
England
Nurse Domestic Servant
Church of Ireland
Read and write
-
Servant
Single
-
-
-
-
63
Reilly
Elizabeth
Killiney
21
Female
Co Dublin
Cook Domestic Ser
Roman Catholic
Read and write
-
Servant
Single
-
-
-
-
63
Kelly
Annie
Killiney
22
Female
Co Dublin
Parlour Maid D S
Roman Catholic
Read and write
Irish and English
Servant
Single
-
-
-
-
63
Noctor
May
Killiney
19
Female
Co Dublin
House Maid D S
Roman Catholic
Read and write
Irish and English
Servant
Single
-
-
-
-
66
Gamble
Charles George
Killiney
43
Male
Dublin Co
Solicitor
Church of Ireland Protestant
Read and write
-
Head of Family
Married
-
3
-
-
66
Gamble
Hoph Zibah Mary
Killiney
44
Female
Dublin Co
-
Irish Church of Ireland Protestant
Read and write
-
Wife
Married
-
3
-
-
66
Gamble
Frederick Charles
Killiney
19
Male
Dublin Co
Under Graduate Oxford
Irish Church of Ireland Protestant
Read and write
-
Son
Single
-
-
-
-
66
Gamble
Kyrgan Webber
Killiney
14
Male
Dublin Co
Scholar
Irish Church of Ireland Protestant
Read and write
-
Son
Single
-
-
-
-
66
Ryan
Margaret
Killiney
50
Female
Dublin Co
Cook Domestic Servant
Roman Catholic
Read and write
-
Servant
Single
-
-
-
-
66
Finnigan
Bedelia
Killiney
23
Female
Dublin Co
Parlor Maid Domestic Servant
Roman Catholic
Read and write
-
Servant
-
-
-
-
-
67
Orr
Augustine William
Killiney
58
Male
County Dublin
Director Public Companies
Church of Ireland
Read and write
-
Head of Family
Married
-
-
-
-
67
Orr
Bessie Wade Hilda
Killiney
57
Female
County Dublin
-
Church of Ireland
Read and write
-
Wife
Married
-
31
-
-
67
Dunne
Catherine Mary
Killiney
41
Female
Queen's County
Cook - Domestic Servant
Roman Catholic
Read and write
-
Servant
Single
-
-
-
-
67
Noctor
Annie
Killiney
27
Female
County Wexford
House - Parlour Maid Domestic Servant
Roman Catholic
Read and write
-
Servant
Single
-
-
-
-
67
Keenan
Elizabeth
Killiney
17
Female
Queens County
Scholar
Roman Catholic
Read and write
-
Visitor
Single
-
-
-
-
68
Massusele
Arwin
Killiney
68
Female
Dublin
Lady and Private Means
Church of Ireland
-
-
-
Widow
-
16
-
-
68
Langley
Kate
Killiney
60
Female
Co Tipperary
-
Church of Ireland
Both
-
Sister
Widow
-
-
3
3
68
Brien
Mary
Killiney
26
Female
Co Dublin
Parlour Maid Domestic Servant
Roman Catholic
Read and write
-
Servant
Single
-
-
-
-
68
Mc Ardle
Bridget
Killiney
24
Female
Co Louth
Cook Domestic Servant
Roman Catholic
Read and write
-
Servant
Single
-
-
-
-
69
Wilson
William
Killiney
51
Male
Co Cavan
Gardiner Dom Servant
Church of Ireland
Read and write
-
Head of Family
Married
-
8
3
3
69
Wilson
Elizabeth
Killiney
40
Female
Co Cork
-
Church of Ireland
Read and write
-
Wife
Married
-
8
3
3
69
Wilson
Elizabeth Eleanor
Killiney
21
Female
Co Wicklow
Dress Maker
Church of Ireland
Read and write
-
Daughter
Single
-
-
-
-
69
Wilson
Sarah Jane
Killiney
17
Female
Co Wicklow
Dress Maker
Church of Ireland
Read and write
-
Daughter
Single
-
-
-
-
70
Waller
John Edmund
Killiney
69
Male
Pallaskenry
Retired Major General (Bengal Infantry)
Open Plymouth Brother
Read and write
-
Head of Family
Married
-
29
-
-
70
Waller
Harriette Mary
Killiney
54
Female
Kingstown
-
Brethren
Read and write
-
Wife
Married
-
29
-
-
70
Baugor
Elizabeth
Killiney
82
Female
Dublin
-
None Exclusively
Read and write
-
Relative
Widow
-
-
-
-
70
Duncan
Catherine
Killiney
74
Female
Co Fermanagh
Cook Domestic Servant
Church of Ireland
Read
-
Servant
Widow
-
-
-
-
70
Matthews
Elizabeth
Killiney
28
Female
Portarlington
Parlour Maid Domestic Servt
Church of Ireland
Read and write
-
Servant
Single
-
-
-
-
70
Cheminon
Suzanne Jeanne
Killiney
39
Female
Geneva
House Maid Domestic Servant
Free Church of Switzerland
Read and write
-
Servant
Single
-
-
-
-
70
Ladd
Laura
Killiney
47
Female
Bristol
Maid Domestic Servant
Church of England
Read and write
-
Servant
Single
-
-
-
-
73
Wilkie
Samuel
Killiney
44
Male
Co Donegal
Gardener (Domestic Servant)
Church of Ireland
Read and write
-
Head of Family
Married
-
18
-
-
73
Wilkie
Margaret
Killiney
50
Female
Co Donegal
-
Church of Ireland
Read and write
-
Wife
Married
-
18
7
6
73
Wilkie
David
Killiney
17
Male
Co Meath
Printers Assistant
Church of Ireland
Read and write
-
Son
Single
-
-
-
-
73
Wilkie
Robert Wilson
Killiney
16
Male
Co Meath
Clerk
Church of Ireland
Read and write
-
Son
Single
-
-
-
-
73
Wilkie
Jane W
Killiney
13
Female
Co Meath
Scholar
Church of Ireland
Read and write
-
Daughter
Single
-
-
-
-
73
Wilkie
Walter W
Killiney
11
Male
Co Meath
Scholar
Church of Ireland
Read and write
-
Son
Single
-
-
-
-
73
Wilkie
Samuel
Killiney
7
Male
Co Dublin
Scholar
Church of Ireland
Read and write
-
Son
Single
-
-
-
-
73
Wilkie
Elizabeth F G
Killiney
5
Female
Co Dublin
Scholar
Church of Ireland
Read and write
-
Daughter
Single
-
-
-
-
74
Murphy
Joseph
Killiney
41
Male
England
Domestic Servant
Roman Catholic
Read and write
-
Head of Family
Married
-
-
-
-
74
Murphy
Mary Ann
Killiney
41
Female
County Wicklow
-
Roman Catholic
Read
-
Wife
Married
-
23
3
3
74
Murphy
Kathleen
Killiney
14
Female
County Dublin
-
Roman Catholic
Read and write
-
Daughter
Single
-
-
-
-
74
Murphy
Mary Ann
Killiney
13
Female
County Dublin
-
Roman Catholic
Read and write
-
Daughter
Single
-
-
-
-
74
Murphy
Joseph Christe
Killiney
4
Male
-
-
Roman Catholic
-
-
Son
-
-
-
-
-
74
Murphy
Jane
Killiney
2
Female
-
-
Roman Catholic
-
-
Daughter
-
-
-
-
-
74
Crowther
Samuel
Killiney
49
Male
England
Coach Man Domestic Servant
Irish Church
Read and write
-
Head of Family
Married
-
-
-
-
74
Crowther
Marie
Killiney
49
Female
County Wicklow
-
Irish Church
Read and write
-
Wife
Married
-
23
3
3
74
Crowther
Samuel
Killiney
21
Male
County Dublin
Plumber
Irish Church
Read and write
-
Son
Single
-
-
-
-
74
Crowther
Annie
Killiney
19
Female
County Dublin
-
Irish Church
Read and write
-
Daughter
Single
-
-
-
-
75
Wrench
Frederick Stringer
Killiney
61
Male
England
Irish Land Commissioner and Privcy Councillor
Irish Church
Read and write
-
Head of Family
Married
-
39
4
3
75
Wrench
Charlotte Mary
Killiney
62
Female
Co Louth
-
Irish Church
Read and write
-
Wife
Married
-
-
-
-
75
Porter
Genivieve Mary
Killiney
15
Female
Co Wicklow
-
Irish Church
Read and write
-
Grand Daughter
Single
-
-
-
-
75
Corbett
John
Killiney
43
Male
Co Cavan
Butler Dom Serv
Irish Church
Read and write
-
Servant
Married
-
2
2
75
Carruthers
Sarah Jane
Killiney
37
Female
Co Donegal
Cook Dom Serv
Irish Church
Read and write
-
Servant
Single
-
-
-
-
75
Carruthers
Margaret
Killiney
30
Female
Co Donegal
Parlor Maid Dom Ser
Irish Church
Read and write
-
Servant
Single
-
-
-
-
75
Kemp
Martha
Killiney
30
Female
Co Cavan
House Maid Dom Serv
Irish Church
Read and write
-
Servant
Single
-
-
-
-
75
Shannon
Annie
Killiney
21
Female
Dublin
Stitcher Maid
Irish Church
Read and write
-
Servant
Single
-
-
-
-
76
Grogan
Richard
Killiney
47
Male
Co Kildare
Station Agent
Roman Catholic
Read and write
-
Head of Family
Married
-
-
-
-
76
Grogan
Mary Frances
Killiney
44
Female
Co Dublin
-
Roman Catholic
Read and write
-
Wife
Married
-
20
6
6
76
Grogan
Mary Alice
Killiney
19
Female
Co Dublin
-
Roman Catholic
Read and write
-
Daughter
Single
-
-
-
-
76
Grogan
Bridget Margaret
Killiney
17
Female
Co Wicklow
-
Roman Catholic
Read and write
Irish and English
Daughter
Single
-
-
-
-
76
Grogan
John
Killiney
14
Male
Co Dublin
Scholar
Roman Catholic
Read and write
Irish and English
Son
Single
-
-
-
-
76
Grogan
Annie
Killiney
12
Female
Co Dublin
Scholar
Roman Catholic
Read and write
Irish and English
Daughter
Single
-
-
-
-
76
Grogan
Richard James
Killiney
6
Male
Co Dublin
Scholar
Roman Catholic
Cannot read
-
Son
Single
-
-
-
-
76
Kelly
William
Killiney
18
Male
Co Wicklow
Valet
Roman Catholic
Read and write
-
Boarder
Single
-
-
-
-
77
Roche
John
Killiney
49
Male
Co Carlow
Milesman on (Railway Line)
Roman Catholic
Read and write
-
Head of Family
Widower
-
-
-
-
77
Roche
Mary
Killiney
20
Female
Co Dublin
-
Roman Catholic
Read and write
-
Daughter
Single
-
-
-
-
77
Roche
Kathleen
Killiney
17
Female
Co Dublin
-
Roman Catholic
Read and write
-
Daughter
Single
-
-
-
-
77
Roche
Annie
Killiney
13
Female
Co Dublin
Scholar
Roman Catholic
Read and write
-
Daughter
Single
-
-
-
-
78
Whelan
Robert
Killiney
37
Male
Co Wexford
Miles Man
Roman Catholic
Read and write
-
Head of Family
Married
-
3
2
2
78
Whelan
Mary Anne
Killiney
30
Female
Co Dublin
-
Roman Catholic
Read and write
-
Wife
Married
-
3
2
2
78
Whelan
Bridget Margaret Mary
Killiney
2
Female
Co Dublin
-
Roman Catholic
-
-
Daughter
-
-
-
-
-
78
Whelan
Catherine
Killiney
Female
Co Dublin
-
Roman Catholic
-
-
Daughter
-
-
-
-
-
78
Moran
Catherine
Killiney
54
Female
Co Kildare
-
Roman Catholic
Read and write
-
Mother in Law
Widow
-
-
-
-
79
Hickey
Christopher
Killiney
46
Male
Kings Co
Chauffeur
Catholic
Read and write
English
Head of Family
Married
-
20
2
2
79
Hickey
Rose
Killiney
40
Female
Co Meath
-
Catholic
Read and write
English
Wife
Married
-
20
2
2
79
Hickey
Christopher
Killiney
15
Male
Co Dublin
Scholar
Catholic
Read and write
English
Son
Single
-
-
-
-
80
Mooney
Gerald
Killiney
47
Male
County Dublin
Wine Merchant Justice of the Peace
Roman Catholic
Read and write
-
Head of Family
Married
-
-
-
-
80
Mooney
Louise
Killiney
45
Female
County Dublin
-
Roman Catholic
Read and write
-
Wife
Married
-
23
8
7
80
Mooney
Myra
Killiney
22
Female
County Dublin
-
Roman Catholic
Read and write
-
Daughter
Single
-
-
-
-
80
Mooney
Ilene
Killiney
20
Female
County Dublin
-
Roman Catholic
Read and write
-
Daughter
Single
-
-
-
-
80
Mooney
Eustelle
Killiney
19
Female
County Dublin
-
Roman Catholic
Read and write
-
Daughter
Single
-
-
-
-
80
Mooney
Roy
Killiney
18
Male
County Dublin
Law Student (Kingstown)
Roman Catholic
Read and write
-
Son
Single
-
-
-
-
80
Mooney
Irvine
Killiney
8
Male
County Dublin
Scholar
Roman Catholic
Read and write
-
Son
Single
-
-
-
-
80
Cox
Geraldine
Killiney
23
Female
County Dublin
-
Roman Catholic
Read and write
-
Visitor
Single
-
-
-
-
80
Donahoe
Mary
Killiney
23
Female
County Wexford
Housemaid Domestic Servant
Roman Catholic
Read and write
-
Servant
Single
-
-
-
-
80
Murphy
Hannah
Killiney
20
Female
County Dublin
Cook Domestic Servant
Roman Catholic
Read and write
-
Servant
Single
-
-
-
-
82
Stephens
Montague
Killiney
50
Male
England
Fleet Paymaster Royal Navy Active List
Church of England
Yes
-
Head of Family
Married
-
-
-
-
82
Stephens
Edith Mary
Killiney
39
Female
Falkland, Islands
-
Church of England
Yes
-
Wife
Married
-
14
5
5
82
Stephens
Maurice Sweeney
Killiney
13
Male
England
Scholar
Church of England
Yes
-
Son
Single
-
-
-
-
82
Stephens
Ruby Di
Killiney
12
Female
England
Scholar
Church of England
Yes
-
Daughter
Single
-
-
-
-
82
Stephens
Clive Stanley
Killiney
9
Male
England
Scholar
Church of England
Yes
-
Son
Single
-
-
-
-
82
Stephens
Helen Phyllis
Killiney
7
Female
England
Scholar
Church of England
Yes
-
Daughter
Single
-
-
-
-
82
Stephens
Daphne Mary
Killiney
1
Female
England
-
Church of England
No
-
Daughter
Single
-
-
-
-
82
Steer
Sarah
Killiney
40
Female
England
Nurse Domestic Ser
Church of England
Yes
-
Servant
Single
-
-
-
-
82
Daley
Annie Maria
Killiney
44
Female
Co Wexford
Cook Domestic Ser
Roman Catholic
Yes
-
Servant
Widow
-
13
2
1
83
Ormonde Masterson
Henrietta
Killiney
36
Female
Leitrim
-
Roman Catholic
Read and write
English
Head of Family Widow
Widow
-
14
1
1
83
Ormonde Masterson
Eveleen
Killiney
13
Female
Co Dublin
Scholar
Roman Catholic
Read and write
English
Daughter
Single
-
-
-
-
83
Tunney
Frances Alice
Killiney
37
Female
Leitrim
-
Roman Catholic
Read and write
English
Sister
Single
-
-
-
-
83
Reynolds
Mary
Killiney
62
Female
City of Dublin
General Servant Domestic
Roman Catholic
Read and write
-
General Servant Domestic
Widow
-
32
-
-
84
Mullen
Christopher
Killiney
89
Male
Co Dublin
Old Age Pensioner
Roman Catholic
Cannot read
-
Head of Family
Widower
-
-
-
-
84
Kelly
James
Killiney
37
Male
Co Dublin
General Labourer
Roman Catholic
Read and write
-
Son in Law
Married
-
-
-
-
84
Kelly
Rose
Killiney
41
Female
Co Dublin
-
Roman Catholic
Read and write
-
Wife
Married
-
14
5
5
84
Kelly
Mary Jane
Killiney
13
Female
Co Dublin
Scholar
Roman Catholic
Read and write
-
Daughter
Single
-
-
-
-
84
Kelly
Kathleen
Killiney
11
Female
Co Dublin
Scholar
Roman Catholic
Read and write
-
Daughter
Single
-
-
-
-
84
Kelly
Joseph
Killiney
9
Male
Co Dublin
Scholar
Roman Catholic
Read and write
-
Son
Single
-
-
-
-
84
Kelly
William
Killiney
7
Male
Co Dublin
Scholar
Roman Catholic
Read and write
-
Son
Single
-
-
-
-
84
Kelly
Fannie
Killiney
5
Female
Co Dublin
Scholar
Roman Catholic
Read and write
-
Daughter
Single
-
-
-
-
85
St George
Jane Rebecca
Killiney
75
Female
Co Armagh
House Property Dividends etc
Church of Ireland
Read and write
-
Head of Family
Widow
-
-
-
-
85
Smith
Elizabeth
Killiney
58
Female
Co Cork
Cook Domestic Servant
Church of Ireland
Read and write
-
Servant
Widow
-
-
-
-
85
Lindsey
Elizabeth
Killiney
28
Female
Co Cavan
Housemaid Domestic Servant
Presbyterian
Read and write
-
Servant
Single
-
-
-
-
85
Walker
Thomas William
Killiney
31
Male
Co Armagh
Butler Domestic Servant
Church of Ireland
Read and write
-
Servant
Single
-
-
-
-
86
Kenny
James
Killiney
34
Male
Co Dublin
Gardener Dom Servt
Roman Catholic
Read and write
-
Head of Family
Married
-
8
4
4
86
Kenny
Mary
Killiney
34
Female
Co Dublin
-
Roman Catholic
Read and write
-
Wife
Married
-
8
4
4
86
Kenny
Bridget
Killiney
7
Female
Dublin City
Scholar
Roman Catholic
Read and write
-
Daughter
Single
-
-
-
-
86
Kenny
Patrick
Killiney
3
Male
Dublin City
-
Roman Catholic
Cannot read
-
Son
Single
-
-
-
-
86
Kenny
Josephine
Killiney
2
Female
Co Dublin
-
Roman Catholic
Cannot read
-
Daughter
Single
-
-
-
-
87
Ferrier
Alex
Killiney
59
Male
Co Dublin
Director Public Compy
Church of Ireland
Read and write
-
Head of Family
Married
-
23
3
3
87
Ferrier
Elizabeth Kathleen
Killiney
49
Female
Dublin
-
Church of Ireland
Read and write
-
Wife
Married
-
23
3
3
87
Ferrier
Alex Gordon
Killiney
22
Male
Dublin
Lieutenant Army Reserve Director Public Compy
Church of Ireland
Read and write
-
Son
Single
-
-
-
-
87
Ferrier
Euphemia Jessie
Killiney
18
Female
Dublin
-
Church of Ireland
Read and write
-
Daughter
Single
-
-
-
-
87
Ferrier
Kathleen Mary
Killiney
12
Female
Coy Dublin
Scholar
Church of Ireland
Read and write
-
Daughter
Single
-
-
-
-
87
Duke
Constance Edith
Killiney
35
Female
Co Middlesex
Governess
Church of Ireland
Read and write
-
Governess
Single
-
-
-
-
87
Leavey
Annie
Killiney
44
Female
Co Westmeath
Cook - Domestic Servt
Roman Catholic
Read and write
-
Cook
Single
-
-
-
-
87
Leavey
Mary
Killiney
30
Female
Co Westmeath
Kitchen Maid Domestic Servt
Roman Catholic
Read and write
-
Kitchen Maid
Single
-
-
-
-
87
Byrne
Mary
Killiney
24
Female
Bray
Parlour Maid Domestic Servt
Roman Catholic
Read and write
-
Parlour Maid
Single
-
-
-
-
87
Noones
Mary
Killiney
30
Female
Co Kildare
House Maid Domestic Servt
Roman Catholic
Read and write
-
House Maid
Single
-
-
-
-
88
White
Henry Krish
Killiney
82
Male
Co Dublin
Magistrate House Property
Church of Ireland
Read and write
-
Head of Family
Married
-
-
-
-
88
White
Frances Mary
Killiney
72
Female
Kings County
-
Church of Ireland
Read and write
-
Wife
Married
-
50
9
8
88
White
Florence Edith
Killiney
47
Female
Co Dublin
-
Church of Ireland
Read and write
-
Daughter
Single
-
-
-
-
88
White
Eveline Frances
Killiney
41
Female
Co Dublin
-
Church of Ireland
Read and write
-
-
Single
-
-
-
-
88
White
Constance Adelaide
Killiney
39
Female
Co Dublin
-
Church of Ireland
Read and write
-
-
Single
-
-
-
-
88
White
Harriette Irmma
Killiney
38
Female
Co Dublin
-
Church of Ireland
Read and write
-
-
Single
-
-
-
-
88
Conway
May
Killiney
23
Female
Dublin
General Domestic Ser
Roman Catholic
Read and write
-
Servant
Single
-
-
-
-
91
Hallows
Blackwood
Killiney
78
Male
England
Accountants - G P O Dublin Superannuted
Church of Ireland
Read and write
-
Head of Family
Married
-
-
-
-
91
Hallows
Amerina Ambrosia Tenison
Killiney
51
Female
Sligo
-
Church of Ireland
Read and write
-
Wife
Married
-
19
-
-
91
Darcy
Mary
Killiney
48
Female
Kilkenny
House and Parlourmaid Domestic Servant
Roman Catholic
Read and write
-
Servant
Single
-
-
-
-
91
Lambert
Mary
Killiney
30
Female
Dublin Co
Cook - Domestic Servant
Roman Catholic
Read and write
Irish and English
Servant
Single
-
-
-
-
92
Turbett
Langlois
Killiney
45
Male
Co Dublin
Wine Merchant
Church of Ireland
Read and write
-
Head of Family
Married
-
-
-
-
92
Turbett
Eva
Killiney
40
Female
Kings Co
-
Church of Ireland
Read and write
-
Wife
Married
-
16
-
-
92
Jones
Rose
Killiney
20
Female
Co Dublin
Housemaid Domestic Servant
Church of Ireland
Read and write
-
Servant
Single
-
-
-
-
92
De Lacey
Kate
Killiney
25
Female
Co Wexford
Cook Domestic Servant
Roman Catholic
Read and write
-
Servant
Single
-
-
-
-
93
Dawson
Elizabeth
Killiney
63
Female
Co Kildare
Dividends from Shares etc
Protestant English Church
Educated
-
Head of Family
Married
-
-
8
7
93
Dawson
Alice
Killiney
35
Female
Co Kildare
-
Protestant English Church
Educated
-
Daughter
Single
-
-
-
-
93
Dawson
Spencer
Killiney
26
Male
Co Kildare
-
Protestant English Church
Educated
-
Son
Married
-
-
2
2
93
Hampton
Elizabeth
Killiney
29
Female
Wicklow
Cook Domestic Servant
Roman Catholic
Educated
-
Servant
Single
-
-
-
-
93
Hampton
Christine
Killiney
20
Female
Wicklow
P Maid Domestic Servant
Roman Catholic
-
-
Servant
Single
-
-
-
-
93
Merrins
James
Killiney
30
Male
Co Kildare
Groom and Gen Man
Roman Catholic
-
-
Servant
Single
-
-
-
-
94
Perrott
William
Killiney
46
Male
Australia
Land Agent
Church of Ireland
Read and write
-
Head of Family
Married
-
-
-
1
94
Perrott
Lavinia
Killiney
29
Female
Australia
-
Church of Ireland
Read and write
-
Wife
Married
-
14
1
1
94
Perrott
St George
Killiney
13
Male
Australia
Scholar
Church of Ireland
Read and write
-
Son
Single
-
-
-
-
94
Young
William
Killiney
18
Male
Argentina
Scholar
Church of Ireland
Read and write
-
Visitor
Single
-
-
-
-
94
Leeson
Margaret
Killiney
25
Female
Ireland
Cook and General
Roman Catholic
Read and write
-
Servant
Single
-
-
-
-
95
Orpen
John R
Killiney
66
Male
Dublin
Barrister not in Active Practise Temporary Examiner Irish Land Commission
Church of Ireland
Read and write
-
Head of Family
Married
-
-
-
-
95
Orpen
Rosa C
Killiney
48
Female
England
-
Church of Ireland
Read and write
-
Wife
Married
-
7
1
1
95
Orpen
Dorothy Esther P
Killiney
6
Female
Co Dublin
Scholar
Church of Ireland
Cannot read
-
Daughter
-
-
-
-
-
95
Barstow
John Michael O
Killiney
3
Male
India
-
Church of England
Cannot read
-
Grand Son
-
-
-
-
-
95
Barstow
Henry Perigrine S
Killiney
1
Male
India
-
Church of England
Cannot read
-
Grand Son
-
-
-
-
-
95
Edwards
Alice
Killiney
28
Female
England
Governess
Evangelical Lutheran
Read and write
-
Governess
Single
-
-
-
-
95
Roulston
Margaret
Killiney
34
Female
Co Fermanagh
Lady Nurse
Wesleyan Methodist
Read and write
-
Visitor
Single
-
-
-
-
95
Fairs
Florence Annie
Killiney
15
Female
Co Galway
Nurse Maid - Domestic Servant
Church of England
Read and write
-
Visitor
Single
-
-
-
-
95
Lindsay
Eliza
Killiney
20
Female
Co Tyrone
Parlourmaid - Domestic Servant
Church of Ireland
Read and write
-
Servant
Single
-
-
-
-
95
Watson
Jane Elizabeth
Killiney
24
Female
Co Donegal
Housemaid - Domestic Servant
Church of Ireland
Read and write
-
Servant
Single
-
-
-
-
95
Tiernan
Eliza Jane
Killiney
26
Female
Co Meath
Cook - Domestic Servant
Roman Catholic
Read and write
-
Servant
Single
-
-
-
-
96
Palmer
Esther
Killiney
77
Female
Co Dublin
Lady Indp Means
Ch of Ireland
Read and write
-
Head of Family
Widow
-
-
-
-
96
Parker
Adelaide
Killiney
75
Female
Co Dublin
-
Ch of Ireland
Read and write
-
Sister
Spinster
-
-
-
-
96
Hanlon
Rebecca
Killiney
79
Female
Co Dublin
-
Ch of Ireland
Read and write
-
Sister
Widow
-
-
-
-
96
Dalton
Ellen
Killiney
34
Female
Co Fermanagh
Cook and General Servant
Roman Catholic
Can read and write
-
Servant
-
-
-
-
-
97
Pim
Joshua
Killiney
41
Male
Co Wicklow
Medical Profession
Church of Ireland
Read and write
-
Head of Family
Married
-
-
-
-
97
Pim
Robin
Killiney
28
Female
Co Dublin
-
Church of Ireland
Read and write
-
Wife
Married
-
5
2
2
97
Pim
Robin Susan Vera
Killiney
4
Female
Co Dublin
Scholar
Church of Ireland
Cannot read
-
Daughter
-
-
-
-
-
97
Cummings
Ellen
Killiney
39
Female
Co Antrim
Nurse Domestic Servt
Church of Ireland
Read and write
-
Nurse
Widow
-
5
1
1
97
Pim
May
Killiney
1
Female
Co Dublin
-
Church of Ireland
Cannot read
-
Daughter
-
-
-
-
-
97
Lenehan
Annie
Killiney
24
Female
Co Kildare
Cook and Gen Servt
Roman Catholic
Read and write
-
Servant
-
-
-
-
-
98
Bewley
Mary
Killiney
51
Female
Dublin
Lady Indpt Means
Church of Ireland
Read and write
-
Head of Family
Single
-
-
-
-
98
Bewley
Katharine
Killiney
41
Female
Dublin
-
Church of Ireland
Read and write
-
Sister
Single
-
-
-
-
98
Ricci
Minnie
Killiney
24
Female
England
-
Church of England
Read and write
-
Visitor
Single
-
-
-
-
98
Doyle
Mary
Killiney
26
Female
Wexford
Cook and Gen Servt
Church of Rome
Read and write
-
Servant
Single
-
-
-
-
99
Mooney
Muriel
Killiney
30
Female
Co Dublin
House Property and Due
Roman Catholic
Read and write
English
Head of Family
Single
-
-
-
-
99
O' Neil
Julia
Killiney
38
Female
Co Dublin
Cook and General Servt
Roman Catholic
Read and write
English
Servant
Single
-
-
-
-
102
Shannon
William John
Killiney
52
Male
Dublin County
Solicitor
Church of Ireland
Yes r and w
-
Head of Family
Married
-
-
-
102
Shannon
May Carson
Killiney
32
Female
Co Cork
-
Church of Ireland
Read and write
-
Wife
Married
-
-
-
102
Shannon
Norah
Killiney
20
Female
Co Dublin
-
Church of Ireland
Read and write
-
Daughter
Single
-
-
-
-
102
Shannon
Lena Marguerite
Killiney
15
Female
Co Dublin
Scholar
Church of Ireland
Read and write
-
Daughter
Single
-
-
-
-
102
Russell
Charles Warren
Killiney
38
Male
City of Dublin
Solicitor
Church of Ireland
Read and write
-
Visitor
Single
-
-
-
-
102
Martin
Annie
Killiney
29
Female
Co Kildare
Housemaid Domestic Servant
R C
Read and write
-
Servant
Single
-
-
-
-
102
Murray
Jane
Killiney
27
Female
Co Kildare
Parlourmaid - Domestic Servant
R C
Read and write
-
Servant
Single
-
-
-
-
102
Kavanagh
Mary
Killiney
48
Female
City of Dublin
Cook Domestic Servant
R C
Read and write
-
Servant
Single
-
-
-
-
103
Graham
William
Killiney
38
Male
Co Fermanagh
Gardener Dom Ser
Church Ireland
Read and write
-
Head of Family
Married
-
-
2
1
103
Graham
Elizabeth
Killiney
38
Female
Co Fermanagh
-
Church Ireland
Read and write
-
Wife
Married
-
18
2
1
103
Graham
Henry
Killiney
16
Male
Co Longford
-
Church Ireland
Read and write
-
Son
Single
-
-
-
-
104
Cunningham
Robert
Killiney
48
Male
Piltown, Co Kilkenny
Town Clerk Urban Council
Protestant Episcopalian
Read and write
-
Head of Family
Married
-
8
3
3
104
Cunningham
Mary Adelaide
Killiney
35
Female
Rathvilly, Co Carlow
-
Protestant Episcopalian
Read and write
-
Wife
Married
-
8
3
3
104
Cunningham
Robt Gordon
Killiney
7
Male
Killarney, Co Dublin
Scholar
Protestant Episcopalian
Read and write
-
Son
Single
-
-
-
-
104
Cunningham
William James
Killiney
5
Male
Killarney, Co Dublin
Scholar
Protestant Episcopalian
Read and write
-
Son
Single
-
-
-
-
104
Cunningham
Alan
Killiney
2
Male
Killarney, Co Dublin
-
Protestant Episcopalian
Cannot read
-
Son
Single
-
-
-
-
104
Cunningham
Kate
Killiney
21
Female
-
Domestic Servant
Roman Catholic
Read and write
-
Servant
Single
-
-
-
-
105
O'Farrell
Grella
Killiney
71
Female
Co Cavan
Lady Indp Means
Roman Catholic
Read and write
-
Mother
Widow
-
-
7
6
105
O'Farrell
Thomas
Killiney
48
Male
Co Dublin
-
Roman Catholic
Read and write
-
Son
Single
-
-
-
-
105
O'Farrell
Mary
Killiney
44
Female
Co Dublin
-
Roman Catholic
Read and write
-
Daughter
Single
-
-
-
-
105
O'Farrell
Francis
Killiney
40
Male
Co Dublin
-
Roman Catholic
Read and write
-
Son
Single
-
-
-
-
105
Hauphy
Mary
Killiney
30
Female
Queens Co
Cook General Ser
Roman Catholic
Read and write
-
Cook
Single
-
-
-
-
105
Cleary
Lizzie
Killiney
28
Female
Co Carlow
Housemaid Dom Ser
Roman Catholic
Read and write
-
Housemaid
Single
-
-
-
-
105
Nulty
Alie
Killiney
14
Female
Co Meath
Housemaid Dom Ser
Roman Catholic
Read and write
-
Assistant Housemaid
Single
-
-
-
-
106
Meagher
Reginald
Killiney
41
Male
Co Wicklow
Chairman U D C Killiney
Catholic
Read and write
-
Head of Family
Single
-
-
-
-
106
Meagher
Marian
Killiney
65
Female
Co Meath
House Property
Catholic
Read and write
-
Mother
Widow
-
-
-
-
106
Sinnott
Ellen
Killiney
39
Female
Co Clare
Cook - Domestic Servant
Catholic
Read and write
-
Servant
Widow
-
-
-
-
107
Barry
Patrick
Killiney
43
Male
Newtown Barry, Co Wexford
Butler Domestic Servt
Roman Catholic
Read and write
-
Head of Family Butler Domestic Servant
Married
-
-
-
-
107
Lundy
Alice
Killiney
65
Female
Callan, Co Kilkenny
Cook Domestic Servt
Roman Catholic
Read and write
-
Cook to Head of Family
Widow
-
30
10
6
107
Holmes
Elizabeth
Killiney
28
Female
Enniskerry, Co Wexford
Housemaid Domestic Servt
Roman Catholic
Read and write
-
Housemaid to Head of Family
Unmarried
-
-
-
-
107
Walsh
Mary Anne
Killiney
20
Female
Ballyduff, Co Kilkenny
Under Housemaid Domestic Servt
Roman Catholic
Read and write
-
Under Housemaid
Unmarried
-
-
-
-
107
Rofsiter
Catherine
Killiney
24
Female
Arklow, Co Wicklow
Kitchen Maid
Roman Catholic
Read and write
-
Kitchenmaid
Unmarried
-
-
-
-
107
Waldron
Lawrence
Killiney
-
-
-
-
-
-
-
-
-
-
-
-
-
108
Turbett
Robert James
Killiney
46
Male
Co Dublin
Wine Merchant
Church of Ireland
Read and write
-
Head of Family
Married
-
17
4
4
108
Turbett
Catherine
Killiney
43
Female
Co Westmeath
-
Church of Ireland
Read and write
-
Wife
Married
-
17
4
4
108
Turbett
Mabel
Killiney
12
Female
Co Dublin
-
Church of Ireland
Read and write
-
Daughter
Single
-
-
-
-
108
Turbett
Eileen
Killiney
10
Female
Co Dublin
-
Church of Ireland
Read and write
-
Daughter
Single
-
-
-
-
108
Johnstine
Bridget
Killiney
27
Female
Co Wicklow
Cook Domestic Servt
R C Church
Read and write
-
Domestic Servant Cook
Single
-
-
-
-
108
Heary
Annie
Killiney
23
Female
Co Louth
Parlormaid Dom Ser
R C Church
Read and write
-
Domestic Servant Parlourmaid
Single
-
-
-
-
109
Stewart
Edward P
Killiney
70
Male
Dublin
Justice of the Peace
Church of Ireland
Read and write
-
Head of Family
Widower
-
-
-
-
109
Stewart
Charlotte Eva
Killiney
40
Female
Nova Scotia
-
Church of Ireland
Read and write
-
Daughter
Single
-
-
-
-
109
Phelan
Elizabeth
Killiney
23
Female
Waterford
Parlormaid - Domestic
Roman Catholic
Read and write
-
Servant
Single
-
-
-
-
109
Kehoe
Sarah
Killiney
18
Female
Wexford
Housemaid - Domestic
Roman Catholic
Read and write
-
Servant
Single
-
-
-
-
109
Byrne
Mary
Killiney
29
Female
Dublin
Cook - Domestic
Roman Catholic
Read and write
-
Servant
Widow
-
-
-
-
110
Roche
John
Killiney
42
Male
Co Wexford
Gardener Domestic Servant
Roman Catholic
Read and write
-
Head of Family
Married
-
-
-
-
111
Jeffeott
William
Killiney
64
Male
Cork
Assessor Irish Law Commission I P
Irish Church
Read and write
-
Head of Family
Married
-
6
-
-
111
Jeffeott
Angel Wray
Killiney
46
Female
Tipperary
-
Irish Church
Read and write
-
Wife
Married
-
6
-
-
111
Jeffeott
Elizabeth Olivia
Killiney
30
Female
Donegal
-
Irish Church
Read and write
-
Daughter
Single
-
-
-
-
111
Jeffeott
Eileen Maud
Killiney
25
Female
Donegal
-
Irish Church
Read and write
-
Daughter
Single
-
-
-
-
111
Jeffeott
Mary Ethel
Killiney
21
Female
Donegal
-
Irish Church
Read and write
-
Daughter
Single
-
-
-
-
111
Graydon
Margaret
Killiney
54
Female
Galway
Cook Domestic Servt
Irish Church
Read and write
-
Servant
Widow
-
-
-
-
111
Boshell
Susan
Killiney
24
Female
Dublin
P Maid Domestic Servt
Irish Church
Read and write
-
Servant
Single
-
-
-
-
111
O'Neill
Mary
Killiney
21
Female
Dublin
A P Maid Domestic Servt
R C Church
Read and write
-
Servant
Single
-
-
-
-
112
Rogers
Patrick
Killiney
37
Male
Kings County
Coachman and General Man
Roman Catholic
Read and write
-
Head of Family
Married
-
-
-
-
112
Rogers
Hannah
Killiney
36
Female
Co Meath
-
Roman Catholic
Read and write
-
Wife
Married
-
7
3
3
112
Rogers
John
Killiney
4
Male
Co Dublin
-
Roman Catholic
Cannot read
-
Son
-
-
-
-
-
112
Rogers
Patrick
Killiney
1
Male
Co Dublin
-
Roman Catholic
Cannot read
-
Son
-
-
-
-
-
112
Rogers
Hannah
Killiney
Female
Co Dublin
-
Roman Catholic
Cannot read
-
Daughter
-
-
-
-
-
113
Mc Cullagh
James
Killiney
34
Male
Co Louth
Gardener (Domestic Servant)
Roman Catholic
Read and write
Irish and English
Head of Family
Single
-
-
-
-
114
Pierce
Robert
Killiney
50
Male
Kildare
Gardener Domestic Servant
Church of Ireland
Read and write
-
Head of Family
Married
-
-
-
-
114
Pierce
Elizabeth
Killiney
48
Female
Kildare
-
Church of Ireland
Read and write
-
Wife
Married
-
30
7
7
114
Pierce
Joseph
Killiney
11
Male
Kildare
Scholar
Church of Ireland
Read and write
-
Son
-
-
-
-
-
114
Pierce
James
Killiney
11
Male
Kildare
Scholar
Church of Ireland
Read and write
-
Son
-
-
-
-
-
115
Seed
Mary
Killiney
42
Female
Co Dublin
Lady Ind Means
Irish Church
Read and write
-
Head of Family
Single
-
-
-
-
115
Seed
Louis
Killiney
41
Female
Co Dublin
-
Irish Church
Read and write
-
Sister
Single
-
-
-
-
115
Seed
Anne
Killiney
40
Female
Co Dublin
-
Irish Church
Read and write
-
Sister
Single
-
-
-
-
115
Dunsterirlle
Martha
Killiney
92
Female
Co Dublin
-
Irish Church
Read and write
-
Aunt
Single
-
-
-
-
115
Harman
Margaret
Killiney
28
Female
Co Dublin
Cook and General Ser
Roman Catholic Church
Read and write
-
Servant
Single
-
-
-
-
116
Lloyd
Elizabeth
Killiney
66
Female
Dublin
Shares etc
Church of Ireland
Read and write
-
Head of Family
Widow
-
-
-
-
116
Byrne
Margaret
Killiney
44
Female
Co Armagh
Cook Dom Servant
Church of Ireland
Read and write
-
Domestic Servant
Widow
-
-
-
-
116
Dempsey
Anne Jane
Killiney
54
Female
Co Antrim
Kitchenmaid Dom Servant
Church of Ireland
Read and write
-
Domestic Servant
Single
-
-
-
-
116
Hawkins
Annie
Killiney
19
Female
Co Wicklow
P M Domestic Ser
Church of Ireland
Read and write
-
Domestic Servant
Single
-
-
-
-
118
White
Edward
Killiney
49
Male
Co Limerick
Solicitor
Church of Ireland
Read and write
-
Head of Family
Married
-
-
-
-
118
White
Elizabeth Galloway
Killiney
43
Female
Co Roscommon
-
Church of Ireland
Read and write
-
Wife
Married
-
24
5
5
118
White
Phyllis Avola
Killiney
15
Female
Co Dublin
-
Church of Ireland
Read and write
-
Daughter
Single
-
-
-
-
118
White
Aline Elizabeth
Killiney
Female
Co Dublin
-
Church of Ireland
Cannot read or write
-
Daughter
Single
-
-
-
-
118
McDaniel
Samuel
Killiney
36
Male
Co Kilkenny
General Servant Domestic
Church of Ireland
Read and write
-
Servant
Single
-
-
-
-
118
Treacy
Michael
Killiney
23
Male
Co Carlow
Motor Servant Domestic
Roman Catholic
Read and write
-
Servant
Single
-
-
-
-
118
Doyle
Joseph
Killiney
38
Male
Co Dublin
General Servant Domestic
Roman Catholic
Read and write
-
Servant
Single
-
-
-
-
118
Skalton
Kate
Killiney
41
Female
England
Nurse - Domestic
Church of Ireland
Read and write
-
Servant
Single
-
-
-
-
118
Kavanagh
Annie
Killiney
35
Female
Co Kildare
Parlour Maid Domestic
Roman Catholic
Read and write
-
Servant
Single
-
-
-
-
118
Dwyer
Lily
Killiney
26
Female
Co Carlow
Housemaid Domestic
Roman Catholic
Read and write
-
Servant
Single
-
-
-
-
118
Hughes
Jane
Killiney
50
Female
Co Dublin
Cook Domestic
Roman Catholic
Read and write
-
Servant
Single
-
-
-
-
118
Boyle
Margaret
Killiney
35
Female
Co Tyrone
Hospital Nurse
Roman Catholic
Read and write
-
Visitor
Married
-
6
4
2
119
Larminie
John Charles
Killiney
64
Male
Castlebar, Co Mayo
Civil Engineer Madras Public Works Dofar (Retired)
Church of Ireland
Both read and write
-
Head of Family
Married
-
9
-
-
119
Larminie
Emily
Killiney
56
Female
Near Plymouth, Devan
-
Church of Ireland
Both
-
Wife
Married
-
-
-
-
119
Madden
Lizzie
Killiney
27
Female
Roscrea, Co Tipperary
Cook Domestic Ser
Church of Ireland
Both
-
Servant
Single
-
-
-
-
119
Hogan
Kate
Killiney
27
Female
Cushel, Co Tipperary
P M Dome Servant
Roman Catholic
Both
-
Servant
Single
-
-
-
-
119
Larminie
John Victor Alexander
Killiney
30
Male
Dowlins?ram M?
Guinness Brewery
Church of Ireland
Can read and write
-
Son
Single
-
-
-
-
120
Cullen
Peter
Killiney
36
Male
Co Wicklow
Gardener Domestic Servant
Roman Catholic
Read and write
-
Head of Family
Married
-
-
-
-
120
Cullen
Alice
Killiney
34
Female
Co Dublin
-
Roman Catholic
Read and write
-
Wife
Married
-
9
2
2
120
Cullen
John
Killiney
8
Male
Co Dublin
-
Roman Catholic
Read and write
-
Son
Single
-
-
-
-
120
Cullen
Phalim
Killiney
2
Male
Co Wicklow
-
Roman Catholic
Cannot read or write
-
Son
Single
-
-
-
-
121
Roberts
George Bradley
Killiney
41
Male
England
Major Royal coy in Cars Active List
Church of England
Read and write
-
Head of Family
Married
-
14
-
-
121
Roberts
Ellen
Killiney
43
Female
England
-
Church of England
Read and write
-
Wife
Married
-
14
1
1
121
Roberts
Ruth Bradley
Killiney
13
Female
England
Scholar
Church of England
Read and write
-
Daughter
Single
-
-
-
-
121
Roberts
Philip George Bradley
Killiney
4
Male
India
-
Church of England
Cannot read
-
Nephew
Single
-
-
-
-
121
Reddington
Sarah
Killiney
44
Female
England
Nurse Domestic Servant
Church of England
Read and write
-
Servant
Single
-
-
-
-
121
Allan
Margaret
Killiney
26
Female
Co Wicklow
Housemaid Domestic Servant
Church of Ireland
Read and write
-
Servant
Single
-
-
-
-
121
Bligh
Elizabeth
Killiney
29
Female
Co Dublin
Cook Domestic Servant
Church of Ireland
Read and write
-
Servant
Single
-
-
-
-
122
Ercham
Margaret
Killiney
71
Female
London
No Profession - Income Derived from Houses Dividends and etc
Church of Ireland
Can do both
-
Head of Family
Widow
-
31
9
6
122
Ercham
Nora Mary
Killiney
43
Female
Killiney, Co Dublin
-
Church of Ireland
Read and write
-
Daughter
Single
-
-
-
-
122
Ercham
Allan Osborne
Killiney
37
Male
Killiney
Stock Broker
Church of Ireland
Read and write
-
Son
Single
-
-
-
-
122
Scott
Violet Maria
Killiney
25
Female
Scotland
-
Church of Ireland
Read and write
-
Visitor
Single
-
-
-
-
122
Rock
Bridget
Killiney
18
Female
Co Kildare
Cook Domestic Ser
Roman Catholic
Read and write
-
Servant
Single
-
-
-
-
122
Ercham
Nora Mary
Killiney
50
Female
Killiney
-
Church of Ireland
Both
-
Niece
Single
-
-
-
-
123
Keogh
Patrick
Killiney
45
Male
Co Wicklow
Gardener Domestic Servant
R Catholic
Read and write
Irish and English
Head of Family
Single
-
-
-
-
123
Keogh
Mary
Killiney
43
Female
Co Wicklow
Gardener Domestic Servant
R Catholic
Read write
English
Sister
Single
-
-
-
-
124
Reilly
Michael
Killiney
40
Male
Co Kilkenny
Gardener Domestic Servant
R C
Read and write
-
Head of Family
Married
-
21
-
-
124
Reilly
Mary
Killiney
41
Female
Dublin City
-
R C
Read and write
-
Wife
Married
-
21
6
6
124
Reilly
James
Killiney
20
Male
Co Dublin
Clerk
R C
Read and write
-
Son
Single
-
-
-
-
124
Reilly
Annie
Killiney
18
Female
Co Dublin
Typist
R C
Read and write
-
Daughter
Single
-
-
-
-
124
Reilly
William
Killiney
15
Male
Co Dublin
Scholar
R C
Read and write
-
Son
Single
-
-
-
-
124
Reilly
Eileen
Killiney
10
Female
Co Dublin
Scholar
R C
Read and write
-
Daughter
Single
-
-
-
-
124
Reilly
Evileen
Killiney
8
Female
Co Dublin
Scholar
R C
Read and write
-
Daughter
Single
-
-
-
-
124
Reilly
Brendan
Killiney
2
Male
Co Dublin
-
R C
Cannot read or write
-
Son
Single
-
-
-
-
125
Reeves
William
Killiney
63
Male
Ballymena, Co Antrim
Superannuated Assistant Inspector General Royal Irish Constabulary
Church of Ireland
Read and write
-
Head of Family
Married
-
-
-
-
125
Reeves
Grace Stuart
Killiney
63
Female
Co Antrim
-
Church of Ireland
Read and write
-
Wife
Married
-
37
2
1
125
Reeves
Grace Frances
Killiney
32
Female
Co Tipperary
-
Church of Ireland
Read and write
-
Daughter
Single
-
-
-
-
125
Graham
Mary
Killiney
46
Female
Co Dublin
Cook - Domestic Servant
Church of Ireland
Read and write
-
Servant
Single
-
-
-
-
125
Glasson
Lizzie
Killiney
26
Female
Co Cork
Parlourmaid Domestic Servant
Church of Ireland
Read and write
-
Servant
Single
-
-
-
-
127
Stoney
Robert
Killiney
70
Male
King's Co
Clerk in Holy Order
Church of Ireland
Read and write
-
Head of Family
Married
-
-
-
-
127
Stoney
Alice
Killiney
35
Female
Co Dublin
-
Church of Ireland
Read and write
-
Daughter
Single
-
-
-
-
127
Lee
Mary Ann
Killiney
43
Female
Co Cavan
Domestic Service
Roman Catholic
Read and write
-
Servant
Single
-
-
-
-
127
Galvin
Kate
Killiney
22
Female
King's Co
Domestic Service
Roman Catholic
Read and write
-
Servant
Single
-
-
-
-
128
Ormsby
Francis Balfour
Killiney
61
Male
Co Louth
Barrister (Not in Practioner)
Church of Ireland
Read and write
-
Head of Family
Single
-
-
-
-
128
Pepper
George Edward
Killiney
29
Male
Dublin City
Student
Church of Ireland
Read and write
-
Visitor
Single
-
-
-
-
128
Russell
Charles George
Killiney
23
Male
London
Servant General Man
Church of Ireland
Read and write
-
Servant
Single
-
-
-
-
128
Murphy
Sarah
Killiney
42
Female
Co Louth
Servant - Cook
Church of Ireland
Read and write
-
Servant
Single
-
-
-
-
128
Graydon
Sarah
Killiney
29
Female
Co Fermanagh
Servant P Maid
Church of Ireland
Read and write
-
Servant
Single
-
-
-
-
129
Coyne
John Michael Cormac
Killiney
46
Male
County of the City of Dublin
Landed Proprietor and Justice of the Peace
Roman Catholic
Read and write
English only
Head of Family
Married
-
-
-
-
129
Coyne
Sarah
Killiney
27
Female
Co of Mayo
Married Woman
Roman Catholic
Read and write
English only
Wife
Married
-
3
2
2
129
Coyne
Charley Michael Coyne
Killiney
2
Male
County of City of Dublin
-
Roman Catholic
-
-
Son
Single
-
-
-
-
129
Coyne
Mary Christina Madeline Cormac
Killiney
Female
County of the City of Dublin
-
Roman Catholic
-
-
Daughter
Single
-
-
-
-
129
Barrett
Kate
Killiney
36
Female
Co of Mayo
Cook Dom Ser
Roman Catholic
Read and write
English only
Domestic
Single
-
-
-
-
129
Hayes
Lena
Killiney
31
Female
County of the City of Dublin
P M Dom Ser
Roman Catholic
Read and write
English only
Domestic
Single
-
-
-
-
130
Deane
John
Killiney
62
Male
County of Mayo
Pensioner
Roman Catholic
Read and write
English and Irish
Head of Family
Single
-
-
-
-
131
Symes
George Brooke
Killiney
33
Male
Dublin
Member of Dublin Stock Exchange
Church of Ireland
Read write
-
Head of Family
Married
-
1
-
-
131
Symes
Mary Olive Fleetwood
Killiney
30
Female
Monkstown
-
Church of Ireland
Read write
-
Wife
Married
-
1
-
-
131
Donegan
Anne
Killiney
44
Female
Navan, Co Dublin
Cook Domestic Servant
Roman Catholic
Read write
-
Servant
Single
-
-
-
-
131
Reilly
Sarah
Killiney
19
Female
Knockananna, Co Wicklow
Housemaid Domestic Servant
Roman Catholic
Read write
-
Servant
Single
-
-
-
-
131
O' Neill
Honor
Killiney
62
Female
Tinahely, Co Wicklow
Nurse Retired
Roman Catholic
Read write
-
Visitor
Widow
-
-
-
-
132
Whelan
Thomas
Killiney
28
Male
Co Carlow
Gardener
Roman Catholic
Read and write
Irish and English
Head of Family
Married
-
3
-
-
132
Whelan
Mary
Killiney
28
Female
Co Carlow
Domestic Servt
R C Church
Read and write
Irish and English
Wife
Married
-
3
-
-
132
Whelan
Mary
Killiney
Female
Co Carlow
-
R C Church
-
-
Daughter
Single
-
-
1
1
133
Rambant
Frederick Gibney
Killiney
48
Male
Dublin City
Retired Wine Merchant
Church of Ireland
Read and write
-
Head of Family
Married
-
15
-
-
133
Rambant
Margaret Frances
Killiney
42
Female
Co Dublin
-
Church of Ireland
Read and write
-
Wife
Married
-
15
-
-
133
Mac Donald
Maryanne
Killiney
34
Female
Co Dublin
Domestic Servant
Roman Catholic
Read and write
-
Servant
Single
-
-
-
-
134
Rambaut
Margaret
Killiney
75
Female
Queens Co
Lady Private Income
Church of Ireland
Read and write
-
Head of Family
Widow
-
-
-
-
134
Rambaut
Anna B
Killiney
48
Female
Co Dublin
-
Church of Ireland
Read and write
-
Daughter
Single
-
-
-
-
134
Rambaut
Jessie
Killiney
43
Female
Co Dublin
-
Church of Ireland
Read and write
-
Daughter
Single
-
-
-
-
134
Doyle
Mary
Killiney
22
Female
Co Wicklow
House and P Maid Dom Set
Roman Catholic
Read and write
-
Servant House Parlourmaid Domestic
Single
-
-
-
-
134
Byrne
Elizabeth
Killiney
23
Female
Co Dublin
Cook Dom Servt
Roman Catholic
Read and write
-
Servant Cook
Single
-
-
-
-
135
Harris
Reginald Thomas
Killiney
50
Male
Dublin City
Barrister at Law
Church of Ireland
Read and write
English
Head of Family
Married
-
6
2
2
135
Harris
Mai Emily
Killiney
33
Female
Co Down
-
Church of Ireland
Read and write
English
Wife
Married
-
6
2
2
135
Harris
Sydney FitzGerald
Killiney
5
Male
Co Dublin
-
Church of Ireland
-
English
Son
-
-
-
-
-
135
Harris
John Campbell Quinn
Killiney
4
Male
Co Dublin
-
Church of Ireland
-
English
Son
-
-
-
-
-
135
Harris
F W FitzGerald
Killiney
65
Male
Dublin City
Barrister at Law
Church of Ireland
Read and write
English
Brother
Bachelor
-
-
-
-
135
Campbell - Quinn
Henrietta Ann
Killiney
57
Female
Tipperary
-
Church of Ireland
Read and write
English
Mother in Law
Widow
-
-
-
-
135
Wright
Pattie
Killiney
30
Female
Co Dublin
Governess
Church of Ireland
Read and write
English
Governess
Single
-
-
-
-
135
Nolan
Rose
Killiney
26
Female
Co Westmeath
Domestic Servant
Roman Catholic
Read and write
English
Servant
Single
-
-
-
-
135
Nolan
Lizzie
Killiney
29
Female
Kilkenny
Domestic Servant
Roman Catholic
Read and write
English
Servant
Single
-
-
-
-
135
Rice
Eliza
Killiney
24
Female
Co Armagh
Domestic Servant
Roman Catholic
Read and write
English
Servant
Single
-
-
-
-
135
Dowling
Julia
Killiney
21
Female
Co Kildare
Domestic Servant
Roman Catholic
Read and write
English
Servant
Single
-
-
-
-
136
Collis
William Stewart
Killiney
50
Male
Dublin City
Solicitor, M.A., J.P.
Church of Ireland
Read and write
-
Head of Family
Married
-
-
-
-
136
Collis
Edith Lillia
Killiney
48
Female
Dublin
-
Church of Ireland
R and w
-
Wife
Married
-
24
5
5
136
Collis
Maurice Stewart
Killiney
22
Male
Dublin
B.A., Oxon
Church of Ireland
R and w
-
Son
Single
-
-
-
-
136
Collis
Mary Stewart
Killiney
21
Female
Dublin
-
Church of Ireland
R and w
-
Daughter
Single
-
-
-
-
136
Collis
Joyce D S
Killiney
15
Female
Co Dublin
Scholar
Church of Ireland
R and w
-
Daughter
Single
-
-
-
-
136
Collis
Robert W S
Killiney
11
Male
Co Dublin
Scholar
Church of Ireland
R and w
-
Son
Single
-
-
-
-
136
Collis
John B S
Killiney
11
Male
Co Dublin
Scholar
Church of Ireland
R and w
-
Son
Single
-
-
-
-
136
Fitzgibbon
Mary Barton
Killiney
19
Female
Co Dublin
-
Church of Ireland
R and w
-
Niece
Single
-
-
-
-
136
Burrowes
Anne
Killiney
37
Female
CastleDermot Co Kildare
Cook Dom Ser
Roman Catholic
R and w
-
Servant
Widow
-
-
-
-
136
Rowe
Catherine
Killiney
23
Female
Co Wexford
Housemaid Dom Ser
Roman Catholic
R and w
-
Servant
Single
-
-
-
-
136
Dunworth
Margaret
Killiney
30
Female
Co Limerick
Housemaid Dom Ser
Roman Catholic
R and w
-
Servant
Single
-
-
-
-
137
McCormick
Frederick
Killiney
46
Male
Co Dublin
Farmer
Methodist
Read and write
-
Head of Family
Married
-
1
-
-
137
McCormick
Violet Hilda
Killiney
40
Female
England
-
Church of Ireland
Read and write
-
Wife
Married
-
1
-
-
137
McCormick
Maria
Killiney
23
Female
Co Dublin
-
Methodist
Read and write
-
Niece
Single
-
-
-
-
137
Dillon
Sarah
Killiney
23
Female
Co Waterford
Servant Domestic
Church of Ireland
Read and write
-
Servant Domestic
Single
-
-
-
-
138
Grinsley
Sara Elizabeth
Killiney
62
Female
Co Wicklow
Lady Indp Means
Church of Ireland
Read and write
-
Head of Family
Widow
-
-
5
3
138
Bolton
Olive Janie
Killiney
28
Female
Co Down
-
Church of Ireland
Read and write
-
Visitor
Single
-
-
-
-
138
Phelan
Katherine Mary
Killiney
28
Female
Co Waterford
Domestic Cook
Church of Ireland
Read and write
-
Servant
Single
-
-
-
-
138
Clynch
Julia Bridget
Killiney
23
Female
Co Wicklow
Domestic Dom
Church of Ireland
Read and write
-
Servant
Single
-
-
-
-
139
Johnston
Maude Emma
Killiney
45
Female
Bagenalstown Co Carlow
Lady Means
Irish Church
Read and write
English
Head of Family
Widow
-
-
2
1
139
Johnston
Iris Maude
Killiney
13
Female
Amritsar Punjab India
Scholar
Irish Church
Read and write
English
Daughter
Single
-
-
-
-
139
Talyers
Mary
Killiney
28
Female
Rosslare
Cook Sowant
Irish Catholic Church
Read and write
English
Cook Servant
Single
-
-
-
-
139
Whitehead
Jenny
Killiney
22
Female
Kilscoran and Co Wexford
H P Maid Servant
irish Church
Read and write
English
Servant H and P Maid
-
-
-
-
-
140
Mynes
Laurence
Killiney
40
Male
Co Kilkenny
Coachman Dom Ser
R C
Read and write
-
Head of Family
Married
-
14
5
4
140
Mynes
Alice Margret
Killiney
37
Female
Plymouth
-
Church of Ireland
Read and write
-
Wife
Married
-
14
5
4
140
Mynes
May Kathleen
Killiney
13
Female
Dublin
Scholar
R C
Read and write
-
Daughter
-
-
-
-
-
140
Mynes
Hilda Margret
Killiney
5
Female
Dublin
Scholar
R C
-
-
Daughter
-
-
-
-
-
140
Mynes
William John
Killiney
3
Male
Dublin
-
R C
-
-
Son
-
-
-
-
-
140
Mynes
Alice Emma
Killiney
Female
Co Dublin
-
R C
-
-
Daughter
-
-
-
-
-
141
Connor
Patrick
Killiney
39
Male
Co Dublin
Railway Fouman
Roman Catholic
Read and write
English
Head of Family
Married
-
17
-
-
141
Connor
Maryanne
Killiney
39
Female
Co Wicklow
-
-
-
-
Wife
-
-
17
6
4
141
Connor
Thomas
Killiney
15
Male
Co Dublin
Parals Messenger
-
-
-
Son
Single
-
-
-
-
141
Connor
Margaret Mary
Killiney
9
Female
Dublin City
Scholar
-
-
-
Daughter
-
-
-
-
-
141
Connor
Edward
Killiney
6
Male
Co Dublin
-
-
-
-
Son
-
-
-
-
-
141
Connor
Rosie
Killiney
3
Female
Co Dublin
-
-
Cannot read
-
Daughter
-
-
-
-
-
142
Redmond
Matthew
Killiney
37
Female
County Dublin
Railway Signalman
Roman Catholic
Read and write
-
Head of Family
Married
-
13
5
5
142
Redmond
Mary
Killiney
36
Female
County Wexford
-
-
-
-
Wife
-
-
13
5
5
142
Redmond
James J
Killiney
9
Male
County Dublin
Scholar
-
-
-
Son
-
-
-
-
-
142
Redmond
Margret
Killiney
7
Female
-
Scholar
-
-
-
Daughter
-
-
-
-
-
142
Redmond
Nicholas
Killiney
5
Male
-
Scholar
-
Cannot read or write
-
Son
-
-
-
-
-
142
Redmond
Matthew
Killiney
2
Male
-
-
-
-
-
Son
-
-
-
-
-
142
Redmond
Annie
Killiney
Female
-
-
-
-
-
Daughter
-
-
-
-
-
142
Whelan
Nicholas
Killiney
31
Male
County Wexford
Gardiner (Dom Sert)
-
Read and write
-
Boarder
-
-
-
-
-
143
O Toole
Patrick
Killiney
38
Male
County Dublin
Railway Labourer
Roman Catholic
Read and write
-
Head of Family
Married
-
3
-
-
143
O Toole
Mary
Killiney
28
Female
County Dublin
-
Roman Catholic
Read and write
-
Wife
Married
-
3
-
-
144
Bennett
James C ?
Killiney
72
Male
Dublin
Auctioneer and Valuer
Church of Ireland
Read and write
-
Head of Family
Married
-
45
10
9
144
Bennett
Susan Mary
Killiney
63
Female
-
Wife
Church of Ireland
Read and write
-
Wife
Married
-
45
10
9
144
Wiley
Annie
Killiney
30
Female
Dublin
Parlourmaid Dom Servt
Church of Ireland
Read and write
-
Servant
Single
-
-
-
-
144
O Neill
Eliza
Killiney
30
Female
Belfast
Cook Domestic Servant
Church of Ireland
Read and write
-
Servant
Single
-
-
-
-
144
Sutton
John
Killiney
29
Male
Wicklow
Gardener Domestic Servant
Roman Catholic
Read and write
-
Servant
Single
-
-
-
-
144
Mc Haniff
Mary
Killiney
27
Female
Manor Hamilton
Hospital Nurse
Roman Catholic
Read and write
-
Hospital Nurse
Single
-
-
-
-
145
J? Bramby
William
Killiney
87
Male
England
23 for Coy Dublin In Serv Civil Service Retired
Church of Ireland
Can read and write
-
Head of Family
Married
-
-
-
-
145
J? Bramby
Nina Geraldine
Killiney
64
Female
Kings Co
-
Church of Ireland
Read and write
-
Wife
Married
-
37
-
-
145
Lynch
Isabella
Killiney
76
Female
Kings Co
-
Church of Ireland
Read and write
-
Sister in Law
Single
-
-
-
-
145
Hayden
Eliza Jane
Killiney
35
Female
Tipperary
Nurse - Domestic Servant
Church of Ireland
Read and write
-
Servant
Single
-
-
-
-
145
Greer
Mary Jane
Killiney
34
Female
Co Dublin
Hospital Nurse
Church of Ireland
Read and write
-
Servant
Single
-
-
-
-
145
King
Mary Jane
Killiney
23
Female
Co Meath
Cook - Domestic Servant
Roman Catholic
Read and write
-
Servant
Single
-
-
-
-
145
Brady
Ellen
Killiney
24
Female
Co Meath
Parlourmaid - Domestic Servant
Roman Catholic
Read and write
-
Servant
Single
-
-
-
-
145
Keegan
Mary
Killiney
23
Female
Co Carlow
Housemaid - Domestic Servant
Roman Catholic
Read and write
-
Servant
Single
-
-
-
-
145
King
Bridget
Killiney
21
Female
Co Meath
Kitchenmaid - Domestic Servant
Roman Catholic
Read and write
-
Servant
Single
-
-
-
-
146
Goodbody
Alfred Edwin
Killiney
53
Male
King's County
Solicitor
Society of Friends
Read and write
-
Head of Family
Married
-
23
-
-
146
Goodbody
Mary Prudence
Killiney
50
Female
County Dublin
-
Church of Ireland
Read and write
-
Wife
Married
-
23
-
-
146
Watson
Thomas Arnold
Killiney
26
Male
County Dublin
M B B C H T C D House Surgeon
Society of Friends
Read and write
-
Nephew
Single
-
-
-
-
146
Tully
Anne
Killiney
27
Female
County Meath
Cook, Domestic Servant
Roman Catholic
Read and write
-
Servant
Single
-
-
-
-
146
Seymour
Mary Agnes
Killiney
25
Female
Queen's County
House and Parlourmaid Domestic Servant
Roman Catholic
Read and write
-
Servant
Single
-
-
-
-
147
Waterlow
George Sydney
Killiney
58
Male
England
Justice of the Peace for County of the Middlesex Deputy Lieutenant Country of London
Church of England
Read and write
-
Head of Family
Married
-
34
6
5
147
Deacon
Zaida
Killiney
30
Female
Wexford
Hospital Nurse
Church Ireland
Read and write
-
hospital nurse
Single
-
-
-
-
147
Soyer
Elizabeth
Killiney
36
Female
England
Cook Domestic Servant
Church of England
Read and write
-
Servant
Married
-
10
1
-
147
Richardson
Mary
Killiney
27
Female
England
Parlourmaid Domestic Servant
Church of England
Read and write
-
Servant
Single
-
-
-
-
147
Richardson
Nancy
Killiney
22
Female
England
Housemaid Domestic Servant
Church of England
Read and write
-
Servant
Single
-
-
-
-
148
Blunden
John D
Killiney
68
Male
Dublin City
Barrister not in Actual Practice
Church of Ireland
Read and write
-
Head of Family
Married
-
39
-
-
148
Blunden
Frances
Killiney
69
Female
Dublin City
-
Church of Ireland
Read and write
-
Wife
Married
-
39
-
-
148
Howe
W Patrick
Killiney
24
Male
Dublin County
Civil Engineer
Church of Ireland
Read and write
-
Wifes Nephew
Single
-
-
-
-
148
Rossiter
Lizzie
Killiney
38
Female
Co Wexford
Cook Domestic Ser
R Catholic
Read and write
-
Servant
Single
-
-
-
-
148
Byrne
Lily
Killiney
32
Female
Co Dublin
Parlourmaid Domestic Ser
R Catholic
Read and write
-
Servant
Single
-
-
-
-
149
Munn
Patience Elizabeth
Killiney
93
Female
Tyrone
Lady Private Means Dividends Etc
Church of Ireland
Can read and write
-
Head of Family
Widow
-
-
3
1
149
Wilkinson
Alice Maud
Killiney
53
Female
Londonderry
-
Church of Ireland
Can read and write
-
Daughter
Married
-
6
-
-
149
Wilkinson
Sidney Berdoe
Killiney
61
Male
Canada
Senior Geologist Geol Survey Depart Agriculture and C
Church of Ireland
Can read and write
-
Son in Law
Married
-
-
-
-
149
Bincker
Isabella Mary
Killiney
53
Female
England
Lady Housekeeper
Church of England
Can read and write
-
House Keeper
Single
-
-
-
-
149
Crozier
Georgina
Killiney
30
Female
Co Fermanagh
Hospital Nurse
Wesleyan
Can read and write
-
Hospital Nurse
Single
-
-
-
-
149
Kennerley
Margaret
Killiney
36
Female
Wales
Hospital Nurse
Church of Ireland
Can read and write
-
Hospital Nurse
Single
-
-
-
-
149
Charman
Elizabeth
Killiney
44
Female
Co Dublin
Hospital Nurse
Roman Catholic
Can read and write
-
Hospital Nurse
Widow
-
-
-
-
149
Devine
Rose
Killiney
27
Female
Co Dublin
Parlourmaid Dom Ser
Roman Catholic
Can read and write
-
Servant
Single
-
-
-
-
149
Rafferty
Bridget
Killiney
28
Female
Co Monaghan
Housemaid Dom Ser
Roman Catholic
Can read and write
-
Servant
Single
-
-
-
-
149
Brophy
Elizabeth
Killiney
30
Female
Co Carlow
Cook Dom Ser
Roman Catholic
Can read and write
-
Servant
Single
-
-
-
-
150
Percy
Elizabeth
Killiney
73
Female
Co Cork
Private Income
Member of Irish Church
Read and write
-
Head of Family
Single
-
-
-
-
150
Percy
Lucy
Killiney
66
Female
Co Leitrim
-
Member of Irish Church
Read and write
-
Sister
Single
-
-
-
-
150
Martin
Lavinia
Killiney
67
Female
Co Leitrim
-
Member of Irish Church
Read and write
-
Sister
Widow
-
-
-
-
150
Jones
Georgina
Killiney
28
Female
Co Leitrim
-
Member of Irish Church
Read and write
-
Niece
Single
-
-
-
-
150
Kennedy
Ellen
Killiney
30
Female
Co Dublin
Cook and General Serv
Roman Catholic
Read and write
-
Servant
Single
-
-
-
-
151
Gray
Sidney
Killiney
28
Male
England
Motor Driver Mechanic
Church of Ireland
Read and write
-
Head of Family
Married
-
-
-
-
151
Gray
Elizabeth
Killiney
29
Female
England
-
Church of Ireland
Read and write
-
Wife
Married
-
5
2
-
151
Gray
Dorothy
Killiney
4
Female
Co Meath
-
Church of Ireland
Cannot read
-
Daughter
Single
-
-
-
-
151
Gray
Eileen
Killiney
2
Female
Co Meath
-
Church of Ireland
Cannot read
-
Daughter
Single
-
-
-
-
151
Jones
Mary
Killiney
15
Female
England
-
Church of Ireland
Read and write
-
Sister
Single
-
-
-
-
152
Cochrane
William Joseph
Killiney
76
Male
Rathmullan Co Donegal
Officer ? India Army and Pensen
Church of Ireland
-
-
Head of Family
Married
-
29
-
-
152
Cochrane
Elizabeth
Killiney
66
Female
Dublin
-
Church of Ireland
-
-
Wife
Married
-
29
-
-
152
Murray
Mary
Killiney
18
Female
Lancastown Co Dublin
Cook and General Sert
Roman Catholic
Read and write
-
Servant
Single
-
-
-
-
154
Murphy
Joseph
Killiney
41
Male
Co Dublin
Public Lamp Highter
Roman Catholic
Read and write
-
Head of Family
Married
-
-
-
-
154
Murphy
Mary Ann
Killiney
41
Female
Co Dublin
-
Roman Catholic
Read and write
-
Wife
Married
-
16
6
4
154
Murphy
Kathleen
Killiney
14
Female
Co Dublin
Scholar
Roman Catholic
Read and write
-
Daughter
Single
-
-
-
-
154
Murphy
Mary Ann
Killiney
13
Female
Co Dublin
Scholar
Roman Catholic
Read and write
-
Daughter
-
-
-
-
-
154
Murphy
Joseph C
Killiney
4
Male
Co Dublin
Scholar
Roman Catholic
-
-
Son
-
-
-
-
-
154
Murphy
Jane
Killiney
2
Female
Co Dublin
-
Roman Catholic
-
-
Daughter
-
-
-
-
-
1
O Brien
Kate
Killiney Hill Cottages
50
Female
Co Kildare
House Keeper Gardener
Roman Catholic
Read and write
-
Head of Family
Widow
-
-
-
-
1
O Brien
John
Killiney Hill Cottages
24
Male
Co Dublin
-
Roman Catholic
Read and write
-
Son
Single
-
-
-
-
1
Campion
Edward
Killiney Hill Cottages
36
Male
Queens County
Gardener
Roman Catholic
Read and write
-
Boarder
Single
-
-
-
-
1
Foster
Richard Joseph
Killiney Hill Cottages
20
Male
Co Down
Civil Service Postman
Roman Catholic
Read and write
-
Boarder
Single
-
-
-
-
1
O Brien
Kate
Killiney Hill Cottages
21
Female
-
-
-
-
-
-
-
-
-
-
-
1
O Brien
Josephine
Killiney Hill Cottages
19
Female
-
-
-
-
-
-
-
-
-
-
-
2
Redmond
James
Killiney Hill Cottages
30
Male
County Dublin
Gardener
Roman Catholic
Read write
English
Head of Family
Married
-
-
-
-
2
Redmond
Lizzie
Killiney Hill Cottages
28
Female
Co Louth
-
Roman Catholic
Read and write
-
Wife
Married
-
4
3
3
2
Redmond
Pauline
Killiney Hill Cottages
3
Female
Dublin City
-
Roman Catholic
Cannot read
-
Daughter
Single
-
-
-
-
2
Redmond
Patrick
Killiney Hill Cottages
2
Male
Co Dublin
-
Roman Catholic
Cannot read
-
Son
Single
-
-
-
-
2
Redmond
John
Killiney Hill Cottages
Male
Co Dublin
-
Roman Catholic
Cannot read
-
Son
Single
-
-
-
3
Bryan
John
Killiney Hill Cottages
67
Male
County Wicklow
Gardener
Roman Catholic
Read and write
-
Head of Family
Widower
-
-
-
-
3
Bryan
Eliza
Killiney Hill Cottages
30
Female
County Dublin
-
Roman Catholic
Read and write
-
Daughter
Single
-
-
-
-
3
Arnold
Edward
Killiney Hill Cottages
16
Male
County Dublin
Caddie Foxrock Golflink
Roman Catholic
Read and write
-
Grand Son
Single
-
-
-
-
3
Bryan
William
Killiney Hill Cottages
7
Male
County Dublin
Scholar
Roman Catholic
Read
-
Grand Son
Single
-
-
-
-
4
Murnane
Henry
Killiney Hill Cottages
44
Male
Co Dublin
Car and Cab Properitor
Church of Ireland
Read and write
-
Head of Family
Widower
-
-
-
-
4
Murnane
Mary
Killiney Hill Cottages
15
Female
Co Dublin
-
Church of Ireland
Read and write
-
Daughter
Single
-
-
-
-
4
Murnane
Elizabeth
Killiney Hill Cottages
11
Female
Co Dublin
Scholar
Church of Ireland
Read and write
-
Daughter
Single
-
-
-
-
4
Murnane
Henry Bernard
Killiney Hill Cottages
10
Male
Co Dublin
Scholar
Church of Ireland
Read and write
-
Son
Single
-
-
-
-
4
Murnane
Olive
Killiney Hill Cottages
7
Female
Co Dublin
Scholar
Church of Ireland
Read and write
-
Daughter
Single
-
-
-
-
4
Murnane
Edward
Killiney Hill Cottages
5
Male
Co Dublin
Scholar
Church of Ireland
Cannot read
-
Son
Single
-
-
-
-
5
Davis
Anne
Killiney Hill Cottages
72
Female
Co Wicklow
Laundress
Roman Catholic
Read and write
-
Head of Family
Widow
-
-
-
-
5
Davis
Edith
Killiney Hill Cottages
16
Female
Dublin
Scholar
Roman Catholic
Read and write
-
Daughter
Single
-
-
-
-
6
Leary
Martha
Killiney Hill Cottages
48
Female
Co Westmeath
Dressmaker
Church of Ireland
Read and write
-
Head of Family
Widow
-
26
5
3
6
Leary
Isaac
Killiney Hill Cottages
20
Male
Co Dublin
Iron Mongery Assistant
Church of Ireland
Read and write
-
Son
Single
-
-
-
-
6
Leary
Ruth
Killiney Hill Cottages
13
Female
Co Dublin
Schoolar
Church of Ireland
Read and write
-
Daughter
Single
-
-
-
-
7
Fanning
William
Killiney Hill Cottages
43
Male
Co Carlow
Carpenter and Builder
Roman Catholic
Read and write
-
Head of Family
Single
-
-
-
-
8
Mullen
William
Killiney Hill Cottages
48
Male
Co Dublin
Gardener
Roman Catholic
Read write
English
Head of Family
Married
-
-
-
-
8
Mullen
Sophia
Killiney Hill Cottages
50
Female
Co Dublin
Wife
Roman Catholic
Read and write
English
Wife
Married
-
27
7
7
8
Mullen
James Joseph
Killiney Hill Cottages
22
Male
Co Dublin
Railway Labourer Millesman
Roman Catholic
Read and write
English
Son
Single
-
-
-
-
8
Mullen
John Joseph
Killiney Hill Cottages
19
Male
Co Dublin
Railway Vanman Parcels Delivery
Roman Catholic
Read and write
English
Son
Single
-
-
-
-
8
Mullen
Owen Joseph
Killiney Hill Cottages
17
Male
Co Dublin
Messenger
Roman Catholic
Read and write
English
Son
Single
-
-
-
-
8
Mullen
Kathleen
Killiney Hill Cottages
13
Female
Co Dublin
Scholar
Roman Catholic
Read and write
English
Daughter
Single
-
-
-
-
8
Mullen
Edward Joseph
Killiney Hill Cottages
9
Male
Co Dublin
Scholar
Roman Catholic
Read and write
English
Son
Single
-
-
-
-
8
Money
Joseph
Killiney Hill Cottages
2
Male
Dublin City
-
Roman Catholic
Cannot read
-
Nurse Child
Single
-
-
-
-
9
Colclough
James
Killiney Hill Cottages
55
Male
Co Dublin
General Labourer
Roman Catholic
Read and write
-
Head of Family
Single
-
-
-
-
10
Mullen
Thomas
Killiney Hill Cottages
50
Male
Co Dublin
Gardner
Catholic Roman
Read and write
-
Head of Family
Married
-
-
-
-
10
Mullen
Elizabeth
Killiney Hill Cottages
56
Female
Co Dublin
House Keeper
Catholic Roman
Read and write
-
Wife
Married
-
17
4
4
10
Walsh
Francis
Killiney Hill Cottages
24
Male
Co Dublin
Labourer General
Catholic Roman
Read and write
-
Step Son
Single
-
-
-
-
11
Devine
John
Killiney Hill Cottages
49
Male
Co Dublin
Gardener Unemployed
Roman Catholic
Read and write
-
Head of Family
Married
-
-
-
-
11
Devine
Mary Anne
Killiney Hill Cottages
48
Female
Co Wexford
-
Roman Catholic
Read and write
-
Wife
Married
-
26
6
6
11
Devine
Alice
Killiney Hill Cottages
22
Female
Co Wexford
Dressmaker
Roman Catholic
Read and write
-
Daughter
Single
-
-
-
-
11
Devine
Thomas
Killiney Hill Cottages
21
Male
Co Wexford
Gardener
Roman Catholic
Read and write
-
Son
Single
-
-
-
-
11
Devine
John Francis
Killiney Hill Cottages
19
Male
Co Wexford
Gardener
Roman Catholic
Read and write
-
Son
Single
-
-
-
-
11
Devine
Patrick
Killiney Hill Cottages
12
Male
Co Dublin
Scholar
Roman Catholic
Read and write
Irish and English
Son
Single
-
-
-
-
11
Devine
William
Killiney Hill Cottages
6
Male
Co Dublin
Scholar
Roman Catholic
Read and write
-
Son
Single
-
-
-
-
12
Dowd
Michael
Killiney Hill Cottages
39
Male
Co Dublin
Gardener
Roman Catholic
Read and write
-
Head of Family
Married
-
-
-
-
12
Dowd
Annie
Killiney Hill Cottages
35
Female
Co Dublin
-
Roman Catholic
Read and write
-
Wife
Married
-
14
9
8
12
Dowd
Winifred
Killiney Hill Cottages
11
Female
Co Dublin
Scholar
Roman Catholic
Read and write
-
Daughter
Single
-
-
-
-
12
Dowd
Annie
Killiney Hill Cottages
9
Female
Co Dublin
Scholar
Roman Catholic
Read and write
-
Daughter
Single
-
-
-
-
12
Dowd
Peter
Killiney Hill Cottages
8
Male
Co Dublin
Scholar
Roman Catholic
Read and write
-
Son
Single
-
-
-
-
12
Dowd
Kathleen
Killiney Hill Cottages
7
Female
Co Dublin
Scholar
Roman Catholic
Read and write
-
Daughter
Single
-
-
-
-
12
Dowd
Eileen
Killiney Hill Cottages
5
Female
Co Dublin
-
Roman Catholic
Cannot Read or write
-
Daughter
Single
-
-
-
-
12
Dowd
Michael
Killiney Hill Cottages
4
Male
Co Dublin
-
Roman Catholic
Cannot read
-
Son
Single
-
-
-
-
12
Dowd
Patrick
Killiney Hill Cottages
1
Male
Co Dublin
-
Roman Catholic
Cannot read
-
Son
Single
-
-
-
-
12
Dowd
Nicholas
Killiney Hill Cottages
2
Male
Co Dublin
-
Roman Catholic
Cannot read
-
Son
Single
-
-
-
-
13
Lambert
William
Killiney Hill Cottages
54
Male
Co Dublin
Labourer General
Roman Catholic
Read and write
English
Head of Family
Married
-
-
-
-
13
Lambert
Mary
Killiney Hill Cottages
50
Female
Co Wicklow
-
Roman Catholic
Read and write
English
Wife
Married
-
25
5
5
13
Lambert
John
Killiney Hill Cottages
24
Male
Co Dublin
Labourer General
Roman Catholic
Read and write
English
Son
Single
-
-
-
-
13
Lambert
Maggie
Killiney Hill Cottages
19
Female
Co Dublin
Nurse Domestic Servant
Roman Catholic
Read and write
English
Daughter
Single
-
-
-
-
13
Lambert
William
Killiney Hill Cottages
15
Male
Co Dublin
Messenger
Roman Catholic
Read and write
English
Son
Single
-
-
-
-
14
Byrne
Martin
Killiney Hill Cottages
48
Male
Co Wicklow
Boot Maker
Roman Catholic
Read and write
-
Head of Family
Married
-
-
-
-
14
Byrne
Winifred
Killiney Hill Cottages
43
Female
Co Wicklow
-
Roman Catholic
Read and write
-
Wife
Married
-
18
7
7
14
Byrne
Joseph
Killiney Hill Cottages
16
Male
Co Dublin
Scholar
Roman Catholic
Read and write
-
Son
Single
-
-
-
-
14
Byrne
Winifred
Killiney Hill Cottages
14
Female
Co Dublin
Scholar
Roman Catholic
Read and write
-
Daughter
Single
-
-
-
-
14
Byrne
Martin
Killiney Hill Cottages
12
Male
Co Dublin
Scholar
Roman Catholic
Read and write
-
Son
Single
-
-
-
-
14
Byrne
Patrick
Killiney Hill Cottages
10
Male
Co Dublin
Scholar
Roman Catholic
Read and write
-
Son
Single
-
-
-
-
14
Byrne
James
Killiney Hill Cottages
9
Male
Co Dublin
Scholar
Roman Catholic
Read and write
-
Son
Single
-
-
-
-
14
Byrne
Josephine
Killiney Hill Cottages
5
Female
Co Dublin
-
Roman Catholic
Cannot read
-
Daughter
Single
-
-
-
-
15
Bryan
John
Killiney Hill Cottages
66
Male
County Dublin
Gardener
Roman Catholic
Read and write
English
Head of Family
Married
-
-
-
-
15
Bryan
Mary
Killiney Hill Cottages
68
Female
Co Dublin
-
Roman Catholic
Read and write
English
Wife
Married
-
30
2
2
15
Bryan
William
Killiney Hill Cottages
28
Male
Co Dublin
Gardener
Roman Catholic
Read and write
English
Son
Single
-
-
-
-
15
Bryan
Mary Ellen
Killiney Hill Cottages
22
Female
Co Dublin
-
Roman Catholic
Read and write
English
Daughter
Single
-
-
-
-
16
Stanley
Patrick
Killiney Hill Cottages
39
Male
Co Dublin
Gardener
Roman Catholic
Read and write
-
Head of Family
Married
-
-
-
-
16
Stanley
Geraldine
Killiney Hill Cottages
40
Female
Co Dublin
-
Roman Catholic
Read and write
-
Wife
Married
-
15
6
5
16
Stanley
Elizabeth Mary
Killiney Hill Cottages
13
Female
Co Dublin
Scholar
Roman Catholic
Read and write
Irish and English
Daughter
Single
-
-
-
-
16
Stanley
Rosaleen
Killiney Hill Cottages
11
Female
Co Dublin
Scholar
Roman Catholic
Read and write
Irish and English
Daughter
Single
-
-
-
-
16
Stanley
Patrick Michael
Killiney Hill Cottages
8
Male
Co Dublin
Scholar
Roman Catholic
Read and write
-
Son
Single
-
-
-
-
16
Stanley
Mary Veronica
Killiney Hill Cottages
3
Female
Co Dublin
-
Roman Catholic
Cannot read
-
Daughter
Single
-
-
-
-
16
Stanley
Helena Frances
Killiney Hill Cottages
Female
Co Dublin
-
Roman Catholic
Cannot read
-
Daughter
Single
-
-
-
-
18
Ryan
William
Killiney Hill Cottages
36
Male
Co Tipperary
Dairyman
Roman Catholic
Read and write
-
Head of Family
Married
-
-
-
-
18
Ryan
Ellen
Killiney Hill Cottages
39
Female
Co Dublin
-
Roman Catholic
Read and write