Merton Lodge (now Ballycarbery)
| Name | Merton Lodge (now Ballycarbery) |
| --- | --- |
| Previous Names | Killiney Lodge |
| Address | Killiney Hill Road |
| Year Built | c. 1829 |
| On 1888 map | Yes |
Last Modified: 12 Feb 2022 | author
Earliest map 1837
---
---
Court case of 1837
Report which appeared in The Freeman's Journal on 15 November 1837:
LAW INTELLIGENCE. ROLLS': COURT -YESTERDAY. EXTRAORDINARY APPLICATION FOR A CHARGE OF PERJURY.
Elizabeth Clements by David Tobin, her nearest friend, v. Southwell and Swanzy, &c.
In this case Mr. Collins, Q.C., appeared for the plaintiff, and Mr. Litton, Q. C., for the defendants.
A motion was made in the cause, on Saturday, on behalf of the plaintiff, for an order from this court to set aside certain subpænas and attachments issued by the defendant Southwell, and the order was granted with costs of application. The case then was as follows:- The plaintiff, who claimed to inherit, by will, the property of the Hon. Mr. Southwell, her father, had a series of litigations with Robert Henry Southwell, Esq., her brother, and others, in which she always appeared by her next friend, viz., in the first instance by Mr. Joseph Gibson, and subsequently by David Tobin, Esq., solicitor, of Killiney Lodge. In all those litigations Mr. Samuel Swanzy, who is clerk of the crown in Cavan, had been solicitor to the defendant, and in some cases he was himself a defendant. In filing an answer to Mrs. Clements's bill, Mr. Swanzy had done so as if Mrs. Clements had joined the said Joseph Gibson as next friend; nevertheless he (Mr. Swanzy) as stated in the present case on the affidavit of the said David Tobin, filed an affidavit which said that Mrs. Clements had acted in all the former proceedings, as well in that honourable court as in the Court of Exchequer, as femme sole, and had not joined any one as next friend. The present motion, therefore, was that the affidavit of Swanzy be taken off the file for perjury, and handed over to the clerk of the crown or commission, and that he be held amenable to the court; and they (the plaintiff and next friend) engaged themselves to prosecute him under that charge at the ensuing commission. The affidavit of Mr. Tobin, moreover, stated that he (Swanzy) was well aware that Clements is the name of plaintiff's husband, who at present lives and holds a commission in a regiment on a foreign station; and that from all circumstances he must have been perfectly convinced, in contradiction to the words of his affidavit, that the said Mrs. Clements had never acted as a femme sole in her proceedings in the courts.
Mr. Litton Q. C. for the defendant, applied to the court to let the motion stand over, as his client bad been under the necessity of leaving town on the preceding day for Cavan, owing to the sudden indisposition of a very near friend. He was prepared to show the truth of this statement; and from the nature of the proceedings against his client, which were evidently instigated. by no very commendable feelings, he was sure his lordship would be willing to grant the ap. plication he made.
His Honour said, that where such a charge was brought against so respectable a solicitor of that court, as Mr. Swanzy, who, moreover, held a responsible public situation, he would be most anxious to give him every opportunity to carry on his defence.
---
Description from 'Illustrated Irish Incumbered Estates' by Mary Cecelia Lyons 1993
---
Sale: 19th of June, 1855
No descriptive particulars of Merton Lodge were given in the rental. These two properties on the Killiney Hill Road were auctioned on behalf of Joseph Hines, a bankrupt, and his main creditor, George Clarke. They were both bought by John Fitzgerald, for £900-0-0. These two applotments remained in the hands of John Fitzgerald, and subsequently his widow, until 1926.
---
List of occupiers from Thom's and other sources
1829 David Tobin advertising for loan of £200 to be secured on the property
1831 James Adamson (To Let advert mentions David Tobin and Rev. Alan Bell)
1834 Mrs. Elizabeth Clements Southwell & David Tobin (Killiney Lodge listed in Watson's Almanack)
1837 Mrs. Clements Southwell (Killiney Lodge)
1843 Mrs. Clements (Post Office Directory, Killiney Lodge)
1858 J. A. Huddlestone esq (Post Office Directory, Merton Lodge)
Occupancy of Merton Lodge from Thom's Directory: 1861-1925
1861-1864 J. A. Huddlestone, Esq. (who moved to an adjacent property named Undercliff)
1865-1866 Vacant
1867 William Henry, Esq. (who moved to an adjacent property named Strathmore)
1868-1869 Vacant
1870 The Rev Robert Stavely, Incumbent of [Holy] Trinity Church, Killiney
1871 Vacant
1872-1877 Charles Dawson, Esq.
1878-1887 Mrs Battesby
1888-1889 H. Ormsby Rose, Esq.
1890-1897 P. J. Tuohy, Barrister-at-Law with the Board of Works
1898 Mrs Grey
1899-1905 Mrs Martin
1906-1908 Vacant
1909 Miss Elizabeth Percy
1910-1913 The Misses Elizabeth and Lucy Percy
1914 Vacant
Thom's lists this property as vacant until 1922, but the rating field-books continue to list tenants after that one year's vacancy:
1915-1920 George S. Waterlow
1920-1924 Thomas H. Green
1925 Patrick Brady. Thom's continues with a subtenant:
1922-1925 Mrs Anne Allardyce
Both The Grove and Merton Lodge were bought by George S. Waterlow, whose address was given as Loughgall, Co. Armagh, in 1926. Waterlow continued to lease The Grove, but demolished Merton Lodge immediately after purchase. Its land was merged with The Grove's. The Merton Lodge applotment was partially resurrected in the late 1950's, when Thady O'Sullivan, of the Gresham Hotel, acquired some of the land and built a bungalow on the site.
---
Images from The Court of the Commissioners for Sale of Incumbered Estates in Ireland, Estate of George Clarke June 1855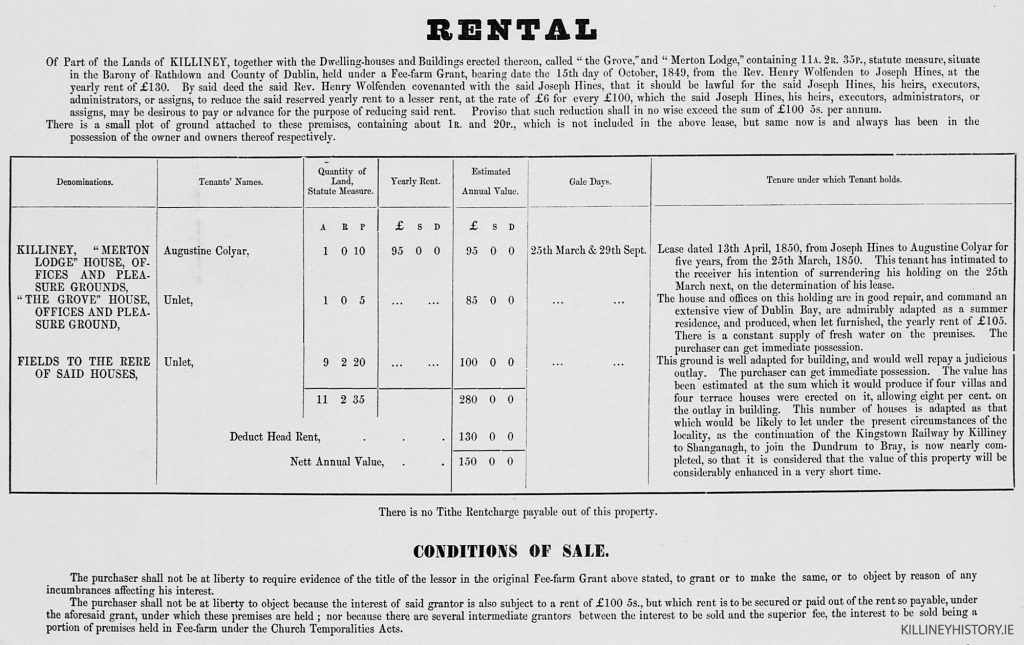 The map above shows the single storey house with simple projecting entrance porch to the front elevation as can be seen in the perspective view. The footprint remans the same in the 1888 map with the exception of a small extension to the Northern gable.
---
Notice of house to be let , 27th July 1831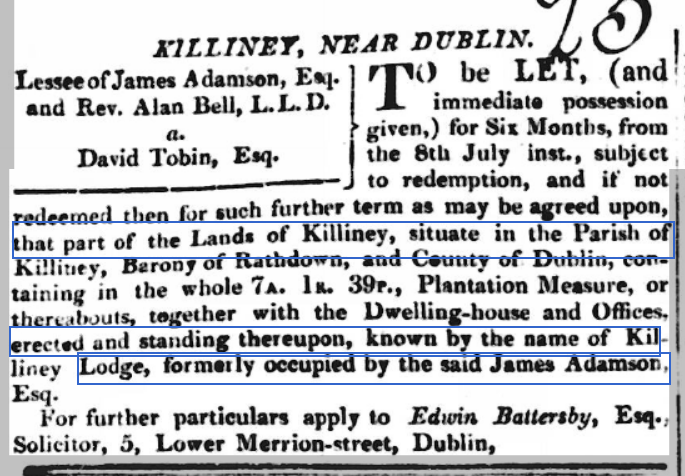 ---
Description of house dated 23rd September 1852 from auction notice
---
Ordnance Survey map of 1888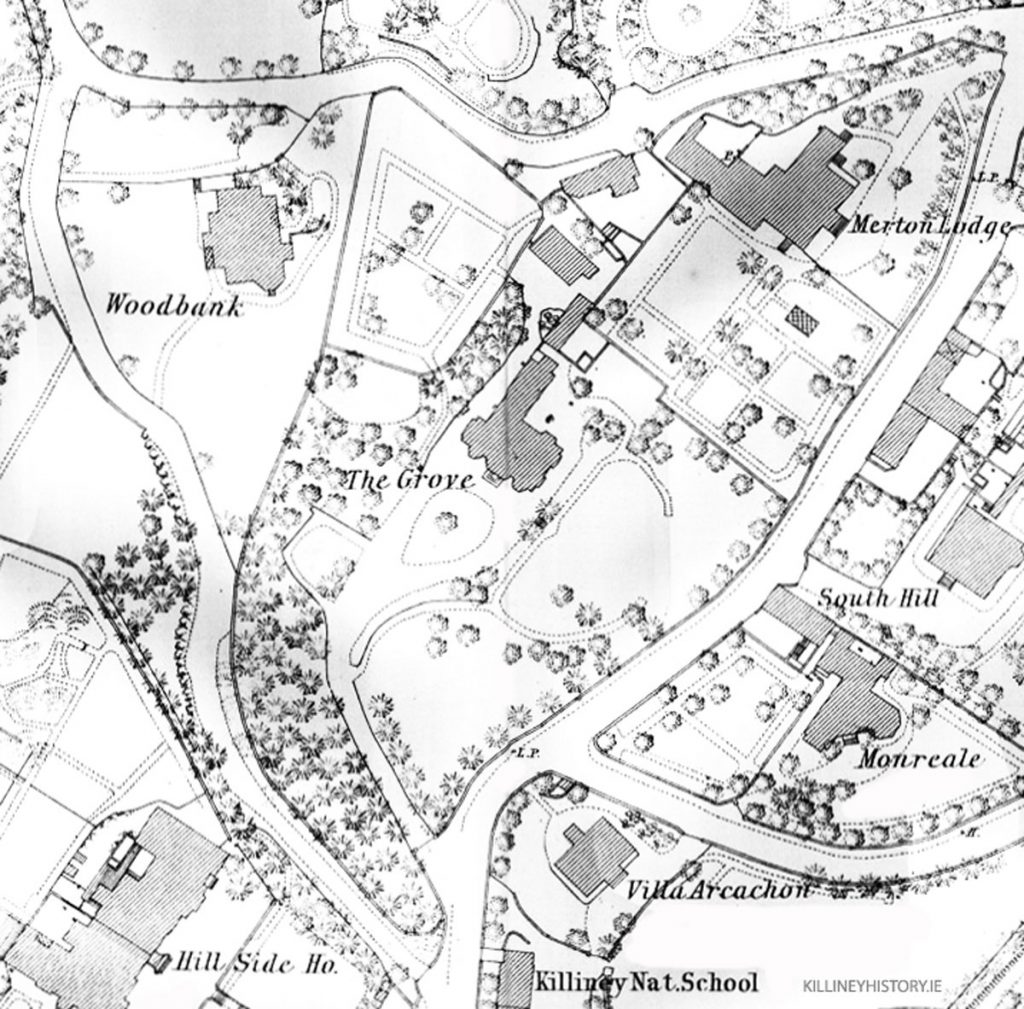 ---
A sad tale about a deceased resident of Killiney Lodge Hotel, 1851.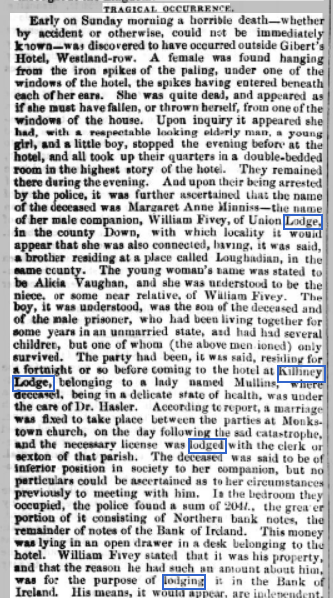 ---
Newspaper cuttings
---