Bellevue Park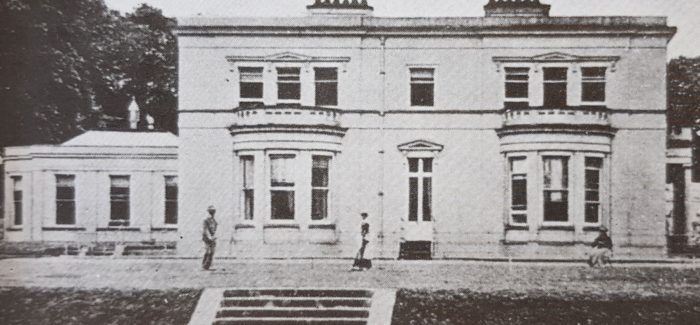 | Name | Bellevue Park. St. Joseph of Cluny Convent and School |
| --- | --- |
| Address | Ballinclea Road |
| Year Built | Original property constructed pre 1816 |
| Exists today | Yes |
| On 1888 map | Yes |
Last Modified: 12 Feb 2022 | author
Description by Peter Pearson (1998)
Peter Pearson 'Between the Mountains and the Sea' (1998), pp 62-63
On the west side of Killiney, looking back over Dublin Bay, is Bellevue Park, now occupied by the St Joseph of Cluny convent and school. Bellevue once controlled a large estate which extended as far as Glenageary, where at the top of Adelaide Road there was an entrance and gate-lodge to the house. This long avenue led to a small house which appears on a map of 1816 and which seems to have been rebuilt around 1830 for a banker named Alexander Boyle, of the Dublin firm Boyle, Low and Murray. It is a large, square house with a projecting Ionic portico. The most unusual feature of Bellevue is its circular hall, which carries a gallery or landing and a top-lit dome above. Six curved doors lead to the principal rooms and to the staircase, which itself is of note as it is a cantilevered stone structure of great elegance. The present convent chapel was built as a billiard room by the Anketell Jones family, who owned Bellevue until 1898. The room was designed in the lavish Italianate style of the 1890s. A large mantelpiece, which is an outstanding example of oak carving, is the centrepiece of a very elaborate decorative scheme of panelling and plasterwork. The two large bow windows of the drawing-room and dining-room offer fine views over Dublin Bay.
A sale notice of 1898 gives a full picture of the house and estate. The house was advertised as being a seven-minute walk from Glenageary railway station. The outbuildings comprised three coach houses, two stables and substantial farm buildings. There was a large barn with tyings for twenty cows, and a four-faced clock tower stood between the two yards. The walled garden stood on about one acre, and included a large fernery. Bellevue had two tennis courts in 1898, one grass and one surfaced in `asphalte'.
During the ownership of the Blacker Douglas family, landed gentry from County Armagh who bought Bellevue in the early 1900s, the model farm and ninety-acre estate was kept up. Most of the curved, brick-lined walls of the enclosed gardens are still standing and were once entered by a carved granite doorcase which is still there but now blocked up, and which may have been the original entrance of an earlier Bellevue house.
In 1930 the house was owned by David Barry, who was chairman of B and I shipping company, and afterwards became the property of Patrick Belton TD. He sold Bellevue to the order of St Joseph of Cluny who established a school here. The rest of the lands were developed with houses.
---
Extract from 'The architecture of John Skipton Mulvany (1813-1870)' by Frederick O'Dwyer.
The article appeared in Irish Architectural and Decorative Studies 3 (2000) pp 16-17.
Mulvany's additions to Alexander Boyle's Killiney house, Belle Vue (1836), are a competent exercise in the classical style he favoured. There is a double-storey top-lit hall, a feature that was to become a hallmark of his houses, though here, unusually, it is circular, in the Gandon tradition. Boyle was a partner in the stockbroking and banking firm of Boyle, Low and Pim. His partner James Pim junior was treasurer (i.e. general manager) of the D&KR. Mulvany appears to have remodelled the adjacent property Glenageary House for another stockbroker, Halliday Bruce , around 1852. This house was demolished in 1978.
---
Belton Dairy Farm strike of 1944
Saothar , 1986, Vol. 11 (1986), Daniel G. Bradley. Speeding The Plough: The Formation of the Federation of Rural Workers, 1944-1948. p.43
The Association recommended all Dublin farmers to accept the terms, whether they were members of the Association or not. The agreement gave an increase of 4/- for men, 2/- for youths, a 50 hour week, which meant a weekly half-day, and a full day's holiday with pay on each church holiday and public holiday. There was to be payment of time and a quarter for any hours worked over 50, and payment for casuals other than those engaged in threshings was to be 10/- for a 9 hour day where work was less than the normal five and a half days.
One prominent employer refused to accept the terms and a strike followed on his farm. That strike is worthy of attention because it heralded the return of farm strikes in Ireland, and because it illustrates the opposing perspectives at the time. Patrick Belton farmed over 400 acres in Killiney. He had 300 acres of tillage in 1944, 130 to 140 first class dairy cows which supplied 200 gallons of milk to the city daily, according to his own calculations. He also had another farm at Drumcondra. Thirty male labourers were employed on the Killiney farm. On 9 October, 1944, twenty five of these workers plus twelve girls aged 15-17 employed as potato pickers went on strike when the pay increase and the half day were refused. The response was the placing of large advertisements in the daily newspapers calling a meeting of farmers to form a new association, and also calling for government protection from the 'destroyers of food'. As a result the National Agricultural Association was formed and a full-time organiser appointed
When the dispute was two and a half weeks in progress Belton claimed the strike was over, but the WUI insisted that up to thirty male and female workers were still affected. In a letter to the Irish Times Belton ignored the pickets and declared: 'My farm at Killiney is fully staffed, and I have no room for any more workers, all my regular staff at Killiney have returned to work with the exception of 3, the talk of 20 or 30 hands still on strike here is pure fiction.'
The WUI then tried to prevent his produce from being sold in the Dublin markets, which led to five members of the union being detained in the Bridewell following a demonstration against a stall-holder who handled produce from the Killiney farm.
There was clearly a wide gap in communication in the dispute which was seen in widely divergent terms. None of the newspaper advertisements made any reference to the half day and public holidays, which were central issues from the workers' viewpoint. Eventually Belton claimed the strike occurred in the first place because the wages he paid were too high, and he placed a large box advertisement in the newspapers with the challenge that he would back the accuracy of his statement with £100, provided 'Deputy Larkin who led the strike, backs his statement with a similar amount, the loser to hand over his £100 as a bonus to my farm workers'
Records from Thom's Directory
1834 Alexander Boyle (Watson's Almanack)
1850 Alexander Boyle
1860 No Reference
1870 No Reference
1880 H.M. Jones
1890 Mrs. H.M.A. Jones
1900 Mrs. H.M.A. Jones
1910 Maxwell V.B. Douglas
1920 Maxwell V.B. Douglas
1930 David Barry
1940 Patrick Belton, T.D.
1950 Dr. R. Belton.