Plasnewyd or Rock Lodge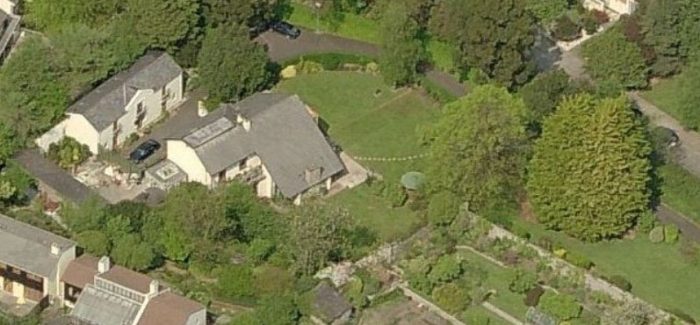 | Name | Plasnewydd |
| --- | --- |
| Previous Names | Rock Lodge |
| Address | Rock Lodge |
| Exists today | Yes |
| On 1888 map | Yes |
Last Modified: 01 Mar 2023 | author
Map of 1866
Now demolished, this significant 18th Century house, had a Welsh name (Plas Newydd) which translates to 'posh new house' and was a popular name for houses of that period in Wales. The extensive grounds contained a pleasure lake and walled orchard which can be seen in the 1866 map below.
---
The Architectural Conservation Area report of 2016 by Dun Laoghaire Rathdown County Council mentions the property:
Unfortunately, a further 18th century dwelling of some significance, Plasnewyd, has been demolished to facilitate a modern housing development. Some elements of the garden enclosures of this house remain, in particular the walled orchard. These elements contribute to the historic landscape to a sufficient extent that warrants a degree of protection and inclusion in the ACA.
The original coach house still remains on the site and a new house which replaced the original structure was built in 1976.
---
The Lake
Remembered as Darcus' lake or Captain Disney's pond this water feature in the grounds of Plasnewyd/Rock Lodge was a popular spot with youngsters from the area.
A Killiney schoolboy remembers
Memoirs of Arthur Haughton who was born in 1903. Extract from' A Parish History 1858-1996′ courtesy of Holy Trinity Church Killiney.
In the Preachers' Book there is a column for comments. In the early 1920s this space was often filled by remarks about the extremely bad weather conditions. Arthur, when asked if he remembered anything in particular, said they used to get very harsh, black ice, which was particularly noticeable on Darcus' Lake in the grounds of Rock Lodge, then called Plas Newydd.
---
Boarding School run by Rev. Callaghan McCarthy from 1866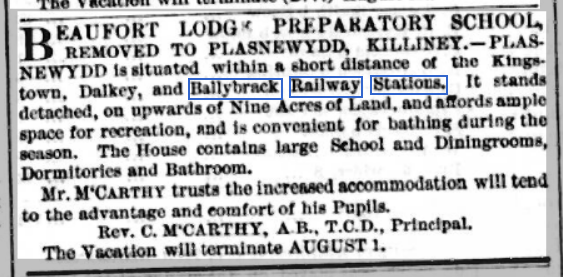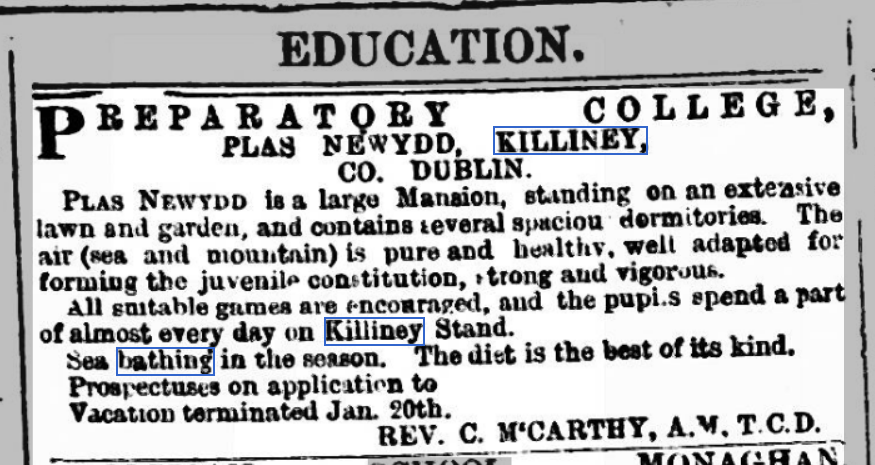 ---
Seán Ó'Faoláin and Knockaderry House
Disney sold a site to Seán Ó'Faoláin to build a house.
---
Rock Lodge as it is today with 1888 map overlay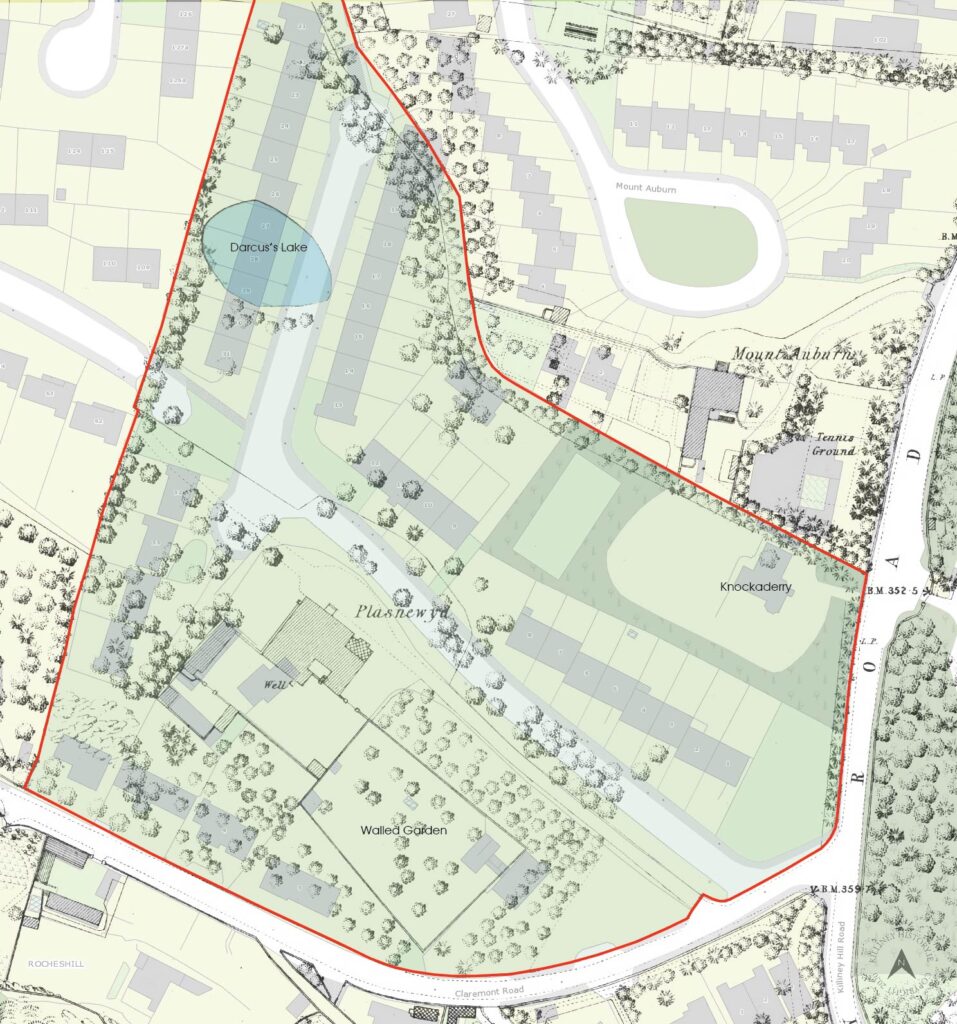 ---
Josephine McKeever Close 1888-1972
Daughter of Mary Maxwell formerly McKeever, of Killiney, Co. Dublin. Her mother was the postmistress in Killiney, and following the death of her first husband, she married William Maxwell, an Apothecary. In the 1901 census, she had 7 children – all McKeevers living with her. Wife of Lieutenant Henry Burke Close (The Royal Dublin Fusiliers. 7th Battalion, attached to 3rd & 4th (Reserve) Battalion. Secondary Regiment, Royal Field Artillery 129th Battery, 30th Brigade), of "Plas Newydd", Killiney, Co. Dublin, whom she married in Ballybrack Church [RC] Co. Dublin, on 29 August 1915. Henry Joseph Burke, son of Henry Peter Close and Hanna Mary Frances Hynes, of 5 Leinster Road West, Harold's Cross, Dublin, was born on 18 May 1883, and was baptised at Rathmines Church [RC], Dublin, on 27 May 1883. His god-parents were Allan Parker Close and Josephine Mary Hynes. His father Henry Peter Close died in 1900, aged 57. in the 1911 census, he was recorded as living with his widowed mother, Frances Close, at Vico Road, Dalkey, Co. Dublin. They had 2 children, Carmel and Hilda. Her younger brother Captain Louis Lawrence McKeever M.C. also died in World War 1. Her grandchildren, who are also buried here (Glasnevin Cemetery), are:
Henry Larkin
Owen Larkin
Brendan Kidney
---
Rock Lodge gate piers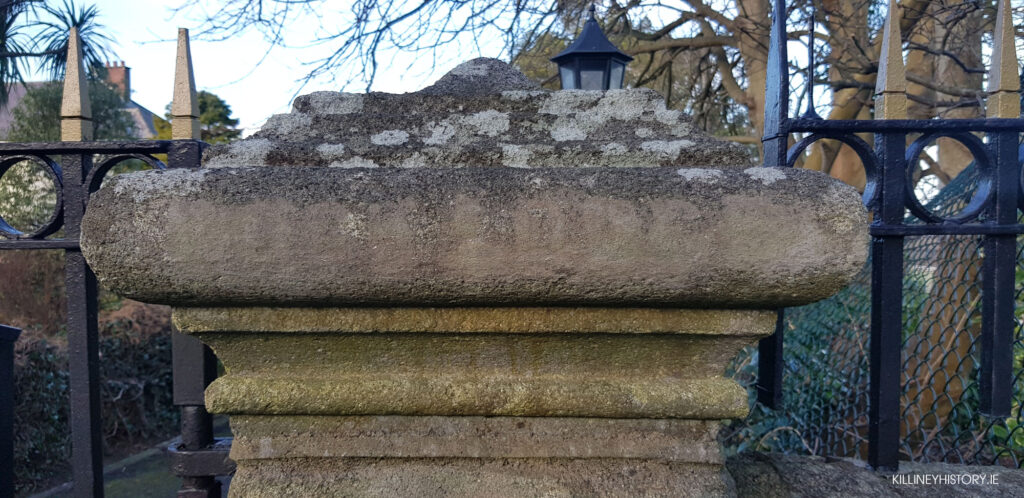 ---
Records from Thom's directory and other sources (Updated 28.01.2023)
| | | |
| --- | --- | --- |
| Year | Owner/Occupant | Source |
| 1837 | Plasnewyd | 1837 Map |
| 1847-1852 | The Hon. Mrs. Kaye | Thom's |
| 1856 | Hon. Richard Gilbert Talbot | |
| 1858 | Not listed | |
| 1866 | Vacant | Thom's |
| 1866 | Hon. Richard Gilbert Talbot to Rev. Callaghan McCarthy. | Lease of 9 acres for 14 years. Deeds and other documents relating to the Rochestown and Ballinclea Estates, Co. Dublin, 1419-1894. Shelfmark MS Talbot c. 93. Bodleian Library, Oxford. Page 40 Item 77. |
| 1867-1870 | Rev. Callaghan McCarthy. Boarding School. | Thom's |
| 1877 | Not listed | |
| 1880 | M. Charles C. Burke | |
| 1884-1887 | Vacant | |
| 1888-1892 | Mrs. Eccles | |
| 1894-1897 | James Lyon Esq Professor of Engineering, Royal College of Science | |
| 1898 | Vacant | |
| 1900-1910 | H.S. Darcus | |
| 1912-1934 | Mrs. Maxwell | |
| 1935-1945 | Captain Thomas B.L. Disney & Miss V.P. Disney | Talbot Estate Papers. Rentals and accounts for Killiney estate, 1933-1948. Shelfmark MS Talbot d. 13. Bodleian Library, Oxford. Pages 11-36, Rental No.13 Plasnewyd |
| 1936-1943 | Captain T.B.L. Disney, M.C. (late Royal Signals) & Miss V.P. Disney | Renamed Rock Lodge in Thom's |
| 1946-1948 | Michael Fitzgerald. | Talbot Estate Papers. Rentals and accounts for Killiney estate, 1933-1948. Shelfmark MS Talbot d. 13. Bodleian Library, Oxford. Pages 39 & 42, Rental No.13 Rock Lodge |
| 1950 | Michael Fitzgerald. | Thom's |
| 1954 | Fitzgerald, Mrs. | |
| 1960 | Lucas, W.P. | |
Note this list is incomplete