Padua (previously Desmond)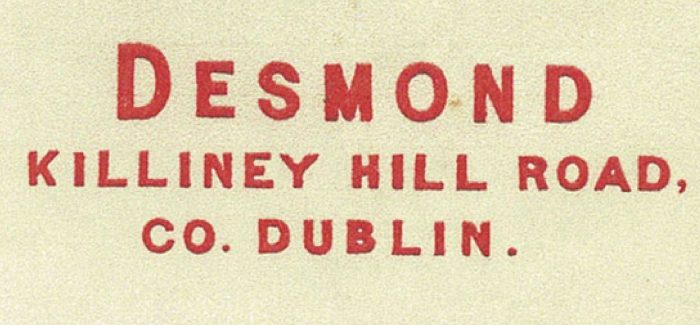 | Name | Padua |
| --- | --- |
| Previous Names | Desmond |
| Address | Killiney Hill Road |
| Year Built | c. 1837 |
| Exists today | Yes |
| On 1888 map | Yes |
Last Modified: 25 Oct 2022 | author
A History in maps
As one of the earliest recorded houses in Killiney from available mapping we have been able to trace the development of Desmond over the years. The first map showing the house is dated 1837 and shows a simple rectangular shaped dwelling with a projecting central bay to the rear of the main house facing the stable yard. A simple rectangular stable building is also indicated which backs onto Killiney Hill Road. This map represented the original survey from which the engraving for the published map was to be made.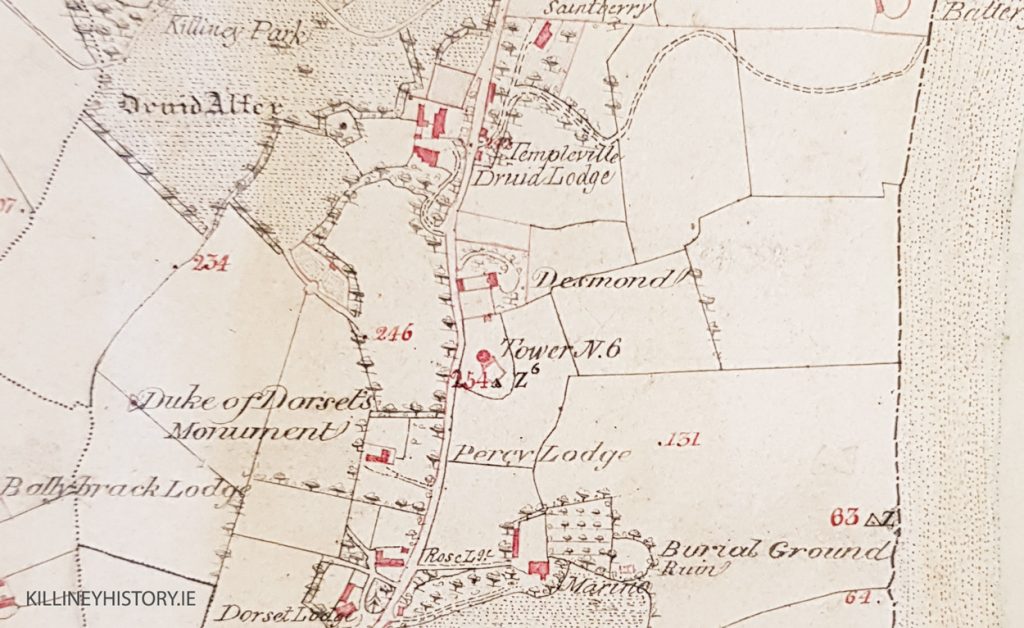 The map which was finally published in 1843 shows a number of differences and in particular a projecting front porch element is now visible on the East elevation.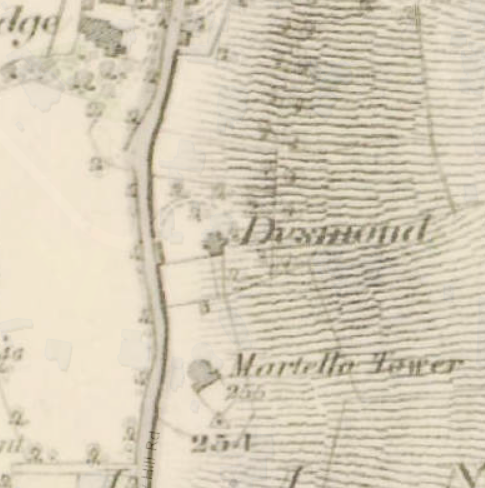 The next available map is dated 1874. This drawing is from the Landed Estate Court sales document for the Gaynor Estate which encompassed much of the Killiney district from just below Killiney Village to Seafield Road. From this drawing we can see that the West facing rear of the house has been extended and an enclosed stable courtyard has been created between the coach house and the main dwelling. The grounds have also been developed and a walled garden is shown to the South of the property. The driveway swings in an arc to the East facing side of the property where the main entrance is located.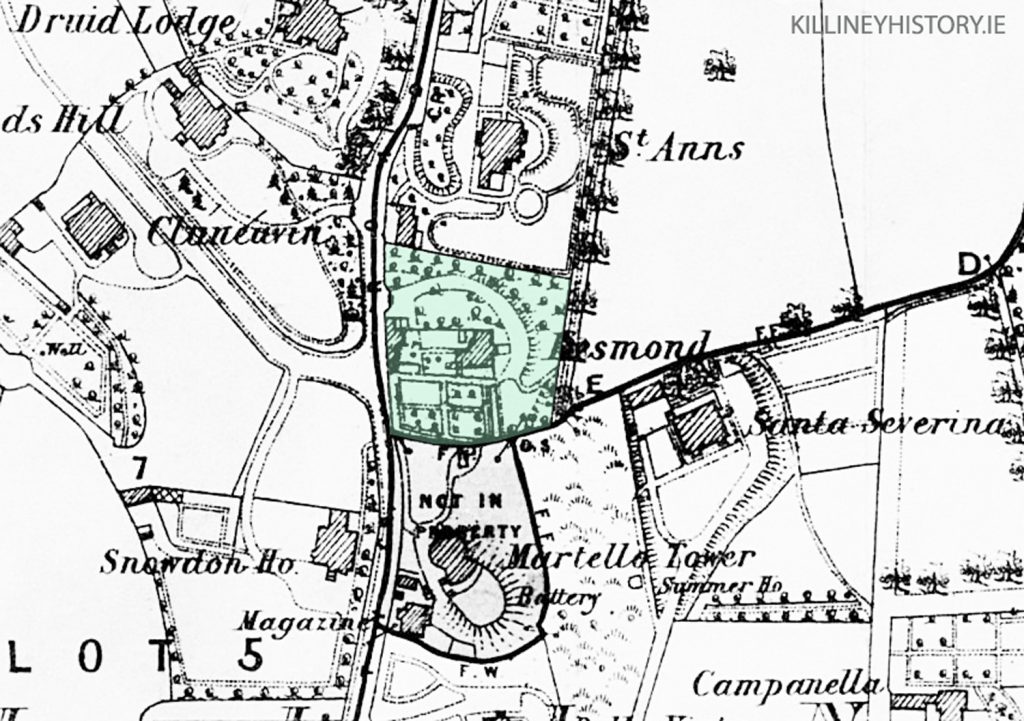 The 1888 Ordnance Survey map provides more detail compared to the smaller scaled 1874 map but the house and grounds have remained substantially unchanged.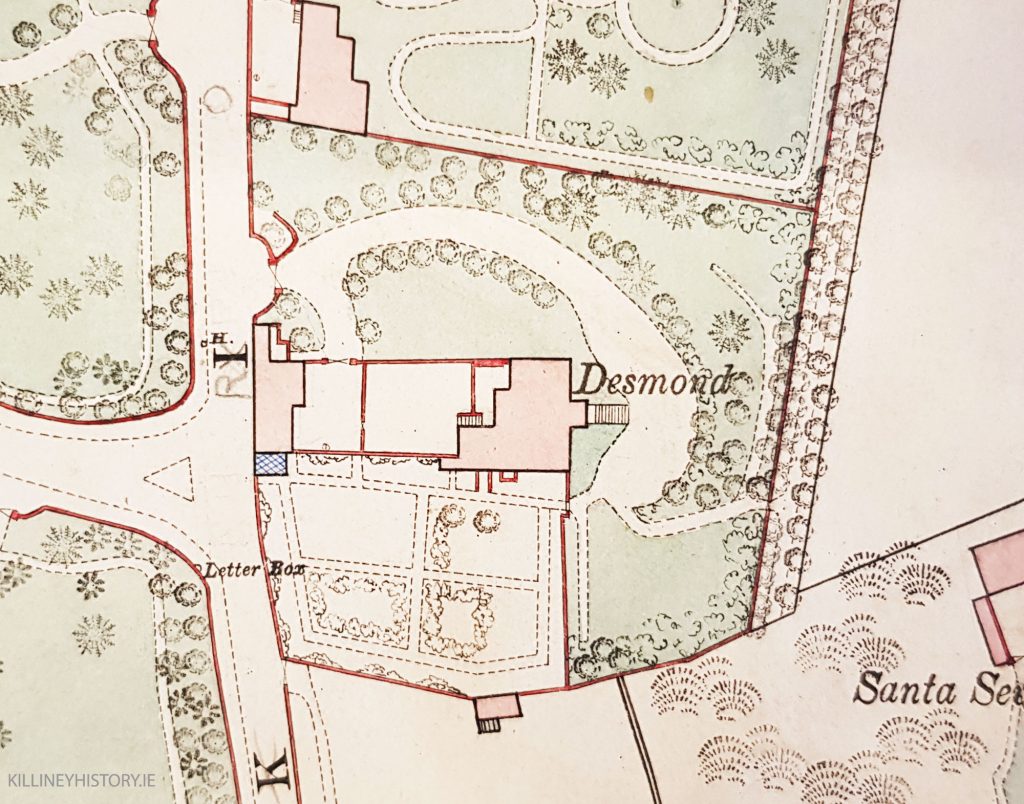 By the turn of the century the house had been upgraded to include three storey bay windows to the main elevation. Also it can be seen that the main entrance steps had been altered and now had a double return as is still the case today. A new gate lodge has been constructed with direct access to Killiney Hill Road.
---
Architectural Description
The house is a detached three bay, two storey over basement rendered exterior with three storey bay windows to the front and a two storey entrance porch with a wrought iron balcony over. A set of granite double return steps with wrought iron railings lead to the piano noble, first floor main accommodation. There is an original timber front door with fanlight and sidelights. The windows to the front are original.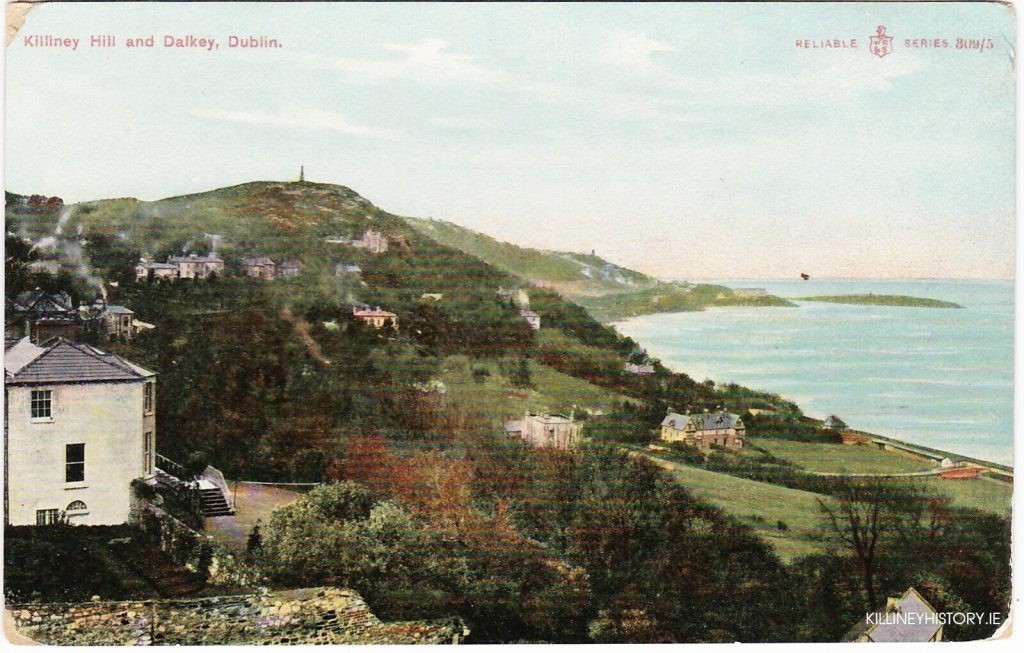 Padua is typical of many houses which were upgraded by their owners over the years as described by Peter Pearson in his book "Between the Mountains and the Sea":
All of these large Victorian houses were built to reflect the status and position of the family that lived there. These houses required an imposing front, a grand hall and a well-furnished drawing room. A larger residence with a couple of acres needed a gate lodge and a winding avenue which brought the visitor to a broad gravel sweep in front of the hall door. Whether the architecture was Italianate or Gothic did not matter greatly. Many of the earlier houses were plain, so it was common for wealthy Victorian owners to add porticos, stucco enrichments, cornices and brackets. Often a billiard room would be added at the back of the house.
---
Records from Thom's Directory and other sources
| | |
| --- | --- |
| 1832 | Frederick Saintbury Parker, magistrate and chairman of Kingstown Board of Health (NAI letter) |
| 1858 | Jebb, Robert Esq Counsel to Inland Revenue and Customs (From P.O. Directory) |
| 1887 | Jebb, Robert H. Esq |
| 1889-1892 | Edmund P. Morgan Esq |
| 1899 | Dillon, John (address provided on letter written to newspaper, see below) Possibly a guest of Mrs. Burke |
| 1898-1900 | Burke, Mrs. M.J. |
| 1905-1907 | Orr, Augustine W. Esq. |
| 1910-1921 | John M. Coyne J.P. |
| 1924-1926 | Christian, Lloyd |
| 1928-1930 | William P. Sothman D.Sc |
| 1934 | Ferrier, Alexander Gordon |
| 1937 | D'Arcy, J.N. |
| 1940-1952 | Figgis, W.F. |
List is incomplete
---
---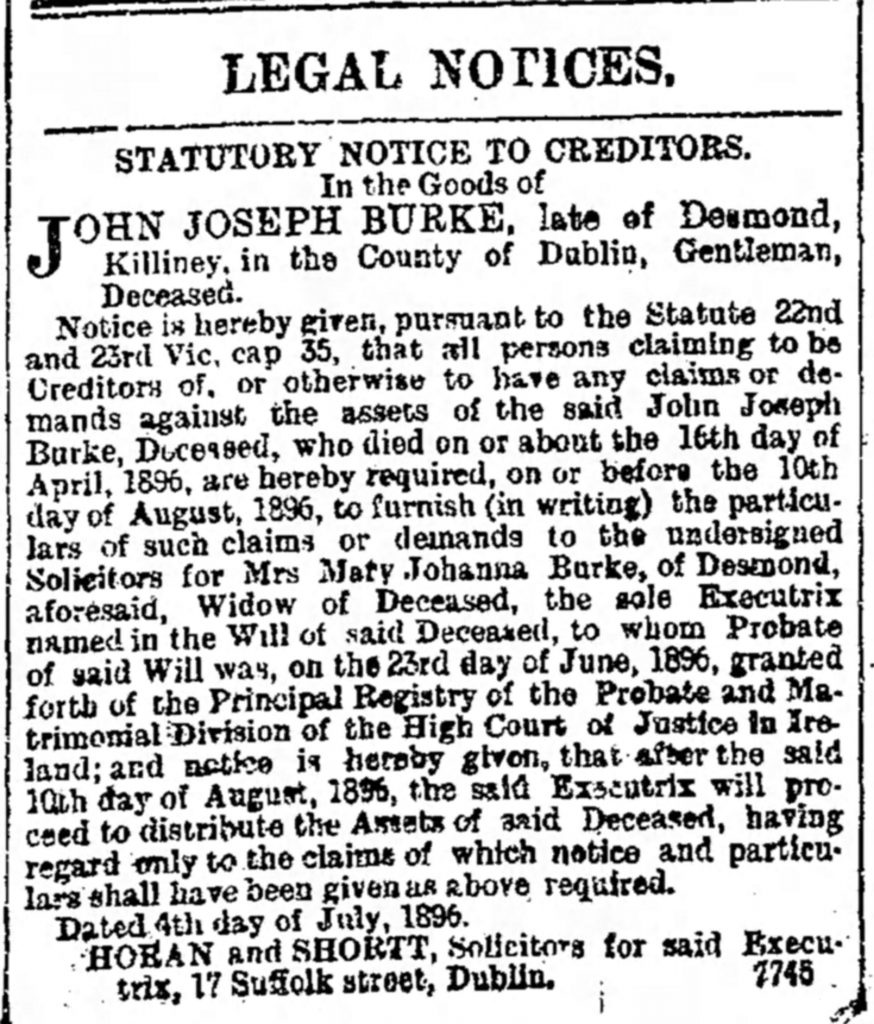 ---
John Dillon, resident of Desmond 1899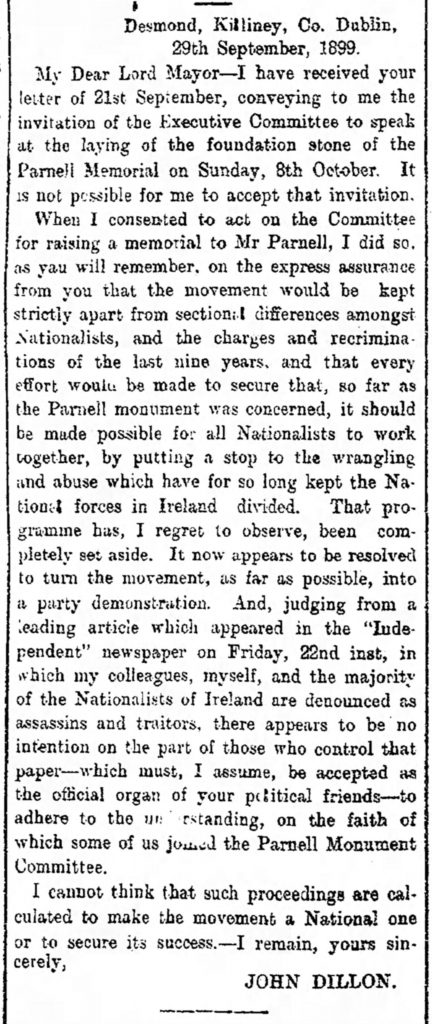 John Dillon, (born Sept. 8, 1851, Blackrock, County Dublin, Ire.—died Aug. 4, 1927, London, Eng.), a leader of the Irish Parliamentary Party (Irish Nationalist Party) in the struggle to secure Home Rule by parliamentary means. Through the 1880s he was perhaps the most important ally of the greatest 19th-century Irish nationalist, Charles Stewart Parnell, but, after Parnell's involvement as correspondent in a divorce case, Dillon repudiated him for reasons of political prudence.
The son of Irish patriot John Blake Dillon (1814–66), John Dillon was a member of the British House of Commons during 1880–83 and 1885–1918. For his vigorous work in the Irish Land League, which sought fixed tenure, fair rents, and free sale of Irish land, he was imprisoned twice between May 1881 and May 1882 and was Parnell's fellow inmate in Kilmainham jail, Dublin, from October 1881. For six months in 1888 he was imprisoned for aiding William O'Brien, author of the "plan of campaign" against high rent charges by English absentee landlords in Irish farming districts.
When Parnell was named correspondent in Capt. William Henry O'Shea's divorce suit in 1890, Dillon and O'Brien at first affirmed their support of him, but they finally decided that he would thenceforth be a liability as party leader. The party then split, the anti-Parnellite majority forming the Irish Nationalist Federation, of which Dillon served as chairman from 1896. In 1900, however, he agreed to join a reunited party under the Parnellite John Redmond.
During the prime ministry (1902–05) of Arthur James Balfour, Dillon came to believe that the British Conservative government intended to grant Irish reforms without independence, thereby "killing Home Rule by kindness." In 1905 he advised Irishmen to vote for Liberal Party candidates for Parliament, and, after the Liberals had taken office that year, he supported their reform program. Throughout World War I he vehemently opposed the extension of British military conscription to Ireland, both because that measure would strengthen the agitation by the more extreme nationalist Sinn Féin ("We Ourselves" or "Ourselves Alone") party and because he never accepted the view that British imperial interests necessarily coincided with those of Ireland. After the Easter Rising in Dublin in 1916, Dillon protested against the harsh measures that ensued and, in the House of Commons, made a passionate speech in defence of the Irish rebels.
On Redmond's death (March 6, 1918), Dillon, who had broken with him over Irish support for the British war effort, succeeded him as Nationalist Party leader. By that time, however, the party had been discredited, and in the election of December 1918 Sinn Féin won easily. On losing his House of Commons seat to Eamon de Valera (afterward president of the Republic of Ireland), Dillon retired from politics.
---