Glenalua House
| Name | Mount Prospect |
| --- | --- |
| Previous Names | Glenalua House Shamrock Hall |
| Address | Killiney Hill Road and Glenalua Road |
| Year Built | c.1847 |
| Exists today | Yes |
| On 1888 map | Yes |
Last Modified: 31 Jan 2023 | author
Now known as Mount Prospect this house dates from c. 1847. The plot appears as open ground on the 1837 and 1843 Ordnance Survey maps. The name/date plaque on the front of the house states '1847 Mt. Prospect'
---
Shamrock Hall. 1864-1867
---
The Waterhouse era. 1867-1947
The Waterhouse family moved to live in Killiney in 1852 and they briefly resided in Kilmore House. In 1854 Samuel Swinburne Waterhouse and family moved into nearby Glenalua Lodge (then known simply as Glenalua) and they lived there until 1866 when they moved to Shamrock Hall which they renamed Glenalua House in 1868. S. S. Waterhouse was born in England in 1819 and the family expanded the silver and goldsmith business to Dublin in the early 1840's. He made various renovations to the house before moving in with his family. Samuel and his wife Anne had six children: Mary Rosa, William Dakin, Howard Alfred, Annie Alma, Emma Dakin and Thomas George.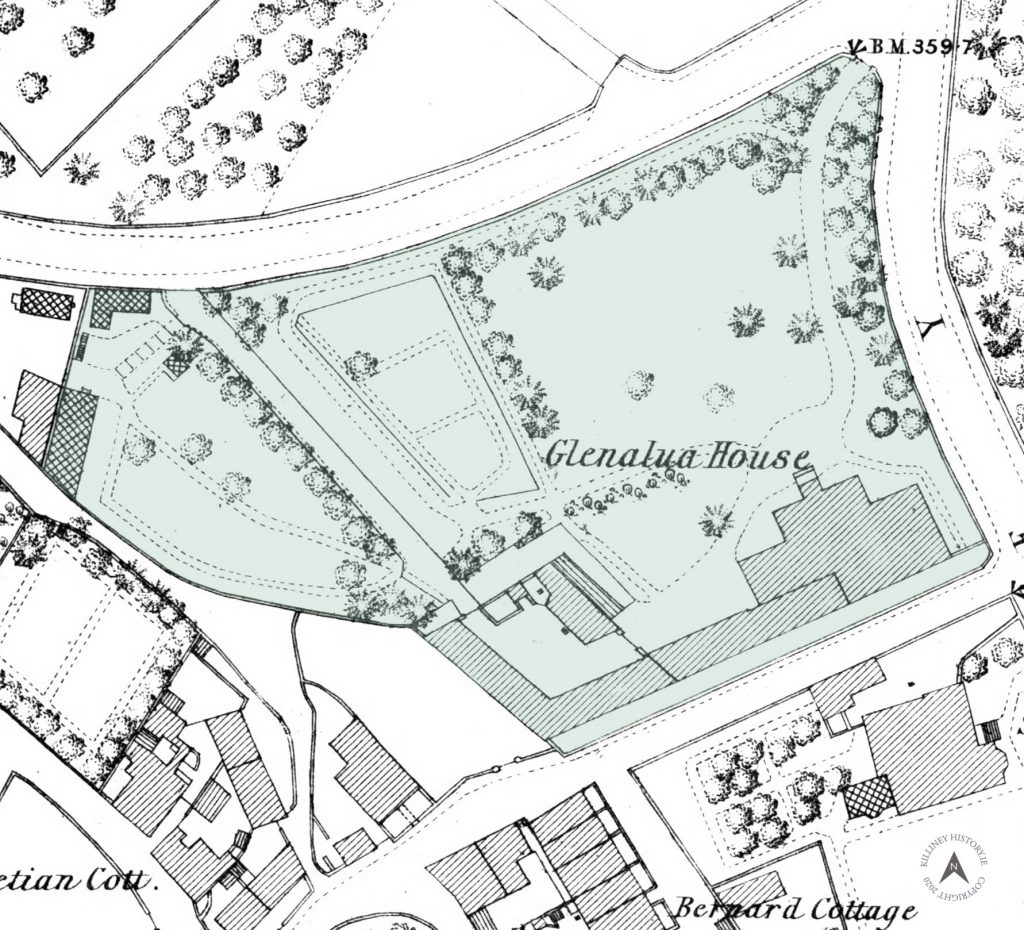 The Waterhouses prospered in the latter half of the nineteenth century and acquired many properties in the vicinity of Killiney Village. By 1900 Samuel and Anne had all but one of their adult children living close by. Mary Rosa and her children were living at Willmount House, Thomas George and his family were next door in Willmount Cottage. Howard Alfred and his family were living in Claremont House which was just around the corner and his two unmarried daughters Annie Alma and Emma Dakin were still living with their parents in Glenalua House. His eldest son William Dakin had married and settled in England. At this stage Samuel was a pillar of the local community. The family attended Holy Trinity Church and Samuel served on the local council. He also employed many locals who worked on his various properties.
American Rifle Match 1875
Advocate for public access to Killiney Hill Park
Obituary 1905
The extract from Mr. Samuel Swinburne Watherhouse's obituary of 1905 praised him greatly: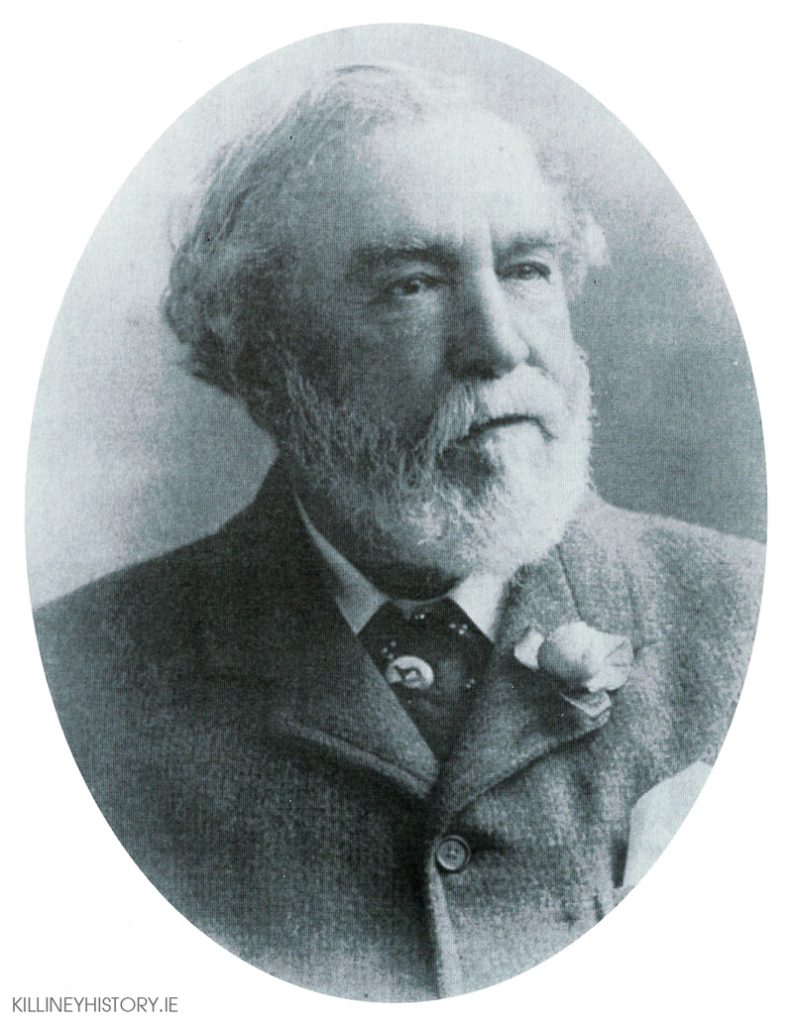 We regret to announce the death of Mr. S.S Waterhouse, JP, which occurred at his residence Glenalua, Killiney, early yesterday morning. The deceased gentleman, who had been ill only a few days, had reached his 86th year, and as a worthy and much respected citizen and good sportsman, his death will be deplored by a large circle of friends and acquaintances. Mr. Waterhouse, who hailed from Sheffield, settled down in Dublin a great many years ago and was head of the well-known firm of jewellers in Dame Street only retiring from business about six months ago. In 1849 Mr Waterhouse came to Dublin to manage his father's business and took up his private residence two years later in Killiney where he did a great deal for the poorer classes in whose welfare he took a deep and kindly interest, and in him they found a true friend. He was one of the chief promoters in the movement which culminated so successfully in the opening of Killiney Hill and in his connection therewith he took much pride. Of a retiring and unostentatious manner the deceased gentleman was proud of his descent, which he could trace back to the year 1100, and he came of the Yorkshire branch of the Waterhouse family. He was the oldest member of the Dublin Chamber of Commerce and the oldest but one of the Royal Zoological Society and was also a member of the Killiney Urban Council of which he has also been chairman.
---
Auction notice of 8th August 1919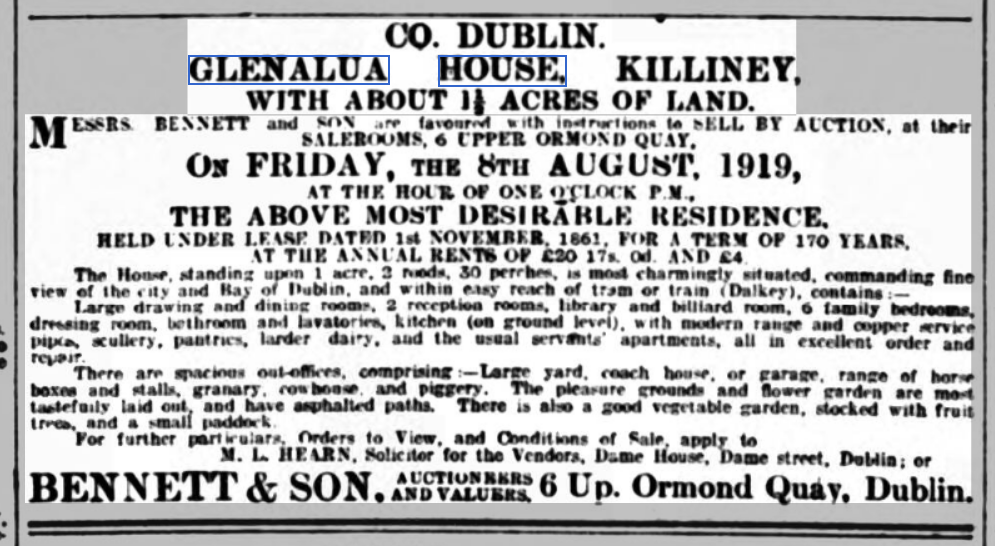 The house was listed for auction on 1919 but did not appear to sell on this occasion as it listed again, still in the ownership of the Waterhouse family, in 1947.
---
Headquarters of the Free State National troops 1922.
Glenalua House was the military headquarters of the Killiney and Ballybrack district during the civil war and featured in a number of skirmishes which were reported in newspaper articles of the time. The prominent position which the house commands made it a very strategic location in which to house the military headquarters for the area. Being at the high point of Killiney Hill Road meant it had a great vantage point for controlling all movements in the area, but also became the target of many well planned attacks. An article which appeared in The Northern Whig and Belfast Post of 21st October, 1922 reported that 'Armed men dismantled the Killiney telephone exchange and set fire to Glenalua House, which was vacated by the National forces some weeks ago.' It is not known how badly damaged the house was but it survived and was reoccupied shortly afterwards.
Although barely legible another report of the same incident in the Dublin Evening Telegraph of 19th September 1922 mentions one killed and two mortally wounded in hospital after another attack on Glenalua House. 'One of the irregulars named Mooney, who resided at Dalkey, was so seriously wounded that he died shortly afterwards at his own house, which he managed to reach. Suffering from extensive gunshot wounds, he is stated to have lain for several hours in the shelter of a hedge. Two others of the attacking party, whose names are given as Mullen and Dowd, are understood to be mortally wounded, and lying in St. Columbkille's Hospital, Loughlinstown. They are also resident in the district and their identity is well known to the National troops. The attack it will be recalled, was one of the fiercest yet made on Glenalua, and the garrisson of National troops made a gallant stand against an enemy who apparently had the advantage so far as position ….?'
Upon further investigation, and with thanks to Brendan Lee who hosts www.irishmedals.ie, it has been established that Mooney referred to in the above article did not die after the attack. The newspaper report appears to be incorrect as Sean Mooney of Sorrento Road in Dalkey went on to make a pension application (MSP34REF46236) and mentions the attack on Glenalua House in his application. He was a member of C Company (Dalkey), 6th Battalion, Dublin Brigade during the War of Independence, the same company as Brendan Lee's Grandfather. In relation to Mullen and Dowd who were reported wounded in the attack Brendan informs us that there was a Peter and Michael Dowd, brothers from Hill Cottages, Killiney, both were in C Company during the WOI. There was a Michael and John Mullen from St. Patrick's Avenue or Square, (both addresses given) Dalkey both members of C Company.
Extract from article by John Dorney, based on his book, The Civil War in Dublin 1922-1924.
Another anti-Treaty column however, led by Paddy D'Arcy, was back up and running in the area by late September of 1922. D'Arcy was a veteran of 1916 Easter Rising, where he had served, at the age of just 17, at Jacob's Biscuit Factory under Thomas McDonagh. Certainly D'Arcy's small column, (he thought he might have had thirty men 'at a push' but no more than a dozen were ever involved in operations) was very active. He recalled that they attacked the Free State military post on Killiney Hill over 20 times. Most of the these attacks were ineffectual, involving quite a bit of shooting but few casualties on either side. On September 10, 1922, for instance, the National Army post on Killiney Hill was fired on by snipers and in response its garrison opened up with a machine gun, firing 600 rounds into the night air but causing no known casualties. Such attacks became a regular occurrence. The anti-Treaty column was also involved in a considerable amount of material destruction and armed robbery. On 23 October, 1922, for instance, Killiney Telephone Station was 'smashed up' by D'Arcy's men and the Dun Laoghaire Urban District Council accountant held up and robbed of £350.
---
Auction of 15th April 1947
At this stage in 1947 Glenalua House had been renamed Mount Prospect and was included as one of the lots in the auction of 15th April which included other properties from the estate of S.S. Waterhouse.
---
Records from Thom's Directory and other sources
| | | | |
| --- | --- | --- | --- |
| Year | Occupant | Name of property | Source |
| 1861 | Lease by Talbot to Sullivan | Glenalua House | Talbot Estate papers. Deeds and other documents relating to the Rochestown and Ballinclea Estates, Co. Dublin, 1419-1894. Shelfmark MS Talbot C.93. Bodleian Library, Oxford. Page 56 Item 229. |
| 1864 | Vacant | Shamrock Hall | To Let advert |
| 1866 | Patrick Sullivan | Shamrock Hall | Thom's |
| 1867 | Samuel. S. Waterhouse | Shamrock Hall | |
| 1868-1905 | Samuel. S. Waterhouse | Glenalua House | |
| 1907-1917 | Waterhouse, the Misses | Glenalua House | |
| 1920-1926 | Vacant | Glenalua House | |
| 1928-1930 | Sparling, John Wm. | Mount Prospect | |
| 1934-1937 | Lambkin, P.G. | Mount Prospect | |
| 1940-1960 | Nolan, Thomas V.C. | Mount Prospect | |
Note; This list is incomplete