Urney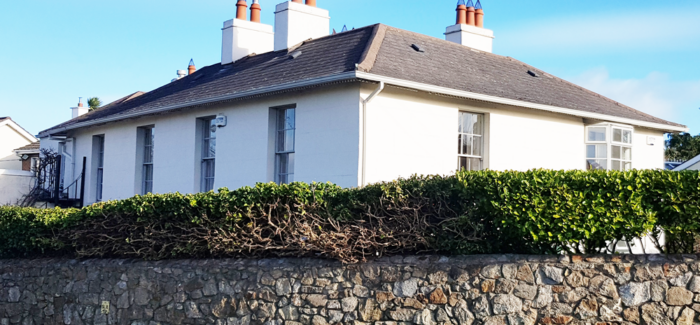 | Name | Gleneagles |
| --- | --- |
| Previous Names | Coolmeen c.1834, Eagle Lodge c. 1843-1858, c.1867-c.1991 Urney and now Gleneagles |
| Address | Killiney Road |
| Exists today | Yes |
| On 1888 map | Yes |
Last Modified: 28 Feb 2023 | author
Mr.Farrell's yard and forge
The earliest recorded occupier of Coolmeen (now Gleneagles) was Joseph Farrell. Watson's Almanack of 1834 states that Joseph Farrell, smith and farrier was in residence here. You can read more about the forge and the Farrell family here.
---
Earliest Map of 1837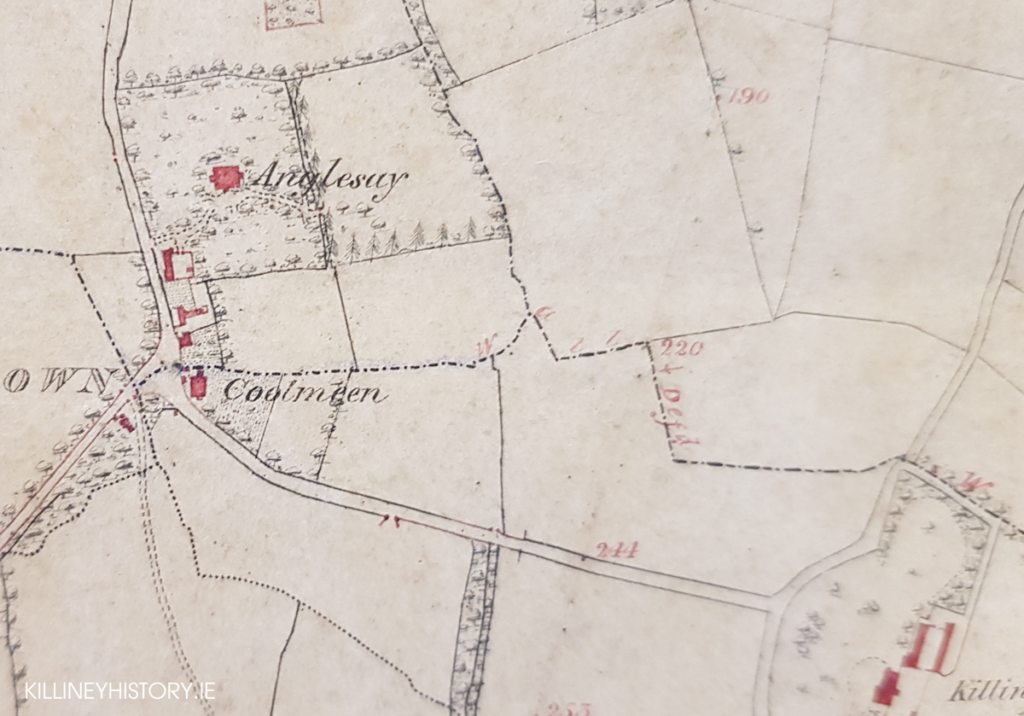 The forge can be seen in the top left corner in the field north of Coolmeen and adjoining Mountain View (the 'T' shaped building in the next plot of land.) Further evidence that the forge was originally located in the grounds of Coolmeen can be seen in the following map of 1843. Apart from Anglesea and Coolmeen very little else existed in this location at this time. In fact, no houses are shown along the entire stretch of Killiney Road from the Ballinclea Road junction up to the Killiney Castle Hotel. In 1840 a boundary description which appeared in the Warder and Dublin Weekly Mail of 14 March 1840 refers to this road as Coolmeen Road. This group of 3 houses represent some of the earliest in the district, however only Coolmeen (Urney) has survived. The grounds of Anglesea and Mountain View now form the modern housing estate known as Anglesea Park.
---
Map of 1843 showing Eagle Lodge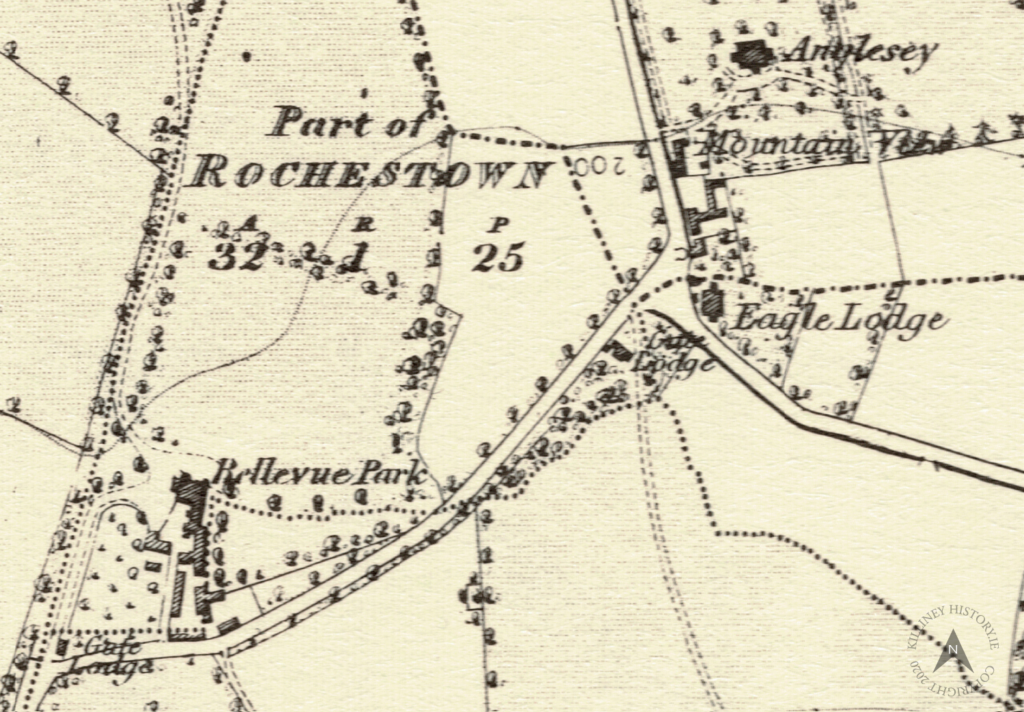 The published 1843 OS map shows a horseshoe symbol outside this building which would confirm this as the location of the forge. The later 1888 map indicates that the old building was demolished and the plot appears to have been transformed into a walled garden for Urney (Coolmeen). The forge and associated yard was then relocated to the rear of Mountain View with its own access to the main road.
---
Ordnance Survey map of 1888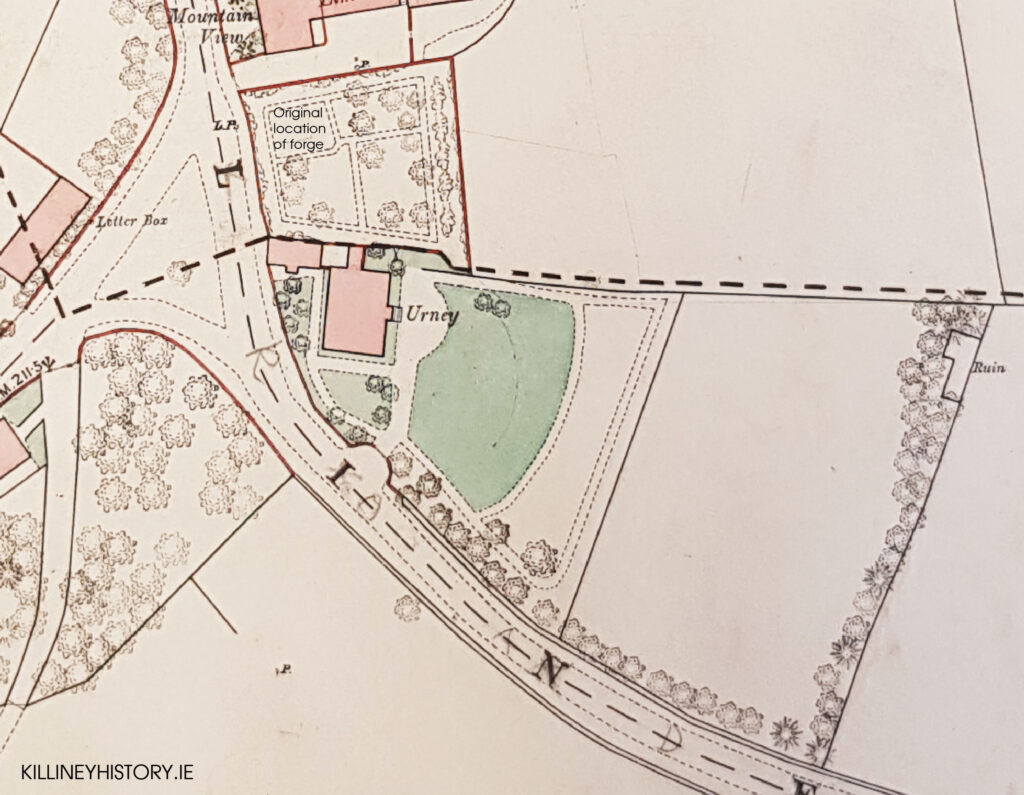 ---
Occupants over the years as listed in Thom's Directory and other sources
| | | |
| --- | --- | --- |
| Year | Name of occupant | House name |
| 1834 | Joseph Farrell, smith and farrier (from Watson's Almanack) | Coolmeen |
| 1837 | From Ordnance Survey map of 1837 | Coolmeen |
| 1843 | From Ordnance Survey map of 1843 | Eagle Lodge |
| 1847-52 | Mr. Kennedy | Eagle Lodge |
| 1856-58 | J.R. Comyns | Eagle Lodge |
| 1867-1870 | Mrs. Nun (Harriet & Richard from other sources) | Urney |
| 1872 | James & Charles Kennedy | Killiney School |
| 1880 | Vacant | Urney |
| 1881-84 | Thomas F. Elvery esq. | Urney |
| 1887-88 | Hon. A.H. Browne | Urney |
| 1892 | Charles E. Lane Clarke, M.A. capt. 62nd regiment | Urney |
| 1894 | Vacant | Urney |
| 1897 | Vacant | Urney |
| 1898 | Justin McCarthy esq. solr. | Urney |
| 1900 | C. Woodroffe Sandes esq. | Urney Lawn |
| 1905-07 | J.J. Acason (also referred to as Urney Lawn elsewhere) | Urney |
| 1910-27 | Ernest S. Robinson Barrister-at-law | Urney |
| 1928 | Vacant | Urney |
| 1934-47 | Frederick Latchford | Urney |
| 1950-60 | Joseph J. Kelly | Urney |
---
School use at the property and Warren Estate sale of 1872
On the 8th March 1872 in the Landed Estates Court an auction of the lands and properties of the bankrupted Robert Warren took place. Lot 14 was the plot of ground upon which Urney was located and interestingly is described as 'lately occupied as Killiney School' by James and Charles Kennedy. The terms of the lease were set out as follows:
Tenure of Tenant. Fee-farm grant under Renewable Conversion Act (in lieu of lease for lives renewable for ever, from Thomas Bourchier to James Bolger, of 30th of April, 1827), dated 13th September, 1869, from Robert Warren, Graves Swan Warren, and Reverend Samuel Percival Warren to James Kennedy and Charles Kennedy of the dwelling-house lately occupied as Killiney School, with 1a. attached thereto, as also the field next adjoining thereto, containing 2a. Irish measure, both stated to contain 4a. 3r. 17p. statute measure, part of Lands of Mount Mapas or Loftus Hill, To Hold for ever subject to rent of £30 sterling. Covenant against noxious trades under penalty of paying double the yearly rent of £30.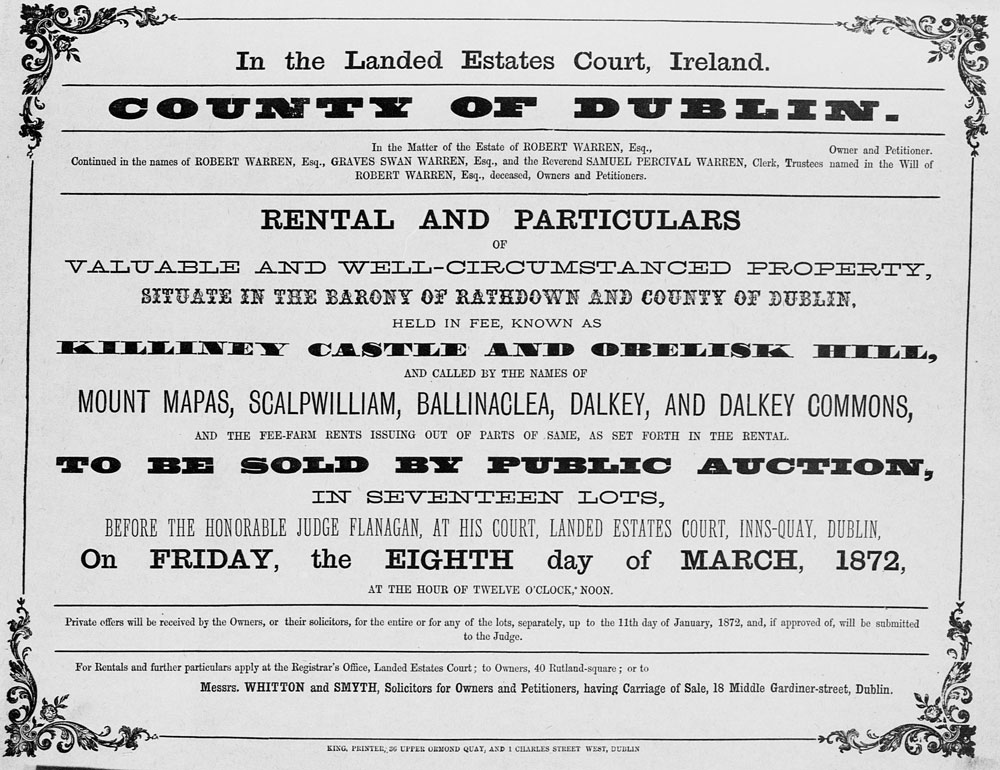 ---
Description of house in 1874
---
Urney, the Cavan connection
Urney is one of County Cavan's 36 parishes and lent its name to the house possibly due to a family connection with Cavan, but this has not yet been fully established. The name change from Eagle Lodge to Urney took place some time around 1860. The first recorded use of Urney appears in Thom's 1867 when Mrs. Nun was recorded as resident. Her husband was Richard Nun, Q.C., of County Tyrone who died in 1865.
Another Cavan connection comes about with the arrival of the Robinson family c.1910. From Billy Saunderson's History of Corr Townland we have summarised the following:
Mrs. Phyllis Faris, the last occupant of Corr House, died in 2006. Phyllis Faris nee Robinson was born in Killiney, Dublin on 1 September 1910. She was born of parents Ernest St. Clair Robinson and Lillian Maud Waterhouse. The Robinsons were Coopers in the Coombe area of Dublin before becoming coal merchants in the 19th century. Ernest was the youngest son of William and Margaret Robinson. Ernest and his two brothers all went separately to South Africa. Ernest was the only one to return. Phyllis was the eldest child and had one sister and three brothers. Her father, Ernest, served in the First World War in the rank of Captain. After leaving the army Ernest studied law and became a barrister in his forties with some success.
John Harkness Faris (known as Jack), 50 Anne St., Dundalk, Co. Louth married Margaret Phyllis Robinson, Killiney, Co. Dublin on 25 June 1935. Jack Faris inherited Corr House and farm and he and Phyllis lived there until their respective deaths.
Phyllis Faris nee Robinson, was an aunt of Nick Robinson, husband of Mary Robinson, President of Ireland, from 3 December 1990 to 12 September, 1997. George Cartwright, Drumora recalls seeing the Presidential cavalcade passing his house when the Robinsons visited Mrs Faris in Corr.
Perhaps the Robinson's residing in a house called Urney is coincidental with their daughter's marriage to a Cavan man so some more research is required here to pin down the facts of the matter.
If you would like to read more about the history of Corr Townland you can view the full text of Billy's book in the library section of our sister website Cavantownlands.com
---
Urney/Gleneagles today