Kilmarnock House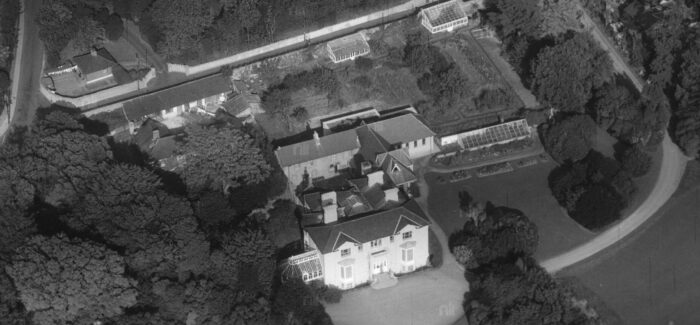 | Name | Kilmarnock House |
| --- | --- |
| Previous Names | Cenacle Convent, Kilmarnock Manor, Haldane Grange, Kilmarnock House |
| Address | Military Road |
| Year Built | c.1832 |
| Exists today | Yes |
| On 1888 map | Yes |
Last Modified: 09 Jan 2023 | author
Residents over the years from various sources
| | | | |
| --- | --- | --- | --- |
| Year | Name of occcupant | Source | Name of property |
| 1832 | Anketell Seton, Esq. | Newspaper report | Kilmarnock |
| 1832-1837 | Lt. John Robert Baker RN | Birth of son 1832, Watson's Almanack 1834 & Lewis Directory 1837 | Kilmarnock |
| 1842 | John Count O'Reilly | Marriage notice in newspaper | Kilmarnock |
| 1847-1850 | William Porter | Thom's | |
| 1854 | Henry Baldwin, Esq., Q.C. | Death Notice | Kilmarnock |
| 1856 | Denis Moylan, Esq | Newspaper notice | Kilmarnock |
| 1858-1890 | Rt. Hon. J. D. Fitzgerald MP AG for Ireland (later Lord Fitzgerald) | Thom's (Killiney) | |
| 1892 | Vacant | Thom's (Ballybrack) | Kilmarnock |
| 1894 | James Gordon Oswald Esq. | Thom's (Ballybrack) | Kilmarnock |
| 1897-1898 | James Gordon Oswald Esq. | Thom's (Ballybrack) | Haldane Grange |
| 1900-1934 | Mrs. James Gordon Oswald | Thom's (Ballybrack) | Haldane Grange |
| 1936-1947 | E. W. Talbot-Crosbie | Thom's (Ballybrack) | Haldane Grange |
| 1950-1954 | Lt. Col. Hudson | Thom's (Military Road) | Kilmarnock Manor |
| 1960 | Convent of Our Lady of the Cinacle [sic] | Thom's (Killiney) | Kilmarnock Manor |
---
As described by Peter Pearson in Between the Mountains and the Sea (1998)
Kilmarnock, which for many years was known as Haldene Grange, is yet another impressive house, situated originally on about nine acres. Dating from about 1830, the original house was greatly enlarged around 1860 by the Right Hon. David Fitzgerald, when a whole new series of spacious rooms and a grandiose Italianate facade to the front were added. The hipped roof with its bracketed eaves, projecting porch with its balcony, and all the stucco enrichments are typical of the work of architect Charles Geoghegan, who designed the additions.
Lion masks are a feature of the joints of the cast-iron gutters and also of the unusual railings which protect the area at the front of the house. Kilmarnock belonged to the Talbot Crosby family of Ardfert Abbey, County Kerry, until the 1940s. More recently it was known as the Cenacle Retreat House, during which period a large residential block was built to the rear.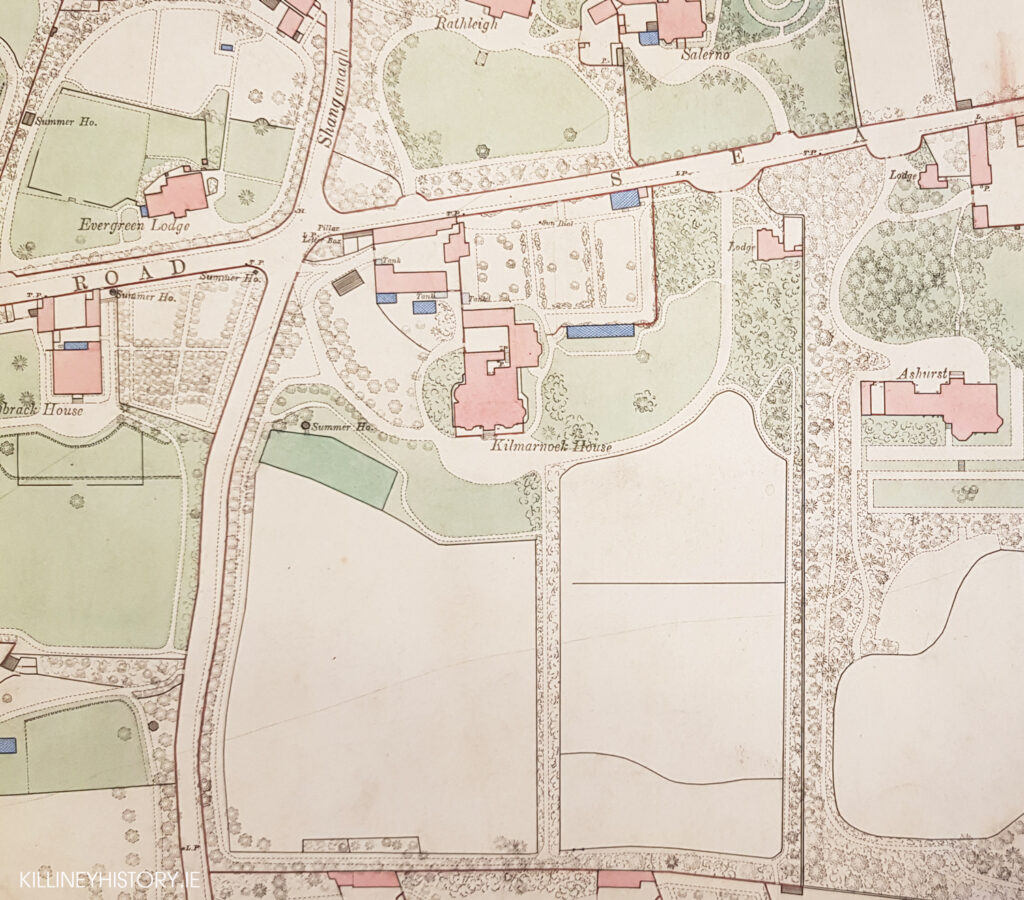 ---
The original House as mapped in 1856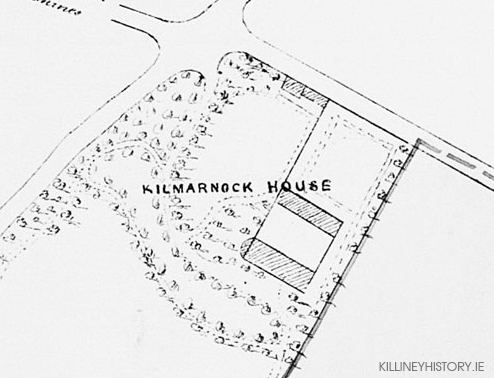 A map was prepared by The Commissioners of the Incumbered Estates Court of the Estate of Thomas Oxley Esq. in 1856. Oxley was the owner of the adjoining property which at that time included Martello House and the vacant fields which would eventually house Ashurst and Killacoona (later to become the Holy Child Convent). The surveyor, J. McArthur of Capel Street, included an outline of Kilmarnock House which indicated a very simple layout consisting of a narrow rectangular house (with a bow end on the west gable) facing south to the view with a stable building of similar proportions to the rear creating an enclosed stable yard with walled garden behind backing onto Military Road. A sweeping driveway led from the entrance at the junction of Killiney Hill Road and Military Road. The 1888 map shows that this existing building was retained by subsumed by the major extensions which were built c.1860.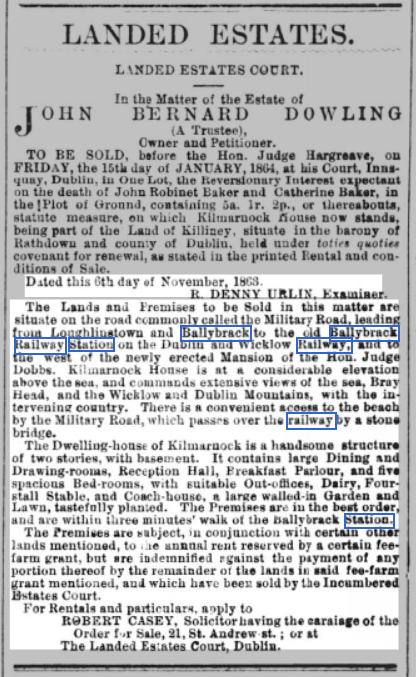 ---
Aerial view of 1956
The photograph below indicates that much of the original layout had survived up to that date including the stable block and outbuildings which were later demolished to make way for the bedroom accommodation built by the nuns to the rear of the old house c.1960.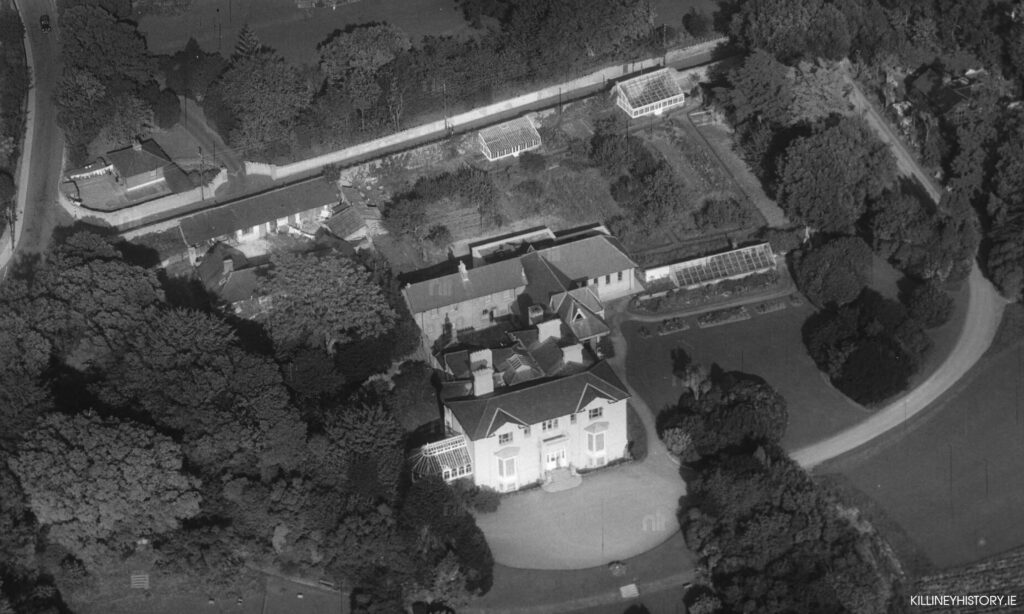 ---
Some past residents
1832 Anketell Seton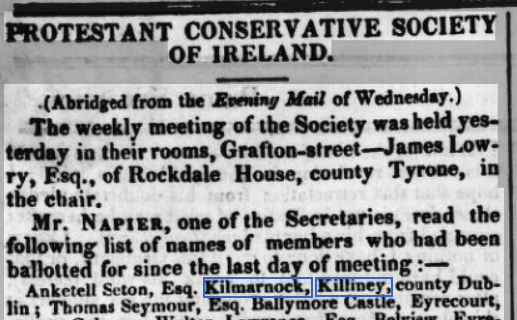 1842 John Count O'Reilly

1854 Henry Baldwin QC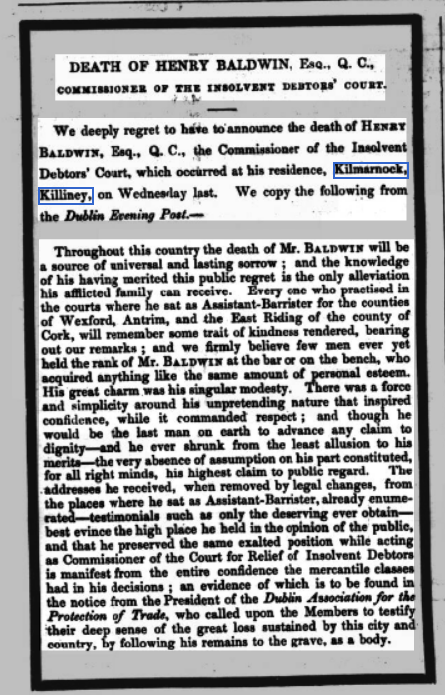 Sales brochure 2013