Mount Mapas
| Name | Mount Mapas |
| --- | --- |
| Previous Names | Mount Malpas |
| Address | Victoria Road |
| Year Built | c.1827 and possibly earlier |
| Exists today | Yes |
| On 1888 map | Yes |
Last Modified: 26 Jan 2023 | author
Earliest mention of Mount Mapas, house to let in 1827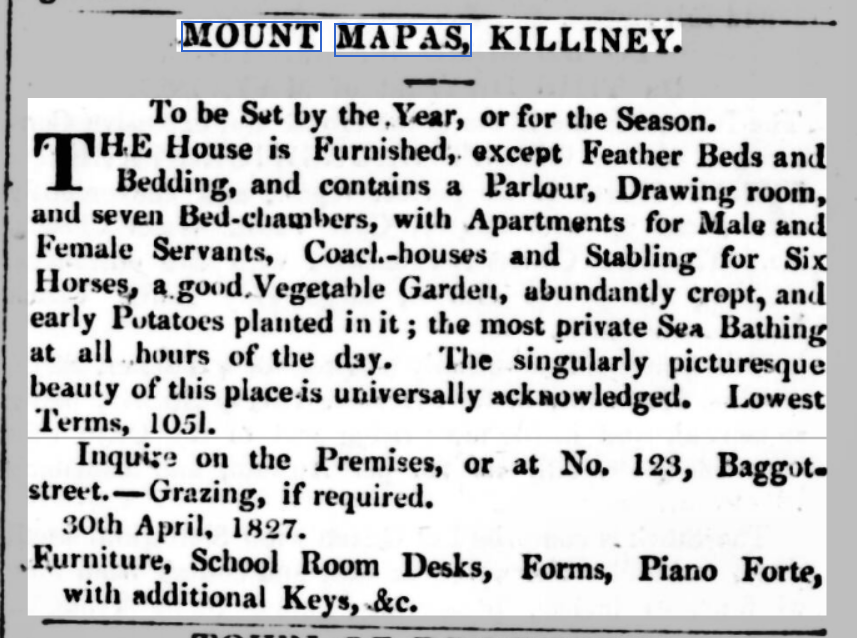 Mount Malpas House and Killiney Castle to be sold in 1834.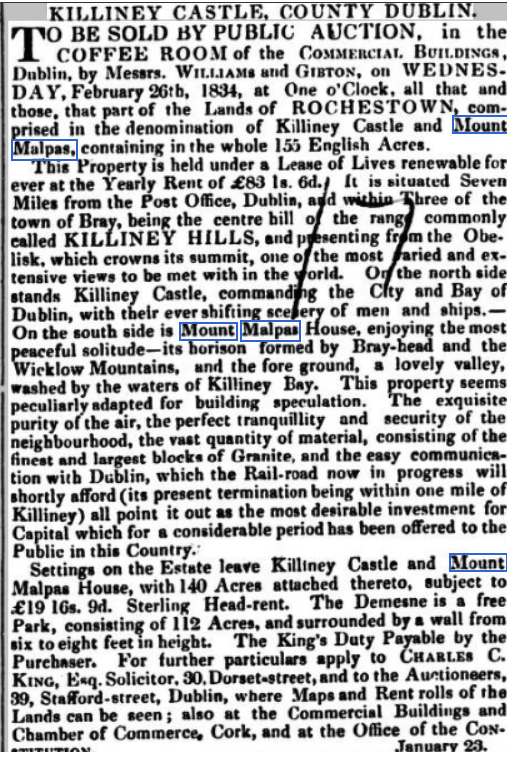 ---
Earliest appearance on a map in 1837. Identified as Mount Maphos Cottage.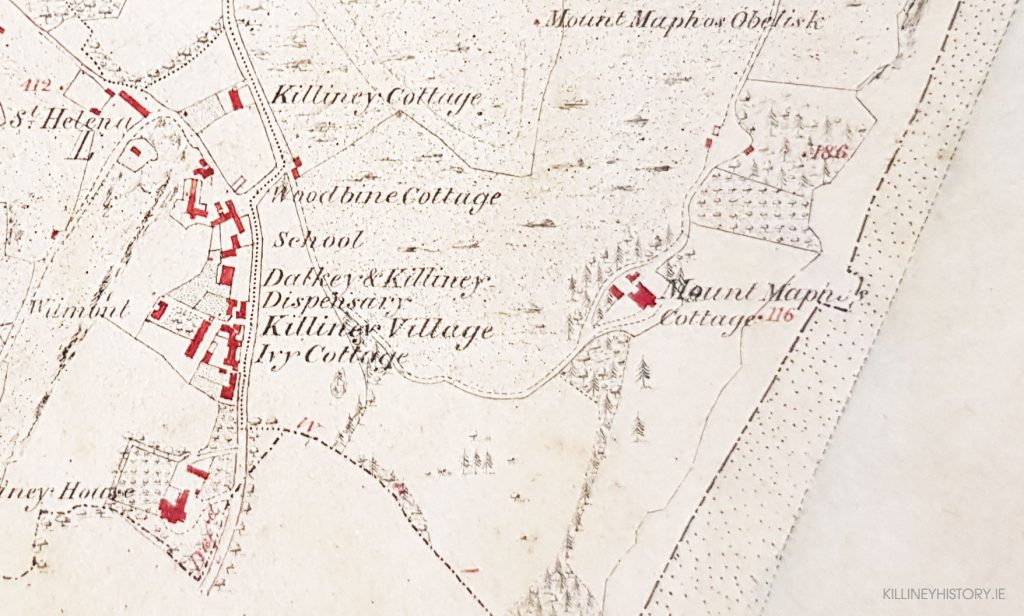 ---
Mount Mapas was the first house to be built on Victoria Road and the southern end of the Vico Road. It predates Mount Eagle which was built c.1838 and Victoria Castle built c.1840. On the map, north of Mount Mapas, you can make out a widened area of road which possibly suggests the earliest works on the construction of the base for Mount Eagle. The footprint of the original house remains largely unchanged to this day. One of the most significant features of the house is the man-made terrace upon which it sits. The steeply sloping nature of the site called for a major engineering intervention in the form of a large level platform to allow for its construction and to create a level driveway for horses and carriages. It also provided usable garden and yard space around the house. This terrace was formed by the construction of a c.8m high granite retaining wall which was battered (sloped or angled). Driving up the now one-way Vico Road the wall is the most dominant feature as you get to the junction with Victoria Road. It is likely that the construction of the wall and platform took considerably longer than the house. The same feature is displayed at the adjoining Mount Eagle.
Although the exact construction date of the house has not yet been established it is believed that it was built by Thomas Bourchier who acquired the Mount Malpas estate in c.1797 and who lived in Loftus Hill aka Killiney Castle. Thomas Bourchier died in 1832.
In 1834 the estate was acquired by Robert Warren for the sum of £7,000 and he set about developing the property over the following years.
Robert Warren's speculative developments commenced with Mount Eagle which was closely followed by Victoria Castle. In the early years many newspaper adverts appeared for the seasonal rental of these properties and it may be that Warren preferred to rent rather than sell his houses.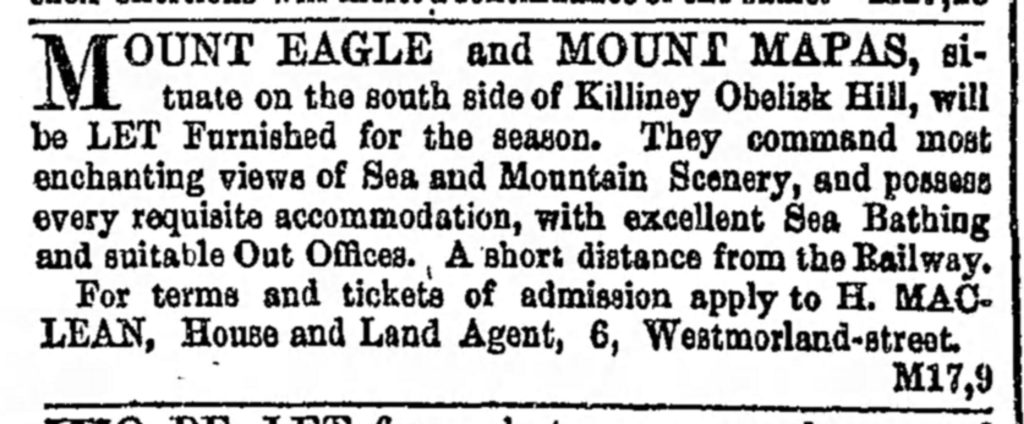 ---
Description by Gerald Beesley
We reproduce here an extract from Henry Eoghan O'Brien: An Engineer of Nobility by Gerald M. Beesley, 2018 which traces the O'Brien family connection with Mount Mapas.
After the opening of the railway, there was a rush to build houses in Killiney with the dual advantage of magnificent views and convenience of being within easy reach of Dublin city. Most of the residential development took place in an area extending south from Killiney village towards Ballybrack and the sea, but some properties, like Mount Eagle, had been built before the arrival of the railway. These large Victorian houses were built to reflect the status and position of the families that lived in them. Some of the earliest 19th century houses in Killiney were villas, and Mount Mapas, located near Mount Eagle, is a good example of this type. It stands one-storey over-basement and its first floor ironwork veranda endows it with a particularly colonial air. Mount Mapas appears to have been vacant from 1867 until 1872 when it was then occupied by William Colles, Surgeon, whose consulting rooms were located at 21 St. Stephen's Green, just three doors away from where John Maunsell conducted his legal practice. William Colles lived at Mount Mapas until his death, sometime after 1878, when his son, Graves Chamney Colles, sold the property for £2,000 to Murrough John O'Brien who moved in with his family on 6th November 1879. Having settled in Killiney and secured his position with the Land Commission, Murrough took his family on a holiday to Switzerland in 1884, a country that he had first visited in 1869, and thereafter holidays in Switzerland became an annual event.
Murrough O'Brien acquired Mount Eagle from Mrs Colles in June 1895 for £3,500, including furniture, but he continued to reside at Mount Mapas and let Mount Eagle to Wilfrid Fitzgerald until September. It was then taken for a very short period by John Morley, the Chief Secretary for Ireland (1892-95) who had just lost his seat at the 1895 election. Murrough and Ellen moved into Mount Eagle on 10th October 1895. Having vacated Mount Mapas, it was let to Rt.Hon. C.T. Reddington who died there on 4th February 1899 after a month's illness. In December 1899 Mount Mapas was let for five years to W. Patterson, manager of the Daily Irish Independent newspaper.
---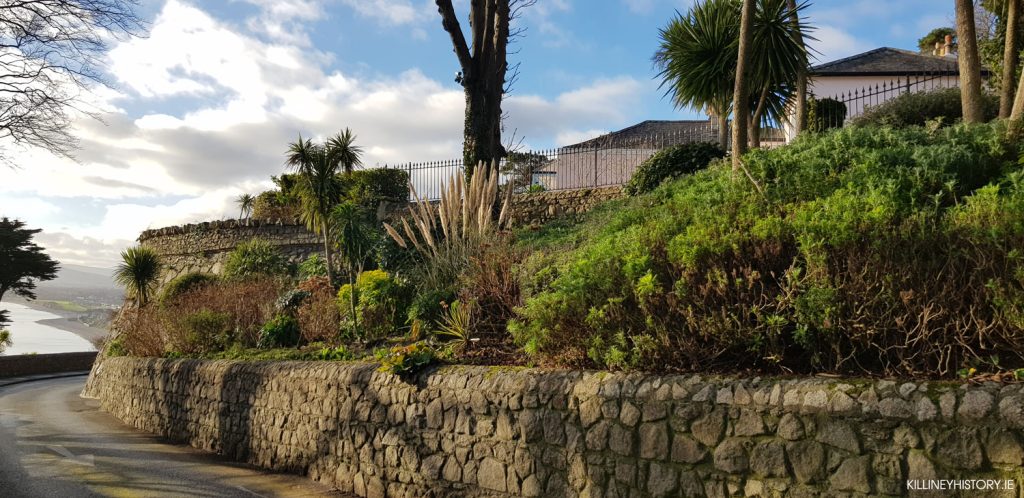 ---
Timeline
| | | |
| --- | --- | --- |
| Year | Name of occupant or reference | Source of record |
| 1827 | Mount Mapas. House To Let with "the most private sea bathing" | Newspaper advert |
| 1836 | Killiney Castle and Mount Mapas advertised To Let | Newspaper avert |
| 1837 | Appears as Mount Maphos Cottage | 'fair plan' Ordnance Survey map of 1837 |
| 1840 | Referred to as Kent Lodge | Proposal to build Queenstown |
| 1854 | Richard Bourke Esq., Poor Law Inspector | Newspaper advert announcing the birth of his daughter |
| 1863 | Mrs. Robinson | Newspaper advert for Dalkey Sale of Work |
| 1872 | William Colles | |
| 1879 | Murrough John O' Brien | |
| 1887 | Murrough O'Brien Esq. | Thom's |
| 1895 | Rt. Hon. C.T. Reddington | |
| 1900 | Vacant, Mountmalpas | Thom's |
| 1901 | Patterson | Advert: To be Sold or Let |
| 1903 | Caesar Litton Falkiner | Lecky Memorial notice |
| 1905 | C. L. Falkiner esq. B.L. M.A., Mount Mapas | Thom's |
| 1908 | C. Litton Falkiner killed in the Alps | Newspaper report of his tragic death |
| 1911 | Mrs. Falkiner, Mount Malpas | Porter's Directory |
| 1917 | Rev. James Owen Hannay M.A., Canon of St. Patrick's Cathedral | Thom's |
| 1920-26 | Mrs. Harrison | Thom's |
| 1928-37 | John C. Ryan | Thom's |
| 1940-54 | Dermot Tyson | Thom's |
| 1960 | Major Murphy | Thom's |
---
Caesar Litton Falkiner (26 September 1863 – 5 August 1908) Resident of Mount Mapas c. 1903-1908.
Below is an extract from Wikipedia
Falkiner, C. Litton was an Irish Unionist Party politician, barrister and a writer on literary and historical topics.
Falkiner was the second son of Sir Frederick Falkiner, who was subsequently the Recorder of Dublin (1876 –1905.) He studied at the University of Dublin (BA) – where he was the President of the University Philosophical Society (1885–1886) – and at the King's Inns, Dublin (prior to his call to the Bar in 1887.)
He was an unsuccessful candidate in the South Armagh constituency at the 1892 United Kingdom general election.
He was appointed Assistant Legal Commissioner in the Irish Land Commission in 1897 and continued in that post until his death. He was also Secretary of the Council of the Royal Irish Academy.
At the time of his death, Falkiner was preparing an edition of the letters of Jonathan Swift, a task which was taken up and completed (6 vols, 1910 – 1914) by F. Elrington Ball. It appears that the edition of Thomas Moore's poetry which he was reportedly preparing for the Clarendon Press was never completed. (Godley (1910) seems not to be a continuation of this work.)
He was killed in an accident on 5 August 1908 while on a mountain-climbing holiday in the Alps.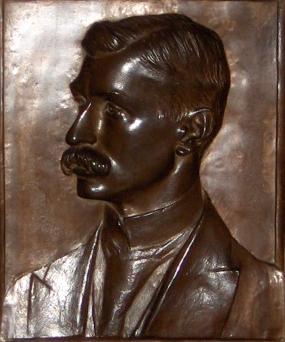 In 1910 a memorial to him was erected in the south aisle of the nave of St. Patrick's Cathedral, Dublin, beside the bust commemorating W.E.H. Lecky. The memorial consists of a bronze bas relief portrait of Falkiner, on a marble ground, with an inscription. At the unveiling of this monument, his contemporary and friend Colonel Edward Macartney-Filgate spoke as follows:
We desire to record not only our affectionate appreciation of his singularly unselfish and loveable character, but also our grateful recognition of his earnest endeavour to teach us to read aright the tangled history of this island. Entirely free from any desire to weave a web wherewith to veil the clouds that overhang the vista of our troubled past, he yet sought to unravel the skein with all the patience of a true craftsman; in the hope that those that come after might learn to avoid the hate and passion, which too often in bygone years confused it in the winding.
---
Tragic death of Mr. C. Litton Falkiner 1908
---
Aerial views c.2007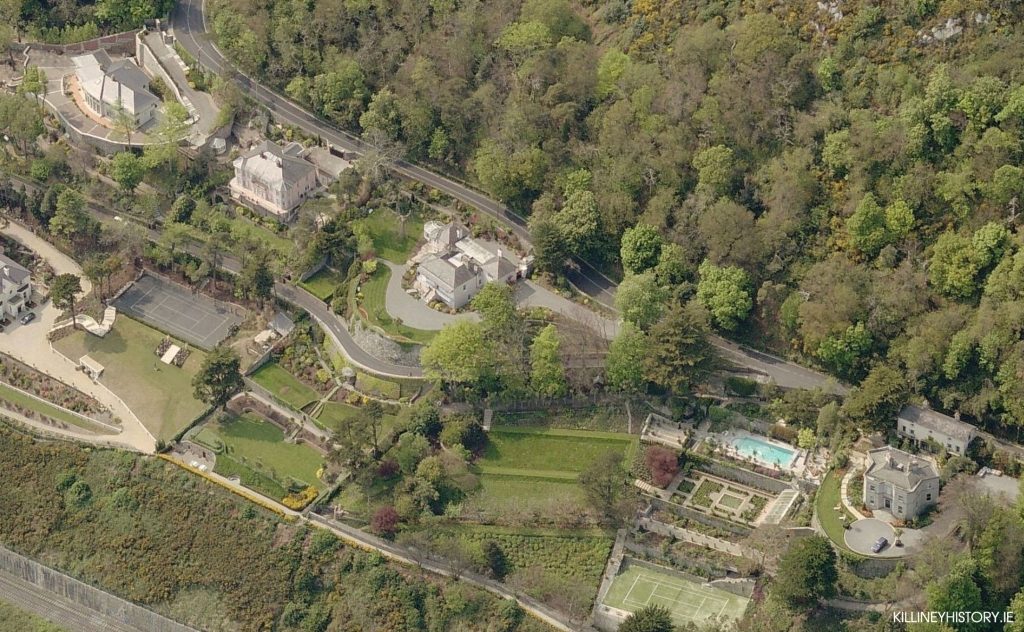 ---
---
1888 Ordnance Survey map