Ballinclea House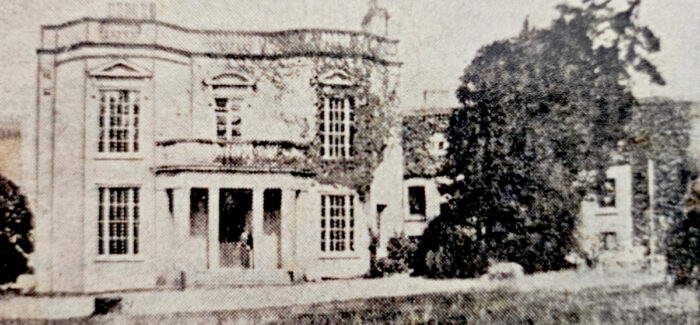 | Name | Ballinclea House |
| --- | --- |
| Address | Ballinclea Road |
| Year Built | Prior to 1837 |
| Architect | Sandham Symes |
| On 1888 map | Yes |
Last Modified: 16 May 2023 | author
Attribution to Sandham Symes Architect
Extract from 'The Life and Works of Sandham Symes Jr.' Thesis by Orla McShane submitted to Trinity College, Dublin in April 1988.
The third house that could be attributed to Symes, is Ballinclea in Killiney, built for the Talbot family around 1850. Sadly the house was gutted by fire and later demolished. The only record of Ballinclea is this rare photograph of the facade, which shows that it was quite closely modelled on Mount Eagle, however because of its later date it has some added refinements. Like Mount Eagle, it has a two-storey, three-bay facade with steps leading up to a front door, set between two half-octagons. Unlike Mount Eagle, this door-way has four columns supporting a cornice and balustrade. The windows of the piano nobile are different too. They are provided with alternating triangular and segmental pediments. This motif is directly borrowed from the Palazzo Farnese in Rome.53 Finally, the facade is capped with a balustrade. These refinements are typical of Symes's later work, and can be seen especially in his banks, eg. the Donegall-Place branch in Belfast.
Description by Peter Pearson (1998)
Peter Pearson 'Between the Mountains and the Sea' (1998), pp 66-67
Ballinclea House stood between Bellevue Park and Roche's Hill on the east side of Ballinclea Road, but was demolished during the 1950s. It was an attractive late-Georgian house, built about 1800, with double bows. These two-storey bows had gracious Wyatt windows which were ornamented with pediments, and there was a ballustraded parapet and a projecting porch with four pilasters. The house was built by the Talbot family who were descendants of John Malpas and they lived here until the 1930s. Ballinclea had a noted collection of paintings which were transferred to the main Talbot residence, Malahide Castle, when the house was sold. It was approached by an avenue of walnut trees and once also had a fine wood of beech trees, which were known as Talbot Woods, but these were cut down in the 1940s during the Emergency. The original entrance gates may still be seen, and the most unusual stable buildings, which are laid out in the shape of a horseshoe, have been converted into houses.
---
Ballinclea as mapped in 1837
---
Horseshoe shaped stable buildings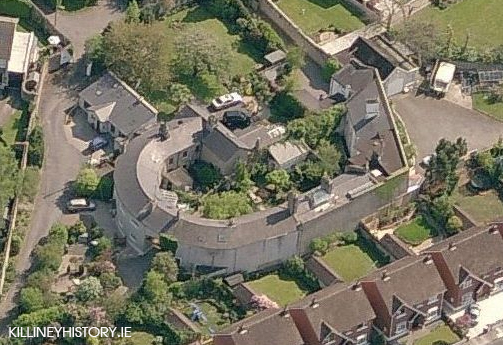 ---
Ballinclea as described by Francis Erlington Ball in 1902
Francis Elrington Ball. History of the County of Dublin (1902) p. 60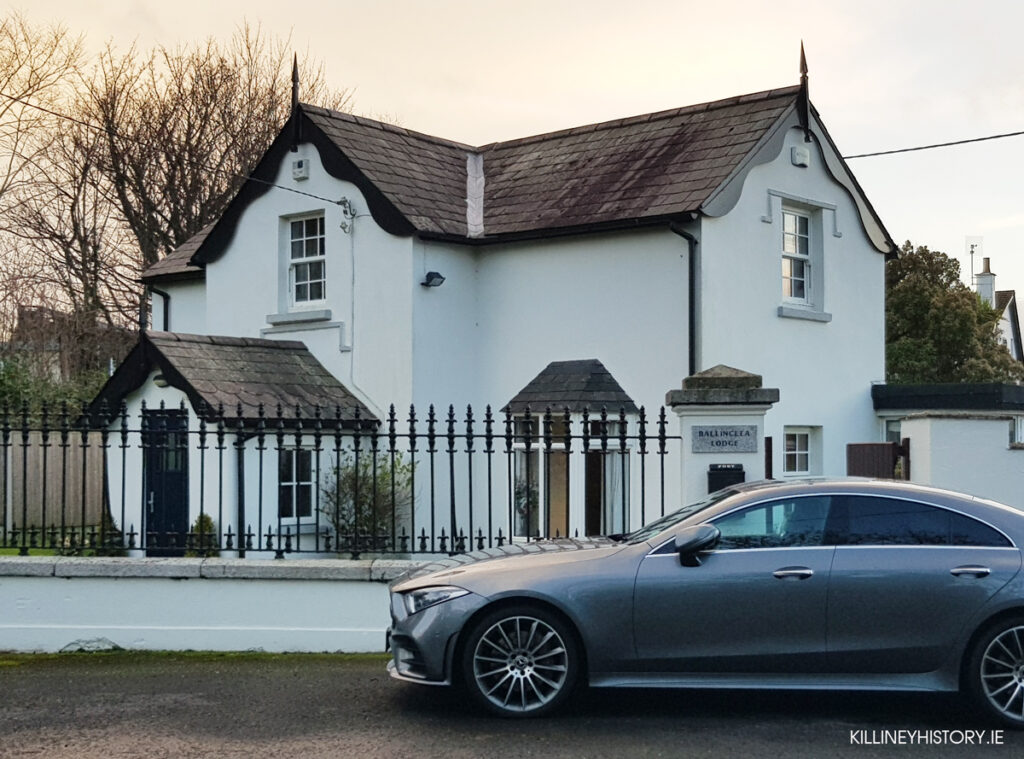 The lands of Ballinclea, or the Town of the Mountain, are first mentioned in the time of the Commonwealth. They were then forfeited lands, and had belonged to the owner of Loughlinstown, James Goodman, who had mortgaged them to his cousin, Rowland Goodman. The tithes were paid to the Cathedral of Christ Church, as they had, no doubt, been in medieval times to the Priory of the Holy Trinity. After the Restoration the lands, on which there were two houses and a population of nine Irish, were granted, amongst much other property, to the Duke of York, afterwards James II., and remained in his possession until his abdication. Some years after that event, in 1703, they were put up for auction by the trustees of the forfeited estates, and sold to Mr. Samuel Jackson. They became subsequently the property of Sir Oliver Crofton, Bart., whose baronetcy, conferred on an ancestor after the Restoration, became extinct on his death. Crofton was a rollicking blade, and did not bear the most immaculate character. In early life he had stood his trial for killing a man, one of the Massys of Duntrileague, in a duel, and his proceedings, after the death of his predecessor in the title, had not been to his credit. Attempts were made from time to time to induce people to build on the excellent sites which the lands of Ballinclea afforded, and finally Crofton came to live there himself. Loftus, whose lands adjoined, found Crofton a most unpleasant neighbour, and, on his boundary wall being thrown down by Crofton and his servants, sought, in 1765, the protection of the House of Commons. The House found that a breach of privilege had been committed, and some of Crofton's servants, who had insulted Loftus, were taken into custody. The fine mansion which now stands on the lands was built, in the last century, by the Talbots of Malahide, and is still occupied by members of the family.
Fleetwood's Survey; Census of 1659; Certificate for Adventurers and Soldiers, i., 58; Book of Postings and Sale; Pue's Occurrences, vol. xl., No. 49, vol. lx., No. 9; Dublin Journal, Nos. 2026, 2522; Journals of the Irish House of Commons.
---
Ballinclea House and Estate in 1866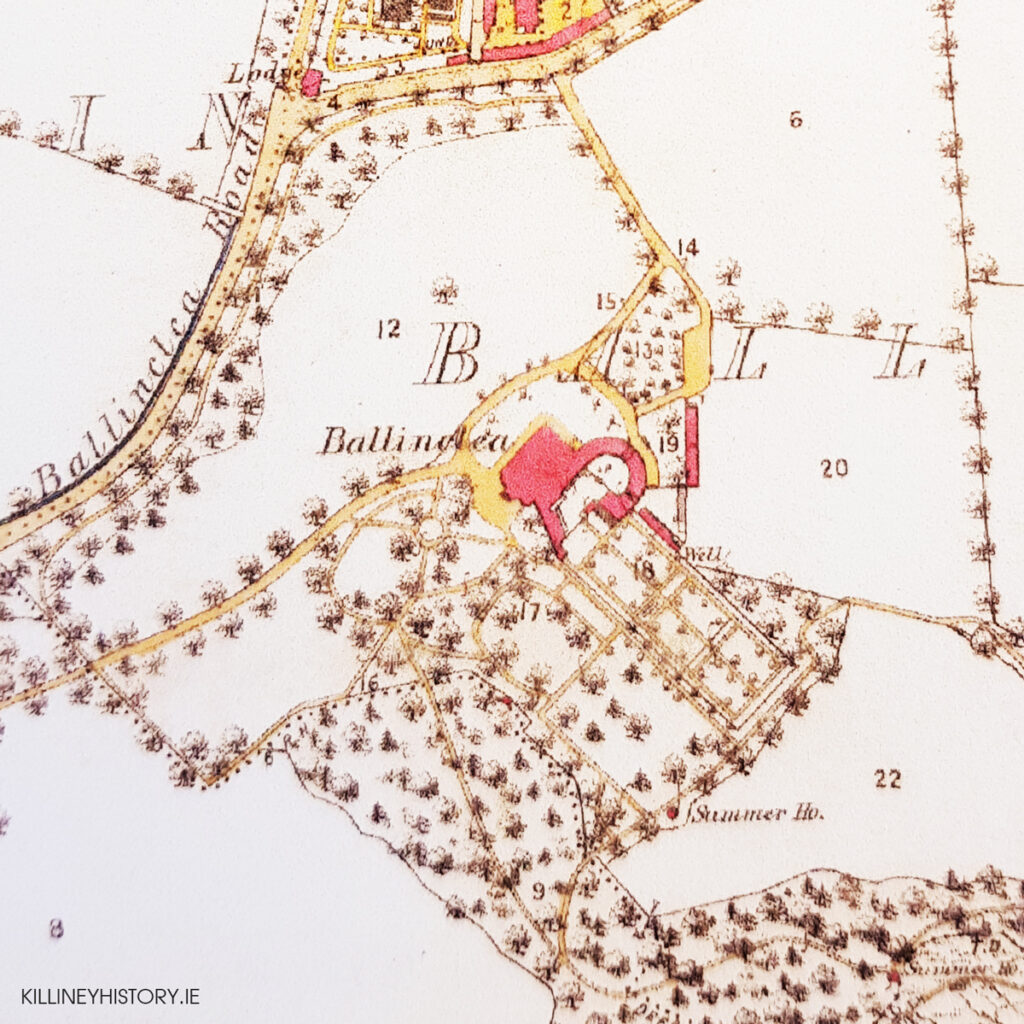 ---
Extract from Some residents of Monkstown
By Francis Elrington Ball from: The Journal of the Royal Society of Antiquaries of Ireland , Sep. 30, 1899, Fifth Series, Vol. 9, No. 3 (Sep. 30, 1899), p. 241
This is a transcription of a return made in 1766 by the curate of Monkstown which Ball narrates with footnotes.
Adjoining Loftus Hill, in a small house called Ballinclay, lives Sir Oliver Crofton, a baronet of not the most immaculate character. Loftus has found him anything but a pleasant neighbour. Last year he threw down their boundary wall, and Loftus had to seek the protection of the House of Commons on account of his conduct, and that of his servants- two of whom were taken into custody by the serjeant-at-arms. Some twenty-five years ago he stood his trial for killing Mr. John Massy, of Duntrileague, in a duel; and his proceedings after the death of his predecessor in the title did not raise his reputation.
---
Extract from 'Dalkey, Co. Dublin' by M.R.L. Kelly' 1952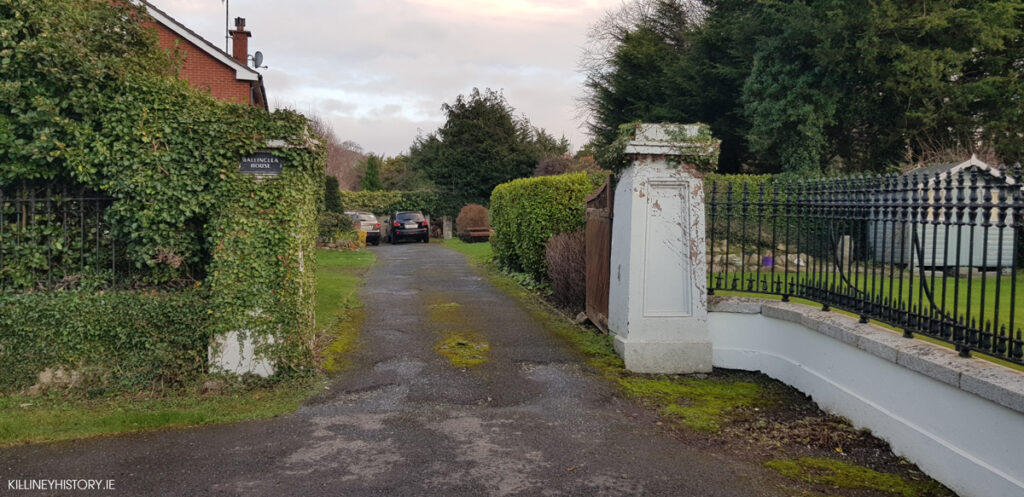 BALLINTLEA [sic], near Killiney Hill. This place owned by or the residence of Rowland Goodman in 1590 was held in 1641 by the Goodmans, who forfeited it during the Commonwealth. Soon after 1660 it was granted to Jas., Duke of York, who in 1670 leased it for thirty-one years to Sir Wm. Domville. After James's abdication, the lands of Ballintlea containing 40 a. arable were sold in 1703 to Samuel Jackson of Dublin (d. 1705), the tenant then being Terence Geoghegan. Jackson had, besides a nephew, Capt. Wm. Jackson, of Coleraine, Co. Derry, a brother Leonard, a clergyman in Lathom, Lancs., possibly father of Abagail and Jane Jackson, owners of Ballintlea. Abagail married first Wm. Buckley, of Buckley, Lancs., and secondly, in 1737, Sir Oliver Crofton (d. 1780), fifth and last Bt. Miles North, of Jackson's Hall, Westmoreland, and Newtown Hall, Lancs., who succeeded as heir-at-Law to his cousin Lady Crofton's estates, sold Ballintlea in 1785 to Cary Lill (widow of a Judge), who in 1792 sold it (containing 44 a. by survey of 1794) to the first Ld. Clonmell (d. or held part of Dalkey. In 1786 Mrs. Lill let for 999 years c. 27 a. of Ballintlea to John Coonan (d. 1807), who assigned his interest in the premises to Saml. Sproule, who conveyed them to Geo. Mellefont. In 1812 the second Ld. Clonmell sold . 13 a. of Ballintlea to Richd. Talbot, of Malahide, for the sole use of T.'s sister Elizt., whose first husband was Geo. Mellefont, of Ballintlea; he, in 1815, sold his brother-in-law, Sir John Talbot, the above-mentioned 27 a. for the same purpose. Possibly Elizth. willed the property to the Talbots. Sir John, who became a Prot. but returned to the Church, is ancestor of the heir-presumptive to the Irish Barony of Talbot of Malahide and of a Mr. T., now Arundel, who succeeded to the estate of the last Ld. Arundel of Wardour. Possibly a Ld. Clonmell sold the fee-simple of the remainder of Ballintlea. Ballintlea Ho., built probably before 1843 in the classical style and now flats, has a fine balustrade as a crowning feature; but the use of a hood moulding over the windows is not in keeping with the style. In 1854 it was occupied by the Hon. Richd. T. and c. 1919 by his daughter, a niece of Canon T. of St. Peter's, Rome.
---
1827 Mrs. Mellefont advert for auction of hay
---
Records of the ownership of the Ballinclea Estate from Talbot Estate Papers, Thom's Directory & other sources. (Updated 27.01.23)
| | | |
| --- | --- | --- |
| Date | Name of owner/occupant | Source |
| 1590 | Rowland Goodman | |
| 1660 | James Duke of York | |
| 1670 | Sir William Domville | |
| 1703 | Samuel Jackson/Terence Geoghegan | |
| 1737 | Abagail Jackson and Sir Oliver Crofton | |
| c.1780 | Miles North | |
| 1785 | Miles North to Mrs. Carey Lill Release of all lands and houses at Ballinclea | Deeds and other documents relating to the Rochestown and Ballinclea Estates, Co. Dublin, 1419-1894. Shelfmark MS Talbot C.93. Bodleian Library, Oxford. Page 25 Item 9. |
| 1786 | Mrs. Carey Lill to John Coonan lease of 26:0:32 plot | As above. Page 24 Item 1. |
| 1786 | Mrs. Carey Lill to Edward Kavanagh lease of 12:2:35 plot | As above. Page 26 Item 10. |
| 1787 | Mrs. Lill | Sherrard Map of the Estate of John Malpas identifies Ballinclea as the Estate of Mrs. Lill |
| 1792 | Mrs. Carey Lill to Lord Clonmel conveyance of lands of Ballinclea for consideration of £2,000 | Deeds and other documents relating to the Rochestown and Ballinclea Estates, Co. Dublin, 1419-1894. Shelfmark MS Talbot C.93. Bodleian Library, Oxford. Page 26 Item 13. |
| 1792? | Earl of Clonmel to Richard Wogan Talbot conveyance of part of Ballinclea for consideration of £2,281,10,0 for plots 26:0:32 and 12:2:35 | As above. Page 26 Item 14. |
| 1794 | Samuel Sproule to William Alexander lease of 1:3:30 plot | As above. Page 24 Item 2. |
| 1800 | William Alexander to Boyle Minchin lease of 1:3:30 plot | As above. Page 24 Item 3. |
| 1801 | Samuel Sproule to George W. Mellifont lease of 26:0:32 plot | As above. Page 32 Item 42. |
| 1802 | George W. Mellifont to Francis Hodgkinson lease of 0:2:17 plot | As above. Page 32 Item 43. |
| 1803 | Boyle Minchin and George Davey Plumber to George Powell conveyance of 1:3:30 plot and lands at Rochestown | As above. Page 33 Item 45. |
| 1805 | George Powell to Joseph Ridgeway lease of 1:3:30 plot | As above. Page 24 Item 4. |
| 1806 | George Powell to William Powell conveyance of 1:3:30 plot | As above. Page 33 Item 47. |
| 1809 | Joseph Ridgeway to Thomas Carey lease of 1:3:30 plot | As above. Page 25 Item 5. |
| 1811 | Thomas Carey to Mrs. Elizabeth Chartres lease of 1:3:30 plot | As above. Page 34 Item 52. |
| 1812 | Elizabeth Chartres widow to Richard Wogan Talbot assignment of 1:3:30 plot | As above. Page 34 Item 53. |
| 1815 | William Powell to Richard Clarke conveyance of 1:3:30 plot and lands at Rochestown | As above. Page 34 Item 50. |
| 1815 | George Watters Mellifont to Sir John Talbot Conveyance and Assignment of Ballinclea 26:0:32 for consideration of £2,000 including lands of Rochestown | As above. Page 26 Item 15. |
| 1816 | A house 'Ballinclay' on map | John Taylor's Map of the Environs of Dublin 1816 |
| 1819 | Richard W. Talbot to James Richard Burn Printer lease of 15:2:26 | As above. Page 25 Item 6. |
| 1822 | Richard Clarke to The Rev. George William Wakely conveyance of 1:3:30 plot and lands at Rochestown | As above. Page 34 Item 51. |
| 1827 | Sarah Ridgeway Widow to Margaret Talbot Widow assignment of 1:3:30 plot | As above. Page 25 Item 7. |
| 1834 | John Farrell esq. of Ballinclay House | Watson's Almanack |
| 1837 | Ballinclea appears on the OS 'fair-plan' map in the form that we are familiar with | 1837 OS 'fair-plan' MS map |
| 1837 | The Hon. Mrs. Mellefont | Lewis's Topographical Dictionary |
| 1845 | Bond of John Hogan Builder to Gerald Fitzgerald and James Talbot Junior Esq | Conditional Bond dated 2nd May 1845 of £2,000 relative to Buildings at Ballinclea House. Talbot records Page 27 Item 20. |
| 1847-1856 | The Hon. Mrs. Kaye | Thom's Directory |
| 1858-1877 | The Hon. Richard G. Talbot | |
| 1880 | The Hon. Mrs. R.G. Talbot | |
| 1884-1888 | Edward Talbot esq | |
| 1892-1917 | Edward Lister Kay Talbot J.P. | |
| 1920-1928 | Miss Talbot | |
| 1930 | Vacant £162 | |
| 1932-1937 | J. O'Neill £83 | |
| 1940-1943 | Thomas Redmond £10 | Ballinclea |
| 1943-1960 | W.J. Hurley £164 | Ballinclea (Killiney) |
| 1947 | The O'Phelan, Prince of the Decies | Ballinclea House £27 10s |
| 1950-1954 | Mrs. E. Sheen | Ballinclea House £42 (Ballinclea Road, Ballybrack) |
Note this listing is incomplete
---