The Killiney Estate of the Talbots de Malahide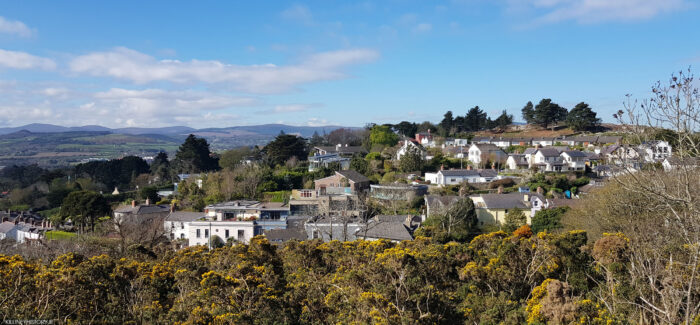 Last Modified: 07 May 2023 | author
Introduction
This article provides additional information on the Talbot de Malahide family links to Rochestown and Killiney. We have also included a section on the Talbot Malahide estate in Tasmania, previously Van Diemen's Land. Much of the information has been sourced from the Talbot family papers which are held in the Bodleian Library in Oxford. We wish to thank the library for making these records available and for the extensive document scanning which was carried out by specific request. The documents which are of particular relevance to Killiney/Rochestown are:
Deeds and other documents relating to the Rochestown and Ballinclea estates, Co. Dublin, 1419-1894
Rochestown estate rent accounts, 1830-1846
Rentals and accounts for Killiney estate, Co. Dublin, 1933-1948
The full Talbot archive extends to 39.6 Linear metres of documents and include the papers of Richard Wogan Talbot, 2nd Baron Talbot of Malahide (Irish Peerage), James, 3rd Baron, James, 4th Baron and 1st Baron de Malahide (United Kingdom Peerage), and Richard Wogan, 5th Baron Talbot of Malahide, with family and estate papers, 13th-20th cent.
The papers, formerly on deposit at Trinity College, Dublin, were transferred to the Library in 1977 as a gift from the Hon. Rose Talbot, sister of the 7th Baron.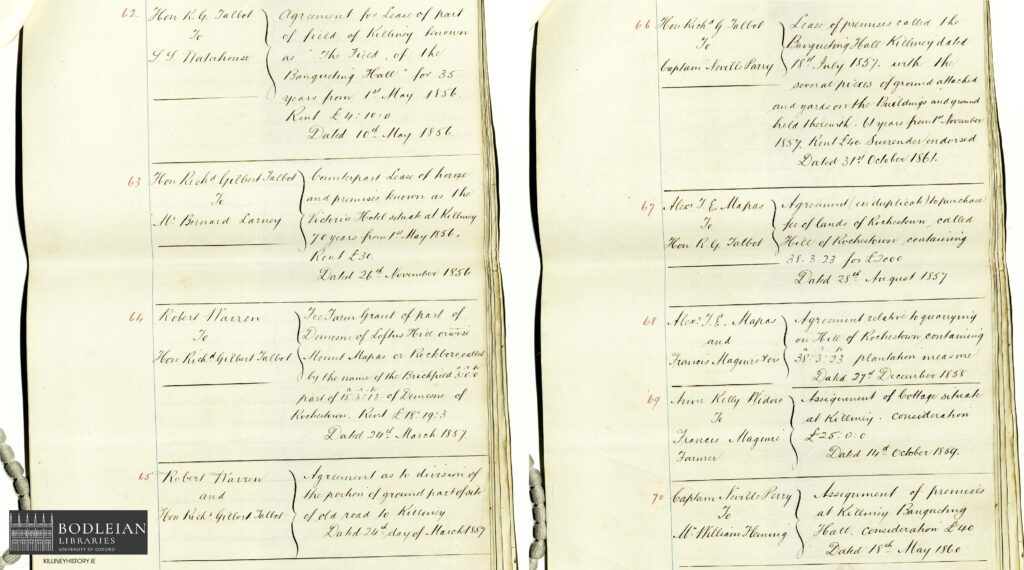 A brief history of the Talbot and Malpas/Mapas family links to Rochestown and Killiney
•Earliest recorded grant of 1218 to Sir Reginald Talbot of Malahide, knight although it is likely his father Richard Talbot had previously been granted the lands of Rochestown which were then referred to as Castletown, Dalkey. The rent for the lands was one Goshawk or its value, 6s. 8d., which was a substantial sum (read more here)
•Remained in the Talbot family until about 1600
•Passed to Alderman Robert Kennedy of Dublin c.1611
•Then passed from Kennedy to the Malpas/Mapas family c. mid 1600's (read about the Malpas succession here)
•In 1740 John Malpas erected the obelisk on Mount Malpas (Killiney Hill) and he built Rochestown House in 1750 replacing an existing castle
•In 1766 a return states that Killiney Castle (then called Loftus Hill) was: 'built by the Malpas family, who own the soil, it was originally called Mount Malpas' (read more here)
•In 1789, Catherine, the only surviving child of John Mapas (grandson of the above JM) marries Richard Wogan Talbot, afterwards created Lord Talbot de Malahide (read more here)
•John Mapas dies in 1797 and the estate passes again to the Talbots
•At this stage houses had also been built at Ballinclea, Beechwood, Bellevue and possibly Plasnewyd (Rock Lodge).
Malpas Estate map of 1787
The estate of John Malpas which was mapped by Thomas Sherrard in 1787 very likely represents the extent of the original Talbot Estate which was granted to Reginald Talbot in 1218. The map, which turns out to be highly accurate in surveying terms, covers a vast tract of land which stretches from present day Kill of the Grange to Killiney Bay just below Killiney Hill. By 1797, when the Talbots returned as owners, they inherited a much diminished estate which they slowly began to re-establish over the following years.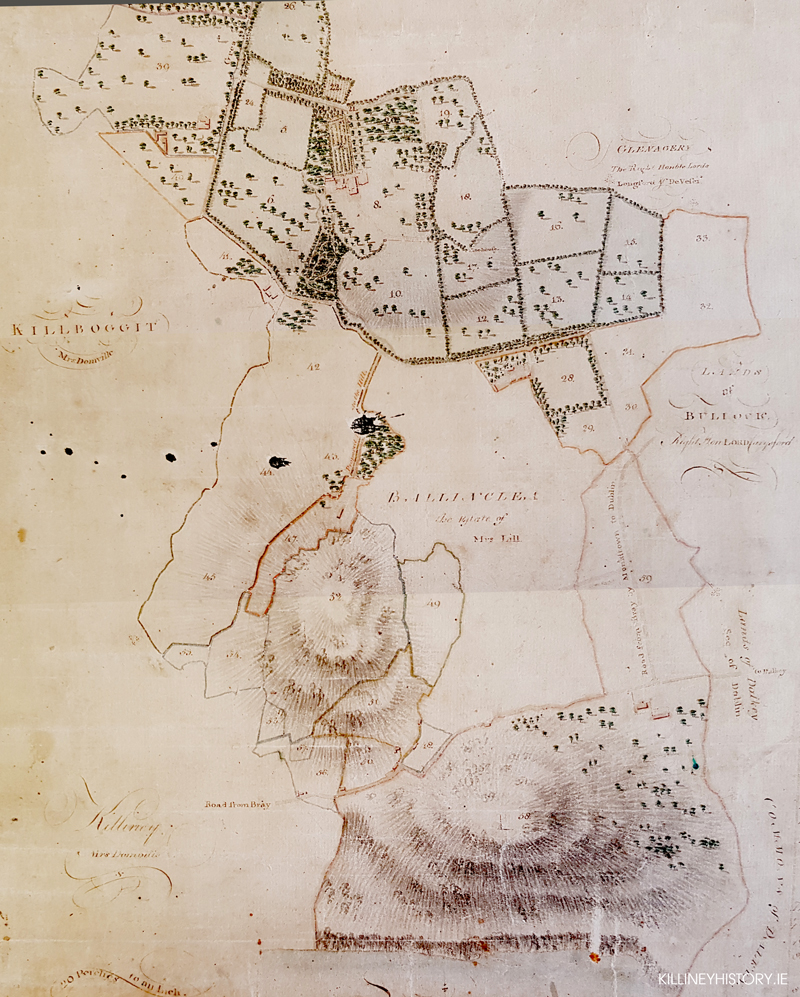 We have overlaid the outlines of the plots which were let to various tenants in 1787 and it is now possible to identify the exact location of these rentals on the current map of the district. The extent of the 19th and 20th century Talbot Estate derived from the original Malpas take of 1787 has been identified as plots 41 (Beechwood House) to plot 57 inclusive. It also included most of 'Ballinclea, the Estate of Mrs. Lill' upon which the houses Plasnewyd (Rock Lodge) and Ballinclea House sat. A significant portion of Killiney Village also made up part of the Talbot Estate. The village and Glenalua Road were leased to Andrew Mullen. The widow Connor held plot 48 which included The Druid's Chair pub, St. Mary's and Glenalua House. She also leased plot 49 which was most of Claremont Road. Rocheshill, plot 52, sat in the middle of the estate and was let to Chris Mullen, hence the alternative name Mullen's Hill came into being. This was also called Flagstaff Hill during the Waterhouse ownership era c.1880. Killiney golf course, plots 42-45, were leased to Patrick Darcey.
A brief history of the Talbot de Malahide Baronial line
•1831 1st Baroness Talbot. Margaret O'Reilly widow of Richard Talbot. Created Baroness Talbot of Malahide in 1831 , aged 86
•1834 2nd Baron. Richard Wogan Talbot, son of above. He had married Catherine Malpas in 1789 to bring the Rochestown estate back under Talbot ownership. He lived beyond his limited means throughout most of his life and was supported by his mother, Margaret. His brother William went on to establish the Talbot sheep station in Tasmania (see below)
•1849 3rd Baron. James Talbot, brother of above, died in 1850. His second son was Richard Gilbert Talbot of Ballinclea (1810-1879) and the Killiney Talbots descend from this line*
•1850 4th Baron. James Talbot b.1805, first born son of above and nephew of Eliza of Ballinclea House
•1883 5th Baron. Richard Wogan Talbot, son of above
•1921 6th Baron. James Boswell Talbot, son of above
•1948 7th Baron. Milo John Reginald Talbot, cousin of above. He did not marry and did not have an easy manner with women including his sister Rose who choose to live elsewhere in Dublin. The last Lord and Baron, he died in 1973 and Rose inherited the estate which she later sold before moving to Tasmania.
Talbot Estate ownership records 1917-1953 from deeds of Bellair House.
With thanks to Irene & Dermot O'Connor
•Edward Lister-Kay Talbot (son of Hon. Richard Gilbert Talbot of Ballinclea 1810-1879 who married Anne Cunliffe Lister-Kay) RG Talbot was the second son of James Talbot, 3rd Baron of Malahide. Edward lived in Ballinclea. He died in 1917 aged 58.
•1917 Mary Anne Eliza Talbot (sister of above) and last Talbot to reside in Ballinclea. She died in 1927.
•1929 Colonel the Honourable Milo George Talbot (cousin of above)
•1931 Honourable Mrs. Eva Joicey Talbot (widow of above)
•1951 Lord Talbot de Malahide (Milo jnr.) and the Honourable Rose Maud Talbot, son and daughter of the above. (read more here)
•1973 Her brother Milo John Reginald died and Rose inherited the estate
•1976 Having sold the estate, including Malahide Castle, Rose moves to Tasmania to take over the Australian Malahide estate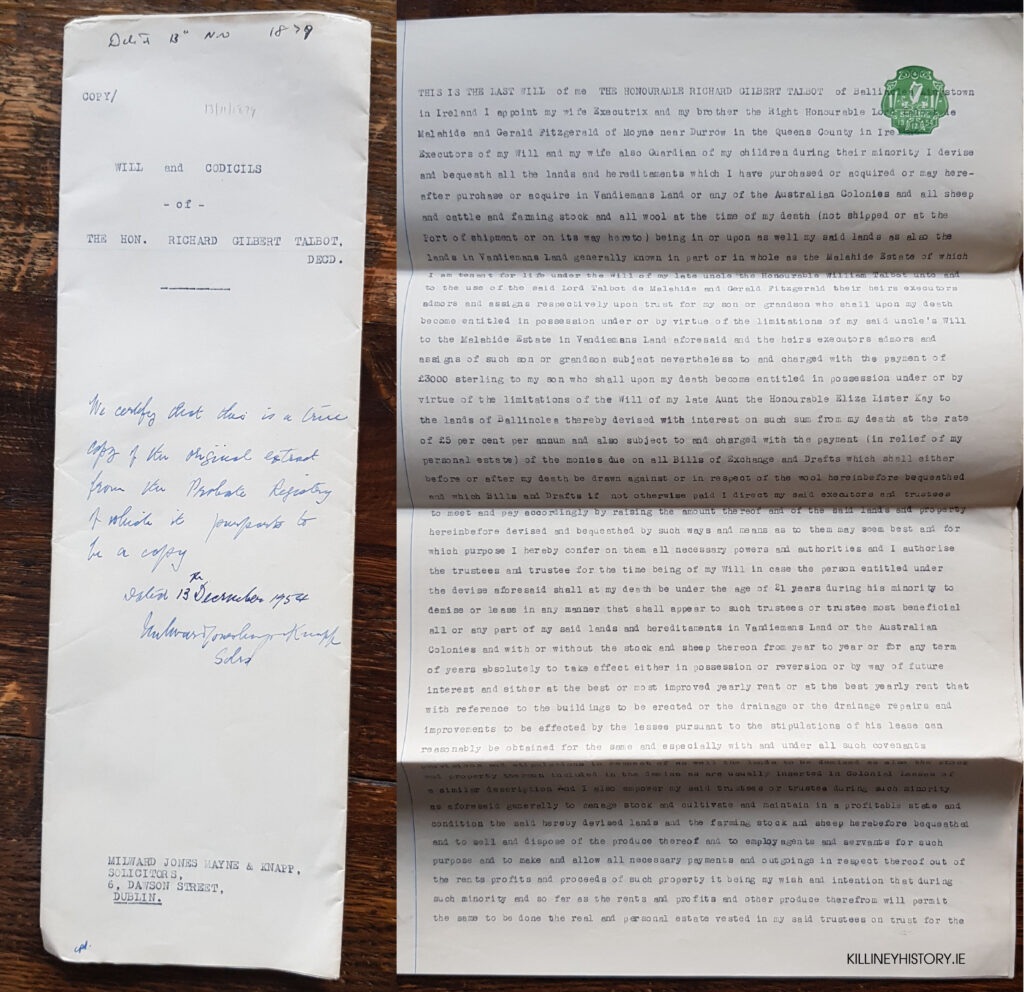 Rental records from the Talbot Papers held in the Bodleian Library, Oxford
•Beechwood House, Ballinclea House, Woodbine Cottage and Uplands Cottage are all sold off in the early 1930's
•These sales appear to have taken place after the death of Milo George Talbot in 1931. Funds were probably required to pay off death duties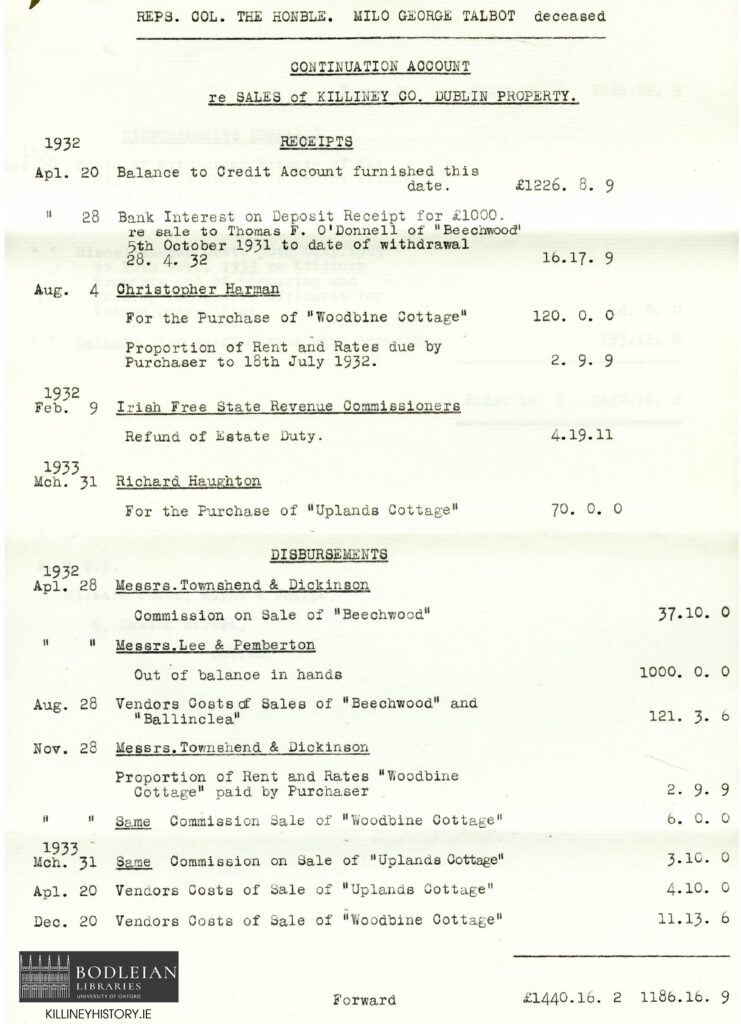 •The Killiney estate was run by his widow, Eva Joicey Talbot from 1931 until her death in 1951, aged 76. She was buried in Malahide with her husband.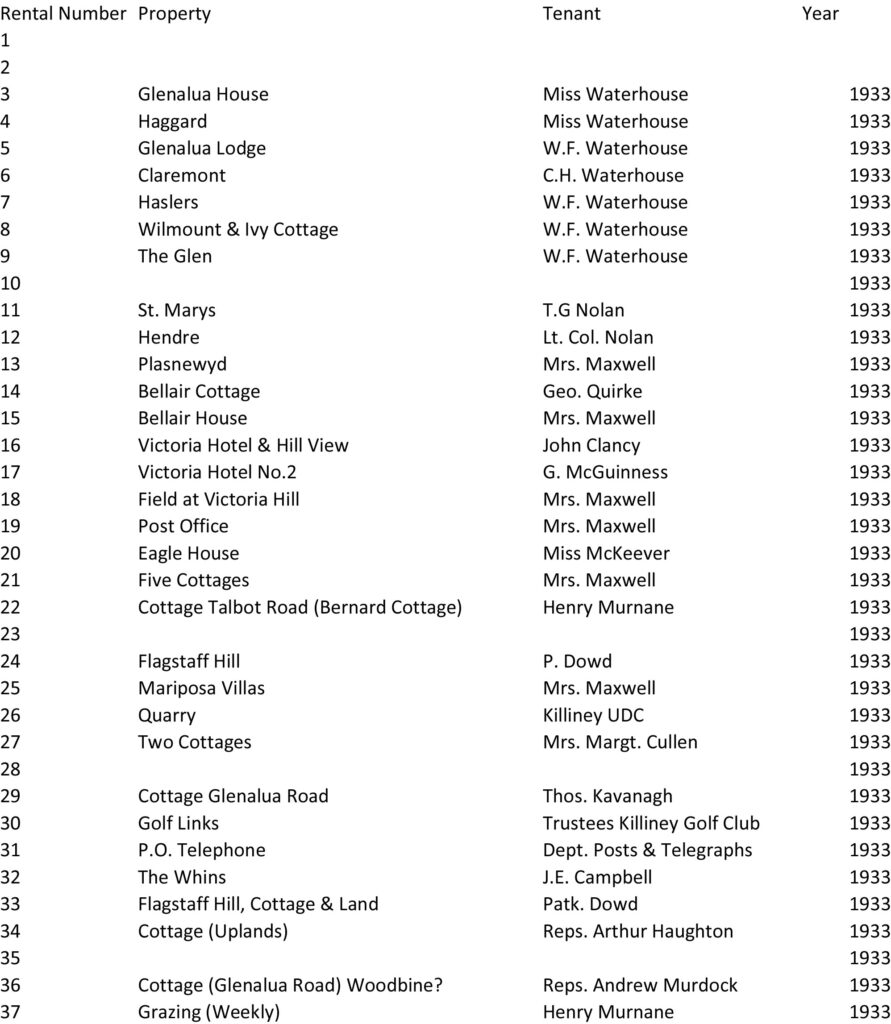 The list above sets out the properties which were still held by the Talbot family between the years 1933 to 1948 and provides us with a list of tenants. Most of these properties are located in the village of Killiney. This estate was managed by the agent Townshend and Dickinson on behalf of Eva Talbot who resided in Alton, Hampshire after the death of her husband, Colonel the Honourable Milo George Talbot, in 1931. An interesting letter from the agent to Eva Talbot in 1941 discusses the possible eviction of Rental No. 15 (Mrs. Maxwell). In contrast the letter then goes on to mention the mild winter and the early blooms.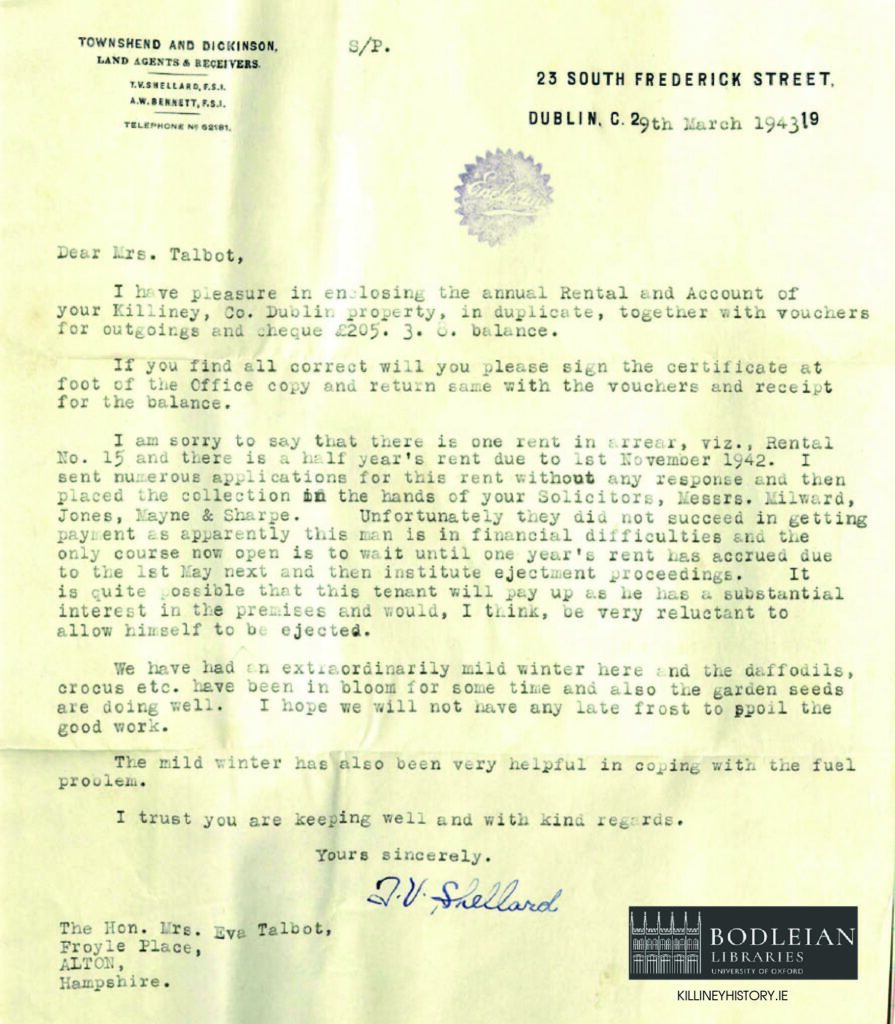 The main houses of the Talbot Estate in the 19th and 20th centuries
Click on the image below to read more about Rochestown House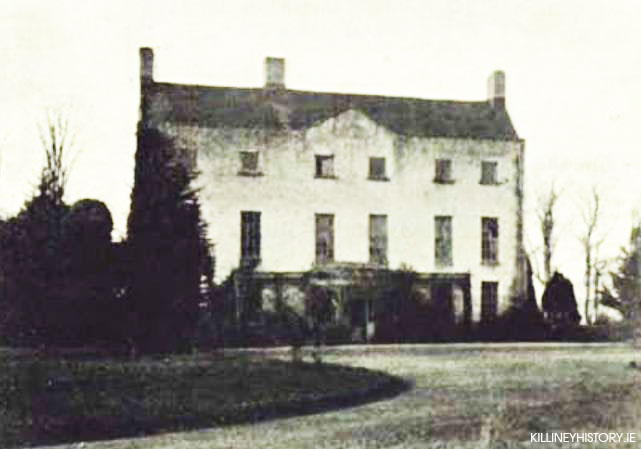 Click on the image below to read more about Ballinclea House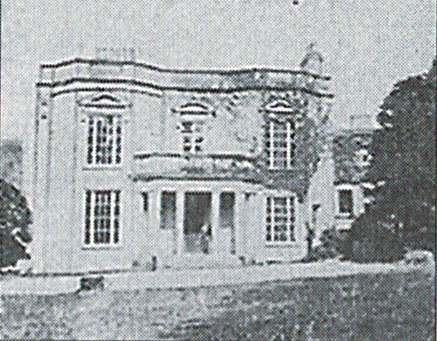 Click on the image below to read more about Beechwood House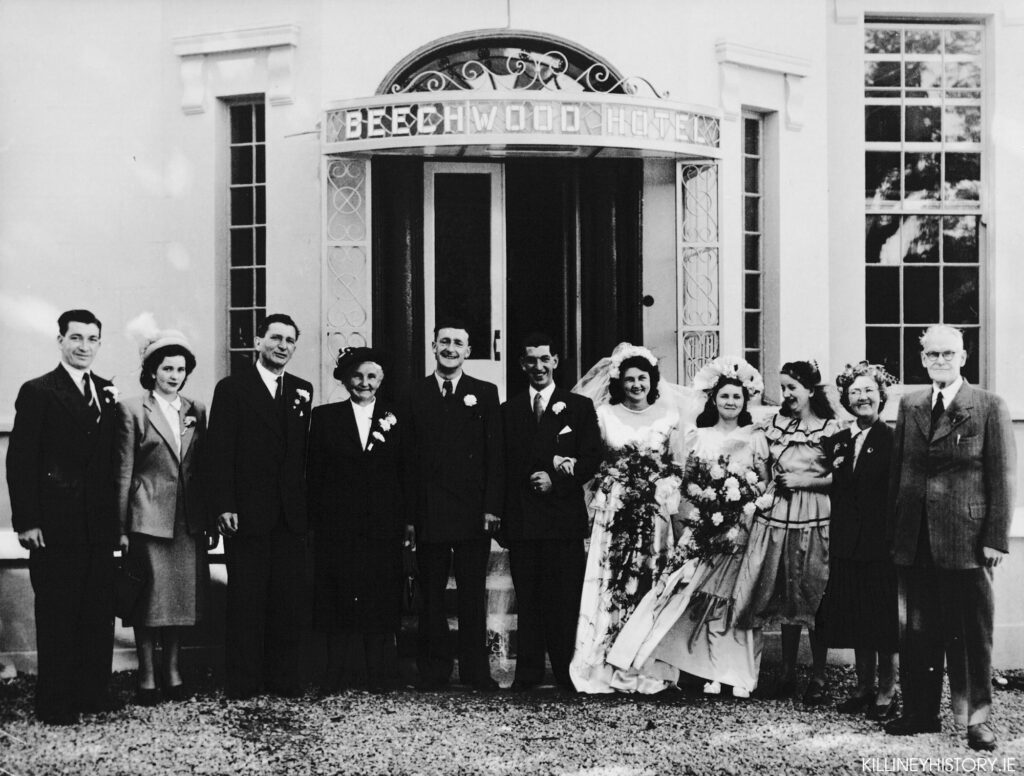 Click on the image below to read more about Plasnewyd now called Rock Lodge
---
Watch the video here
---
Further Notes
Earliest Records by M.R.L. Kelly 1952.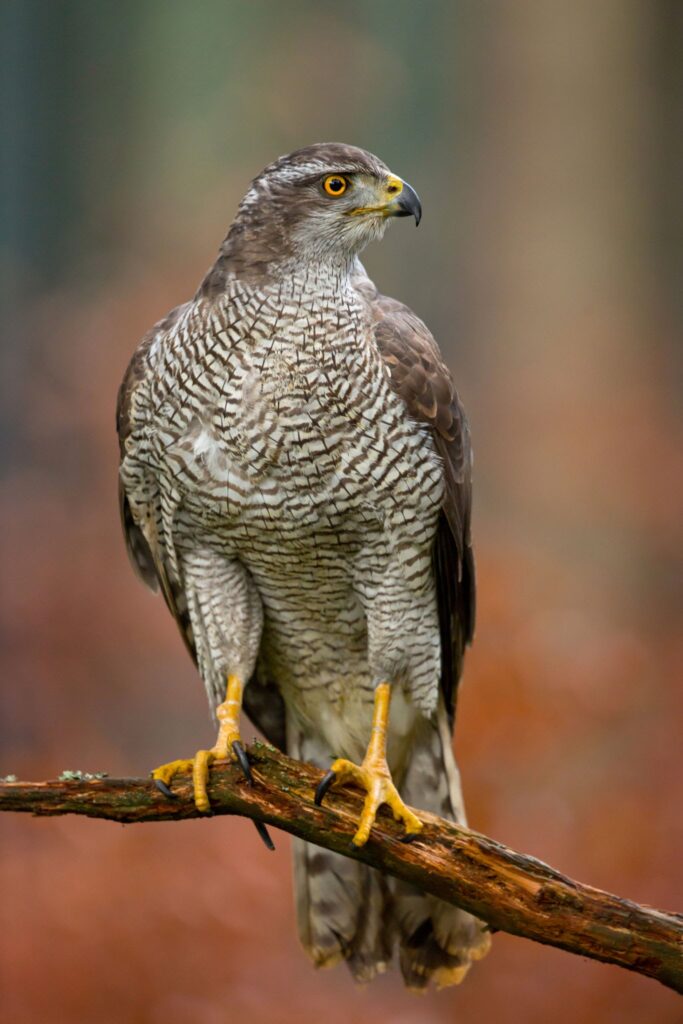 ROCHESTOWN (otherwise Castletown, Dalkey). Richd. Talbot I, of Malahide, Knt., living.1193, probably had a grant of the lands later known as Castletown, Dalkey. His s. and h. Reginald in 1216 was seized and in 1223 was re-seized of 400 or 500 a. here and, according to Burke, was succeeded by his brother Adam (probably living in 1251 and perhaps he who in 1235 paid a hawk as rent for the property). His s. and h. Richd. II (perhaps Richd. that in 1284 paid rent) is said to have died in 1288. In or before 1286 he settled Malahide upon his son Milo (d. c. 1291). Possibly he had an elder son Richd. III, to whom he may have given Feltrim (to be held of the Manor of Malahide) and the Dalkey property, which before 1307 Richid. T. held in chief, being, perhaps, Richd. that in 1284 paid rent and, likely, Richd. that in 1293 paid arrears; he died in or before 1307, when his son Richd. IV succeeded to Castletown. He was of Feltrim in 1319 and, apparently, is Richd. of Feltrim and of Castletown, Dalkey, who D. states had an unsuccessful lawsuit with Richd. (c. 1287-c. 1330), son of Milo T., for the possession of the Manor of Malahide, which almost beggared T. of Malahide. He was followed successively by his son Adam, probably Sheriff of (Co.) Dublin, and grandson Reginald, who in 1369 was fined for presenting in payment of his rent for Castletown a hawk that was in bad condition. In 1373 he was summoned to Parliament and in 1395 recovered property which his grandfather had owned in Gernonsrath, Co. Meath. He probably was alive in 1404 and was succeeded by his son John, Sheriff of (Co.) Dublin in 1428, who was living in 1439. Read the full piece by M.R.L. Kelly here.
---
The Malpas succession. From a return made in 1766 by the curate of Monkstown as transcribed with footnotes by F.E. Ball in 1899.
We come next to Rochestown House, temporarily occupied, I think, by Mr. Edward Nicholson, collector of excise for the city of Dublin, who is married to a granddaughter of the third Earl of Inchiquin. It is a fine mansion, the largest in the neighbourhood, and the well planted demesne is one of much beauty. We admire the stately drive, and the great gates, and listen to the pleasant music of the tinkling bells which the sheep carry round their necks. (2) It is the seat of the Malpas family, to whom nearly the whole of Rochestown belongs. This family settled at Dundalk in very early times. At the close of the sixteenth century, three brothers, sons of Walter Malpas of Dundalk, came to Dublin. One of them married a daughter of Alderman Robert Kennedy, who had purchased Rochestown from the Talbots, its original owners. Kennedy had five sons, but they died without issue, and under a decree of innocence, his great-grandson, by the marriage of his daughter to Francis Malpas, succeeded to the property. He married a daughter of the third Viscount Fitzwilliam of Merrion ; and it was his son who built the obelisk on Killiney Hill, and his great-grandson, Mr. John Malpas, who is in possession of the property at the time of our visit. (3)
2. See Wilson's "Description of Dalkey" in Exshaw's Magazine for 1770, p. 489; Gaskin's "Irish Varieties," p. 198; and Dublin Journal, Nov. 10-14, 1741, for advertisement of the demesne of Rochestown, consisting of 34 acres divided into six parks, with house in good order, and extensive stabling and offices, including brew house and grillroom, with a good hopper, malt-house, kiln, and very good pigeon house; also gardens, orchard, pleasure garden, and bowling green. The house, which still exists, bears a tablet with the Malpas arms, and underneath " John Malpas, Esq.,1750."
3. A member of the family-Sir John Malpas-was the victor of Edward Bruce in the battle of Faughart, near Dundalk, in the fourteenth century. The Malpas succession, so far as relates to the ownership of Rochestown, is as follows:-Francis Malpas married Mary, daughter of Alderman Kennedy. His son, Patrick, married, and died in 1662-3. His eldest son, Christopher, married, in 1674, Rose, daughter of William, 3rd Viscount Fitzwilliam, and died in 1718. His eldest son, John, who built, in 1741, the obelisk on Killiney Hill, married Frances, daughter of Matthew, 7th Baron of Louth, and died in 1756. His eldest son, Christopher, married, and died in Germany in 1765. His eldest son, John, married, 1st, in 1757, Catherine, daughter of Sir Andrew Aylmer, Bart., and 2ndly, in 1762, Martha, daughter of Thomas Wheatley of Ashton, Cheshire, and died in 1793. His only surviving child (by the second marriage) and heiress, Catherine, married, in 1789, Richard Wogan Talbot, afterwards created Lord Talbot de Malahide, and the Rochestown estate thus passed again to the Talbots. See D'Alton's "King James's Irish Army List," p. 292; "History of St. Audoen's Church," in the Irish Builder for 1886-87 passim; Prerogative and Dublin Consistorial Wills; Dublin Grants; and Funeral Entries in Ulster's Office.
---
The Loftus connection. From a return made in 1766 by the curate of Monkstown as transcribed with footnotes by F.E. Ball in 1899.
We pass then through Dalkey, a decayed and deserted town, and come to Loftus Hill, the residence of Colonel the Hon. Henry Loftus, M.P., for Bannow, in the County Wexford. The name of this house has been several times changed ; built by the Malpas family, who own the soil, it was originally called Mount Malpas; then Captain Edward Maunsell, who occupied it for some years, called it Rocksborough; and now Mr. Loftus has changed its name to Loftus Hill. He has rebuilt the house, and, possessed of an unbounded passion and skill for improvement, has reclaimed the land, and planted the gardens with every kind of fruit tree, and with a most superb collection of flowers. (4)
4. See Faulkner's Dublin Journal, Sept. 23-26, 1752, for advertisement of Roxborough, formerly called Mount Malpas, containing about 150 acres of land, enclosed by a stone wall, and a new, well-finished house of six rooms and two large closets on a floor, with offices. Also see " Topographical Description of Dalkey and the Environs "by Peter Wilson in Exshaw's Magazine for 1770, p. 489, and lease from Malpas to Maunsell of July 12, 1763, and from Maunsell to Loftus of Feb. 28,1764, in Registry of Deeds Office. Loftus Hill appears to have been on the site of the present Killiney Castle. In 1790 Killiney Hill was in the possession of Lord Clonmell, the Chief Justice of the King's Bench. It was said he was about to build a house there, and he had about 190 labourers employed in making roads. See Stealer's Dublin Chronicle, Nov 11, 1790.
---
Estate passes back to the Talbots in 1797. Francis Elrington Ball. History of the County of Dublin (1902) pp 55-56
At Rochestown, which had a reputation as a health resort, the Right Hon. William Burton Conyngham, the great patron of Irish antiquities and art of his day, was staying, shortly before his death, in 1796, and there a gentleman, on calling to see him, found a battalion of physicians, surgeons, and apothecaries in attendance upon him. Mr. Mapas, who soon returned to live at Rochestown House, married again—a Miss Wheatley, of Cheshire—and had by her an only surviving daughter. The latter married, in 1789, Mr. Richard Wogan Talbot, who succeeded to the peerage of Talbot of Malahide, conferred upon his mother, and upon Mr. Mapas's death, in 1797, they became the owners of Rochestown House, which has undergone many vicissitudes during the last century.
---
The Tasmanian Malahide. Extract from 'A Tale of Two Malahides' by  James Harvey and Keith Harvey which appeared in tintean.org.au.
In November 1820, 36-year old William Talbot arrived in Hobart intending to settle. He sought a grant of land, only to be told that the Lieutenant-Governor did not have the necessary powers to give him ownership of land. Only the Governor of New South Wales could do this. William sailed to Sydney where Governor Lachlan Macquarie not only granted the newcomer a Location Order for a maximum grant of 2,000 acres, but he also assigned him six convicts as personal servants. Along with them, William returned to Hobart where he presented his Location Order to Lieutenant-Governor Sorell who granted him land.
Unfortunately, the land granted to him had also been promised to another and the ensuing dispute was not resolved until 1824. William Talbot had to take up alternative land. Two years later he found a suitable site, in a recently surveyed area comprising 3,000 acres in the northeast of the colony between the South Esk and Break O'Day Rivers.
Here was an abundance of clean, fresh water and it was just 70 miles from Launceston. William reckoned he had found the perfect place to establish his new Malahide, which he did in 1827. Later the adjacent area and the nearby town took the name of Fingal, the Irish Malahide's home county.
Before long, the Tasmanian Malahide was established and became a highly regarded sheep station, a status it holds today. In 1830, William's nephew Samuel Talbot arrived at Fingal where he also took up land. As well as working his own place, Samuel managed Malahide when William was away, and when William died unmarried in 1845, Samuel inherited the property. When he too returned to Ireland, another of William's nephews, Richard Gilbert Talbot took over. By this time Malahide comprised some 20,000 acres and said to have a grazing capacity for 25,000 sheep and 1,700 cattle.
In 1835 the original timber homestead burnt down. It was replaced by a new structure which forms the basis of the present house. While the actual date of the construction of the house is not known it seems certain the front block and stables were built during William Talbot's time. Ultimately the property, in addition to the two-storey homestead, comprised a cluster of buildings including manager's house, workers' cottages, stables, coach house and farm sheds.
Malahide was in the hands of managers during the latter half of the 19th Century with Robert Clerk* the longest serving of these, from 1852 to 1880. Not only did he reside in the main Malahide homestead he was able to entertain private guests there.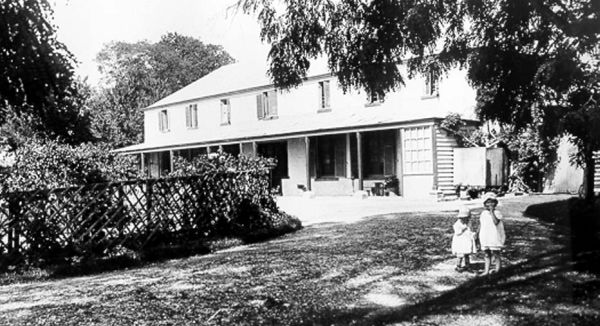 Richard Gilbert Talbot succeeded Clerk in 1880 and, when he died intestate in July 1900, the property was divided between his widow, mother, brother and sister. At the time a family member identified as Richard Gilbert Talbot the Younger took over management. The new owners do not seem to have spent much time at Malahide with general oversight of the property in the hands of a local trustee company.
The situation at Malahide, Tasmania remained unchanged during the World War I. In 1938 ownership passed to Lord Milo Talbot, but 13 years went by before he made a visit.
Milo was the first Talbot male in 50 years to visit the antipodean Malahide where no family member had lived for 60 years. He apparently liked what he saw, restored the homestead and amassed a large collection of Australian paintings displayed in a gallery converted from a coach house.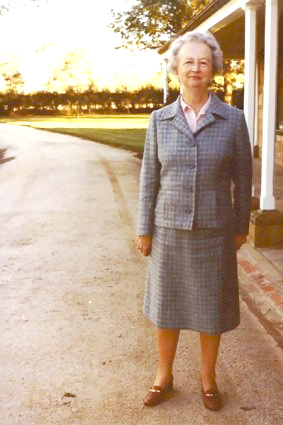 Following his death in 1973, Malahide in Tasmania (along with his Irish estates) passed to his sister, Lady Rose Talbot, known as the last chatelaine of Malahide Castle in Ireland. Following her forced disposal of the castle in 1976, Lady Rose made the Tasmanian Malahide her home. She initiated more improvements to make the property elegant and liveable.
Rose successfully managed the property, now trading as the Fingal Pastoral Company and groomed the next member of the family to run Malahide. This was a cousin, Richard Talbot, a Royal Navy officer, who used periods of leave to learn how to manage the remaining Irish and Tasmanian properties. He assumed these responsibilities when Lady Rose Talbot died in 2009.
Now heritage-listed, Malahide in Tasmania continues to flourish under the Talbot banner and, if a recent planning application for further improvements to the homestead is any guide, it will continue to do so for some time to come.
---
The lady of Malahide Castle. This obituary which appeared in The Sydney Morning Herald was written by Mark McGinness in 2009.
ROSE TALBOT, then 60, arrived to live at Malahide in Fingal, Tasmania, in 1976. She had just sold another Malahide – the ivy-clad Malahide Castle in Fingal, Ireland – which had been the Talbot seat for 800 years. Since 1184 a succession of 30 Talbots had lived at Malahide Castle until the death of Rose's brother, Milo, Lord Talbot de Malahide, in 1973. Her Anglo-Irish friends thought her very brave, "Dear Rose, setting orf to Tasmania to live all alone, surrounded by 40,000 sheep."
But she soon made Tasmania and this Malahide really hers. Her great-great uncle William had first settled there in 1824, on 1214 hectares at the confluence of the Break O' Day and South Esk rivers. After the first timber homestead burnt down, the present farmstead was built around 1835. The original holding grew to 8500 hectares, and William was producing fine wool. The property passed to Milo in 1938.
Milo, born in 1912, and Rose Maud were the children of Eva Joicey, an MP's daughter from Northumberland and Colonel Milo Talbot, a veteran of Afghanistan and the Jowaki and Nile expeditions and Egypt's western frontier, where in 1917 he led 35,000 British troops in fighting off a mounted attack by the Senussi bedouin.
The family lived in enormous country houses. Rose was born at Hartham Park, Corsham, Wiltshire, a 68-room Georgian mansion. When she was five they moved to Bifrons estate, near Kent. Jane Austen had written to her sister in 1796: "We went by Bifrons, and I contemplated with a melancholy pleasure the abode of him on whom I once fondly doated." Rose attended school in Kent and in the 1930s was presented to the court of George V.
The colonel had died in 1931 and, in 1948, on the death of his cousin, a descendant of James Boswell, unmarried Milo became the 7th Baron Talbot of Malahide and 4th Baron Talbot de Malahide and Hereditary Grand Admiral of Malahide and the Seas Adjoining. Rose and their mother joined him at the castle.
Milo, eccentric and very clever, entered the Foreign Office in 1937. On being posted to Laos he bought 100 cotton vests and pants that he proposed to throw overboard when they needed washing. When he arrived and found no suitable embassy, he sent the customary telegram, with a twist, "I have arrived and assumed charge, and until further notice I am staying with the Prime Minister." His travels as a diplomat allowed him to pursue one of his passions, botany, and he collected thousands of rare plants and seeds for both Malahides.
After a Tasmanian grazier, Roderic O'Connor of Connorville, offered to buy Malahide, Tasmania, Milo went to see it in 1952. He and Rose visited three years later. The family had not lived in it for about 60 years. Little frogs jumped up Rose's bedroom wall. Milo set about altering and reconstructing the house with the architect Roy Smith; he turned the coach house into a gallery with his growing collection of Australian art, and transformed the garden, but remained a visitor.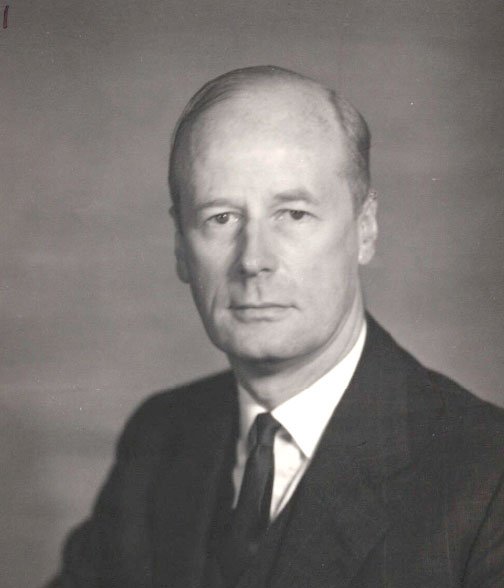 There was a want of sympathy between the siblings, and Milo was something of a domestic martinet. In the late 1960s, Rose moved into a comfortable house in Dublin. Milo's discussions about Malahide becoming an official residence of the Irish Government were unresolved on his sudden death at sea while on a Greek cruise. For the next three years Rose lived in the castle but the Irish Government's demand for death duties led to the auction of the contents – hundreds of years of accumulated furniture and treasures, including some beautiful Irish Chippendale (some of which Mick Jagger bought for his French chateau).
In 1976 the castle was sold to Dublin Tourism.
Rose went to Tasmania and, with the help of the architect Clive Lucas, made the house there more elegant and liveable. Dr Brian Morley redesigned the garden.
To a stranger she may have seemed like Miss Marple (Joan Hickson as Marple) but she was nobody but herself. She had a keen sense of duty. She financed the completion of Milo's six-volume The Endemic Flora Of Tasmania (by Winifred Curtis and Margaret Stones); she gave to local causes and was a counsellor for Lifeline. She was personally frugal but a generous host.
Hundreds of Australians, English and Irish enjoyed her hospitality. She was widely admired and liked by her community. She loved the island and especially the Tasmanian light. Although quite reserved, she enjoyed the Australian sense of humour.
Every northern summer for 20 years she would return to England and Ireland, hosting a large dinner party at the Royal Thames Yacht Club and travelling from one country house to another. In Ireland – in the smallest hire car – she motored between castles. Generous sides of salmon would be dispatched in gratitude.
Her constancy, shrewdness, diffidence, curiosity, dry wit – even her companionable silence – bound people to her. As one old friend put it, "she was unexpectedly popular". She lived out her ancient family motto, "Brave and faithful".
While Malahide Castle stands unoccupied on Dublin's coast, the walls and garden of its Tasmanian namesake should continue to rebound to the sounds of Talbots, as another cousin, Richard, and his young family enter its gates.
---