The Grove
| Name | The Grove |
| --- | --- |
| Previous Names | Glenfield (built c. 1838) |
| Address | Killiney Hill Road |
| Year Built | c.1852 (current house) |
| Exists today | Yes |
| On 1888 map | Yes |
Last Modified: 06 Jan 2022 | author
Earliest map 1837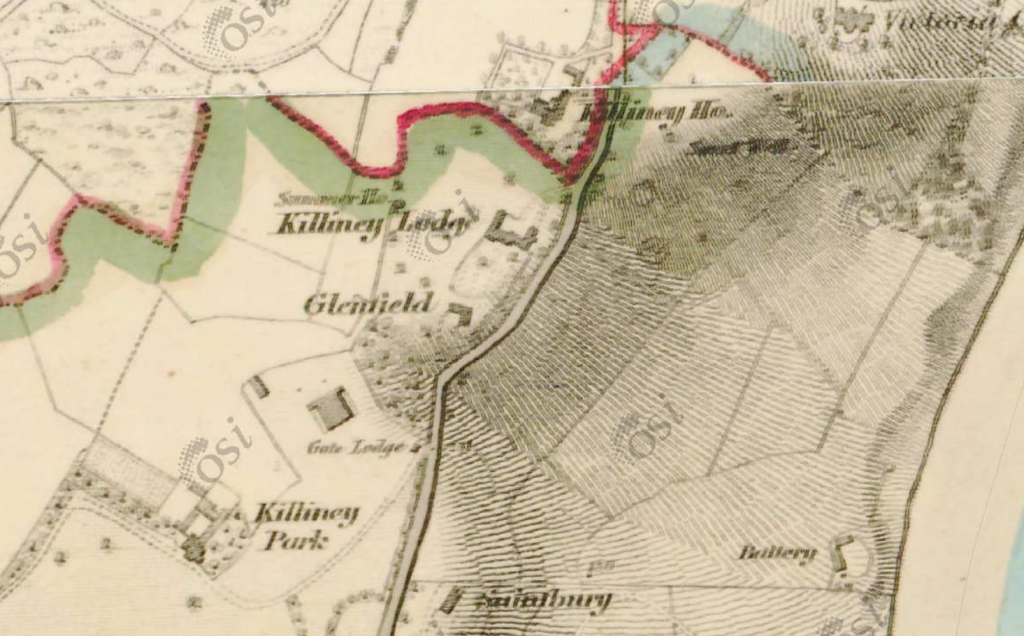 Description from 'Illustrated Irish Incumbered Estates' by Mary Cecelia Lyons 1993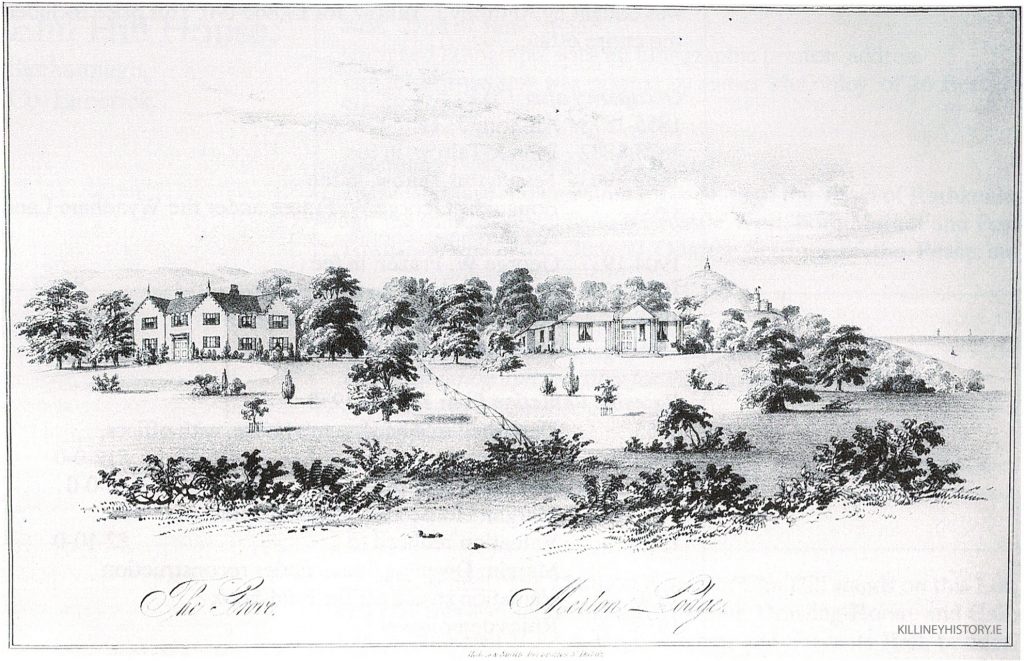 Sale: 19th of June, 1855
Descriptive particulars of The Grove:
The house and offices on this holding are in good repair, and command an extensive view of Dublin Bay, and are admirably adapted as a summer residence, and produce, when let furnished, the yearly rent of £150. There is a constant supply of fresh water on the premises. No descriptive particulars of Merton Lodge were given in the rental. These two properties on the Killiney Hill Road were auctioned on behalf of Joseph Hines, a bankrupt, and his main creditor, George Clarke. They were both bought by John Fitzgerald, for £900-0-0. These two applotments remained in the hands of John Fitzgerald, and subsequently his widow, until 1926.
1858 John Fitzgerald, esq. (Post Office Directory)
Occupancy of The Grove from Thom's Directory: 1861-1955
1861-1863 Francis Low, Esq., Solicitor
1864 J. Digby, Esq.
1865 George L. Hackett, Esq.
1866 William Henry, Esq. (who moved to Merton Lodge)
1867-1870 George Henry Hackett, Esq., Solicitor
1871 Not listed in Thom's Directory
1872-1887 Alexander D. Kennedy, Esq., Solicitor
1888-1910 Samuel Geoghegan, Esq., CE (from 1903-1908, Geoghegan was an Urban District Councillor)
1911-1918 George S. Waterlow, Esq.
1919-1923 Thomas Greene, Esq., JP
1924-1925 Patrick S. Brady, Esq.
1926- [at least 1955] Mrs O'Mara
In the late 1960's, and for most of the 1970's, The Grove was owned by the Columban Fathers. It is now a private nursing home, owned and directed by William O'Mara. (Note this was written in 1993)
Both The Grove and Merton Lodge were bought by George S. Waterlow, whose address was given as Loughgall, Co. Armagh, in 1926. Waterlow continued to lease The Grove, but demolished Merton Lodge immediately after purchase. Its land was merged with The Grove's. The Merton Lodge applotment was partially resurrected in the late 1950's, when Thady O'Sullivan, of the Gresham Hotel, acquired some of the land and built a bungalow on the site.
---
Images from The Court of the Commissioners for Sale of Incumbered Estates in Ireland, Estate of George Clarke June 1855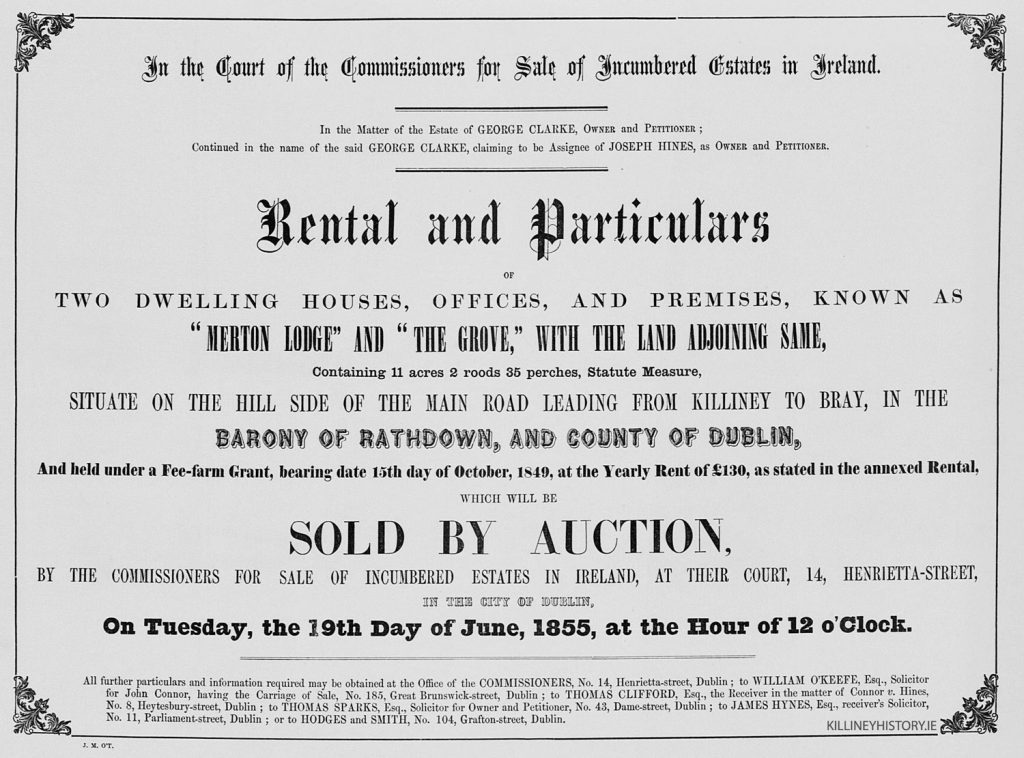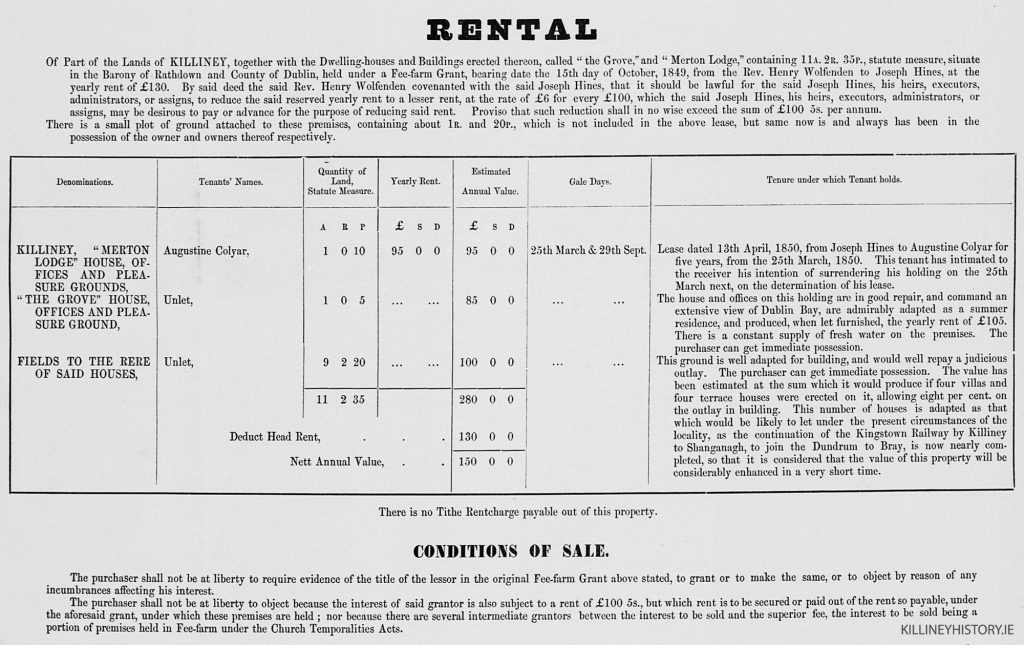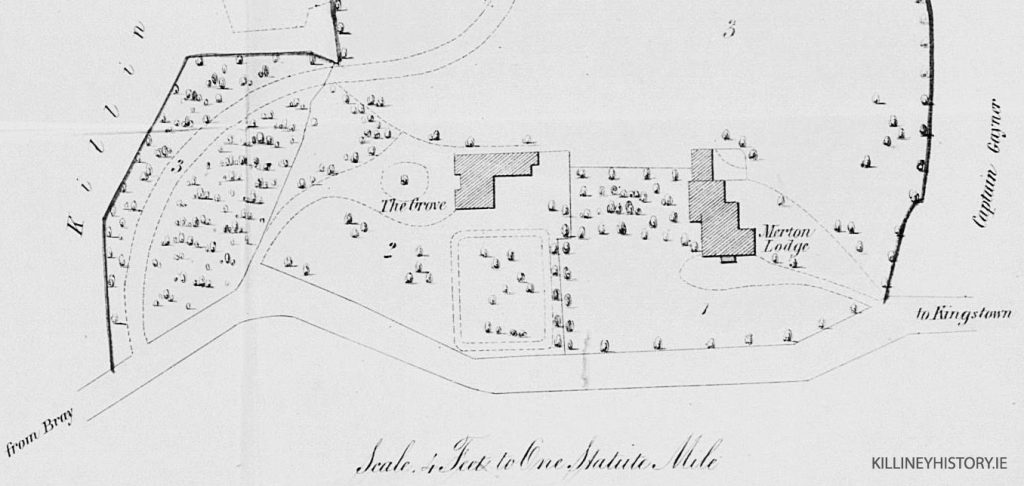 The map above shows the two storey house with simple projecting bays to the front elevation as can be seen in the perspective view. The footprint remans the same in the 1888 map with the exception of the additional more ornate Victorian projecting bay windows which can now be seen on all facades of the house.
---
Description of house dated 23rd September 1852 from auction notice
---
Notice of auction of contents of the house , under seizure for rent, to be held on 5th November 1852
---
Description by Peter Pearson 1998
The Grove, now a large nursing home, is also to be found in this vicinity. It is a very impressive, late Victorian house, with many gables and bay windows. An unusual arched ballustrade, made of terracotta, encloses the driveway in front of the house.
---
Ordnance Survey map of 1888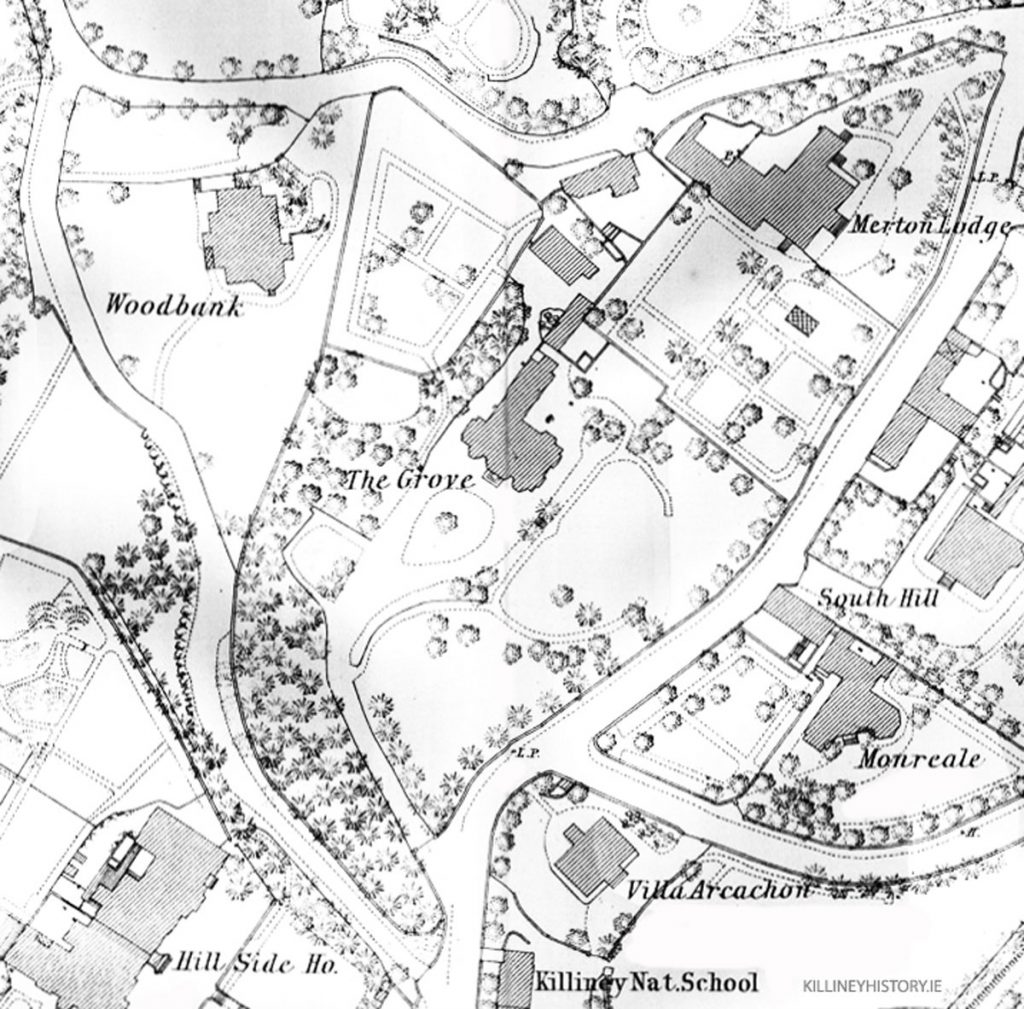 ---
Recent images and history from on-line property sales website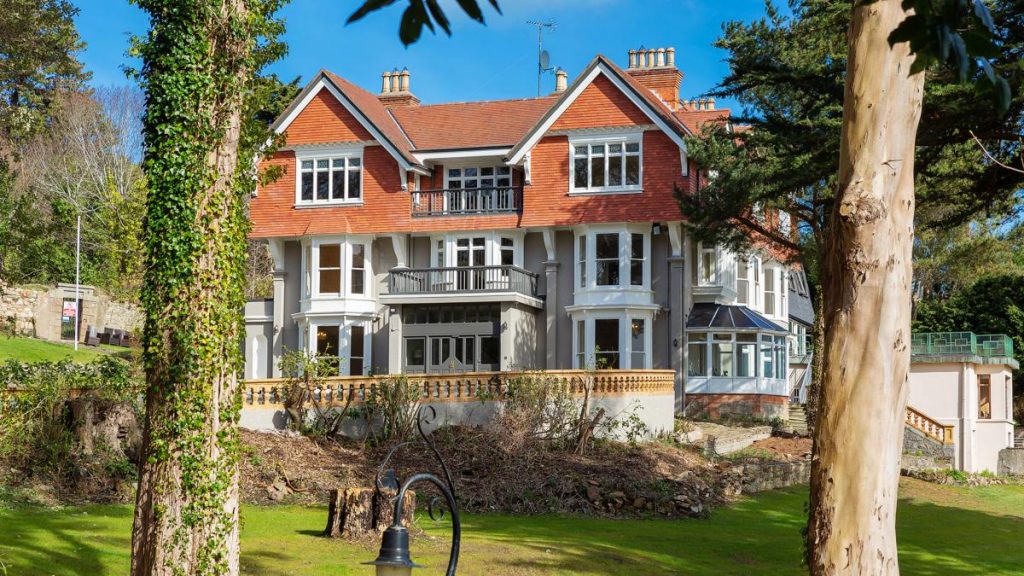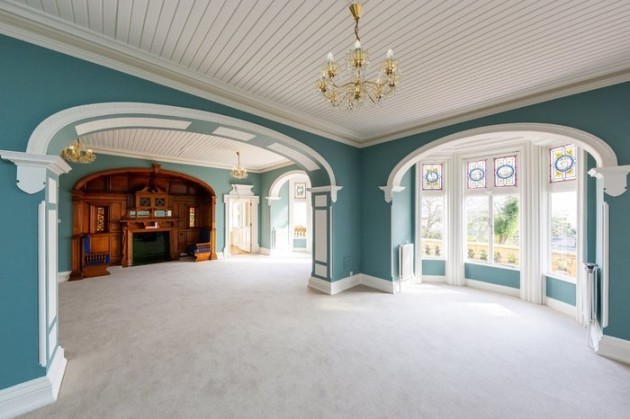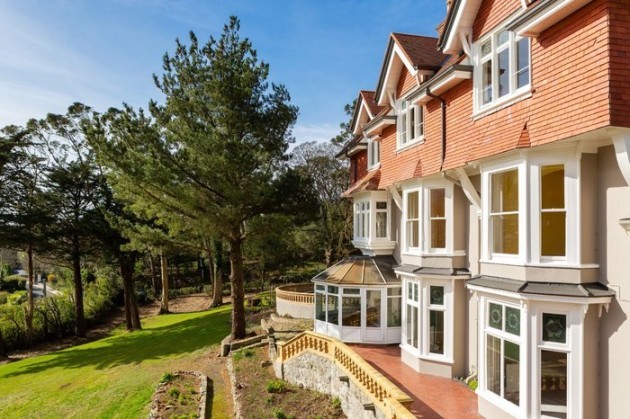 History
The Grove as it stands today is far removed from its likely beginnings as a single storey hunting lodge. Although little is known about its early history other than its original name Glenfield, its first known owner was solicitor John Hines who also owned the adjoining Merton Lodge. The Grove, as it became, was built by Hines as a two storey house in a cottage orné style with gables and decorative bargeboards.
From its sale in c.1855 ownership of The Grove passed to John Fitzgerald and subsequently upon his death a lease was granted by his widow in 1868 to Robert Exham, a prominent wine merchant who it is believed was responsible for the further development of The Grove and the addition of a third storey. Various occupants lived at the property until 1925 when James O'Mara and his wife Agnes took ownership.
O'Mara was a businessman and politician who became a nationalist leader and a key member of the first Dáil, becoming Trustee of Funds and travelling to America as a stowaway in 1919 to assist Éamon de Valera with a fund raising drive. He is best known for introducing a bill which made St. Patrick's Day a national holiday in Ireland 1903. The Grove was owned by the O'Mara family until Agnes' death in 1958.
---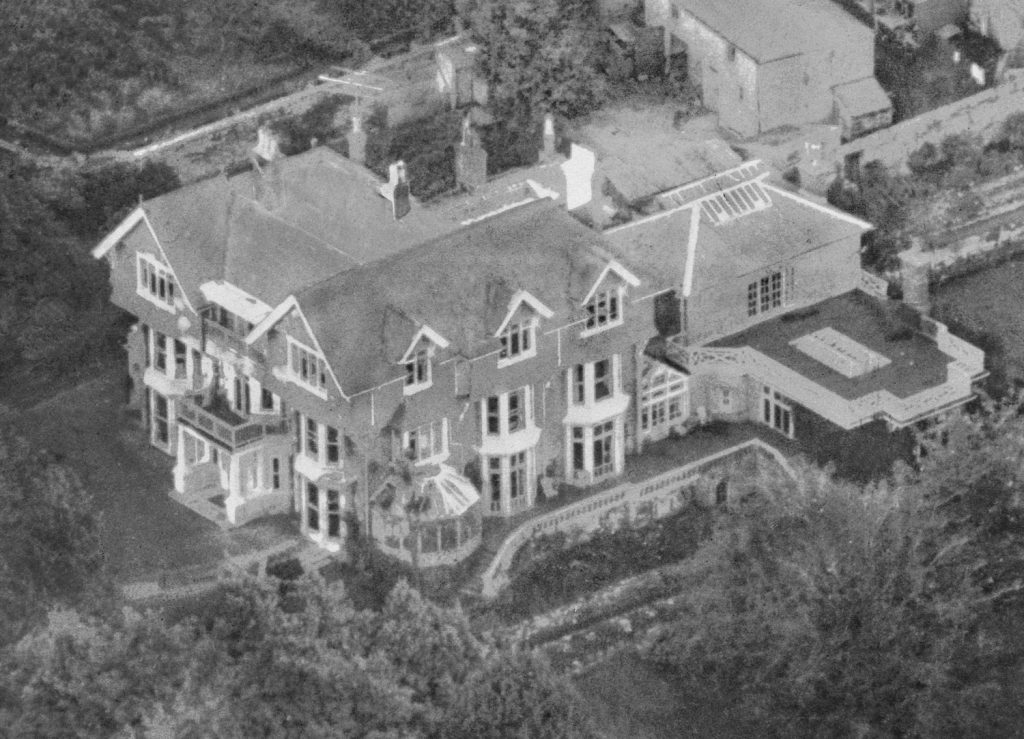 ---
The O'Mara family connection