Stoneleigh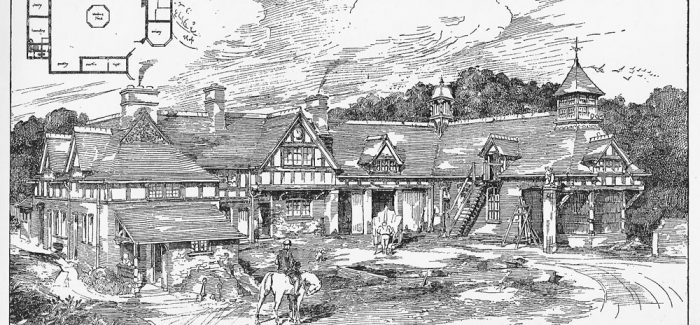 | Name | Stoneleigh |
| --- | --- |
| Previous Names | Part of Kenah Hill, Frankfort |
| Address | St. George's Avenue |
| Year Built | 1890 |
| Architect | Albert E. Murray |
| Exists today | Yes |
Last Modified: 08 Jan 2021 | author
Introduction
Stoneleigh, which is now an attractive development of residences, was originally the stables and outhouses of Kenah Hill which was itself called Stoneleigh in 1890 when the house was extended and the stables were added by Frank DuBedat.
From Maria Wootton's book
Maria Wootton "The Dubedat Story, Killiney to Kommetjie" p. 22
Frank planned to turn his estate into one of the finest in Killiney. He hired the services of Albert E. Murray, a well known Irish architect. Albert was the third generation of Murrays, whose association with architecture extended back into the eighteenth century. A cousin and partner of Albert's grandfather William, was Francis Johnson, founder and first President of the Royal Hibernian Academy. The Murrays were associated with designing  many bank buildings, including renovations to the Bank of Ireland when it changed from the Houses of Parliament to a banking office.
Albert  E. Murray designed the stables and offices and probably the renovations to the  existing house at Stoneleigh. The original drawings of the stables and offices were displayed at the exhibition of the Royal Hibernian Academy in December 1891.
The stables and outhouses of Frankfort as described in a newspaper article in June 1891
"There is an enclosed yard, with coal houses, fuel rooms, and closets. The out-offices, erected on the most modern principle, contain an aviary, stabling for eight horses (Musgrave fitting), harness room, bedrooms for three coachmen, tool and out house, cowhouse with Musgrave fittings for four head of cattle, dairy, laundry, playroom 60ft long, sheds, electric house, large hay shed with corrugated iron roof, lofts for corn and hay."