Talbot Cottages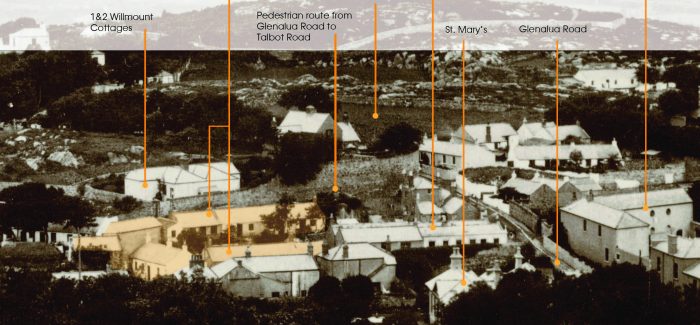 | Name | Talbot Cottages |
| --- | --- |
| Address | Talbot Road |
| Year Built | 1913 |
| Architect | Millar & Symes |
Last Modified: 04 May 2022 | author
Talbot Road in 1896
HOUSING QUESTION IN KILLINEY.
The following article appeared in The British Medical Journal on 26th February 1910
A memorial signed by over eighty residents has been sent to the Urban District Council of Killiney and Ballybrack, calling attention to the houses of the working class in that district, and urging the Council to make a radical improvement by exercising its powers under the Public Health and Housing Acts. The houses, it appears, were condemned on two occasions by Local Government Board inspectors, one of whom described them in 1900 as "of a poor description, defective in construction, ventilation, and lighting, imperfectly drained, with back yards un-paved and undrained." In addition to this heavy indictment, a later report called attention to the defective sanitary accommodation as a menace to public health. Many of the privies are situated too near the dwelling houses, and in one instance there are no less than thirty persons for whose accommodation only one privy is available.
The public action of the present residents is to be commended, and it is to be hoped that their influence will be sufficient to force the Council to take immediate steps to remedy the existing condition.
Acquisition of the site
An advert placed in The Irish Times dated 16th July 1910 gave notice of the compulsory purchase of the sites which would be utilised for the erection of Nos. 1-5 Talbot Cottages and Nos. 1-10 Glenalua Terrace.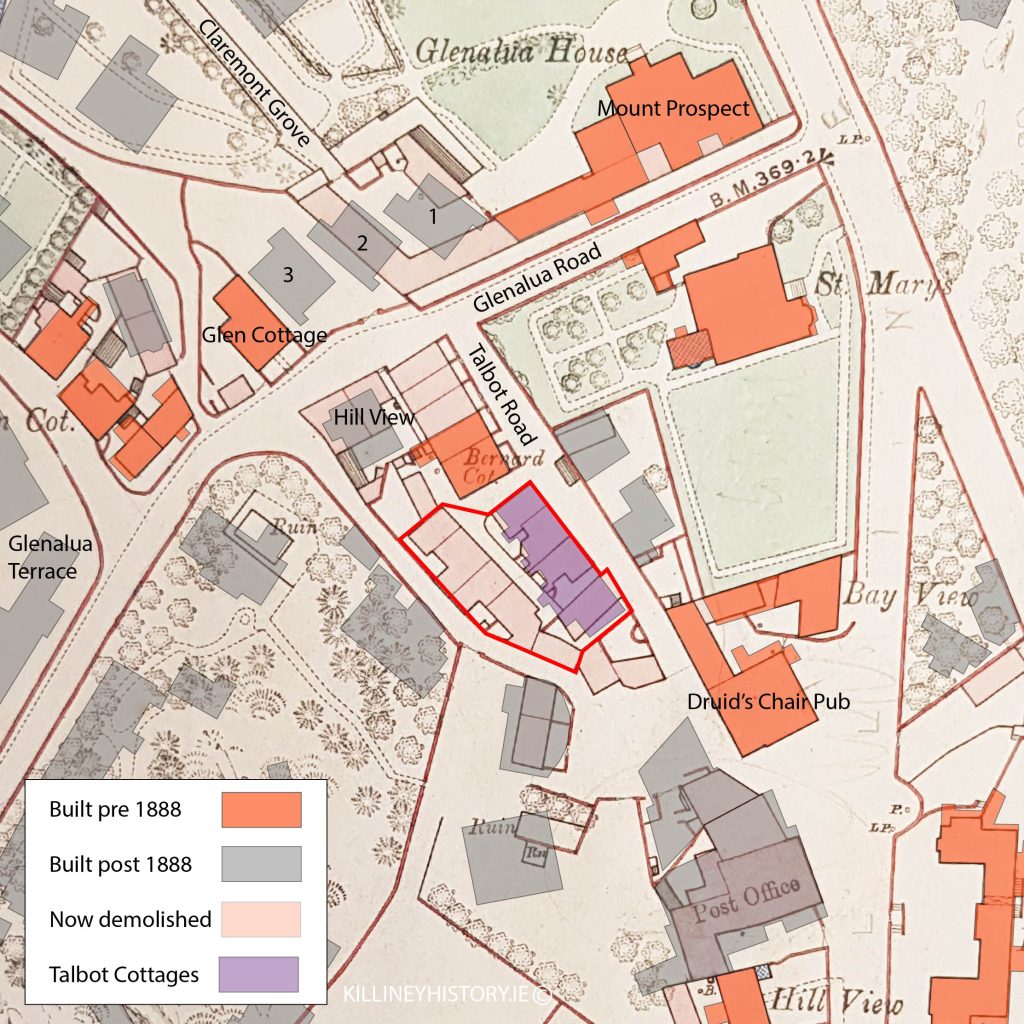 Extract from the minutes of Killiney & Ballybrack Urban District Council Meetings
| | | |
| --- | --- | --- |
| Page No. | Date | Minute |
| 219 | 29th July 1912 | Talbot Road Cottages. Town Clerk reported that tenders for these Cottages had been invited and would be lodged in time for next Council meeting. Read letter Messrs Millar & Symes. |
| 223 | 30th October 1912 | Architects fees. Read letter from Messrs Millar & Symes applying for a payment of £30 on account of fees in connection with the Glenalua Cottages and forwarding account for £16 extra charge for preparing amended plans of the Talbot Road portion of the scheme. The sum of £30 passed for payment. |
| 224 | 30th October 1912 | New Cottages Talbot Road. Read application of Mr. Pemberton (contractor) for appointment of Clerk of Works. Mr. Noctor appointed at 45s per week. (This was Peter Noctor) |
| 228 | 28th October 1912 | Talbot Road Cottages. Read letter Messrs. Millar & Symes enclosing Certificate for £300 being 1st instalment on a/c of Contract due to Messrs Pemberton. Recommended for payment. |
| 237 | 27th January 1913 | Killiney Housing Scheme. Read letter from Messrs Millar & Symes enclosing Certificate for £250 being the 2nd instalment in respect of Talbot Road Cottages in favour of Messrs Pemberton. Passed for payment. A further entry here concerns extras for increases in the costs of ranges and grates to be provided in the cottages. |
| 246 | 31st March 1913 | Artizan Dwellings Killiney, Talbot Road. Read letter from Messrs Millar & Symes with Certificate in favour of Contractors Messrs Pemberton for £200. Recommended for payment. Town clerk reported that the Cottages on the Talbot Road were now Practically Complete and ready for occupation and submitted a list of applicants. |
Building contractor for the project
---
Wedding photo c. 1955
The happy occasion of a local wedding which took place on Talbot Road c.1955 is captured below. The bride and groom are Gene Tyndall and Noel Farrell. In attendance is a young Anthony Deegan standing in front of his mother and his father Tom is to the left. The dog is called Trixie. 4 and 5 Talbot Cottages can be seen behind the wedding group.
---
Earliest records from Thom's Directory 1971
| | |
| --- | --- |
| Number | Name |
| 1 | James Dignam |
| 2 | Michael McClure |
| 3 | Isaac Mason |
| 4 | Kevin Higgins |
| 5 | Charles Mason |
---
Aerial view c.1995
It is interesting to note that, when first constructed, No.1 Talbot Cottages did not have the two gable dormers which it now has. These were a later addition c.1999 when the house was extended and the features were added to present a more homogeneous appearance to the terrace.
---
Talbot Cottages today