The Whins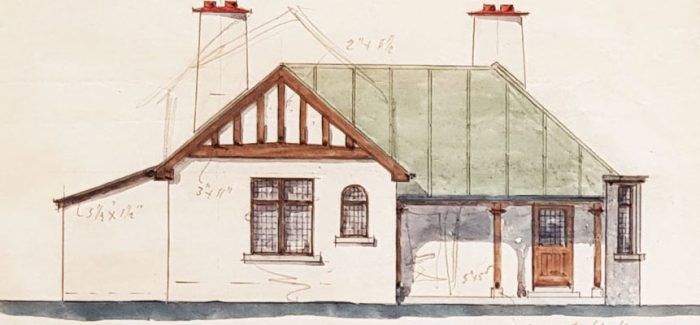 | Name | The Rocks |
| --- | --- |
| Previous Names | The Whins, Far Hills, Maryknoll, Knockbrack |
| Address | Glenalua Road |
| Year Built | 1912 |
| Architect | J.M. Mitchell |
| Exists today | Yes |
Last Modified: 06 Jan 2022 | author
This house, now called The Rocks, at the end of Glenalua Road has gone through many name changes. When first built in 1912 for J.M. Mitchell, it's architect owner, it was appropriately named The Whins given its siting on a rocky outcrop overgrown with furze. The Ordnance Survey map of c.1935-38 records the name as Maryknoll although we have found no other instance of this name being used. In the mid forties it was renamed Far Hills by its then owners, The Misses Malone. It was later, c.1980, to be called Knockbrack until it was more recently renamed as The Rocks.
A report in The Irish Builder and Engineer dated 17th August 1912 states: 'Mr. W. Fanning, builder, Killiney, is building a bungalow residence at Flagstaff Hill, Killiney, from designs prepared by Messrs. W. M. Mitchell and Sons. MM.R.I.A.I.'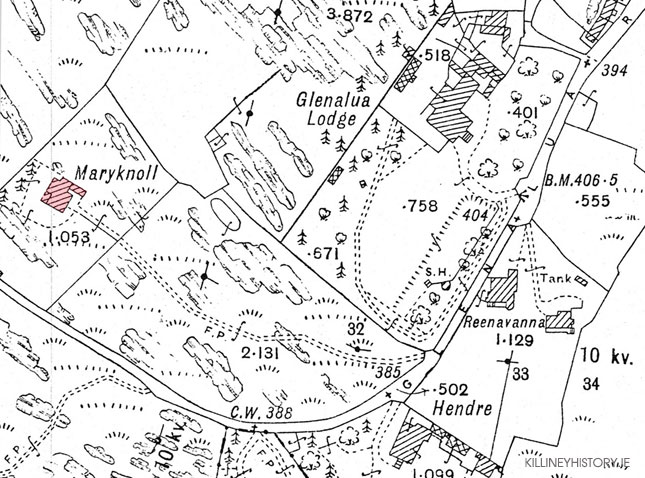 ---
Thom's Directory
| | | |
| --- | --- | --- |
| 1913 | Mitchell, J.M (from Kingstown Directory by T. Coall) | The Whins |
| 1917 | Mitchell, John Mansfield | The Whins |
| 1920 | Watson, J.W. | The Whins |
| 1921 | Figgis, W.F. | The Whins |
| 1924-1940 | Campbell, Seaghan E. | The Whins |
| 1943-1954 | Malone, The Misses | Far Hills |
| 1960-1975 | Campbell, Charles | Far Hills |
| 1978 | Frampton, Richard | Far Hills |
| 1986 | Murphy, Richard | Far Hills |
Entries from Thom's Directory (Incomplete)
---
---
Proposals for extension 1919 (unexecuted).
In or around 1919 the house changed hands. The new owner, W.F. Figgis commissioned the previous owner and architect, J.M. Mitchell, to draw up plans for a two storey extension. The drawings show a castellated flat roofed extension which look quite out of keeping with the original more low key Art & Crafts style house. For whatever reason work did not proceed with this scheme although tender drawings were prepared.
---
The poet Richard Murphy moved to Knockbrack in 1980.
The following is a short excerpt from an interview which took place in 1980 and which was published in Poetry Ireland, Issue 21.
Richard Murphy at Sixty
Dennis O'Driscoll
Richard Murphy was born at Milford House, on the Mayo-Galway border, on 6th August 1927. In 1980, after twenty years in Cleggan, he moved to Killiney, Co. Dublin, where I interviewed him just before his sixtieth birthday. Richard Murphy's books from Faber have included Sailing to an Island (1963), The Battle of Aughrim (1968), High Island (1974), Selected Poems (1979), and The Price of Stone (1985). Maurice Harmon's excellent compilation, Richard Murphy: Poet of Two Traditions, was published by Wolfhound Press in 1978. John Haffenden's interview with Richard Murphy can be found in Viewpoints (Faber, 1981).
-Dennis O'Driscoll.

At the end of your interview with John Haffenden, you declared that "I feel now that my home is in the language". To what extent have you made a home in the language?
After uprooting myself painfully from Connemara, I felt I never wanted to become so deeply attached to a place again. The loss of places I had lived in, and of people I had loved in those places, was irretrievable. But poetry, working with imagination on the memory, can save something from oblivion. So in The Price of Stone I converted many of my former homes into sonnets expressing their spirit. I wrote to recover what I missed in the west of Ireland: and to accommodate myself to the unfamiliar Dublin area. I tried to give voice to some strange public structures, like the Lead Mine Chimney, on top of a hill, which you can see from this room across the valley silting up with housing estates; and to capture the spirit of this house, Knockbrack, ten miles from the city centre, blessed with a garden of outcropping granite, and a view of the Sugarloaf Mountain between pinetrees, like a painting by Cézanne. What attracted me, when I first came, was an atmosphere you get in a Chinese poem of the Tang Dynasty: of a mountain retreat to which a provincial governor might retire to live as a hermit with two concubines.
When I moved to Dublin, I felt insecure and vulnerable, with a need to impatriate myself, (to borrow a word I think was well minted by Declan Kiberd). So I looked around for public landmarks with which I could feel a personal connection, or hold a conflicting dialogue.
Every morning, before breakfast, I made a habit of going up to the top of Killiney Hill, and walking around the Folly, erected for a landlord in 1742: a spire superimposed upon two squares. Gradually, around Easter 1981, I felt this epicene structure had the makings of a poem. It began with the letter' 'I" on top of the page; and underneath this came "am"; then "the", getting wider and wider as it went down: a verbal spire. Perhaps a foolish aspiration! When I got down to the squares, quatrains emerged, and developed into a sonnet. The concrete beginning was removed like scaffolding.
What remained was the identification of some part of myself with the building: and that was liberating. Having discovered this, I was able to speak more revealingly, without confessional embarrassment, from oblique perspectives, like the Folly's decadent Anglo-Irish viewpoint: that of an object both admired and reviled, having a proud, witty elegance and style.
---
Popstar hideout 2002
Six were an Irish pop group who formed on the Irish version of the television programme Popstars in 2002. The programme aired on RTÉ One on Sunday nights in the autumn and winter of 2001-02. The band were signed to Simon Cowell under BMG Records UK and managed by Louis Walsh who also appeared as a judge on the show. Their first single, "There's a Whole Lot of Loving Going On", is currently the fastest and third-biggest selling single in Irish history. (Source: Wikipedia)
IRELAND'S original talent show stars, the band Six, will reunite on the Late Late Show to celebrate the tenth anniversary of their formation back in February 2002.
VIP was the first magazine to carry a photoshoot with the band, and I remember going myself to make sure everything ran smoothly. We had to meet the production crew at a hotel in Killiney, and then be driven in a car with blacked-out windows to a private home on Dalkey Hill (actually Knockbrack), with the driver checking regularly to make sure that no members of the press were following.
It all now seems absurdly over the top, but at the time the Popstars show was an absolute phenomenon, and everyone in the media was trying to guess the band's make-up before it would be revealed on RTE.
I can still remember the excitement of the band members at the time, as they were looking forward to long and successful careers as pop stars. I also remember that they performed an impromptu, slightly ropey version of their first single, Whole Lotta Lovin', for the VIP crew.
They are apparently going to be interviewed by Ryan on the Late Late, but have decided not to sing this time. Good to see that the band members are not only older, but also wiser…
---
Sale of Knockbrack in 2014
The property was featured in the property section of The Irish Times in October 2013 and the photographs indicate that the original house had survived virtually intact, apart from some single storey extensions which were added over the years. The property sold the following year.