The Brack
Last Modified: 03 Feb 2023 | author
Introduction
The Brack is a social history of the south county Dublin suburb of Ballybrack. It tells the story of its people from the time it was a small rural village on the edge of Dublin through the development of the thousands of local authority houses in the 1970s and 80s. The film was made by Michael Nolan and Keith Kelly and was released on 3rd February 2023. Click below to view:
---
It had its first showing in The Studio in the Lexicon Library in Dún Laoghaire on Saturday January 21st and the event was a great success.
---
A very personal recollection by Michael Nolan of his family's experience prior to, and after, moving to Ballybrack.
My time living in Ballybrack officially starts a couple of days before Christmas 1976 when my parents got the keys to a brand new council house in Elm Grove. Only one row of the five rows, that would eventually make up the small estate of 56 houses, was completed. The rest of the houses were at various stages of development. It was a building site. I remember the house being very sparse that Christmas. We'd barely time to put the Christmas tree up.
However, nothing could dampen the excitement and happiness that came with moving in to a new house with multiple bedrooms, separate kitchen and sitting room and its own toilet and bathroom.
The families that moved in were working class families, with the fathers, always the fathers, working jobs in a variety of backgrounds. There were bus drivers and conductors. There were council workers. There were hospital workers. There were trades people. There were postmen. There were utility company workers. There were factory workers. What most of them had in common was that they were raising young families and just prior to them moving to Ballybrack they were living in cramped, overcrowded, substandard, conditions.
My own father was a porter in Jury's Hotel in Ballsbridge. We, my parents and older sister and brother, had been living in a flat in a large Victorian terraced house overlooking the sea on Seapoint Avenue, Blackrock. It was an idyllic location. We even had access to our own private bathing area! Those houses now command multiple millions of euros when they occasionally go on the market. However, at the time we lived there things were very different.
Eight or so families were living in the house. I think most families had two rooms – a living/kitchen area and one bedroom. Each floor had its own shared bathroom and toilet – usually shared between two families. In the early days my mother describes a great sense of community spirit amongst those living there. She said the location was terrific. She said it was a cramped but nice place to live. But over time she said the landlord was looking to empty the house of tenants and let the place go to "rack and ruin" to "encourage" people to leave. I remember the basement area being derelict. We were in the middle floor of the three storey over basement building. Water was pouring in to our flat from the roof. At six or seven years of age I distinctly remember fungus growing on the walls. This wasn't just damp – this was full on mushroom-like fungus growing out of the walls and ceilings. The landlord was challenged on all of this but to no avail.
Most of the families were on the Dún Laoghaire housing waiting list at the time. New homes were being built in Ballybrack. The corporation and local housing co-ops were building rental and purchase homes in Oakton, Ashlawn, Coolevin, Pinewood and Willowvale. Elm Grove would come a little later. As houses were built they were allocated to families. So some of our friends and neighbours started to vacate our Victorian terrace in Blackrock. They moved in to Oakton. They moved in to Ashlawn. And they moved in to Coolevin.
We remained on Seapoint Avenue with some others. But things got too bad and the place became uninhabitable. And eventually our little family was split up. Our neighbours and friends from Blackrock, who secured houses in Ballybrack, opened their doors to us. Myself and my brother went to live with friends in Coolevin and my sister with a family in Ashlawn. My mother stayed with another friend and my father remained in Blackrock to keep an eye on our possessions. That was the situation a few months before Christmas 1976. So while officially we, as a family, moved in to Ballybrack that Christmas – myself, my sister and brother were already living there a few months, albeit in very different circumstances.
The film I've made with Keith Kelly – The Brack – has, I suppose, its origins from then. It's not a history of the area. It's more a glimpse at some of the lived experiences of just some of the people who, like us, moved here in the early 1970s and 80s. It also talks to some of those people who lived here long before it changed from rural village and farmland to suburban sprawl and their view of this changing landscape.
From my point of view, Keith will be able to speak for himself, the film is an answer to those who bemoan the provision of social or council housing – to those who hit out at local authorities giving "free houses" to people. I must admit that the term "free houses" always triggers me. And the people who promote it drive me nuts. Their lack of empathy, their arrogance, their ignorance is shameful.
There was nothing free about the houses that council tenants moved into in Ballybrack. Our parents worked hard and paid a fair rent for a roof over their heads. They paid a rent based on their income levels. We didn't have free houses. We had affordable houses. And that is what we need again for the current generation.
Yes, Ballybrack has had its share of problems over the years. As some of the contributors to the film point out – unemployment and drugs hit the area like many other working class communities around the country. And if lessons are to be learned when planning large scale developments like Ballybrack in the future, it is that you need to put the communal infrastructure in place at the same time the residents are moving in. Public transport, shops, community centres, parks, sports facilities all need to be part of any development from the start – not something that has to be fought for over years and years.
The film, I hope, captures a confident and proud working class community, that has overcome many obstacles along the way, with humour and perseverance. I'm proud to be from the Brack and I hope the film is an honest reflection of that. And I'd just like to thank all of those who participated and shared their experiences with myself and Keith. It has been a wonderful journey and trip down memory lane.
---
The estates of Ballybrack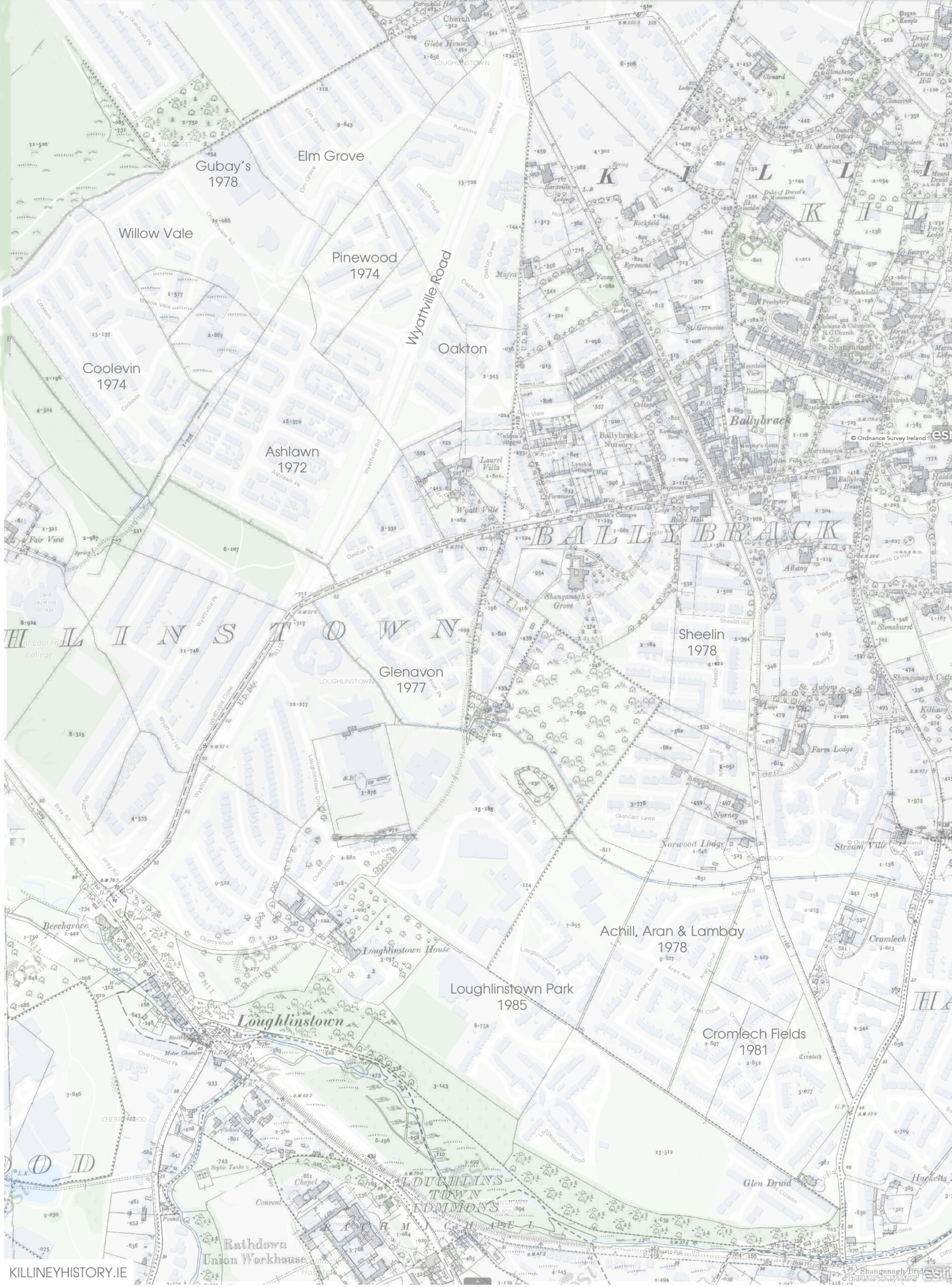 My Ballybrack by Pól Ó Duibhir
If you would like to read more about the history of Ballybrack you can check out the entertaining and informative article by Pól Ó Duibhir by clicking the photo below:
---
The torching of Ballybrack Barracks in May 1920
Another article of interest relating to Ballybrack is the story of the the attack which took place on Balybrack RIC Barracks in May 1920.
Click on the image below to read the article: