Victoria Arms Hotel
| Name | Victoria Arms Hotel |
| --- | --- |
| Address | Killiney Village |
| On 1888 map | Yes |
Last Modified: 11 Apr 2021 | author
The Victoria Arms Hotel was located in the heart of Killiney Village on the site which now hosts the Killiney Plaza apartment development. An advertisement for the hotel, dated c.1920, indicates the type of business catered for by the proprietor, J. Clancy. We know from Thom's directory that John Clancy ran the operation during the period 1928-1930 and certainly well before this. The hotel not only offered accommodation but also 'First class groceries and provisions. The best brands of wines and spirits. Guinness Stout on bottle and draught. Luncheons, Dinners, Teas and Refreshments.' Mr. Clancy was preceded by a Mrs. Maxwell, grocer and wine merchant in the 1912 entry in Thom's. John Rush appears here as proprietor in 1940 and 1943 where the hotel has been renamed The Killiney Hotel.
---
---
Stagecoach stop
The hotel was an important staging post for the coach service which passed through the village. This is recalled by Arthur Haughton who was born in 1903:
The Druid's Chair which is still there and beside it was Victoria Hotel, later known as Jades restaurant. In earlier times this had been a stage for the stagecoach which travelled up from Wexford to Dun Laoghaire. As Killiney Hill Road was so steep, the stagecoach stopped at Killiney House to change horses; the passengers alighted and walked up the hill to the hotel for refreshments, while the stagecoach came up empty and met them again at the hotel. It was then a downhill run through Dalkey to Dun Laoghaire.
---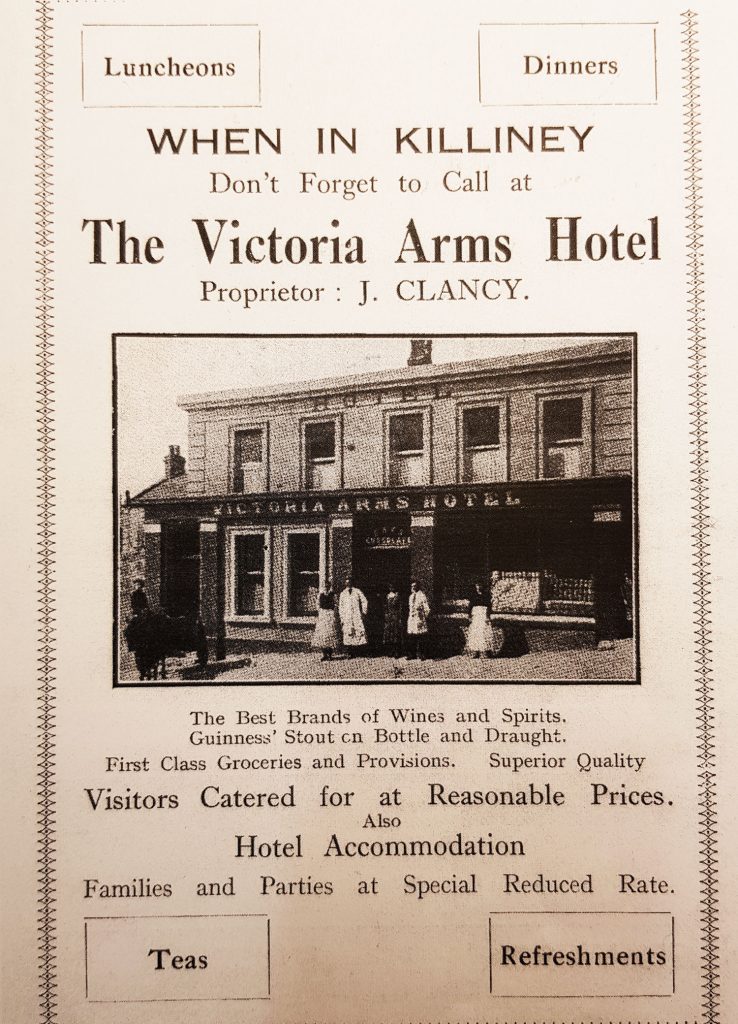 ---
Compensation payments for damaged caused during the Civil War
---
More recent occupants
Many will remember the well loved Jade's Chinese restaurant which occupied the premises in the 1980's. This was run by Catherine and Spencer Wong. Prior to this it was Restaurant Roland and had a popular following. Over the years as the commercial premises in the village closed up shop small infill housing schemes replaced the original buildings and now The Druid's Chair pub is the only remaining commercial use serving the locals and visitors alike.